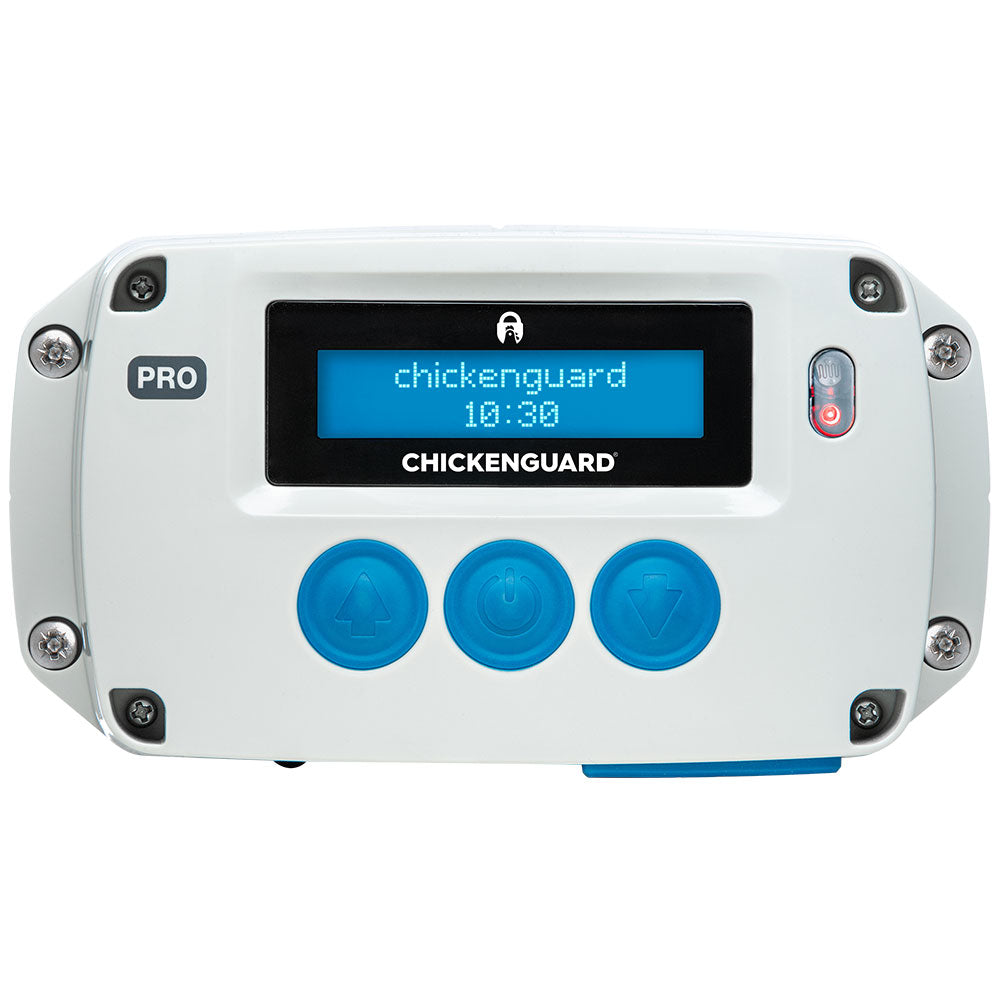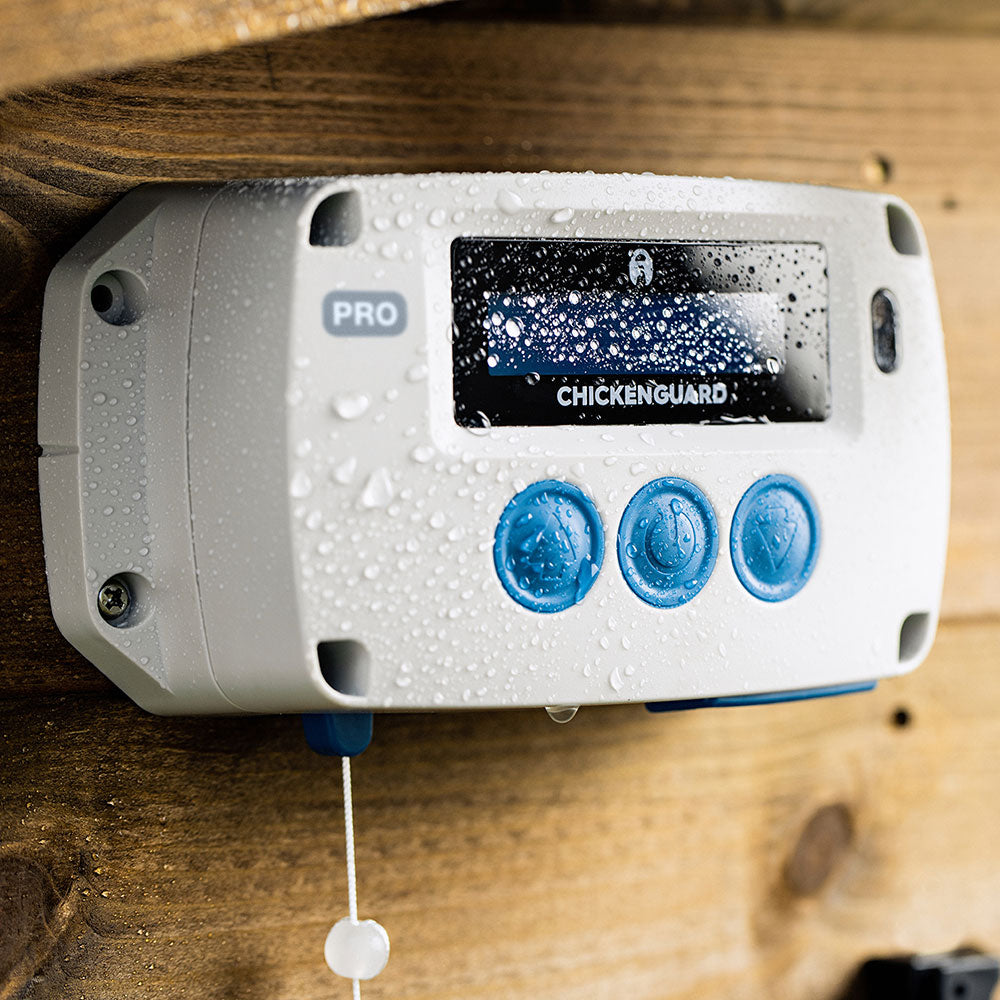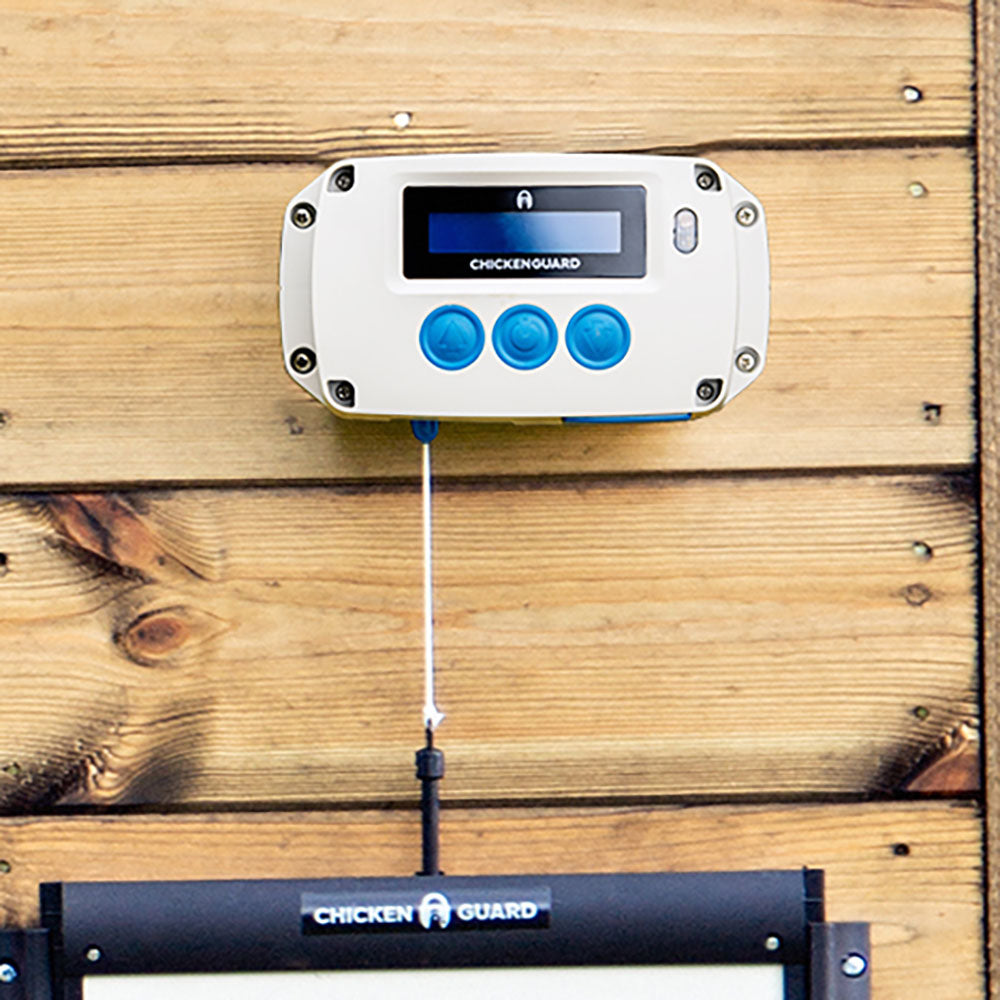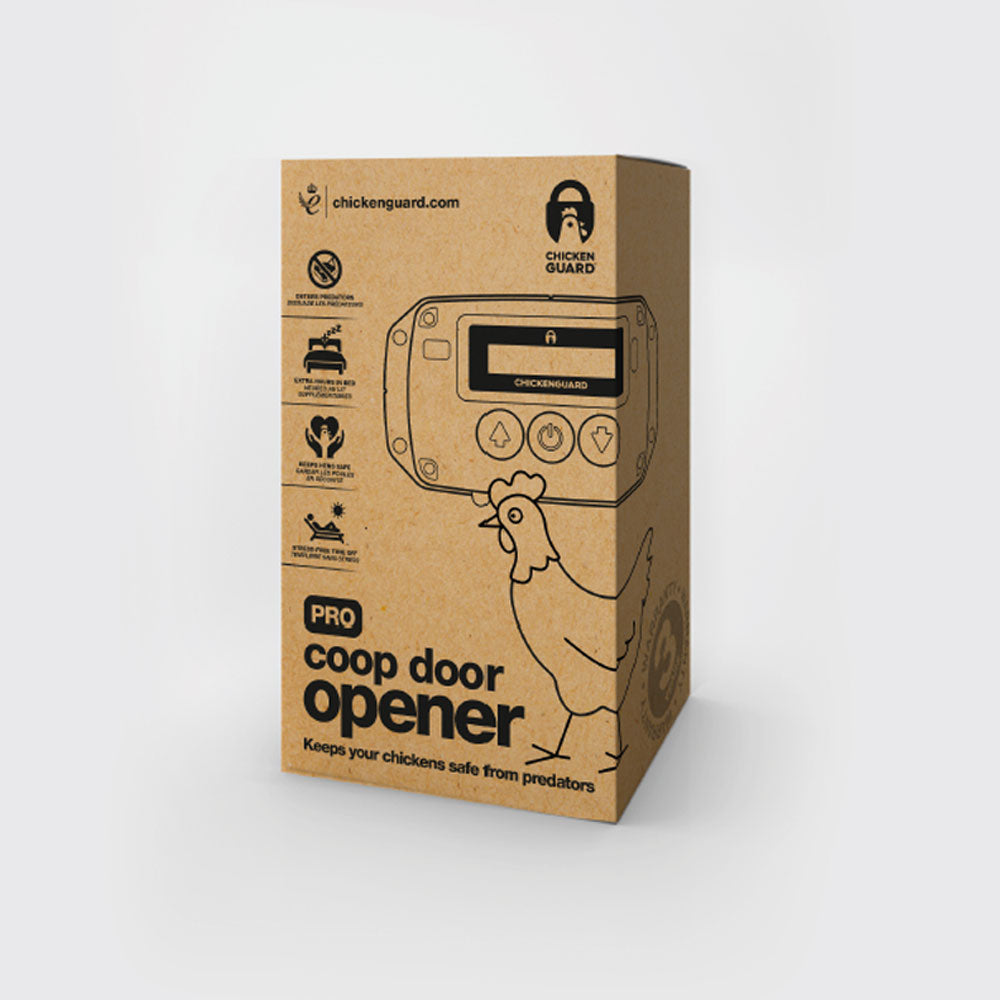 ChickenGuard PRO Automatic Chicken Coop Door Opener - NEW!
The NEW ChickenGuard PRO Automatic Door Opener. New design launched 12th June 2023!
Made with the toughest components, the ChickenGuard PRO Automatic Door Opener is a battery-powered pop-hole door opener that will work in extreme temperatures and, with its strong motor, will lift doors up to 2kg in weight. SEE THE FEATURES TAB.
The ChickenGuard PRO is a British-made pop-hole door opener built with the most extreme conditions in mind. With an integrated timer, light sensor, and override button, it is the all-in-one complete package for chicken keepers wanting easy installation and maximum flexibility.
If your current pop-hole door might be too heavy (over 2kg) or does not slide freely, you can add a lightweight aluminium door to your house, or add the ChickenGuard Self-Locking Door. These doors will not change in weight according to the weather, or stick, or warp (as timber doors can sometimes do).
Complete control to keep your poultry safe from fox attack, and saves the early mornings to let the chickens out, or worrying about the door being open after dark. There is a manual override button if you need to open or close the pop-hole outside the normal settings.
No DIY knowledge is required and no messy wiring to do
Calibrates the door automatically making installation very easy
Can raise a door up to 2kg in weight
Measures 16.7cm wide x 9.3cm tall and 6cm deep
Use the easy-to-program timer or built-in light sensor or a combination of both
Battery warning light visible from 100 meters away
Use 4 x AA Alkaline batteries (incl.) or see booklet for more options
The Auto-Stop feature stops the door if there is an obstruction e.g. a chicken in the way
Backup lithium cell battery to keep the clock working if the batteries run out (CR1220 Lithium cell battery)
Self-diagnosis capability shows a message on the screen advising what action to take
Suitable for -30 to +50 degrees Celsius, built for extreme weather conditions
Integrated LCD screen ensures it is easy to set up and alter timings when necessary
You won't need an 8-year-old to program this door!
Designed with large buttons so you can program the unit easily, and with gloves on in the winter
The All-in-One Design of the ChickenGuard makes installation very easy, screws provided, just add the included 4 x AA batteries. Simply attach the Pop-Hole Door Opener to the outside of your chicken house, tie the lifting cord to your pop-hole door and add batteries.
The ChickenGuard Door Opener is covered by a 3 year Manufacturers Warranty. Should faults occur they would be quickly and efficiently rectified by ChickenGuard (based in Cambridge), or call us if you have technical queries that we might be able to help with. Chicken Guard - Call 0845868 5817 or email info@chickenguard.com
Standard delivery via courier is next working day (when in stock) to most mainland UK destinations for orders placed before 2pm (excl. weekends and bank holidays).
Coop Door Opener Works Well
It was easy to set up and appears to work well at the moment. It has only been set up for a week and once the weather changes it may not be as good, only time will tell.