Hardwood Woodchip
What is the best material for the floor of a Chicken Run?
Hardwood Woodchip is THE perfect surface for chickens. Your chickens will love rooting about in it looking for worms. Add it straight onto the ground in your run, no membrane needed, no digging required. Maintenance is very easy – see our Youtube video about Woodchip - either let the rain wash it through or rinse with a hosepipe whilst raking it. Sprinkle with our Coop & Run Sanitising powder monthly – job done!
Flyte so Fancy Woodchip consists of loose, free-draining, particles of natural hardwoods e.g. mainly Beech and Ash, produced from sustainably harvested British forests, FSC Certified, with a particle size of 10-40mm and do not contain recycled wood waste. They come in 50L bags, weighing approx. 14-17kg depending on the moisture content of woodchips i.e. the seasonal variations. The plastic bags themselves are also recyclable, just add to your regular plastic waste. Visit our page on Using Hardwood Woodchip for more details.
Available as single bags delivered next working day directly to your door via courier. Or in money-saving bulk quantities of 10 bags, 20 bags and 40 bags or more. 10+ bags are usually pallet deliveries and delivered to your driveway by Palletline.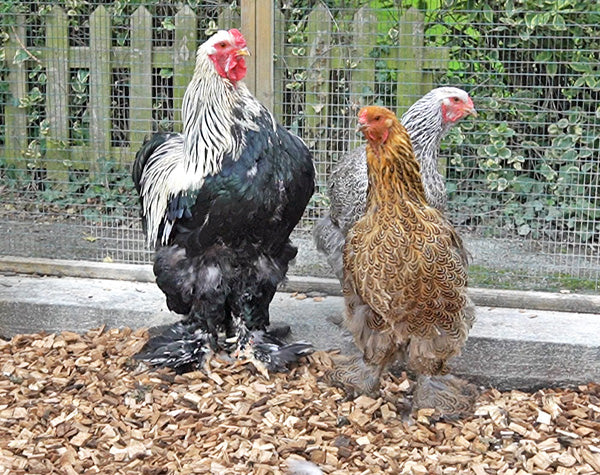 AskPhill
Phill guides you through just how easy it is to maintain and change all the Woodchip on the floor of your Chicken Run, ready for winter - or summer.
Chickens & Ducks
A product focus on four of our Mobile Chicken Coops. Designed to create highly mobile and incredibly practical chicken coops.
Garden Storage
Thinking about the winter glow of a log burner or the warmth and comfort of an evening around the fire with friends - the pros and cons ...
Garden Storage
What makes a Dorset Log and Garden Store different - Let Phill show you why the quality matters.