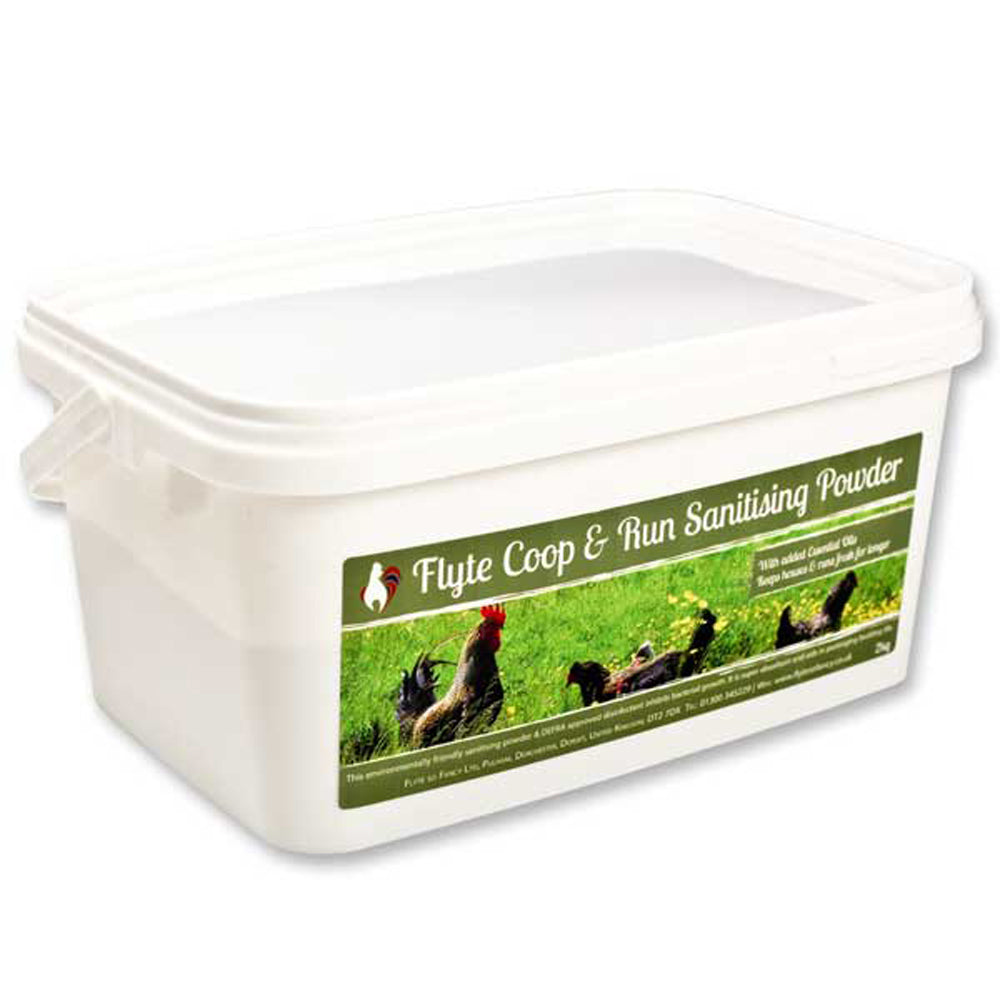 Flyte Coop & Run Sanitising Powder
Chicken Coop and Run Sanitising Powder from Flyte so Fancy. 2kg or 5kg powder in re-sealable plastic tub.
Sprinkle throughout your Chicken House, and their Run outside, to keep your hen's environment fresh, clean and dry.
It contains natural ingredients like Yucca to combat ammonia, seaweed and essential oils like citronella for anti-mite properties with the addition of Halamid which is a powerful disinfectant powder for killing germs.
Contains Halamid disinfectant that inhibits bacteria growth
Pleasant odour scented with citronella to keep flies and mites away
Environmentally friendly and non-hazardous
Suitable for all animals and birds
Does not contain phosphates
Super absorbent Ground Sanitiser

New generation bedding conditioner for chicken coops
It is very absorbent being able to absorb at least 1.5 litres of water per kg of powder. This forms into dry clumps which are then easy to remove. This can aid the fight against the coccidia growth which leads to coccidiosis as well as reduce humidity in the Coop which can cause respiratory infections in chickens.
Standard delivery via courier is next working day to most mainland UK destinations for orders placed before 2pm (excl. weekends and bank holidays).
Sanitising powder
This smells really nice, I could smell it when I walked into the run and a little goes a long way. I've used these guys a few times now, their customer service is excellent, prices are competitive and delivery is always really quick. Very happy customer 😊
Good customer service
I was very satisfied with the quick response and excellent service when there was a problem with the carrier. Their coop and run sanitising powder is excellent and good value.
Sanitised powder brilliant
Brilliant thanks and smells great in chicken coop
Reliable
Excellent company too deal with
Delivery service is spot on