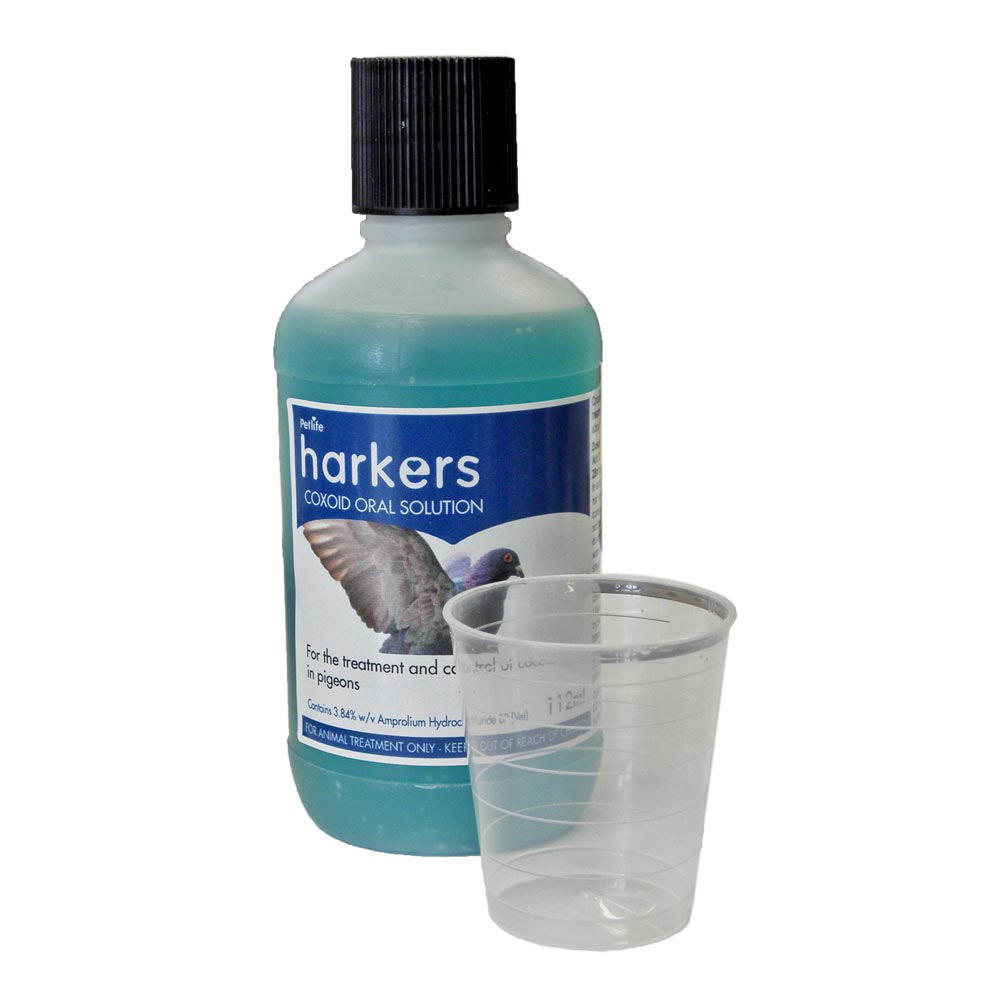 Harkers Coxoid Coccidiosis Treament
Harkers Coxoid is a liquid treatment for Coccidiosis in pigeons and doves. Add dosage to drinking water. Coxoid is available in 112ml bottles and each comes with a measuring cup.
Treatment with Coxoid should be followed up with a multivitamin supplement e.g. Oreganico Tonic or Lifeguard Poultry Tonic.
Coxoid is only authorised under VMD Rules for use in pigeons. DO NOT use in birds intended for human consumption.
Coxoid Treatment for Coccidiosis disease is administered in drinking water. Contains 3.84% amprolium hydrochloride.

Add Coxoid to drinking water at 28ml per 4.5L for 7 days. For serious outbreaks, treatment should be continued for a further 7 days. Birds should not have access to unmedicated water during this time.
Treat all birds, and use anti-coccidiosis disinfectant e.g. Biolink Bi-OO-Cyst, throughout the house and Virkon S Disinfectant for their eating and drinking vessels to prevent re-infection.

For information and guidance on Coccidiosis, including recognising the symptoms, visit our page Coccidiosis in Poultry.

From the Institute of Animal Health: Coccidiosis is the name given to a group of closely related diseases caused by a single-celled (protozoan) parasite called Eimeria. Eimeria species develop inside cells lining the intestine. As the parasites reproduce they cause bleeding and massive swelling of the gut. This leads to a huge loss of liquid and the bird is unable to absorb the nutrients from its food. Many birds may die as a consequence.

This veterinary medicine is marketed in accordance with the Small Animal Exemption Scheme which covers small domestic pets/birds not intended for food use. As such, we are unable to advise on its use for other animals such as chickens as we don't hold the relevant qualification to prescribe medicine for animals. To do so would be a breach of VMD rules.
Our Standard delivery is next working day, to most of mainland UK, if ordered before 2pm (excl. weekends and bank holidays).
Harkers Coxoid Coccidiosis Treament - 112ml
So fast!!
Got my order two days after I placed the order. I will definitely do more shopping there again.
Harkers Coxoid Coccidiosis Treament - 112ml
always quick and correct order have used before ,always keep in stock
Harkers Coxoid Coccidiosis Treament - 500ml
Quick, friendly & helpful. Effective. +++++++!!!!!!@@!@@@
Harkers Coxoid Coccidiosis Treament - 112ml
simple to use efficient service a must for healthy hens, its the future
Harkers Coxoid Coccidiosis Treament - 500ml
Very efficient service. Love this scented bedding - from natural herbs. Keeps the coop smelling fresh for days