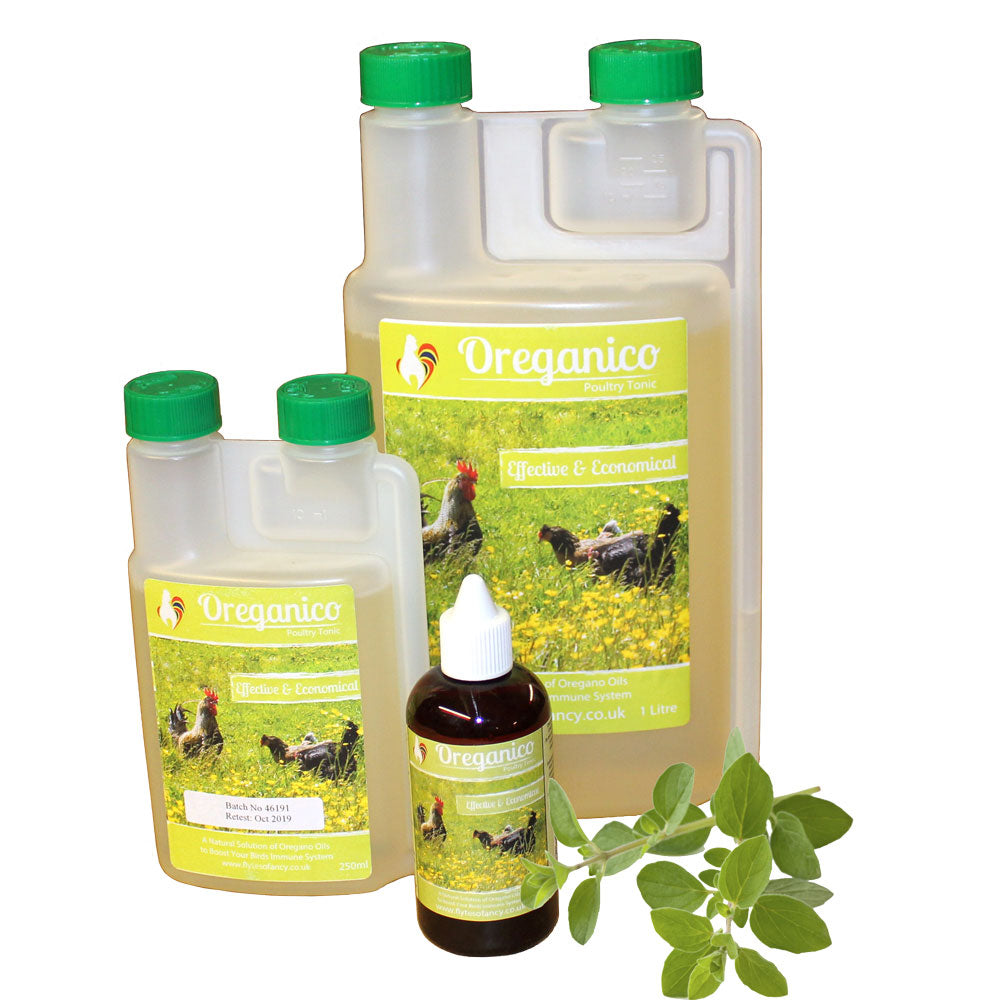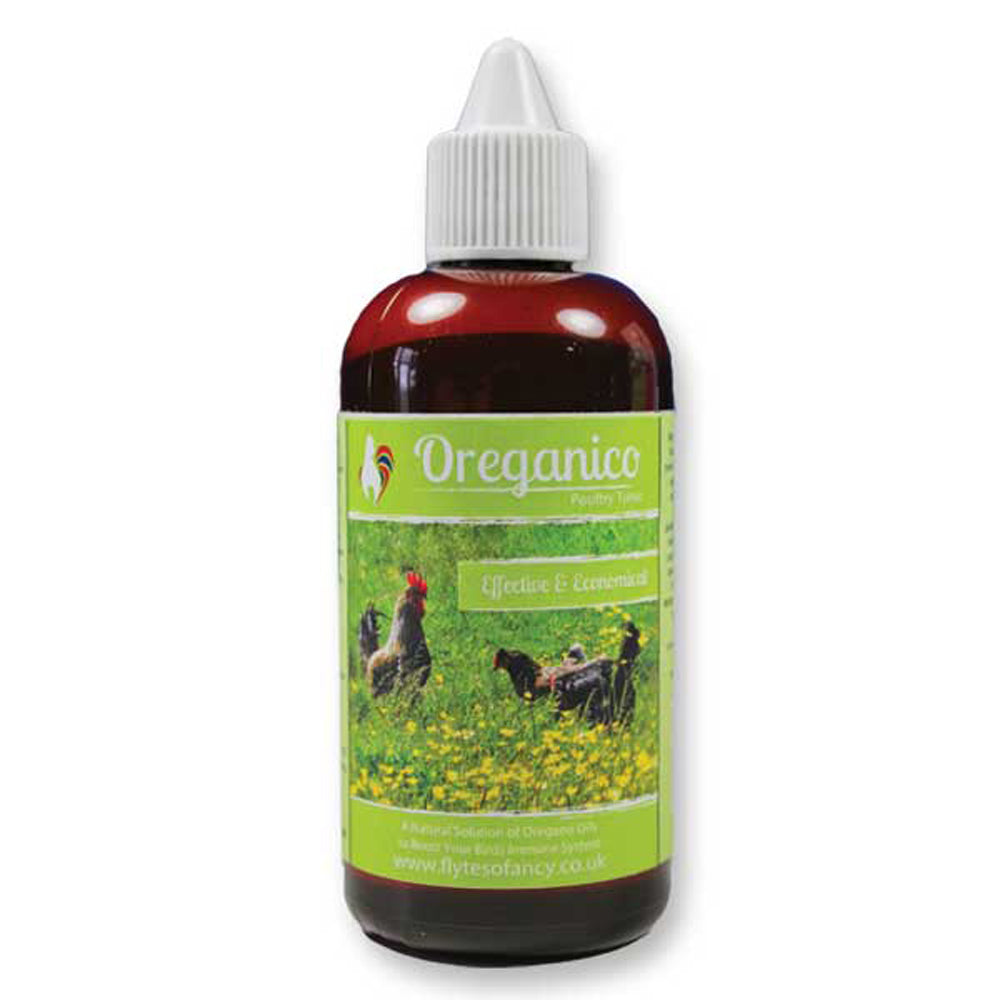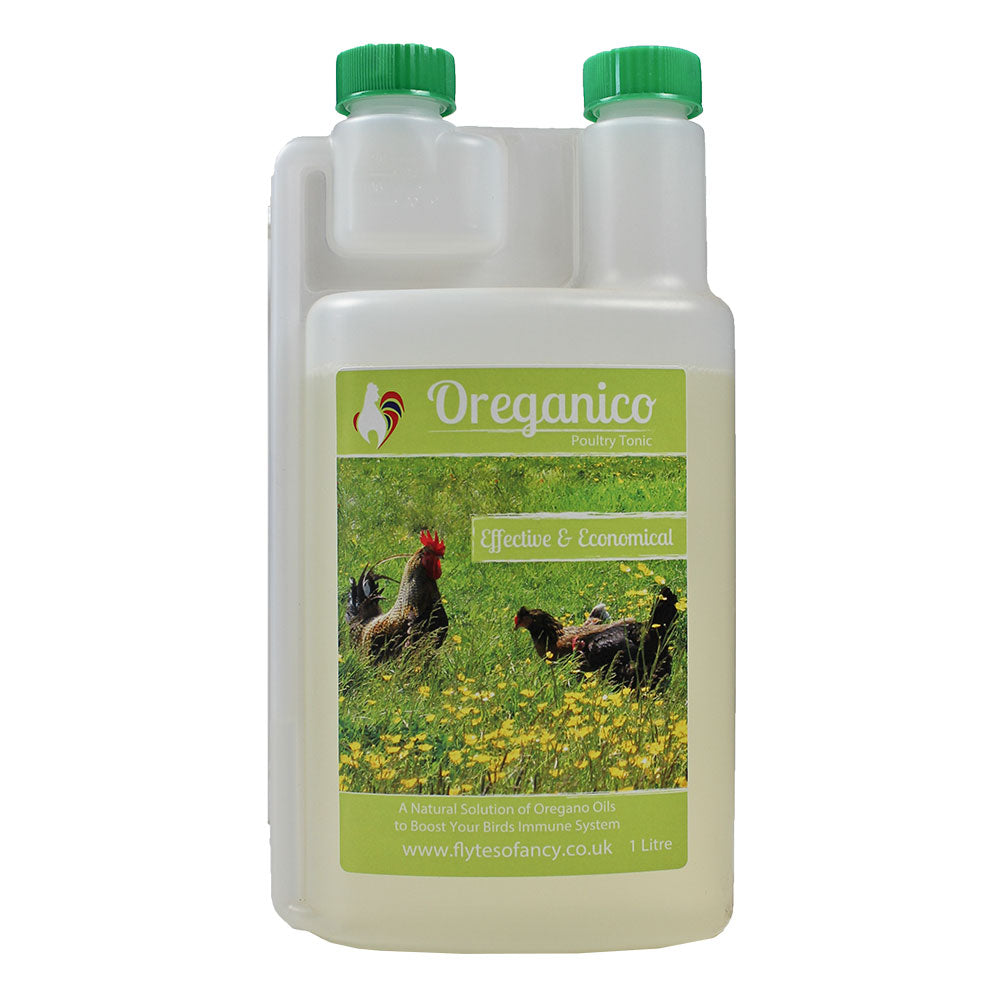 Oreganico Poultry Tonic from Flyte so Fancy
Oreganico Poultry Tonic from Flyte so Fancy - 100ml, 250ml or 1 litre.
A natural solution of Oregano oils to boost your birds' immune system proven to be effective and economical. For example - the small 100ml dropper bottle will dose up to 200 litres of drinking water.
Oreganico is a 5% Solution of Oregano and essential oils. Its anti-microbial and anti-oxidant properties offer a natural alternative to antibiotics.
Suitable for all poultry and game birds, boosting their immune systems to help combat most diseases, including Avian Flu, Blackhead, Coccidiosis, Mycoplasma, Infectious Bronchitis, Salmonella, E-coli etc.
FSF Note: we believe this is the next best thing to an antibiotic for your birds - it really works!
Directions for Use: 
Normal dosage: 2.5ml per 5 litres of water (2.5ml = 1/2 Teaspoon), with this bottle the dosage is equivalent to 10 drops per one litre of water.
Dosage at times of stress: 5ml per 5 litres of water (5ml = 1 Teaspoon)

Also known as Gamestay Tonic for Game Birds, Pigeons and Doves.
Standard delivery via courier is next working day to most mainland UK destinations for orders placed before 2pm (excl. weekends and bank holidays).
A good perk up
After worrying that my chooks would avoid as it has a strong smell, they seem to have taken to it and seem happy. I used it when I introduced new hens.
Healthy Hens
I purchased this and a couple of other items to keep in case my hens appear under the weather. I've been adding the origanico to their drinking water and they seem to like it. They are looking better than ever. So far so good! I appreciate all the advice available from FSF and their website & YouTube too!
Excellent service as always
Love the Oreganico when any of my chickens seem a bit under the weather and as always, excellent and speedy service.
Great tonic
I've used this right from the start of keeping hens and it's one of those things I wouldn't want to be without. It's so handy to have if infection strikes but also as a preventative because it does support a good immune system in poultry.
Problems with health issues in hens
The young woman that I spoke with on the phone about what was happening to a couple of my hens was really really helpful, and caring. She listened to my description of the hen's behaviour and asked pertinent questions and then came up with Organic Poultry tonic as a possible treatment. She was absolutely right! The hens are showing much more hen like behaviour than they were. Well done Flyte So Fancy for having such helpful people answering the phone. Thank you.