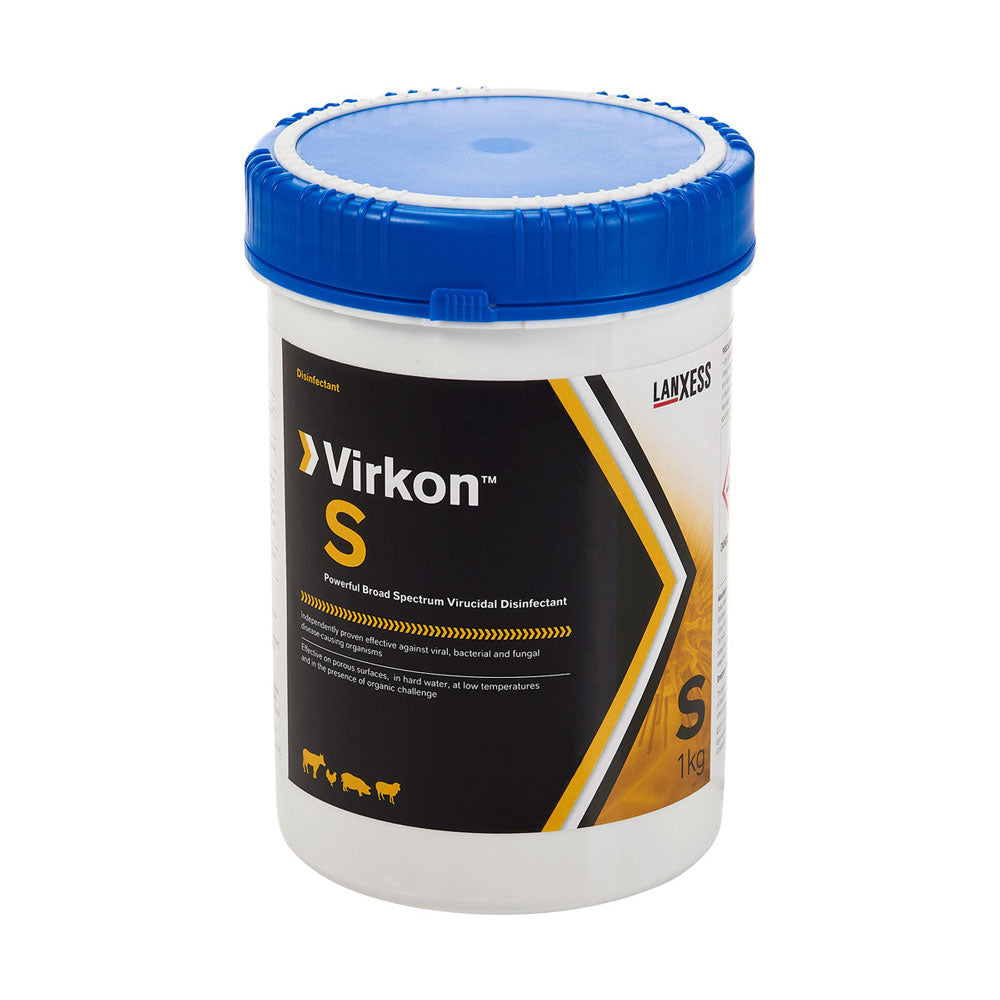 Virkon S Disinfectant, 1kg
1kg tub Virkon S Disinfectant Powder will make up to 100 litres.
Virkon S is a DEFRA approved disinfectant and is active against viruses such as those that cause Bird Flu.
If you are concerned about epidemics and pandemics, Foot and Mouth Disease, Bird Flu etc, this is the product to go for.
Probably the most versatile disinfectant, it can be applied to the animal, its house, or surroundings and will kill viruses, fungi and bacteria quicker and at lower doses than most other products.
It is powerful yet safe to use with animals and around the home. Simple to mix and instantly ready to use. With powerful, proven performance against over 500 strains of viruses, bacteria and fungi including Foot and Mouth Disease (FMD), Avian Influenza (Bird 'flu), Salmonella and Campylobacter, Virkon® S is selected by governments worldwide for Emergency Disease Control.
Approved by DEFRA against diseases of poultry order at a dilution of 1:280. The manufacturer's recommendation is to use it at 1:100. Effective contact time is at least 1 hour. Please read the instructions for use carefully.
We would suggest using Rubber Gloves or disposable Latex Gloves. If it comes into contact with skin wash off thoroughly immediately. Do not use on the ground near watercourses, or on grass or bare earth.
Standard delivery via courier is next working day to most mainland UK destinations for orders placed before 2pm (excl. weekends and bank holidays).
Virkon S Disinfectant, 1kg
First rate & very speedy. Use it for weekly wash of chick housing etc.
Virkon S Disinfectant, 1kg
Super quick delivery. An essential when it comes to cleaning out.
Virkon S Disinfectant, 1kg
Easy to use site. Quick delivery and product as expected. Does what it says on the tin!
Virkon S Disinfectant, 1kg
Always a first class service from this provider does exactly what it says on the label !
Virkon S Disinfectant, 1kg
It's Vircon... Not much to say however product came well packaged and swiftly with regular email updates about when it would arrive.