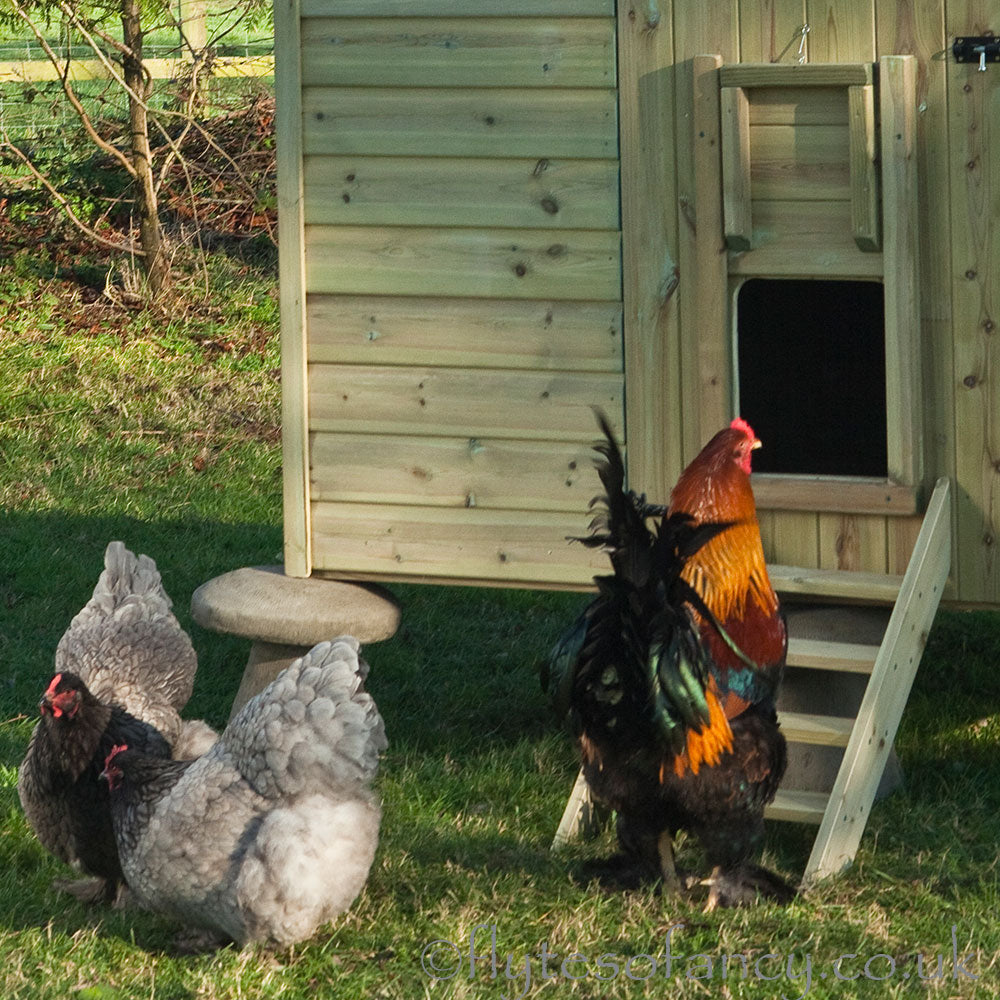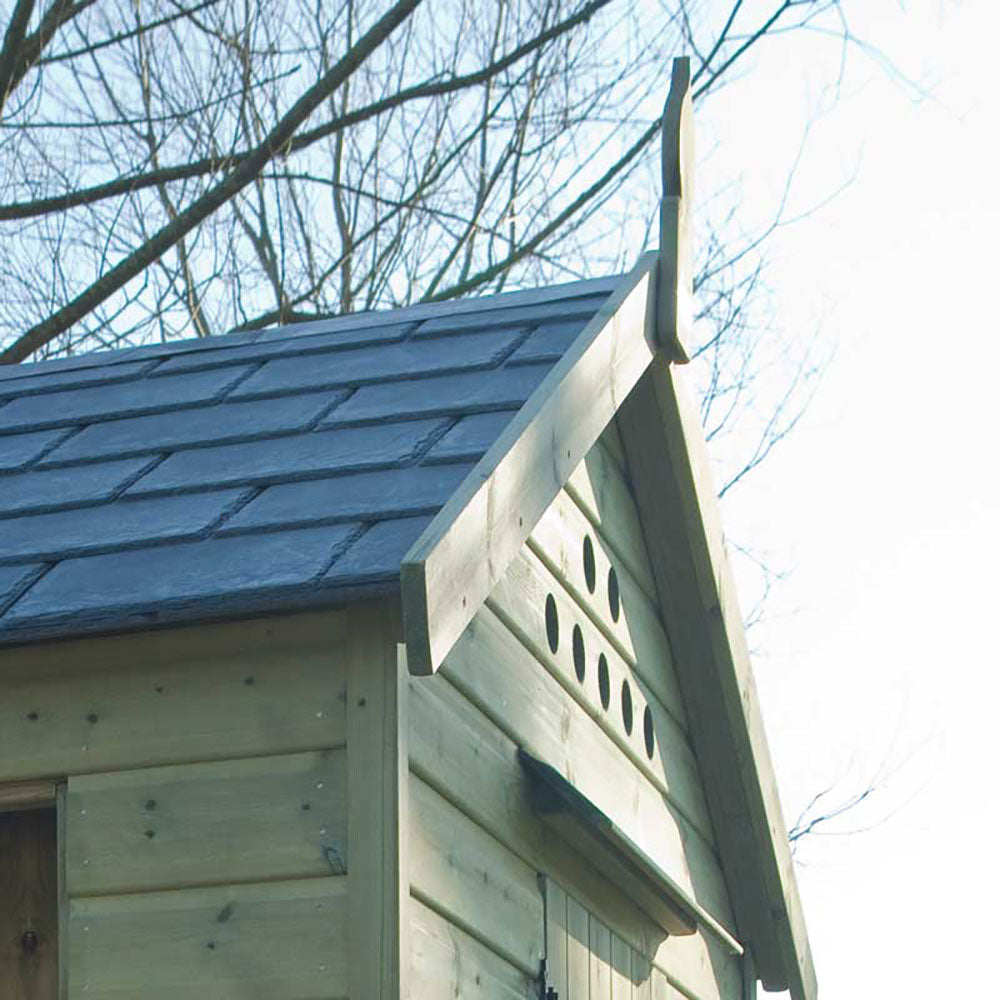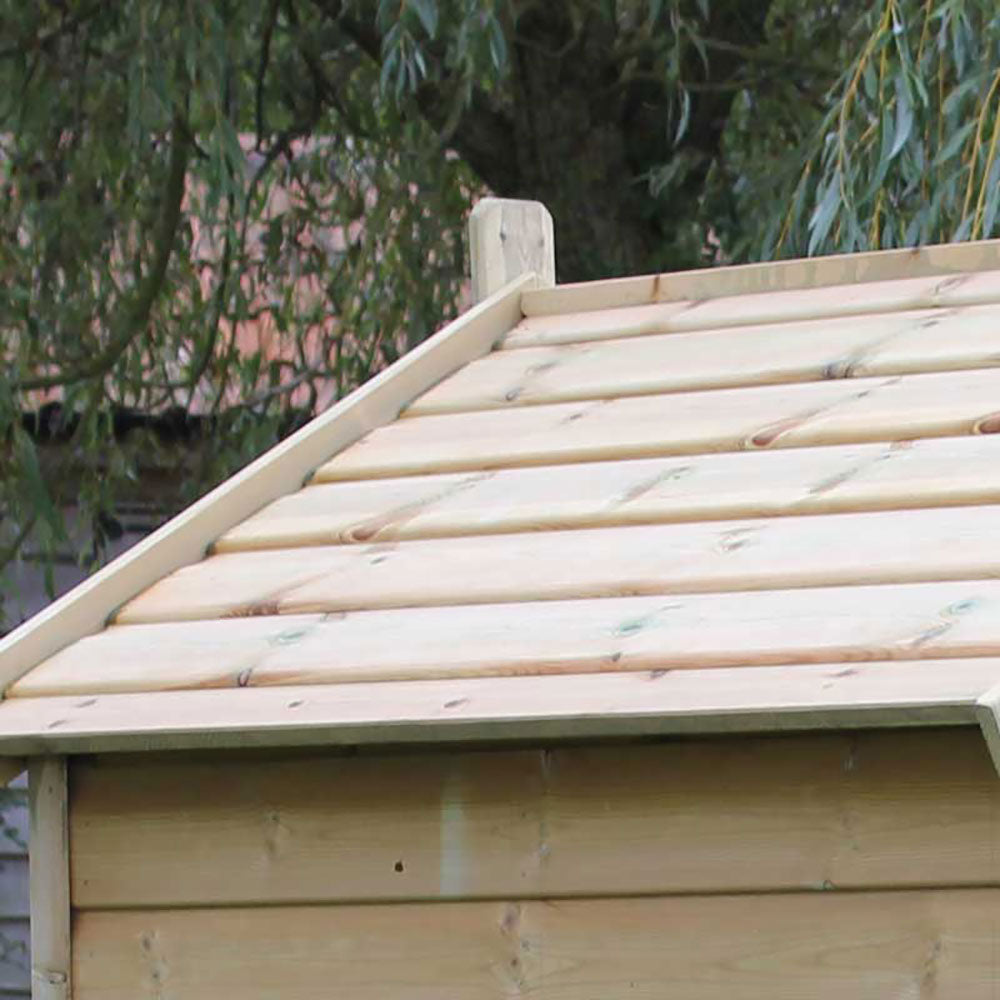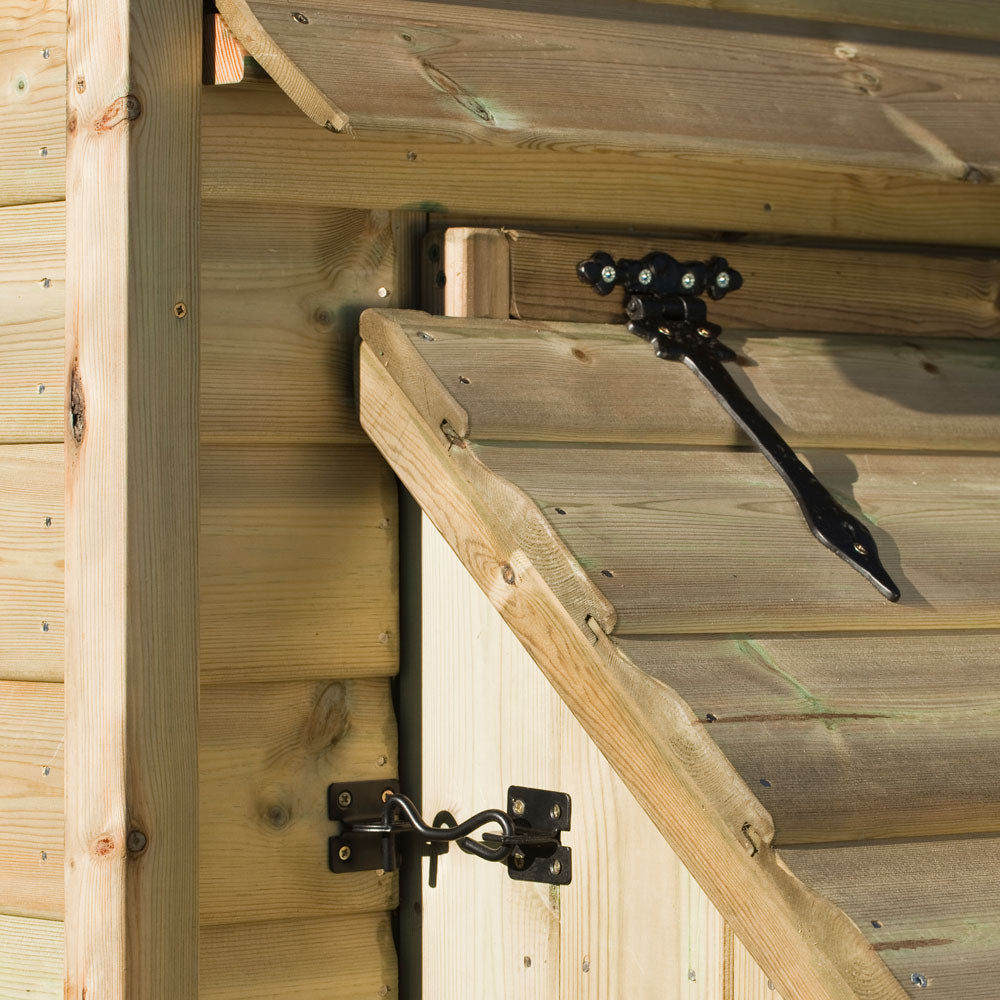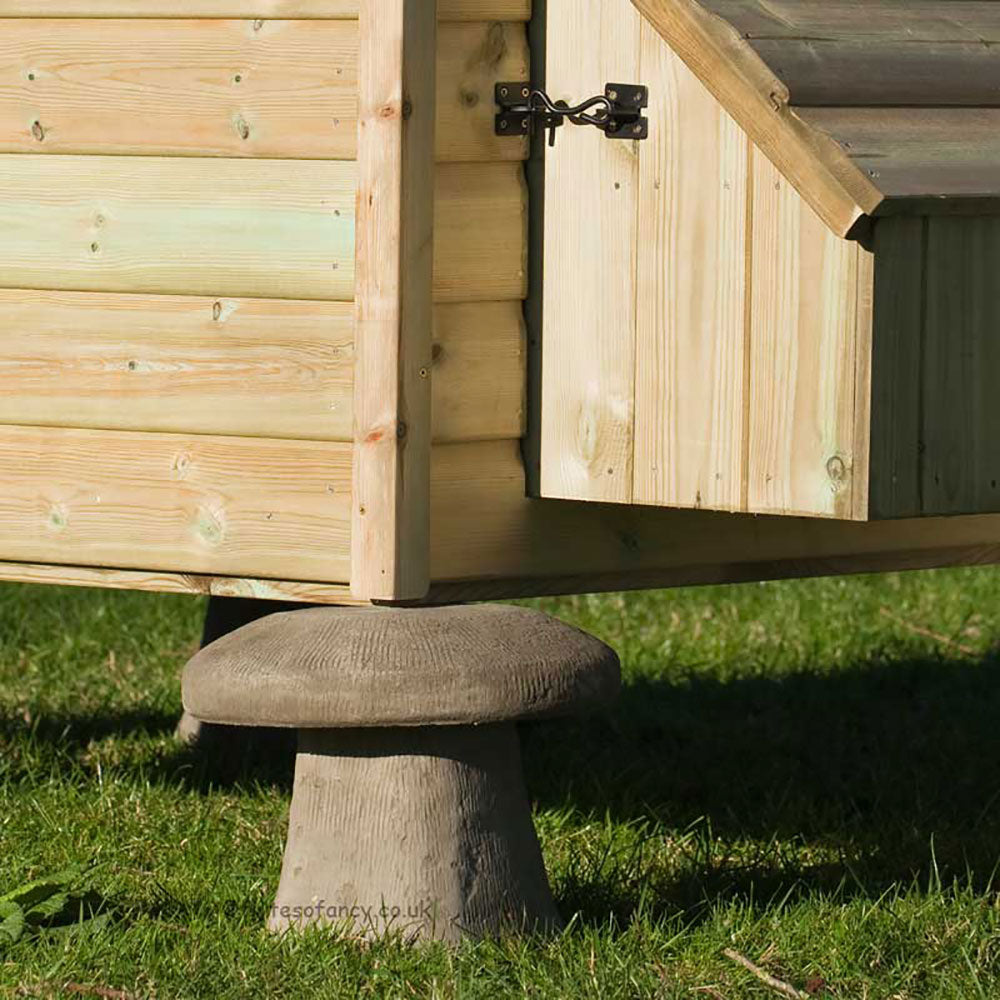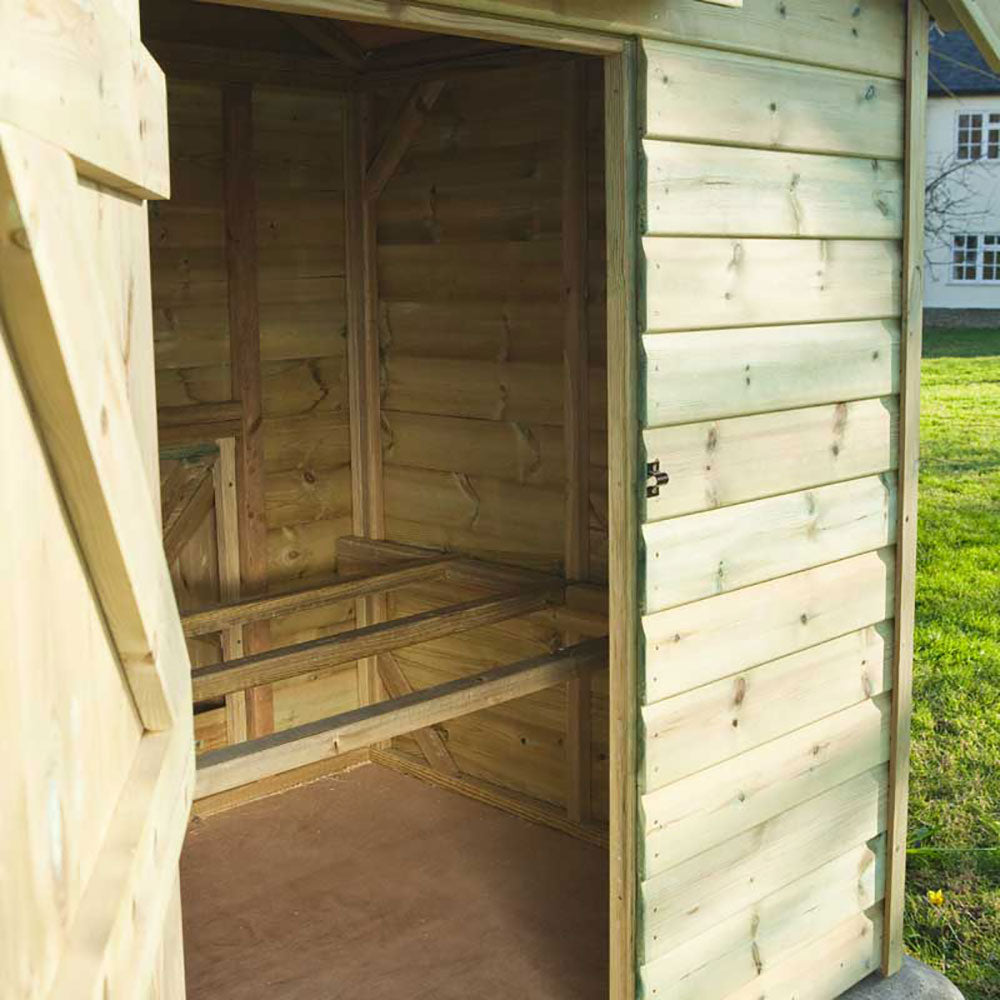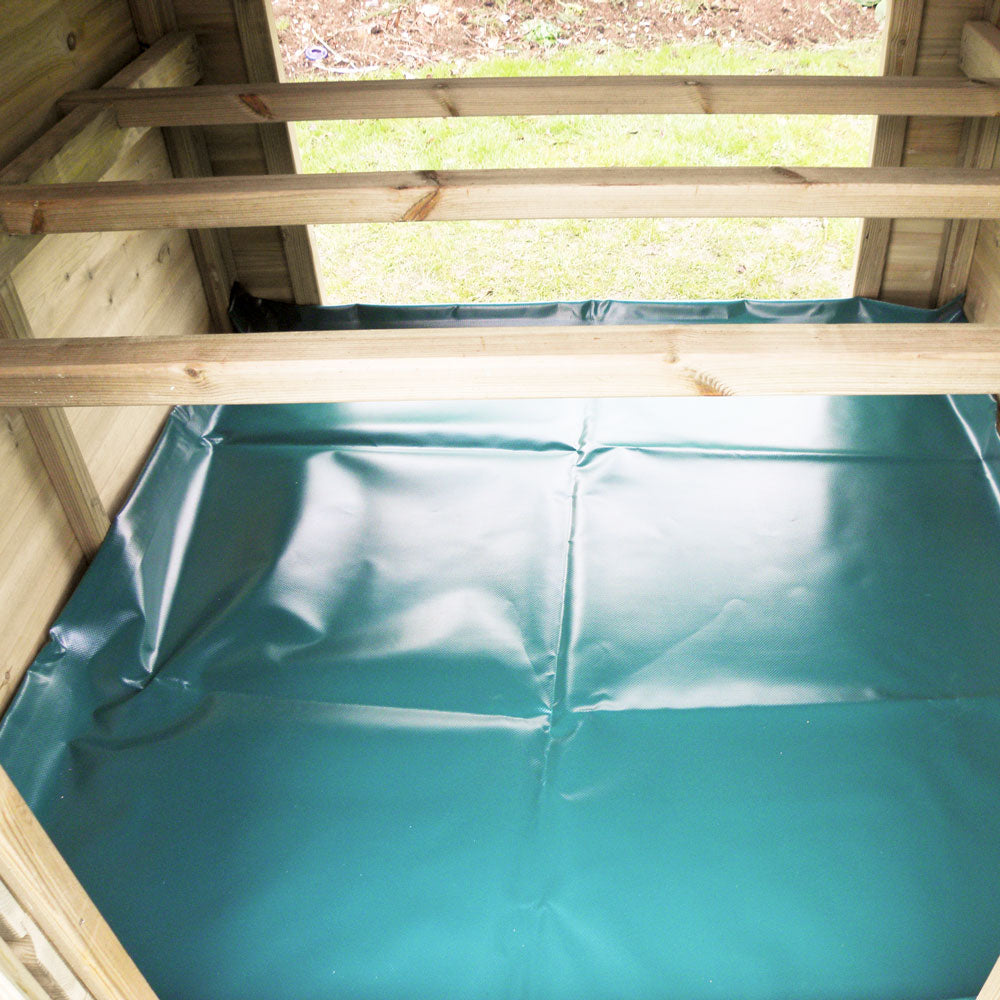 The Granary 25 Hen House - A Large Hen House for approx. 25 chickens. It sits grandly on top of Staddle Stones as traditional Granaries used to do.
This is the largest of the Granary range, approx. 6ft wide by 4ft deep by 8ft high. The Granary 25 is a large walk-in Hen House which provides spacious living for your chooks.
* For 25 - 30 Birds * Removable perches * Lift-off Nest Box * Sits on 6 Staddle Stones * 18mm thick floor * Large access door * PVC Droppings Sheet included * Feed Store option * Internal max. height 6ft 4in * Good ventilation * Painting options * Stylish design * Black Ornate Hinges & Hooks * Finial finish for barge boards *
This large Hen House has an option of either a Timber or a Tiled Roof and sits on six Staddle Stones - beautifully modelled here by our large Brahma Cockerel (Bruce) and his Blue Orpington girls.
The Granary 25 also has the option of adding a small built-in feed store cupboard into the side of the house so that it will keep your feed, bedding and chicken keeping bits 'n' bobs nice and dry. Note: this option reduces the space and the perch length inside the hen house.
It includes six Staddle Stones; a PVC Droppings Sheet for the floor; three long perches positioned 45cm (18in) above the floor - we can make these lower if required; external lift-off nest boxes and it provides easy access through the large walk-in front door. It is also VSD Auto-Door (Internal) compatible.
For more details about the timber we use, how to keep it waterproof, and how to take care of it over the years please visit the About our Houses page.
Choose your Roof type:
The T&G Shiplap Timber Roof is 21mm thick, slow-grown, Swedish Redwood T&G Shiplap which is then fixed in place over an exterior-grade plywood liner and finished with a timber ridge bar.
The Slate-effect Tiled Roof is made from a BBA certified polyester resin composite, widely used on residential houses - also secured on to a plywood base. The tiles are so effective you would believe they were Welsh Slate, until you touch them. The Tiled Roof is finished with a lead trim along the apex.
Dimensions
Overall external: 221cm wide x 176cm deep x 252cm high (incl roof, nestbox, staddle stones, finial); House body: 188cm W and 127cm D
Internally: 182cm wide x 122cm deep x 193cm high
Access door: 65cm wide x 131 high
Steps: 65cm wide and extend by 50cm
Staddle Stones: 30cm high
Perches: 2 x 183cm long; 1 x 176cm long
Pop-hole size: 27cm wide x 30cm high
Construction
All timber is sustainably resourced, FSC Certified, Scandinavian Redwood
Roof option - Timber: 21mm planed tongue & groove Pressure Treated Shiplap
Roof option - Tiled: Grey Slate Effect poly-resin Roof Tiles on a plywood base with lead capping strip
Body timber: 16mm pressure treated Tongue &Groove
Floor: 18mm Exterior Grade Sealed Hardwood Plywood
Frame: 38mm x 38mm Pressure Treated Eased-Edge Framing
Fixtures: Stainless Steel Nails; Plated & Painted Decking Screws
Fittings: Heavy Duty Galvanised or Zinc Plated
Timber Warranty: 15 years against rot and fungal attack (see Warranty conditions)
Handmade in Dorset
Delivery charge starts at £59 for mainland England destinations. Currently 2 week delivery.
This house arrives flat-packed, in panels for self-assembly, on a wooden pallet via Palletline transport company. If you would like to see how easy assembly is please just email info@flytesofancy.co.uk for a preview of the instructions.
After placing your order a separate confirmation email will detail delivery method and date - or - visit our Delivery Information page.
Granary 25 Hen House - Tiled Roof
Great product, fit and finish was excellent and supplied with extra hardware! Very good customer service. Great product, great service.
Granary 25 Hen House - Timber Roof
Excellent service sorting out a difficult delivery over the Easter weekend - thank you.
Granary 25 Hen House - Timber Roof
Service was excellent - very fast and efficient.
Granary 25 Hen House - Timber Roof
I was kept informed right through the week what was happening with my order and it arrived exactly when they said it would The timber used is top quality and it will last me for years
Granary 25 Hen House - Tiled Roof
I bought a large Granary Hen House from Flyte So Fancy and they have been incredibly helpful to me in many ways. Firstly they shipped the product quickly for me, then when I missed various parts off from the order, they were dispatched immediately and with the most helpful advice I could ask for. Fantastic! Would very highly recommend dealing with this company. So nice to have such amazing customer service (and with a smile!) Top quality, very easy to put together with clear and helpful instructions and pictures. Very sturdy, very sound and a super piece of kit that looks amazing in the garden. It was so nice, we thought of keeping it for ourselves as a summer house!