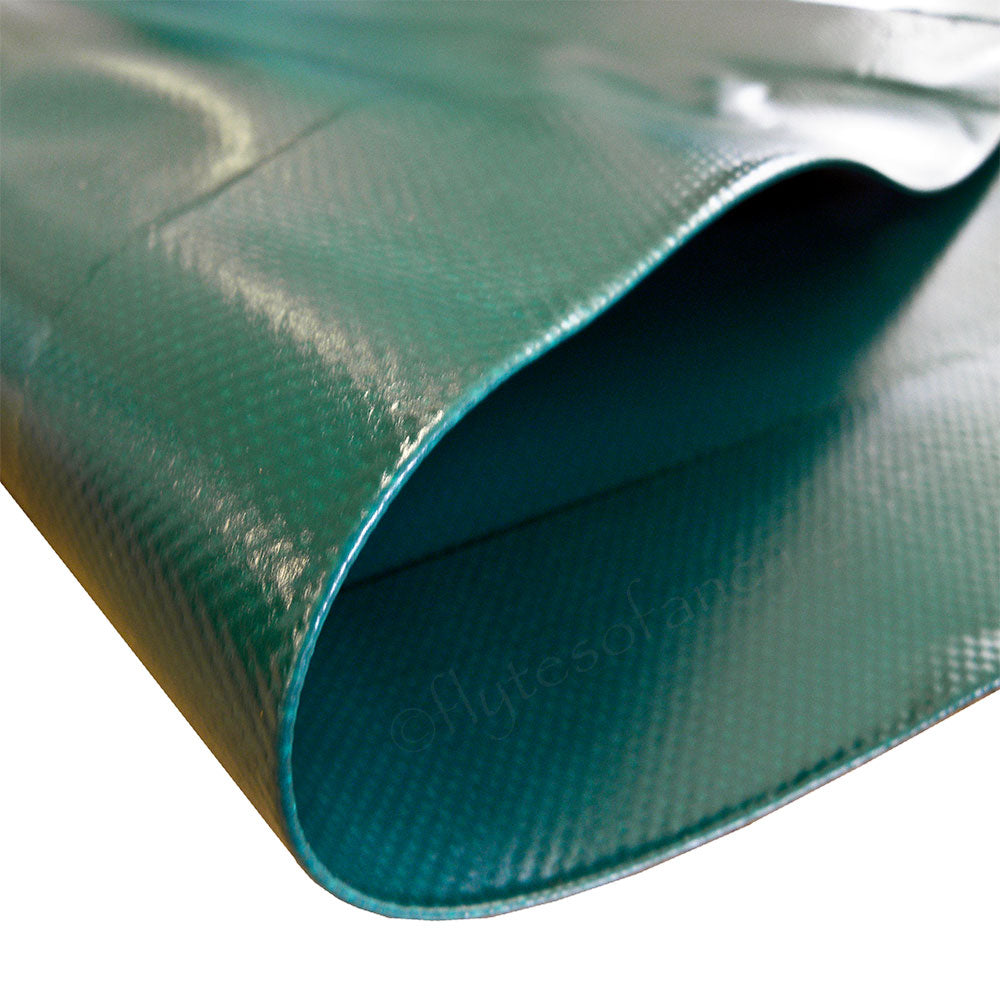 Droppings Sheet For Hen Houses
Tarpaulin Droppings Sheets for Hen Houses. Tough PVC Sheets are available in 3 sizes.
A heavy-duty PVC droppings sheet for placing on the floor of Hen Houses with the bedding on top. Pick it up by the 4 reinforced ring eyelet corners for easy removal of litter.
PLEASE double check the width x depth of the floor of your henhouse before purchase and allow a few cm extra all round.
Small Measures: 102cm x 92cm
Medium Measures: 132cm x 127cm
Large Measures: 188cm x 127cm
Guide: the Small size fits the Granary 8; the Medium fits a Granary 15 and the Large suits a Granary 25 Hen House. The sheets are custom-made for the above sizes and therefore will not necessarily fit perfectly for other henhouses that we do.
Simply place the Tarp on the floor (allowing for a little overlap at the edges) and scatter the bedding on top, it couldn't be easier. When it's time to clean out, just grab the corners together and voila!
In addition, if you use it with a bedding that composts brilliantly - like HempBed-E - just empty it straight onto the compost heap, mix yourself a Pimms and daydream about the prize-winning vegetables to come.
Standard delivery via courier is next working day to most mainland UK destinations for orders placed before 2pm (excl. weekends and bank holidays).
Perfect !
Thank you for your help with sizing. Quick response and quick delivery. Recommend your hen house it's designed by people who keep hens ! It's brilliant !
High quality droppings sheet
I wish I had bought this five years ago when we got our ducks! It makes cleaning them out so much quicker and I like the thickness of the sheet. With the sheet and bedding it makes it much softer for them to lie on. Great product which I would highly recommend to anyone.
Large Droppings Sheet
I actually bought this large droppings sheet for my duck house after purchasing the medium sized one a while back for one of my chicken coops.. It does exactly what it's suppose to and makes cleaning out 🐔 coops and 🦆 houses so, so much easier. Definitely worth the money. Thank you FSF.
Droppings Sheet
A great invention which makes it much easier and quicker to clean the hen house out. It's of a strong construction and lasts a good long time.
Droppings Sheet For Hen Houses - Medium
The staff was very helpful and the make of the chicken house and run are excellent. They can accommodate the design to what you want. And the delivery was very quick too. The staff was very patience with me as I took awhile to make my mind up with which chicken house!! Very good and easy to take out house and clean