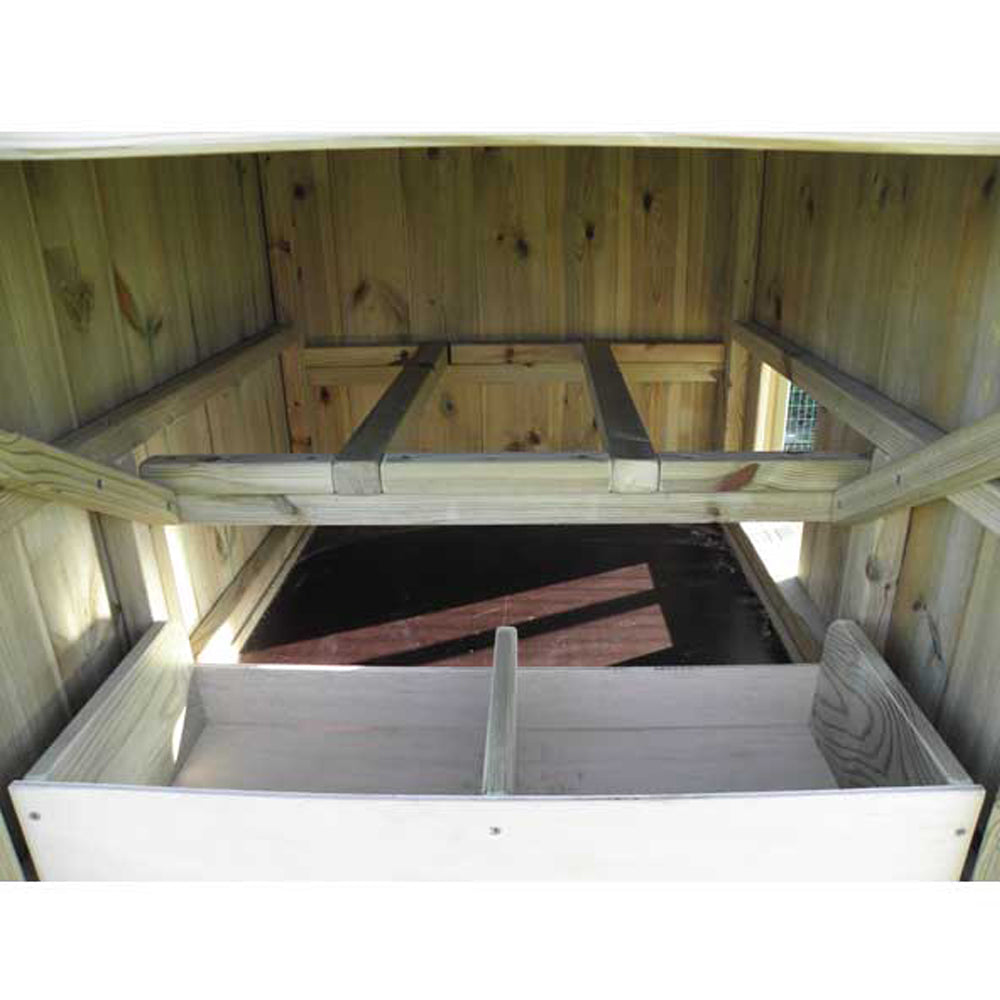 The Flyte Aviary 4 Chicken Coop
The Flyte Aviary 4 Chicken Coop. Designed and made in Dorset by Flyte so Fancy.
Flyte Aviary Coops have all the features that are ideal for the chicken keeper with limited space. With urban poultry-keeping now such a popular hobby we were keen to design a house that could be placed in a corner of the garden.
Access to the Flyte Aviary unit is gained wholly from one side, a big plus when space might be limited. There is a large door to the walk-in run, a full-width door to the house, as well as under-house access meaning that the Flyte Aviary is perfect for placing up against hedges, fences, and walls.
The 4-bird Aviary has an internal nest box with two perches on which you can expect to comfortably seat 4 large birds or 6 Bantams. Above the nestbox is what we call an anti-perch (poop) shelf which is designed to prevent the birds from roosting in, or perching above, the nest boxes.
For the roof of the house section, we use our 9mm thick, never-leak, recycled black polypropylene (as used on the handy hen house range). Very secure and ... leak-proof! See the Specifications tab.
The pull-out floor is made of a smooth resin-coated board, 12mm thick, and is fully removable for very easy cleaning.
The capacious run gives the hens plenty of room to roam and even has the unique characteristics of an outside veranda of day perches, perfect for enjoying that afternoon nap. For even more roaming room we offer add-on 3ft extension runs.
Extra features can be added to make protection from the elements and wild birds more complete, which is sometimes necessary with our more delicate girls. A Polycarbonate Roof (6mm twin-wall) can be added to the top of the run, providing shelter without reducing light. It will make the run area biosecure and protect most of the surface of the run from the worst of the rain.
Aviary 4 Coop has a footprint of 3ft 8in x 7ft 5in. Height max. is 5ft 2ins.
To add an Automatic Door Opener to the Aviary just view Automatic Door Openers and if ordered at the same time as the house then we will fit it for you.
Dimensions
Externally overall: 111cm deep x 232cm long x 157cm high
Internal house: 77cm D x 93cm L x 87cm H
Height under house: 60cm
Run door: 50cm W x 121cm H
House door: 71cm W x 60cm H
Unit Footprint: 98cm D x 225cm L
Construction
All timber is sustainably resourced, FSC Certified, slow-grown, Pressure Treated Scandinavian Redwood
House: 16mm Tongue & Groove
Floor: 12mm Phenolic-coated Resin Plywood
Frame: 38 x 38mm Eased-Edge Framing
The Run: 18g, ½-inch by 1-inch, European Green-coated Galvanised Weldmesh
Roof: Recycled Black 9mm Polypropylene Board (not currently shown in images)
Fixtures: Stainless Steel Nails; Plated & Painted Decking Screws
Fittings: Heavy Duty Galvanised or Zinc Plated
Timber Warranty: 15 years against rot & fungal attack (see Warranty)
For more details about the timber we use, how to keep it waterproof and take care of it over the years please visit the About our Houses page.
Current delivery is approx 4 weeks. Delivery is available throughout the UK and charge starts at £59 to mainland England postcodes.
The Flyte Aviary will be delivered flat-packed in panels, on a pallet, for self-assembly. Full instructions and all screws are included, no carpentry required.
For pallet delivery details please see our Delivery Information page.
Hen coop
All your staff were friendly and helpful..The guys who delivered and assembled my hen coupe and run were very helpful it looks amazing we have four young pullets arriving in three weeks I would certainly recommend you..
The Flyte Aviary 4 Chicken Coop
A sturdy and well made coop for a reasonable price. Very detailed instructions which made it a doddle to assemble. All areas very accessible.
Love it…and so do my girls! 🐔
Very happy owner and very happy chicks. A much sturdier coop than others on the market and no more expensive. Only comment is that my ladies can't work out the high level perches and end up sleeping in the nest boxes. I have put the perches down at nest box level now and removed the slanted board. Very easy to clean and to access all parts. Many thanks.
The Flyte Aviary 4 Chicken Coop
Very good service very helpful Beautifully crafted looking forward to putting it up
The Flyte Aviary 4 Chicken Coop
AAA service An assembly videoe on you tube would be helpful.