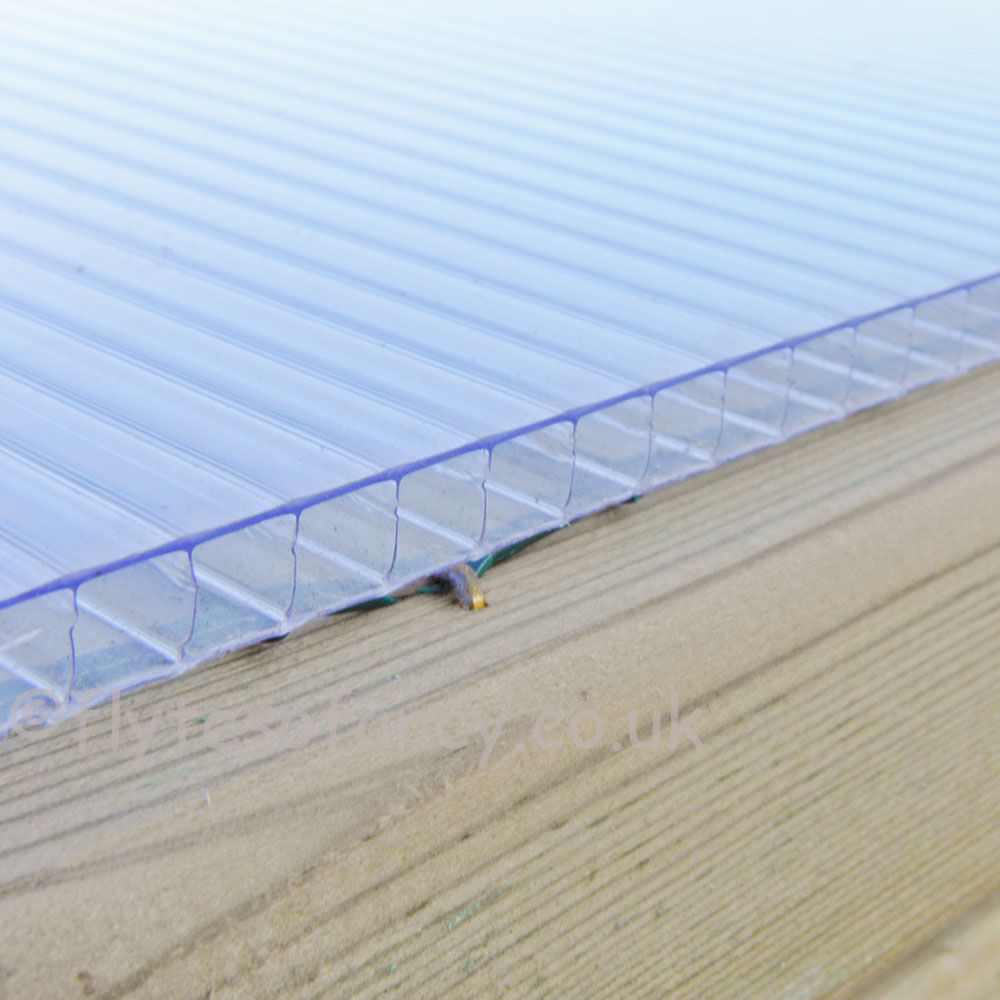 Polycarbonate Roof for Flyte Aviary 4 or 6 Run
Polycarbonate Roof for the Flyte Aviary 4 or 6 Chicken Run.
Add this option to your Aviary Chicken Coop and we will fit the polycarbonate sheets to the roof panels for you (fixes on top of the weldmesh with special polypins).
Solid Twin wall Polycarbonate Roof for the Aviary Coop Run to add that extra protection from the elements and protection from wild bird droppings. This will help to keep the run area dry, whilst still allowing in plenty of light.
An ideal solution to prevent the worst of the rain from falling on the birds play pen area but also, by adding a solid roof, it can provide further protection if your coop is positioned under trees or may be prone to other contaminants.
This 6mm thick, translucent, twin-wall polycarbonate sheet will be fitted to the roof panels before despatch when ordered together. If ordered separately it will come with instructions and all fixings needed.
The polycarbonate is UV stable and will last for many years but we advise cleaning twice a year with a detergent solution e.g. Poultry Shield or Flyte Mite Spray, and soft cloth to remove any green algae build up.
Please allow up to 7 days for delivery if ordered separately. Otherwise, if ordered with your Aviary it will be ready-fitted.
Polycarbonate Roof for Flyte Aviary 4 or 6 Run
From the moment I contacted Flyte so Fancy I had nothing but brilliant service and nothing was too much trouble. I added items to my order, I moved the order delivery date and rang up for reassurance that I would be able to construct the coop and aviary. At all times my questions were answered quickly, I was given reassurance and the order was changed without question.
The coop and aviary is amazingly simple to put together, (the instructions are excellent), alot easier than furniture from a well known Swedish company and it is solid, it is going to keep my girls very warm and snug. I would recommend the timber skirt as it prevents the girls from flicking the woodchips everywhere because they love scratching through it.
Thank you everyone at Flyte so Fancy, I have happy chickens which makes me very happy. Ideal and does the job of keeping the run dry.
Thank you so much for you wonderful feedback, we are delighted to hear all worked well for you and that the chooks are happy. Kind Regards, Anne
Polycarbonate Roof for Flyte Aviary 4 or 6 Run
Very good service very helpful Keeping the rain off the girls
Polycarbonate Roof for Flyte Aviary 4 or 6 Run
Easy to book on website, extras added as requested, arrived really well packaged and when promised. Very pleased. I thought that this may have looked a bit tacky but very pleased to say that it doesn't!
Polycarbonate Roof for Flyte Aviary 4 or 6 Run
Outstanding products with customer service to match. You may find cheaper elsewhere, but after owning a coup from Flyte So Fancy for over 10 years (and it's still in great condition), I would say to buy cheaper is false economy.
I tried the plastic ones (they still get redmite!), but nothing compares to the space, quality & ease of cleaning as the coops from flyte So Fancy!
We like them so much, we now have 4. Fantastic product to give your hens the warms & dryness they love! Hens hate the rain.
Polycarbonate Roof for Flyte Aviary 4 or 6 Run
In my view a supplier who operates as a good old fashioned retailer with high customer service advise and attention to detail. A great printed colour catalogue and excellent easy to navigate website. I can not recommend them highly enough. I opted for the poly roof to provide some cover from the elements, given the recent heavy rain and high wind its durable and does the job perfectly whilst still allowing light into the run.