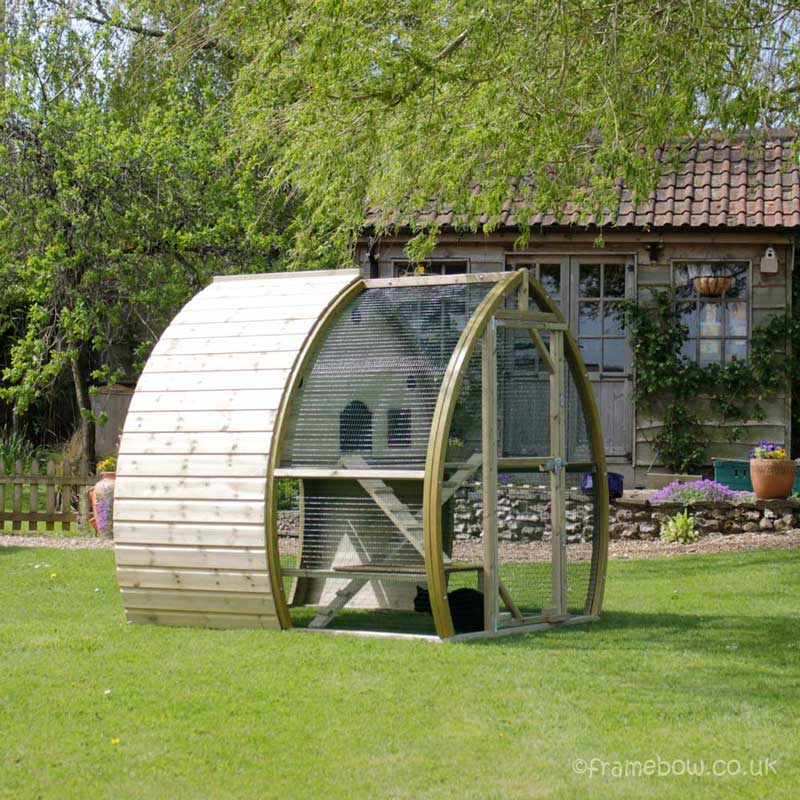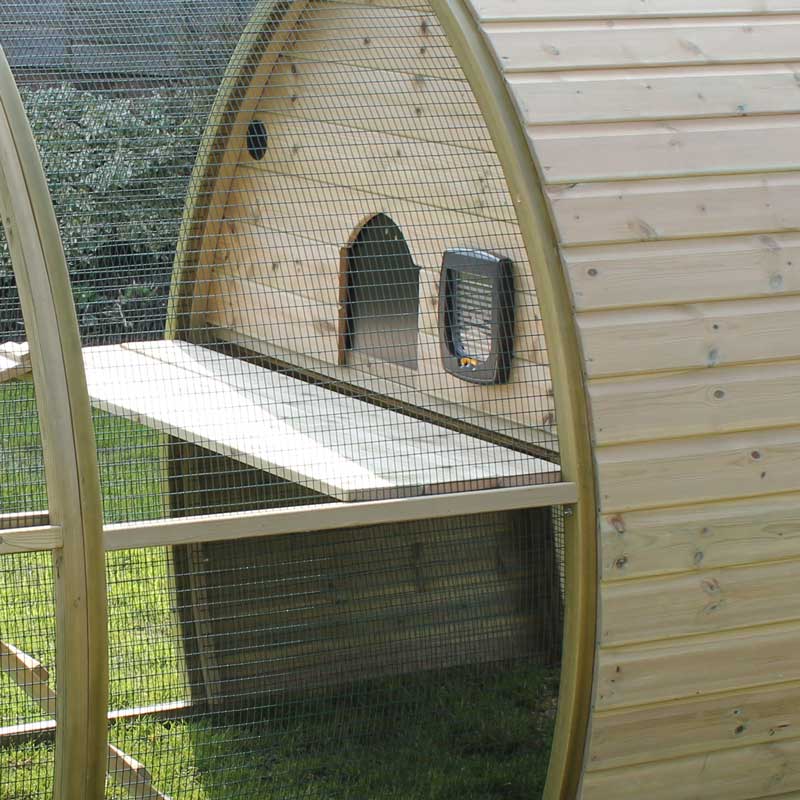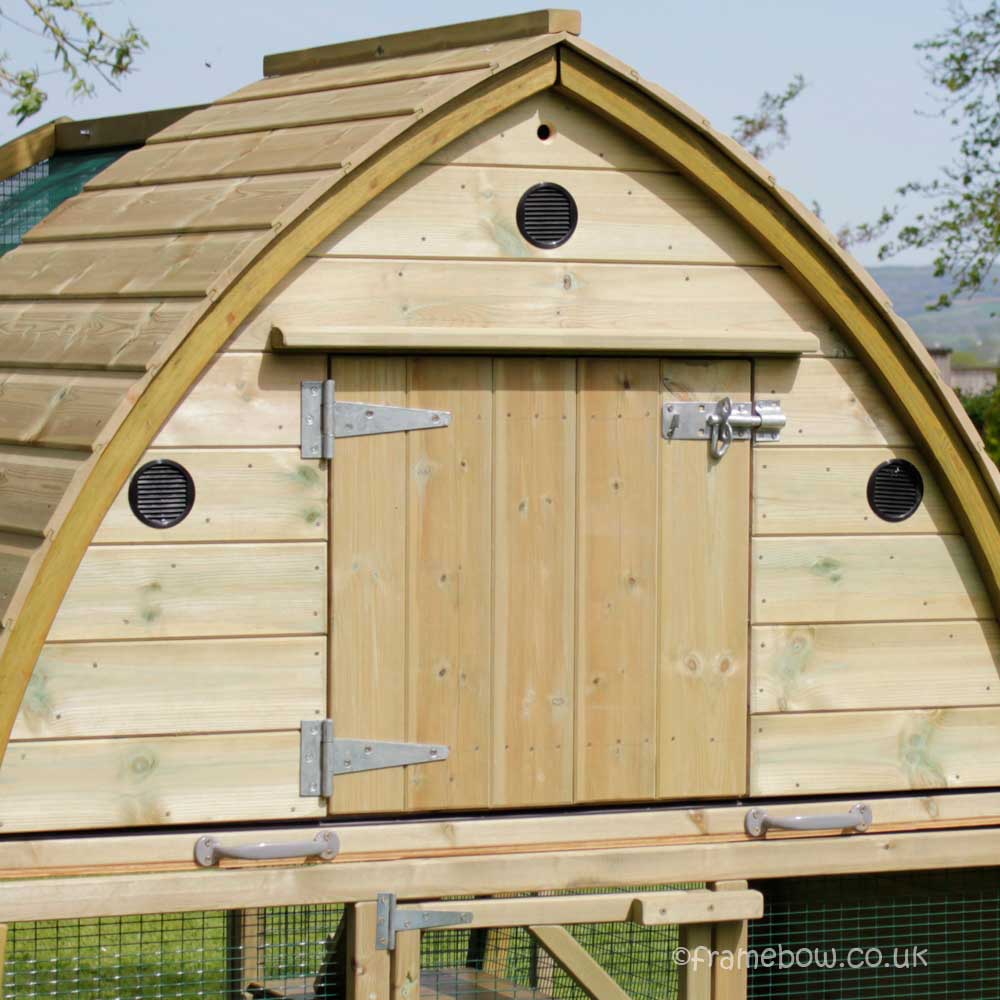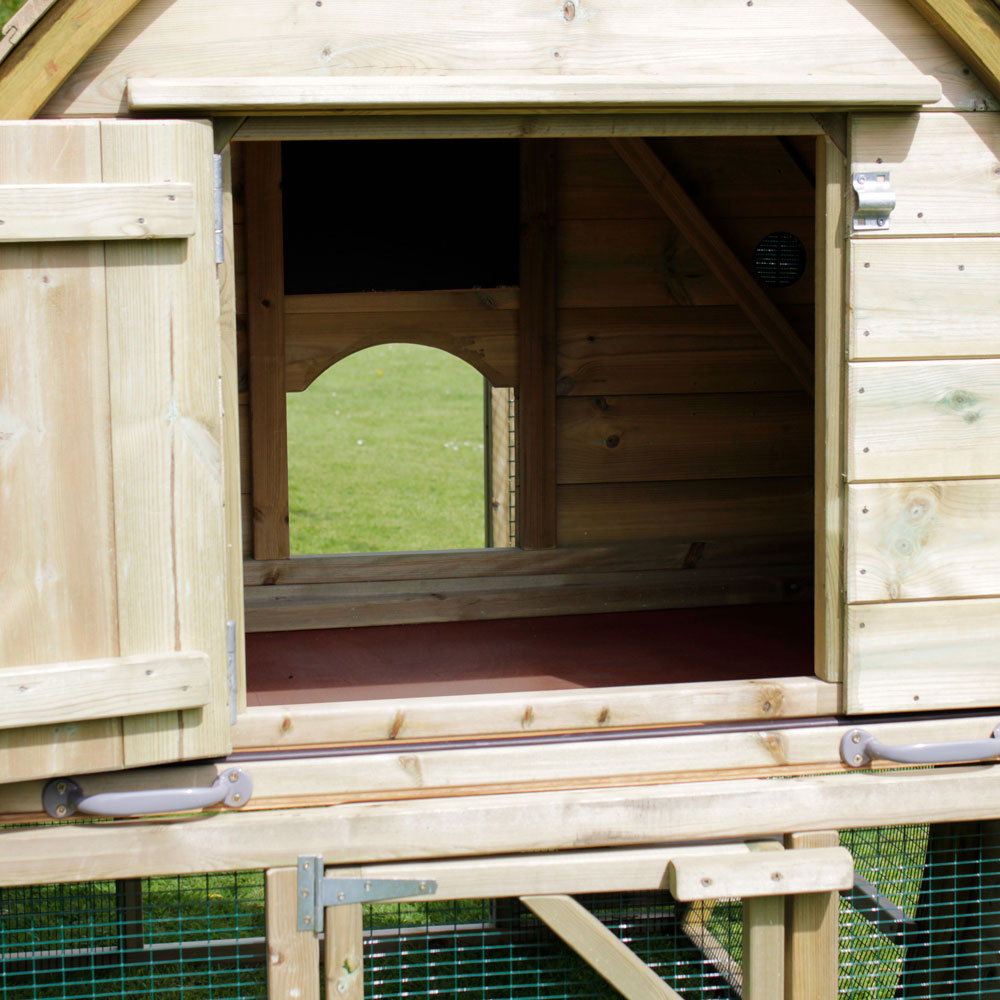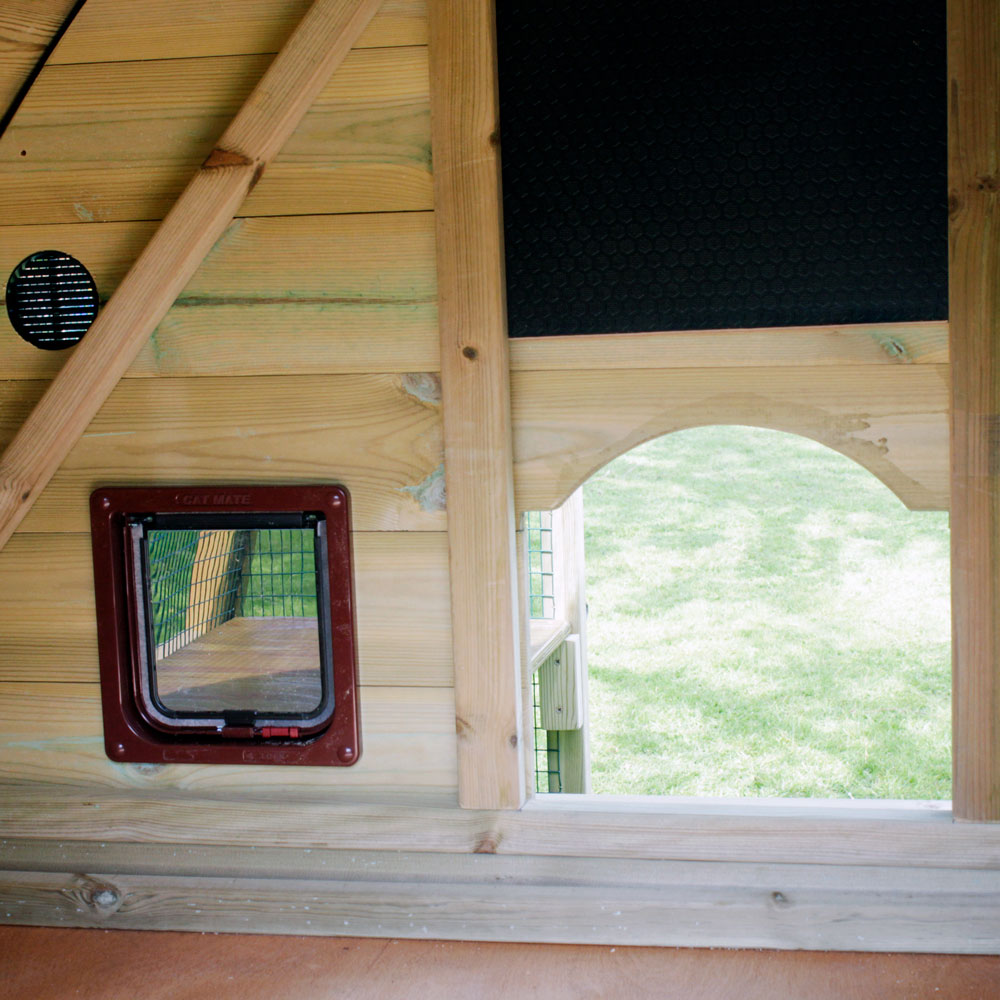 The 6ft (Baby) Arch Cat House
The Baby Arch Cat House is an elegant, contemporary outdoor cat house and integral run. This is the baby version of our longer Arch Cat House (we're not very imaginative with the names are we!).
Offering top-quality accommodation whilst keeping your favourite felines safe and sound in the garden.
The Baby Arch Cat House is an all in one house and run combination that makes really efficient use of space whilst looking absolutely stunning. The house section is clad all the way to the ground offering a dry, sheltered area underneath the house.
Dimensions are approx 6ft long x 5ft wide at its widest point x 5ft 11in high externally (see Specifications). The 6ft (Baby) Arch Cat House is suitable for 1 or 2 Cats.
The Baby Arch house entrance has a vertical sliding door AND a cat flap fitted beside it as standard. The floor is a pull-out tray for easy cleaning. Please see note about the handles under Specifications.
Fitting both a portcullis door and a cat flap to your cat house gives you options of whether to allow your pet complete freedom or perhaps have more control.
It also comes with a sun deck (143cm wide x 40cm deep), two small shelves at lower levels and a ramp to join them.
The Baby Arch arrives in sectional panels for easy home assembly. It is assembled using decking screws and bolts which need to be inserted through the pre-drilled holes, all the fixings and instructions are supplied.
If you found at a later date that you wanted more run space, you can extend the run with extra sections, and we offer an option to have additional timber cladding added to the run panels, top or bottom. For those felines determined to escape, please see our Safety Door options too.
Dimensions:
External Dimensions - base width: 136cm (max width at mid-height 160cm); max length: 193cm; max height 179cm.
Internal house: 153cm (5ft) W x 83cm (2ft 9in) L. Height inside 93cm max.
Construction
All timber is sustainably resourced, FSC Certified, slow-grown Scandinavian Redwood
Cladding: 19mm planed Pressure Treated T & G Shiplap
Front & back panels: 19mm planed Pressure Treated T & G
Floor: 9mm Exterior Grade Sealed Hardwood Plywood
Non-curved Frame: 38 x 50mm Pressure Treated Eased-Edge Framing
Curved Frame: Our unique curved timber framing
The Run: 18g, ½-inch by 1-inch, European Green-coated Galvanised Weldmesh
Fixtures: Stainless Steel Nails; Plated & Painted Decking Screws
Fittings: Heavy Duty Galvanised or Zinc Plated (please note the grey handles in images are no longer available but solid galvanised are supplied)
Timber Warranty: 15 years against rot & fungal attack (see Warranty conditions)
For more details about the timber we use, how to keep it waterproof and take care of it over the years please visit the About our Houses page.
Currently approx. 1-2 weeks for delivery.
The house is delivered in panels, on a pallet for easy self assembly. The run is fixed together with bolts and the hen house panels are screwed together making the whole assembly very easy with a cordless electric screwdriver. We estimate it should take around an hour to assemble.
Delivery is via Palletline delivery company and starts at £59.00 to most postcode areas of mainland England. Delivery is available throughout the UK. See also our Delivery Information page.
Excellent quality
Cannot fault workmanship, easy to put together, looks amazing and cats love it.
We keep getting compliments about how good it looks.
My first rating gliched at 1 star, this is a correction and it is certainly worth a 5 or more.
Baby Arch Cat House
A wonderful, well made cat house , communication was good,and delivery quicker than expected. Most importantly Magnus (the cat) loves it .
Arch Cat House
Just a quick review to say we are very pleased with the Arch cat house,very well made simple and easy to put together and good looking.
Our Maine Coon cat loves his house already.
Flyte so Fancy is an excellent company to deal with.
A special mention to Ellie who always kept me up to date with the order.