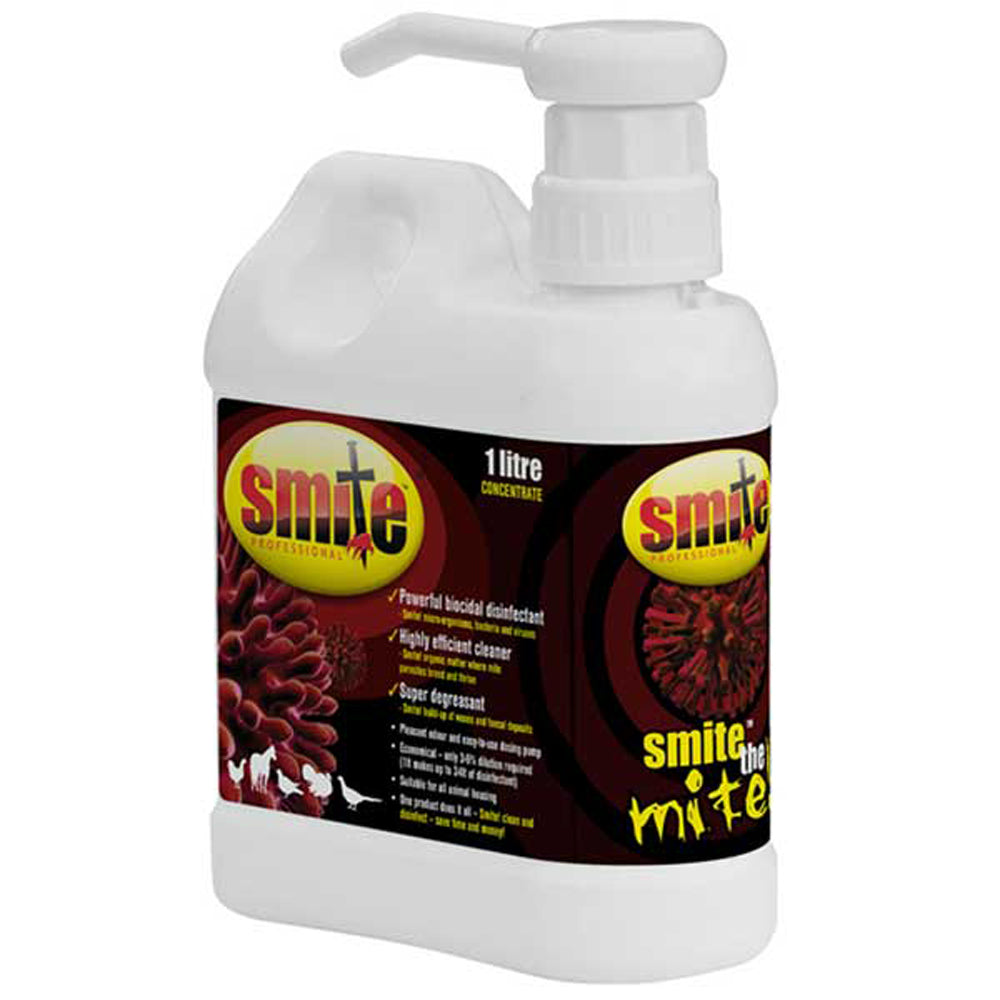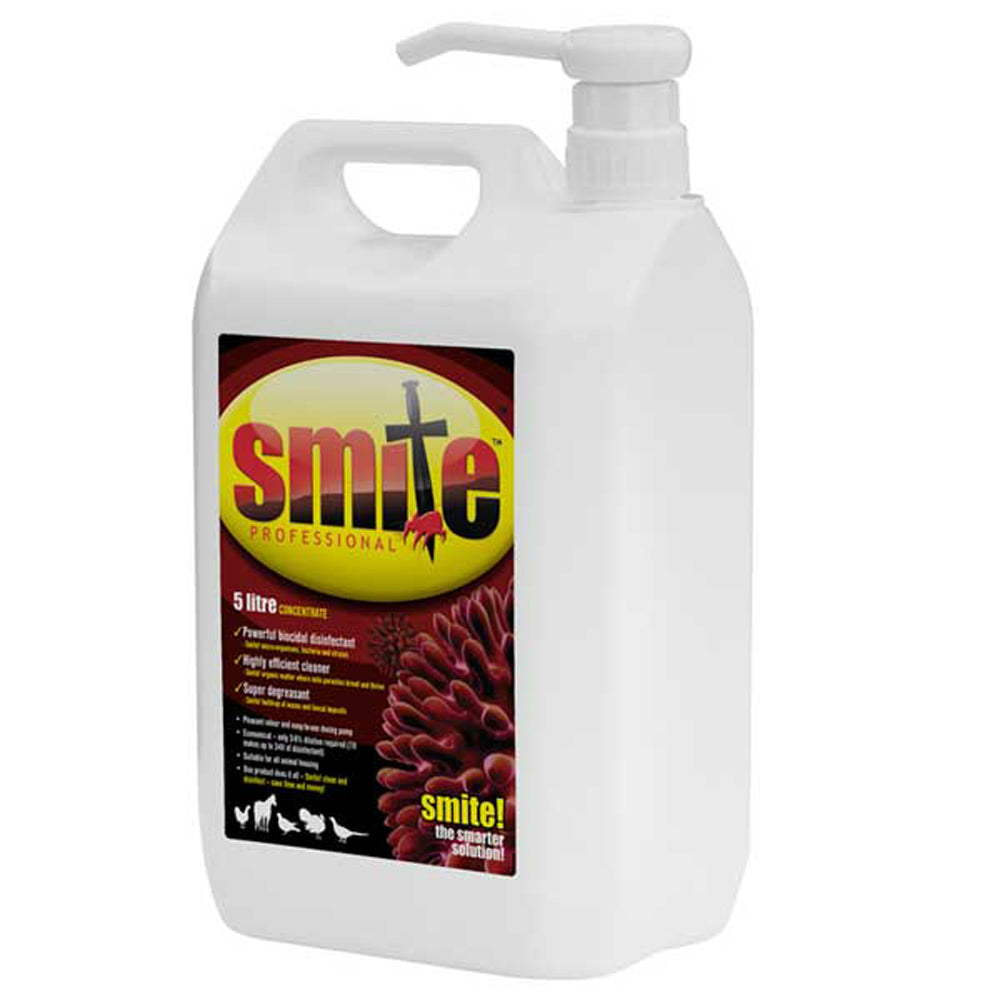 Smite Red Mite Liquid Concentrate
Smite Red Mite Liquid Concentrate - 1 litre or 5 litres.

Smite Professional Red Mite Liquid is a concentrate that, when mixed at a 6% solution with water, will kill red mites in chicken houses. Available in 1 litre or 5 litre concentrate which comes with a dosing pump to measure a 30 ml dose.
* SMITE will effectively eliminate RED MITE and other parasites
* Also effective against mite eggs
* SMITE is non-toxic and does not contain pesticides
* Pleasant odour and easy-to-use dosing pump
* Powerful biocidal disinfectant action against viruses and bacteria
* Economical, only 3-6% dilution required (1lit. makes up to 34 lit. of treatment at 3%)
* Efficient detergent degreaser and cleaner - ideal for removing organic matter
* Suitable for all animal and bird housing
* One product does it all - cleans and disinfects
Cleans and sanitises your chicken coop, simply spray, scrub and rinse. It is a powerful degreaser that breaks down organic matter and therefore the habitats where mites and lice live and thrive.
Combine with Smite Organic Powder for complete Red Mite control and eradication in Chicken Coops.
Dilution guide for 6% solution: Add one 30ml pump per half litre of water.
Standard delivery via courier is next working day to most mainland UK destinations for orders placed before 2pm (excl. weekends and bank holidays).
Smite Red mite liquid
I have used the hand spray to get rid of the mites, and so far all well. I will re-do it by topping up the hand sprayer with more concentrate to use when I clean the hen house. Hopefully no more mites!
Brilliant service and great product
Brilliant at getting rid of Red Mites, but I do use it a bit more concentrated then instructions.say.
Smite Red Mite Liquid Concentrate - 5 Litres
Flytesofancy is such a reliable supplier. The whole package is superb - website is easy to get around, someone on hand to answer queries, advice videos, well packaged goods and quick delivery. They are my preferred suppliers for my chickens' needs! Excellent product. Would recommend for red mite infestation!
Thank you for taking the time to leave such a lovely review!
We're very happy to be of service
Smite Red Mite Liquid Concentrate - 5 Litres
Easy to negotiate website. Quick service. Used many times before. Always Perfedt It Works. Used with Diatom Powder on as a regular control.
Smite Red Mite Liquid Concentrate - 1 Litre
Easy to order what I wanted. Quick delivery items well packaged as usual. Many thanks. Quick delivery well packaged thanks.