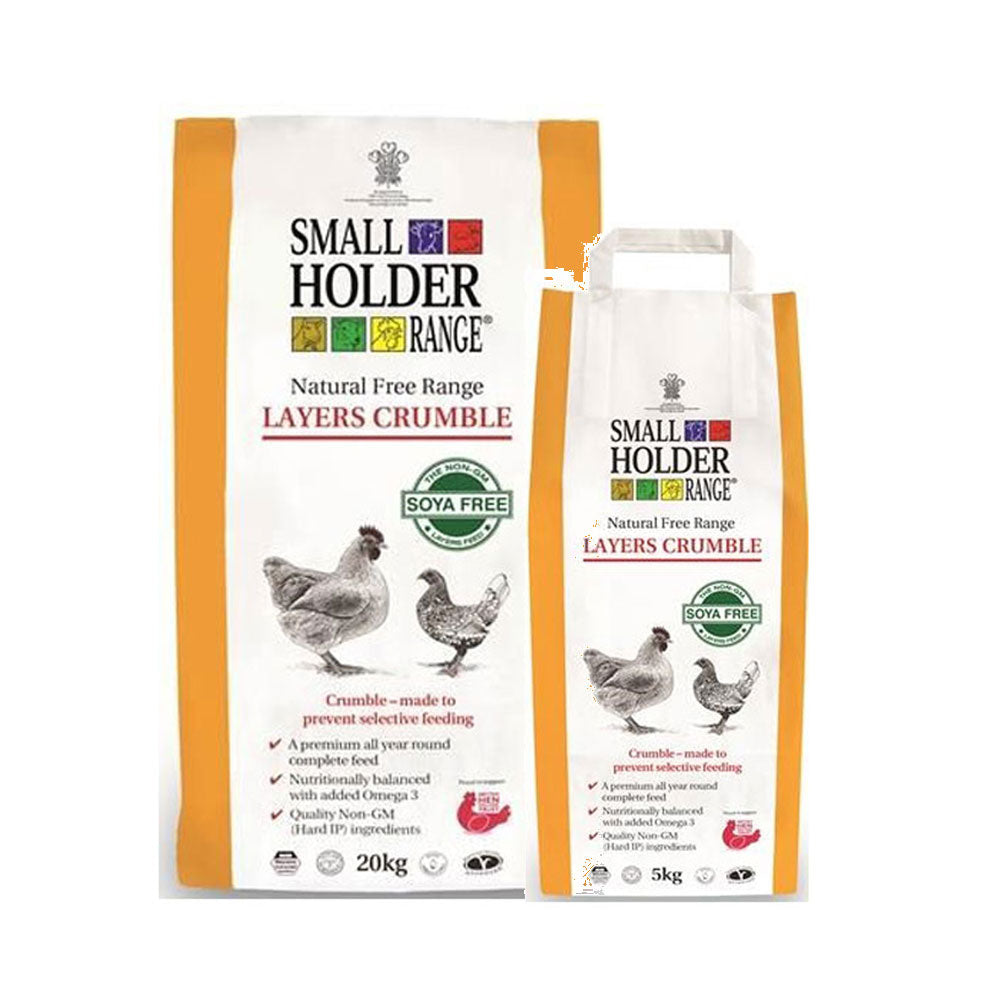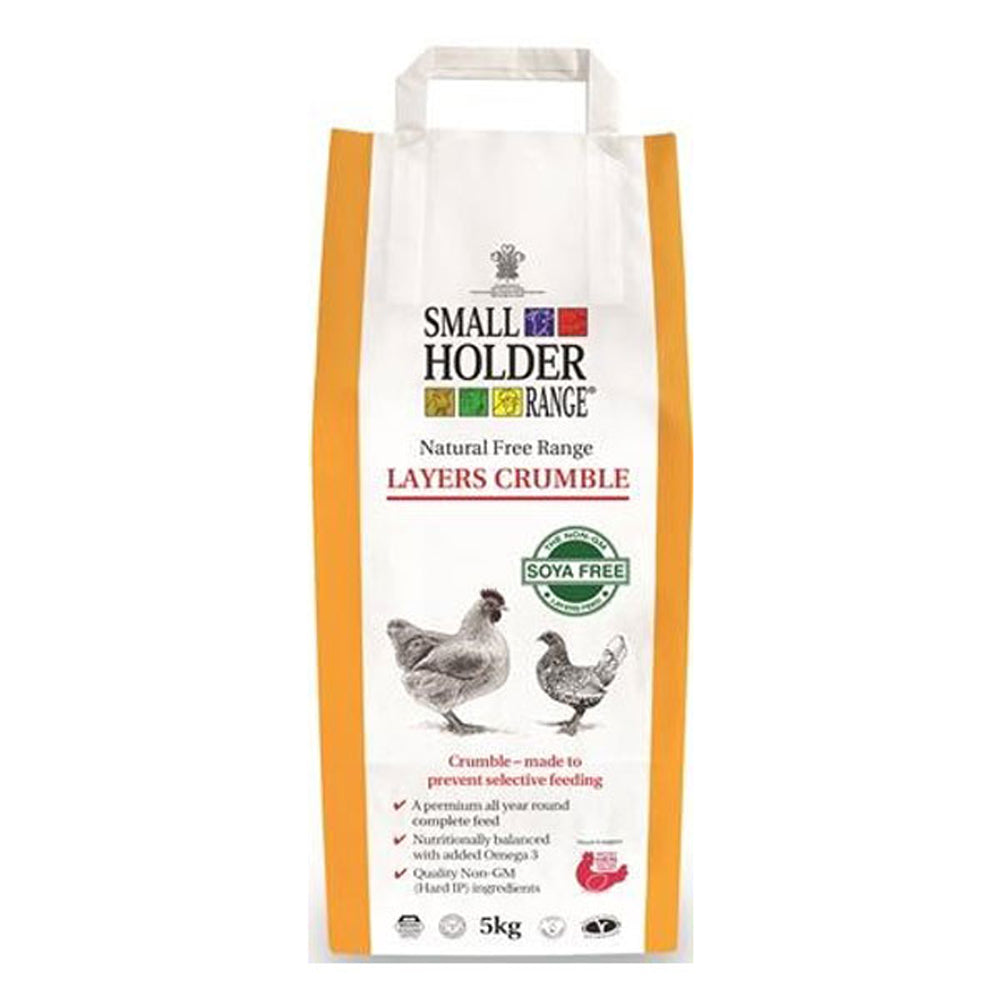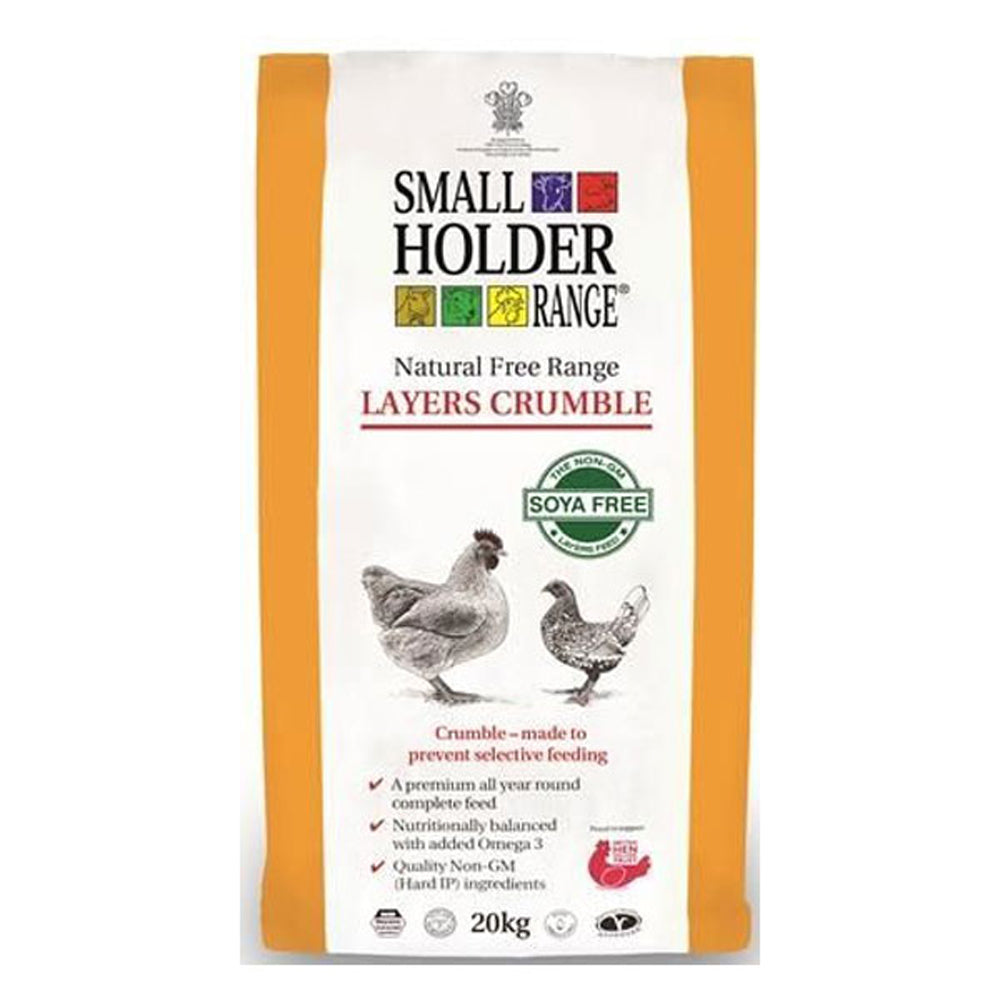 Smallholder Free Range Layers Crumble
Smallholder Free Range Layers Crumble - 5kg or 20kg. GM and Soya-Free.
A special small crumble mix for laying hens, especially ex-caged birds or hens used to mash or meal feed. Boosted with vitamins and minerals, this feed provides everything hens need for optimum health all year round.
Smallholder Free Range Layers Crumble is a small crumb-type feed to help to prevent selective feeding and create less dust and waste than a regular meal or mash. It is an alternative to the Layers Pellets which some smaller birds, or ex-farmed birds, may find too large or not what they are used to.
Formulated from quality Non-GM ingredients and with added Omega 3, Natural Free Range Layers Crumble is a complete, nutritionally balanced diet, for healthy hens. Birds should have access to grit and fresh water at all times.
Smallholder Range only source identity preserved (Hard IP) Non-GM ingredients.
This feed is drug-free and does not contain a coccidiostat so is suitable to be fed to ducks or other waterfowl.
Smallholder only includes natural ingredients such as marigold petals for lovely golden yolks.
Smallholder Range feeds are made from natural ingredients which can result in the feed changing colour slightly through the seasons.
Feed all year round, on a free access basis from 16 weeks onwards. On average, hens will eat 100-150g (4oz) per day. As the hen's crop can only hold about 100g it is best to give grain or mixed corn separately, later in the day, or she will be unable to eat sufficient crumble.
For good strong egg shells and optimum nutrition, treats should only be fed in the afternoon, after your chickens have eaten their Layers Crumble and no more than an egg cup full for each bird should be given.
Analytical Constituents: Crude Protein 16%; Crude Ash 13.0%; Crude Oils & Fats 4%; Crude Fibre 4.5%; Calcium 3.8%.
Composition: Wheat, Wheat Feed, Beans, Calcium Carbonate, Linseed, Maize Gluten, Maize, Grass Meal, Peas, Di-calcium Phosphate, Salt, Seaweed, Marigold flowers, Yeast, Fructo-oligosaccharides.
Standard delivery via courier is next working day to most mainland UK destinations for orders placed before 2pm (excl. weekends and bank holidays).
Excellent product but too near best by date
The service was fantastic with fast delivery and my chickens love the food and eat it well! My only problem is the best before date is 11th November and this is too near for my comfort. I hope it will be OK for a month after the best by date!
Hi James,
Thank you for taking the time to leave us a review, and I'm sorry to hear about the issue with the date on your feed. Most unusual as we try to make sure that nothing goes out with less than a month on it. If you email info@flytesofancy.co.uk with some details, we would be happy to refund the price of the bag for you.
My girls new favourite
I appear to have fussy girls. We used to feed them a different layers crumble which we've not been able to get.
We've tried several other crumbles, but our girls haven't been enthusiastic about it and they give us looks which make me sad.
We tried them on this crumble and they run to it, enthusiastically eat it and give us happy looks.
This is now the crumble we will be using.
Layers crumble
Chickens seem to like it use as a mix with other seed all good and really quick delivery in a word excellent
smallholder free range layers crumble
My hens absolutely adore this crumble. They are Rhode Rocks so hefty hens, but much prefer it to their pellets
Trusted sellers
This feed was suggested by flytrap so fancy for my Serama's and they love it this was my 2nd order and will happily buy more