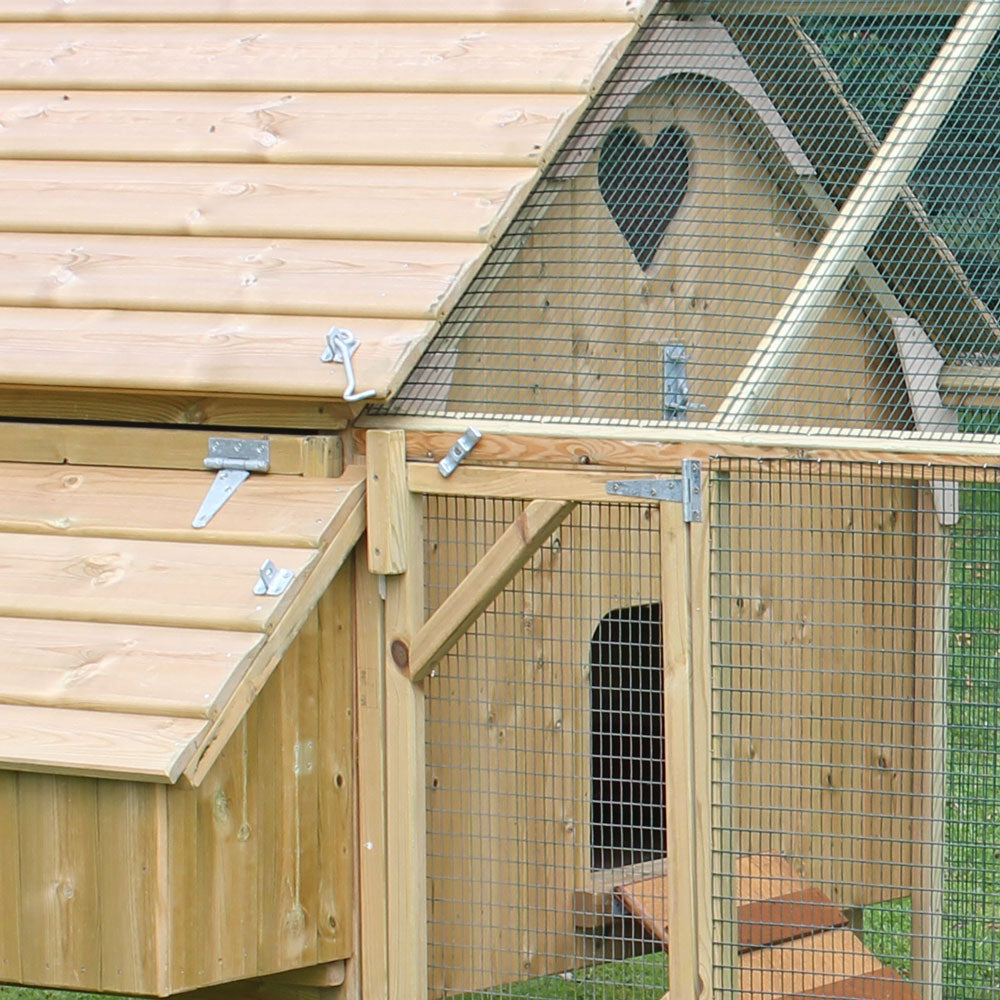 Runs for the Maggie's Dozen Hen House
6ft, 9ft or 12ft long Runs for the Flyte so Fancy Maggie's Dozen Hen House.
A Robust, Fox-Proof, Wired Run to fit our Maggie's Dozen Hen House. Made to fit snugly against the front of the hen house to keep hens safe and secure when necessary (shown here is the 9ft version).
The Run is made with an apex roof to mirror the shape of the hen house and will fit snugly up to the house inside the roof apex.
Built into the run is an access door near the house so you can open and close the pop-hole and another access door at the end of the run. It arrives flat-packed in panels for you to simply screw together.
We would not recommend keeping as many as 12 hens in a 6ft run on any permanent basis, but it is an option if you have only a few hens, or just need to keep them safe for short periods, or whilst you are acclimatising them to a new house or area.
See also other options to keep your birds safe - Poultry Protection Pens.
Made of pressure-treated 38 x 38mm timber frames covered in strong, ½-inch by 1-inch, 18g green plastic-coated (European) galvanised weldmesh to further enhance longevity (NOT chicken wire because foxes will chew through chicken wire). Plywood roof braces are included for rigidity.
External Dimensions:
The 6ft Run 124cm wide x 186cm long x 138cm high (4ft x 6ft 1in x 4ft 6in).
The 9ft Run 124cm wide x 280cm long x 138cm high (4ft x 9ft 2in x 4ft 6in).
The 12ft Run 124cm wide x 376cm long x 138cm height (4ft x 12ft 4in x 4ft 6in).
Note: Remember, when adding the 12ft run it will make the whole unit, henhouse & run, approx. 16ft long (almost 5 metres).
When purchased separately this run will be delivered by courier, in flat-packed panels for simple self-assembly. Delivery would usually be within 2-3 weeks and cost is calculated according to postcode destination and weight.
Delivery of the larger 12ft Run will be via DPD freight company due to the size of panels.
If ordering the Run with the Hen House it will arrive, in panels, via pallet carrier and comes within the carriage cost of the whole order.
Faultless customer service
Recently bought the run for the Maggie's dozen hen house. DPD made a mess up of delivery. One call to Flyte so Fancy and they took ownership of chasing DPD and organising the amended delivery. This took all the stress out of the situation and I'm really grateful for their commitment to customer service. The product itself is high quality, well built and solid. My hens are very happy and I feel secure leaving them out all day in it. I wouldn't hesitate to order from Flytes of Fancy again in the future.
Run for the Maggie's Dozen Hen House - 9ft
excellent person who took order, very patient, satisfied customer , good size and nice fit
Run for the Maggie's Dozen Hen House - 9ft
Have used this company on many occasions and have found them very reliable with a service second to none. Would fully recommend them. This was an add on to a previous run we had bought from them. Our concern was would it butt up. Should have had faith in it as the run fits perfectly to the current run and looks great. The chickens love the extra space too!