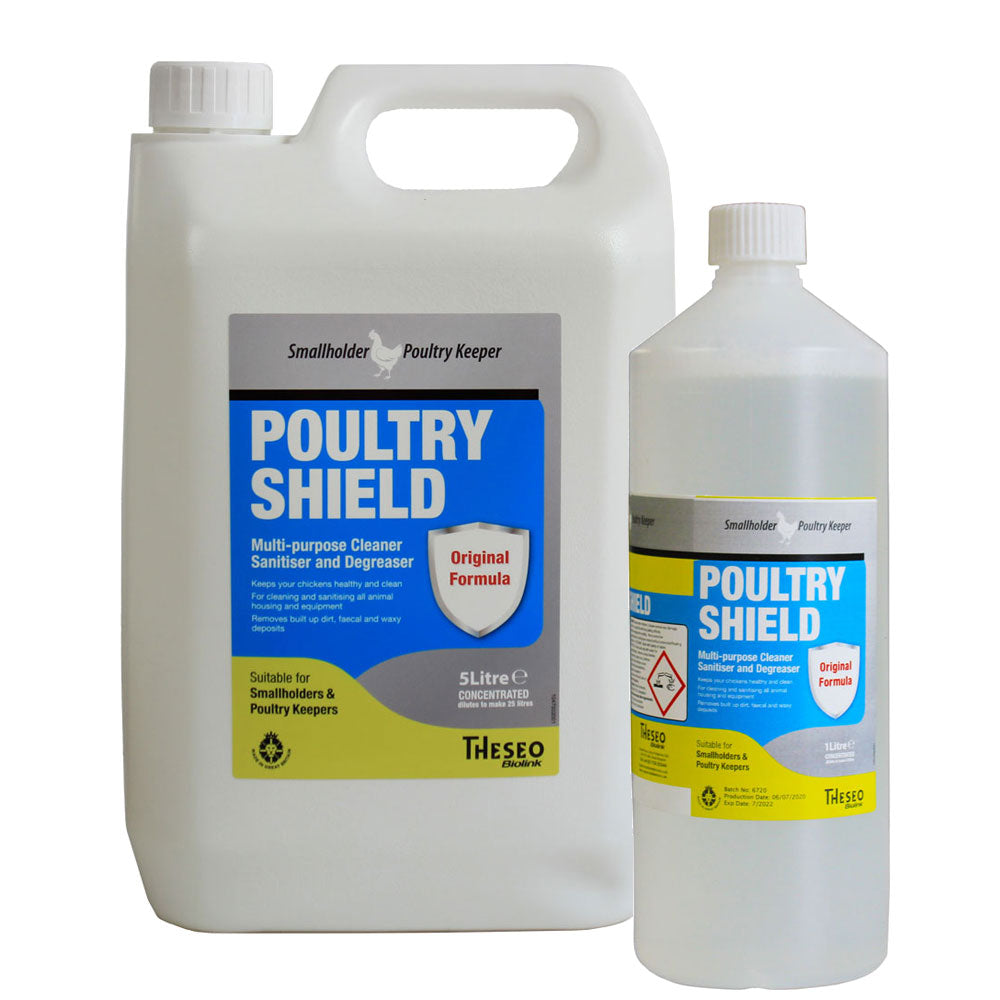 Poultry Shield Liquid Concentrate
Poultry Shield Liquid Concentrate by Biolink. Select 1 litre or 5 litre sizes. Dilute one part to 5 parts water.
Poultry Shield is a safe liquid concentrate, diluted with water before use, for spraying throughout the hen house, especially into crevices where red mites live and thrive.
Poultry Shield is a Multi-purpose Cleaner, Degreaser and Chicken Coop Sanitiser.
The 1-litre concentrate makes 5 litres of solution; 5 litres makes 25 litres.
+ + Effective for removing the habitats that Red Mite live in and will help to eradicate them when used with Biolink Diatom Powder
+ + Can help eradicate 96% red mite & lice in 48 hours when used with Diatom Powder
+ + Effective sanitiser against bacteria, viruses, yeast and fungi
+ + Environmentally friendly
+ + Use as a weak solution for cleaning feeding equipment
+ + Can be used without removing the birds from the house, but DO NOT use directly on the birds
Using Poultry Shield on your hen house will remove the organic matter in which mites live and thrive. Poultry-Shield has a deep penetrating effect into the cracks, crevices and corners of your chicken coop where the mite aggregate to sleep and lay eggs. The residual effect is the destruction of the mite eggs thus breaking the reproductive cycle.
Poultry Shield is a multi-purpose cleaner, Sanitiser and Odour Neutraliser. We recommend regular cleaning of the Henhouse with this product to keep the danger of all infections at bay. Best applied with a Pressure Sprayer and using rubber gloves, which eases the job and makes it most effective.
In a 5% solution, this product is able to clean and remove the organic matter present on material, equipment, and cages. It has excellent sanitising properties and will reduce cross-contamination.
Diluted at the rate of 1 part concentrate to 5 parts clean water (i.e. add 200ml to one litre of water). Full instructions for use are included with the bottle.
Convert to old money! - 200ml = 7 fluid ounces, so 1 litre = 35 fluid ounces, or 1.75 pints. Therefore, add 4 fluid ounces of Poultry Shield to One pint of water.
Standard delivery via courier is next working day to most mainland UK destinations for orders placed before 2pm (excl. weekends and bank holidays).
Poultry Shield Liquid Concentrate - 5 Litres
recommend. Arrived promptly in perfect condition.
Poultry Shield Liquid Concentrate - 1 Litre
Great price, great service and quick delivery. Delivered by DPD so kept informed where my delivery was. Will definitely be buying from Flyte so fancy again. Good quality and easy to use.
Poultry Shield Liquid Concentrate - 1 Litre
Quick delivery Wish I'd bought the bigger size!
Poultry Shield Liquid Concentrate - 1 Litre
Very good website with lots of information about the perennial problem of red mite. We were recommended to try these guys and the service was great. Placed our order late one evening and the parcel was with us in no time. We'll packaged too. Would definitely use again So far so good…… easy to use and seems to be working 🤞🏻
Poultry Shield Liquid Concentrate - 5 Litres
Goods arrived day after ordering, as always. Well packaged. Always use Poultry Shield, cleans well, doesn't leave a smell, and great at keeping mite at bay