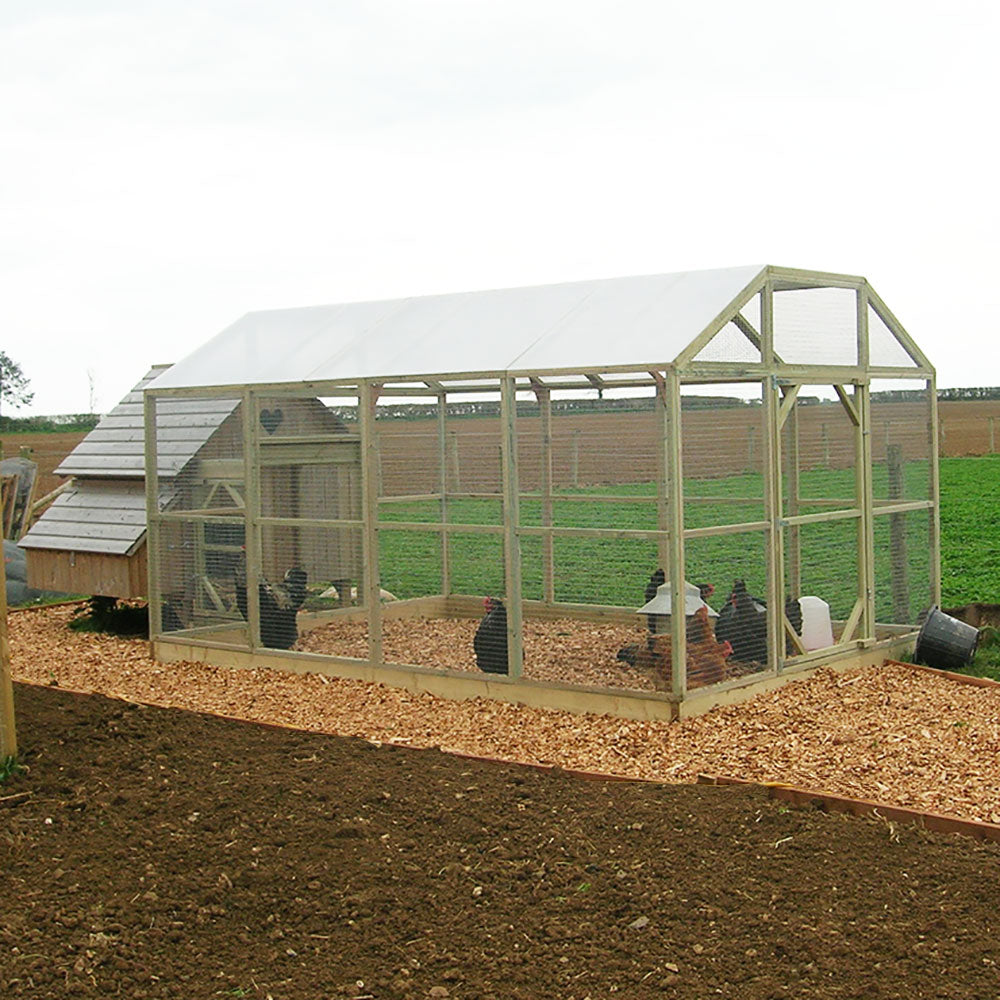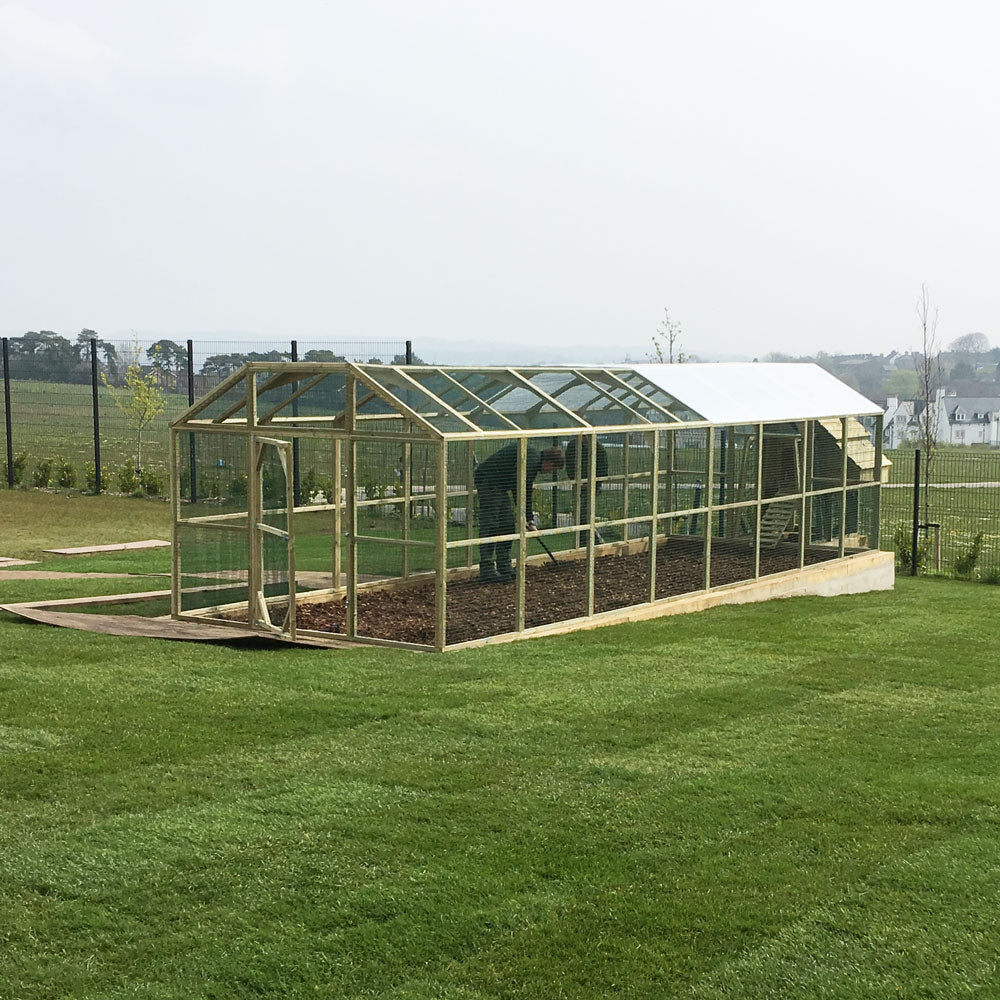 Flyte so Fancy Poultry Protection Pens - available in sizes from 9ft x 9ft up to 9ft x 24ft.
The Flyte so Fancy Poultry Protection Pen is a large, completely enclosed, walk-in chicken run that comes in wired timber panels for you to simply screw together (full comprehensive instructions included!).
Six sizes are available (see Specifications) for this walk-in chicken run with an option to add a solid translucent polycarbonate roof to create a bio-secure unit and help minimise your poultry's contact with the wild bird population, protect from predators and shelter from the rain.
The Poultry Protection Pen has been tested in all weathers (since 2005!) and is made to be transported in panels. We have designed the Pen so that, once assembled, although it is a lightweight structure, it is robust and structurally stable in high winds.
Completely wired in strong 1 in x ½ in green 18g weldmesh which is small enough to prevent little birds from jumping into the Pen (we don't use 'chicken wire' because foxes will chew through it).
Click on the video icon to see the Flyte so Fancy team assemble the Pen in just 9 minutes!
We offer the option to add a Polycarbonate Roof to the mesh roof panels. This solid roof option will give a UV-stable translucent roof to shelter the ground and keep a large part of the run area dry.

Also available is a choice of Mesh Mating Panel Tunnels to connect your Henhouse to the outside of the Pen - if for a non-Flyte so Fancy House please give measurements.
The Mating Panel would normally be positioned in the gable end opposite the door of the Pen but, if preferred, it can be placed in one of the side panels (please let us know as these two panels are not the same size).
Completely wired in strong 1 in x ½ in green-coated galvanised 18g weldmesh. This very strong welded mesh is stapled to a 38mm x 38mm pressure treated timber framework. Side panels are approx 3ft wide 5ft high. Head-height maximum inside is 6ft 6in. The door is 71cm wide x 139cm high.
Dimensions:
The 9ft by 9ft Poultry Protection Pen has an actual size at the base of 2560mm (8ft 5in) wide x 2840mm (9ft 4in) deep.
The 9ft by 12ft Poultry Pen has exact measurements of 2560mm (8ft 5in) W x 3780mm (12ft 5in) at the base.
The 9ft x 15ft Poultry Protection Pen exact dimensions: 2560mm (8ft 5in) Wide x 4720mm (15ft 6in) Deep.
The 9ft x 18ft Poultry Protection Pen, suitable not only for chickens of course but many other animals and pets. This size has exact measurements of 2560mm (8ft 5in) W x 5660mm (18ft 7in) D. Please note that for this size or larger it would be very difficult to move the unit as a whole and it may be a consideration to place it on a permanent site using the Sleeper & Woodchip Packs.
The 9ft x 21ft is a very large Poultry Protection Pen with plenty of room inside for henhouses. This Pen can also be used for many pets, birds, animals (there is even one being used for three poorly seagulls). This Pen measures 2560mm (8ft 5in) W x 6630mm (21ft 9in) D.
The 9ft x 24ft Poultry Protection Pen, to keep your pets, poultry or birds safe and secure but with plenty of space - it is 210 sq ft. This size is the largest we suggest to maintain rigidity and it measures approx. 9ft by 24ft at the base. Exact measurements are 2560mm (8ft 5in) W x 7590mm (24ft 11in) D.
PLEASE check exact dimensions (footprint) for each Pen as we build in centimetres but round into feet for ease of description, all sizes are approximate i.e. each Pen is longer than described and not as wide but the square footage is what counts.
Currently approx. 1-2 week delivery time.
The Pens are delivered flat-packed on a pallet via Palletline carrier. The pallet will arrive as layers of panels, each labelled with a letter, for self-assembly.
An instruction book is included and there is a video on the website to help. Plus, we are available by phone during office hours and by email otherwise. if you would like to see a copy of the assembly instructions before your purchase please just email info@flytesofancy.co.uk.
As a guide, the delivery charge starts at £59 for mainland England postcodes, see Delivery Information page. We will email offering a delivery date shortly after receiving your order.
Poultry Protection Pen
Flyte So Fancy were incredibly helpful in sorting out the parts I needed to turn my previously purchased 9 x 15 pen into a 9 x 21 size pen.
My order was quite complicated as I wanted an extra door in the side and also a mating panel in the side and not in the end to connect my existing Maggie Six coop.
My requirements were understood and the delivery was perfect.
I'm really happy, and so are my hens.
Hi Susan,
I'm glad we could help with upgrading your set-up! It all looks great, and thank you for taking the time to leave a review :)
Great quality pens
Have been ordering from Flytes for years. Great quality Pens and Coups. Excellent friendly & efficient service. Wouldn't go anywhere else.
Happy Hen House
Kit received in good order and on time. Construction was trouble-free. Had to remove existing run first but whole job completed in a day very happy.
Wonderful run
Great run. Really easy to put up. Excellent quality mesh securely fixed to the treated frame. Very confident in the safely of our animals. We used sleepers to make a dig proof base (well sort of dig proof!) Also attached a spring to the door so that it stays shut to avoid playful kids leaving it ajar!
Hi Cat,
Glad to hear you're happy with the Pen! Love the use of the spring on the door - something I have considered attaching to every door, drawer and cabinet at home. If not for my own sanity, then for the ear ache for my 10 year old...
Poultry Protection Pen 9ft x 15ft
Flytes communication and advice has been exceptional. Nothing is too much trouble and their customer service is first rate. Just received our Poultry Protection Pen and from start to finish the experience has been so easy from changing our delivery date to receiving the items. We were a bit daunted by the number of panels to piece together but the instructions were clear and concise. And it looks great! The Pen looks great. Really well made. Delivered in easy to move sections and the instructions are clear and easy to follow. Lovely touch was the tube of sealant and a holder/gun for using it on the roof.