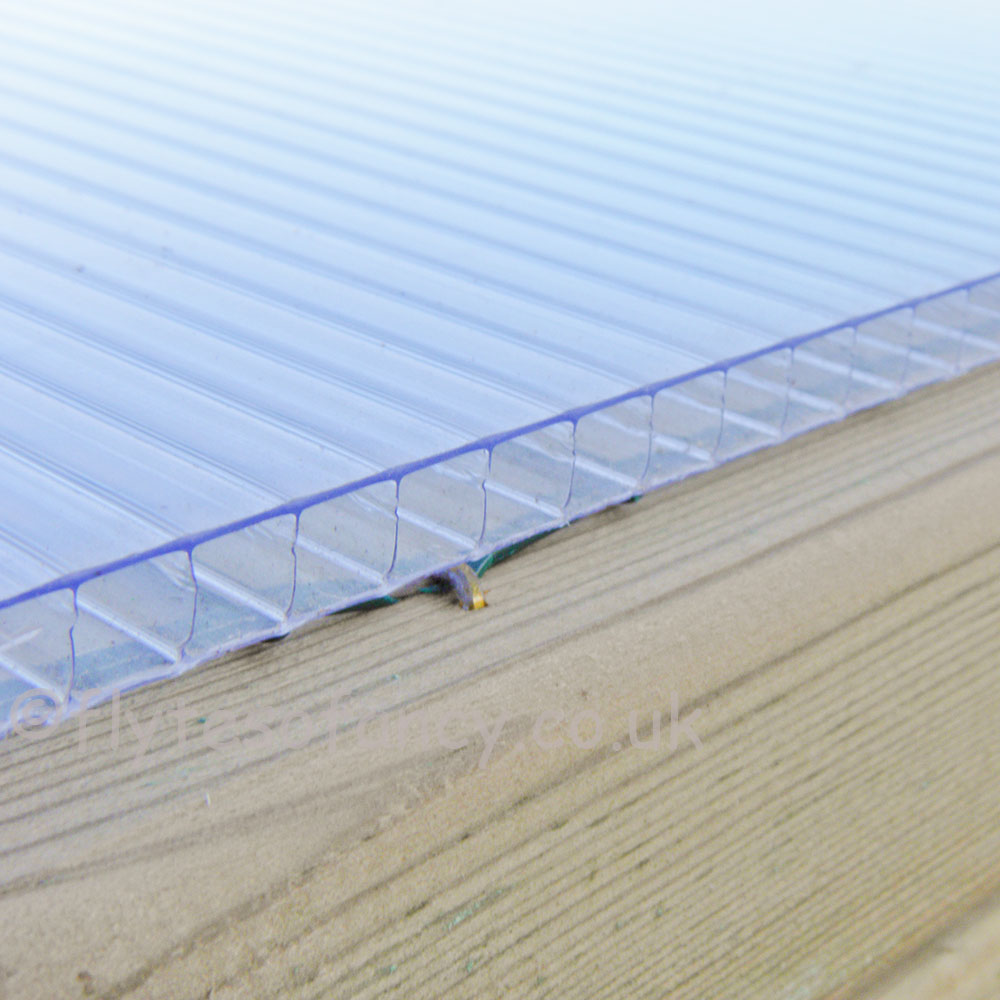 Polycarbonate Roof for Protection Pens
Polycarbonate Roofing for all sizes of the Flyte so Fancy Poultry Protection Pens. Add this option to your order and we will fit this to the roof panels before despatch.
With a solid roof, it will help to keep most of the run area dry, whilst still allowing in plenty of light, and it also gives the Pen protection from the droppings of wild birds and other potential contaminants.
A solid, translucent, 6mm twin-wall, polycarbonate roof option for our Poultry Protection Pens. It is affixed to the roof panels (on top of the wire mesh) using special polypins.
The polycarbonate is UV stable and will last for many years but we advise cleaning twice a year with a detergent solution e.g. Poultry Shield or Flyte Mite Spray, and a soft cloth to remove any green algae build up.
If the roof is ordered at the same time as the Protection Pen we will attach it to the Pen Roof Panels for you, otherwise, it will arrive in panels with instructions. Also supplied will be a small tube of silicone to apply to points where panels join (if you feel this is necessary).
WARNING NOTE: With a solid roof added to your pen, considering recent UK winter weather, we advise you to make sure that snow is not allowed to accumulate on the polycarbonate roof. Although built to withstand copious amounts of wind and rain, this is to be considered a 'lightweight' structure and the weight of the snow could damage a solid roof.
Please also note this option is to make the Pen biosecure (as required under Bird Flu Housing Lockdown) as well as keep most of the rain out - it will not make the roof completely watertight.
Please allow up to 7 days for delivery if ordered separately. If ordered with your Protection Pen the Polycarbonate sheets will be attached to the Roof panels prior to despatch.
Excellent
Great that it comes already screwed on to the roofing.
Protection Pen Polycarbonate Roof
Flytes communication and advice has been exceptional. Nothing is too much trouble and their customer service is first rate. Just received our Poultry Protection Pen and from start to finish the experience has been so easy from changing our delivery date to receiving the items. We were a bit daunted by the number of panels to piece together but the instructions were clear and concise. And it looks great! The roof looks great and gives the hens and me a nice waterproof space. Easy to install
Protection Pen Roof for 9' x 24'
Great product and lovely people to deal with. The runs really last a very long time with no maintenance. Worth the extra for the build quality alone.
Protection Pen Polycarbonate Roof
We visited Flytes so Fancey and spent time deciding what exactly we wanted, they were so helpful and assisted us in our final decisions. They were delivered when they said they would and the delivery man laid out all the different protection pens, chicken coops, Goose house, Rabit house and runs with all the relevant instructions and fittings.
They all went together well, really well made products which is why we decided to use Flytes so Fancey. Recommended to a friend already. Excellent idea, keeps the sun and rain out the run
Protection Pen Polycarbonate Roof
If it were possible to give a higher service rating I would do so. Excellent. Works really well to keep the rain off the coop and girls.