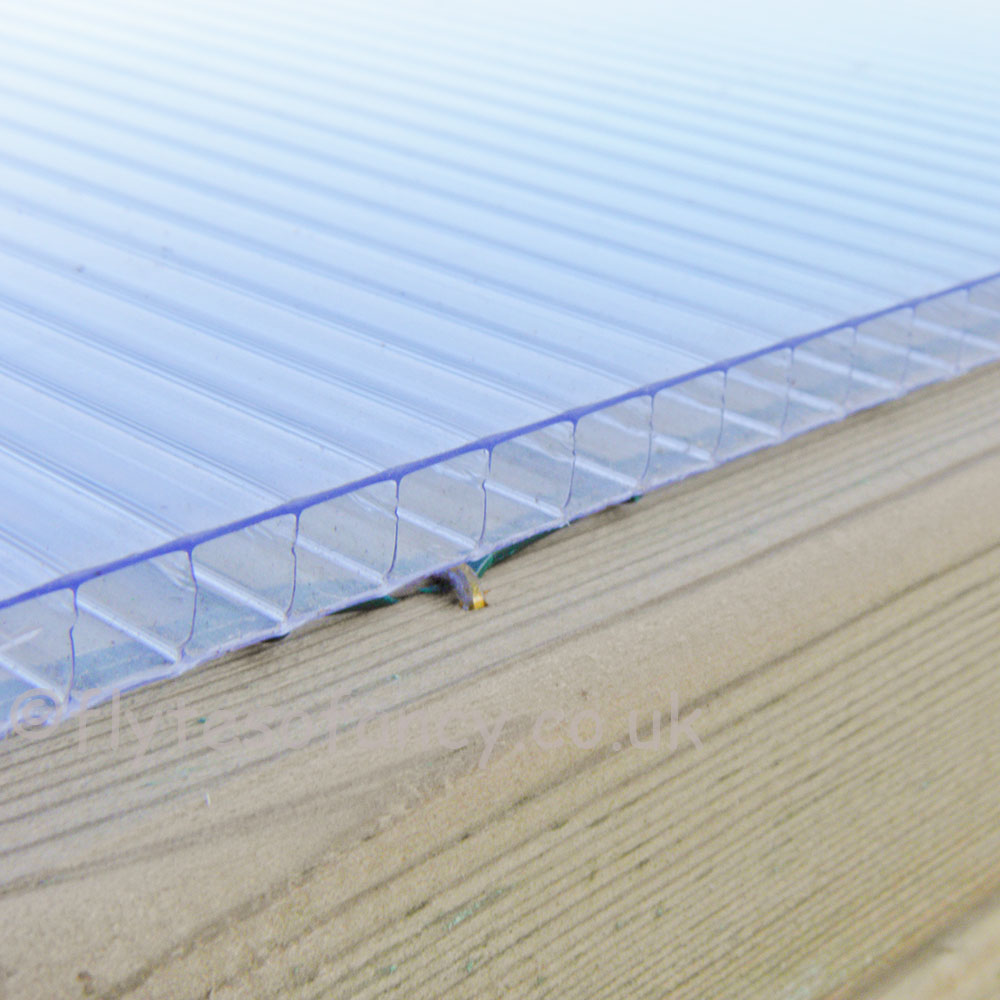 Polycarbonate Roof for Flyte Aviary 8 Run
Polycarbonate Roof for the Flyte Aviary 8 Chicken Run.
Add this option to your Aviary Chicken Coop and we will fit the polycarbonate sheets to the roof panels for you (fixes on top of the weldmesh with special polypins).
This solid roof option will help to keep most of the run area dry, whilst still allowing in plenty of light, and it also gives the run protection from the droppings of wild birds.
An ideal solution to prevent the worst of the rain from falling on the birds' playpen area but also, by adding a solid roof, it can provide further protection if your coop is positioned under trees for example, or may be prone to other contaminants.
This 6mm thick, translucent, twin-wall polycarbonate sheet will be fitted to the roof panels before despatch when ordered with the Aviary. If ordering separately then the panels will be supplied with instructions for fitting and all fixings needed.
The polycarbonate is UV stable and will last for many years but we advise cleaning twice a year with a detergent solution e.g. Poultry Shield or Flyte Mite Spray, and a soft cloth to remove any green algae build up.
Please allow up to 7 days for delivery if ordered separately. Otherwise, if ordered with your Aviary it will be ready-fitted.
Polycarbonate Roof for Flyte Aviary 8 Run
I would definitely recommend this company. Easy to deal with on line, and quick to come back with a reasonably short, but more importantly reliable delivery date. The chicken coop arrived well packaged. Thanks to superb instructions which included clear photos we have successfully assembly the coop and run with minimal stress. Now proud owners of a really solid, superbly thought out aviary style coop which is easy to access and to clean. Oh and of course our chickens love their new home. See rating for details....
Polycarbonate Roof for Flyte Aviary 8 Run
Great service, very friendly and helpful staff. Chicken house and run is very well made and sturdy. Instructions were clear and easy to follow with colour step by step guides. The coop is very well thought out. Delivery was very fast which means overall I am very happy with Flyte So Fancy, the girls certainly love their new home!
I did build a high level dust bath and added that to the coop which is a perfect addition. As you can see from the picture we are only half way through the garden renovations but this is a great start.
Thank you for your great service and great product. Well worth the extra money.
Thank you very much for your lovely feedback, it is much appreciated. We are glad to hear all went well with the delivery and, of course, that your girls are happy in their new home.
Polycarbonate Roof for Flyte Aviary 8 Run
We were unsure of what to order when I first rang but the help we received was brilliant.
Polycarbonate Roof for Flyte Aviary 8 Run
I found Flyte so fancy very helpful indeed, I had a couple of problems when erecting my new chicken coop but after a phone call to Flyte so fancy it was sorted I found them to be very helpful and very pleasant in their manner thank you very much. The roof panels are very impressive very light and easy to clean but also keeps out any other wild birds such as pigeons which could spread diseases.
Polycarbonate Roof for Flyte Aviary 8 Run
Excellent service, we visited their show room and decided that we needed a bigger aviary than the Aviary 8, they quickly responded and we had a customer design that is now in the garden and constructed