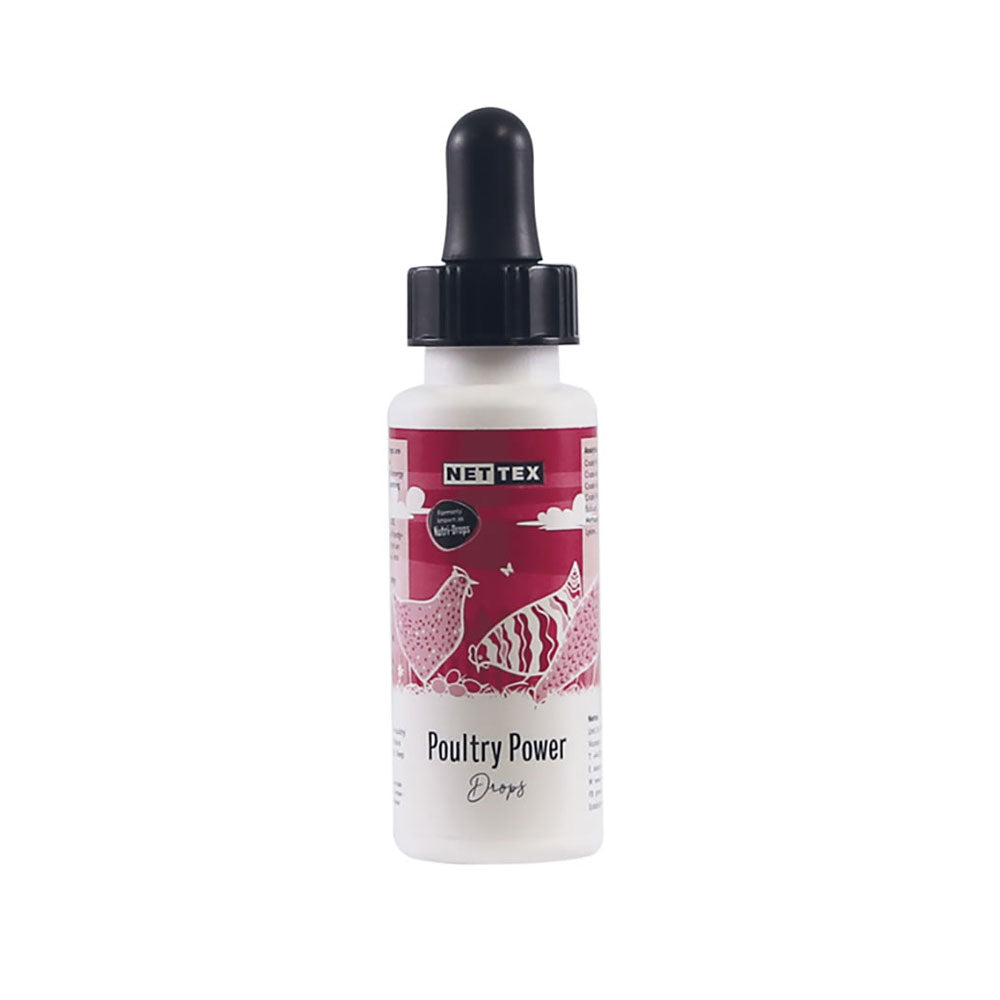 Net-Tex Poultry Nutri-Drops, 30ml
Net-Tex Poultry Nutri-Drops - 30ml dropper bottle.
A fast-acting pick-me-up administered directly to the bird, packed full of vitamins to help your birds through stressful situations.
Net-tex Poultry Nutri-Drops - provides an instant energy source for sick, weak and lethargic birds - results visible in just 30 minutes !
Give directly to the bird according to weight - the leaflet instructions will give guidance for dosage rate e.g. 1.5ml for an average 1.5kg hen. Pipette (fixed within the cap for easy use) has measurements for different dosage rates.
Nutri-drops will help to boost the immune system and vitamin levels during periods of environmental stress e.g. during hot weather or when travelling.
Reduces the effects of stress during holidays, handling and following antibiotic treatment when they are off their food e.g. after treatment for Coccidiosis.
Also use when introducing new birds to an established flock, as this is a very stressful experience for the birds.
Composition: Propan 1,2-diol; Cane Molasses, Monoammonium phosphate, seaweed extract.
Analytical Constituents: Crude Protein 2%; Crude Ash 1.5%; Crude Fibre <0.2%; Crude Oils & Fats <0.5%; Sodium <0.1%.
Standard delivery via courier is next working day to most mainland UK destinations for orders placed before 2pm (excl. weekends and bank holidays).
This stuff saved my hen!!
I took my hen to an emergency vet appointment, vet had no clue what was causing her to keep falling over, so I called the British Hen Welfare Trust and they recommended this product and it worked! Within 1 hour of giving her one dose she was back to herself and falling had significantly reduced and by the next day she was back to running around! She needed the extra dose of vitamins and this product gave her a quick source of vitamins, I honestly couldn't believe how well it worked! Pricey but 100% worth it
Great stuff
This is a miracle potion gives energy to lethargic and under the weather chickens works pretty quick too always good to have a bottle to hand
Great company
Drops didn't work for me but flyte so fancy has been very helpful.