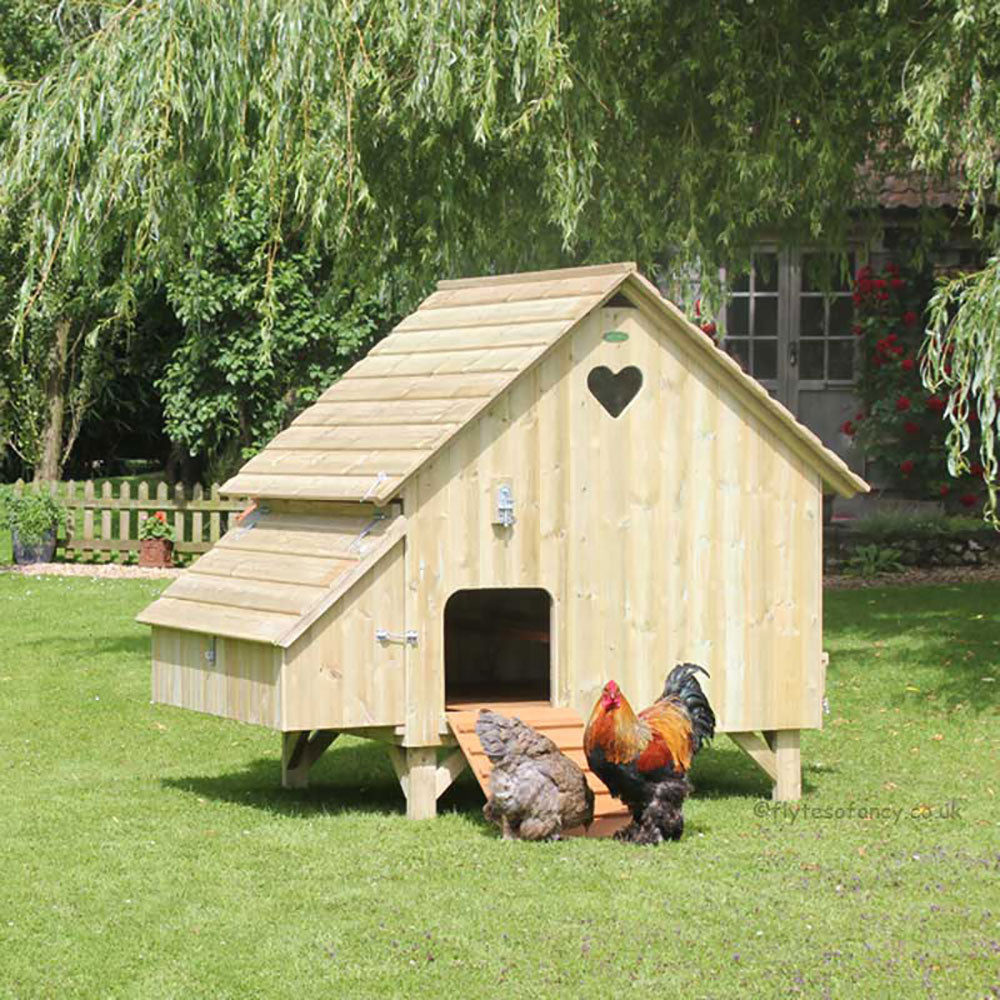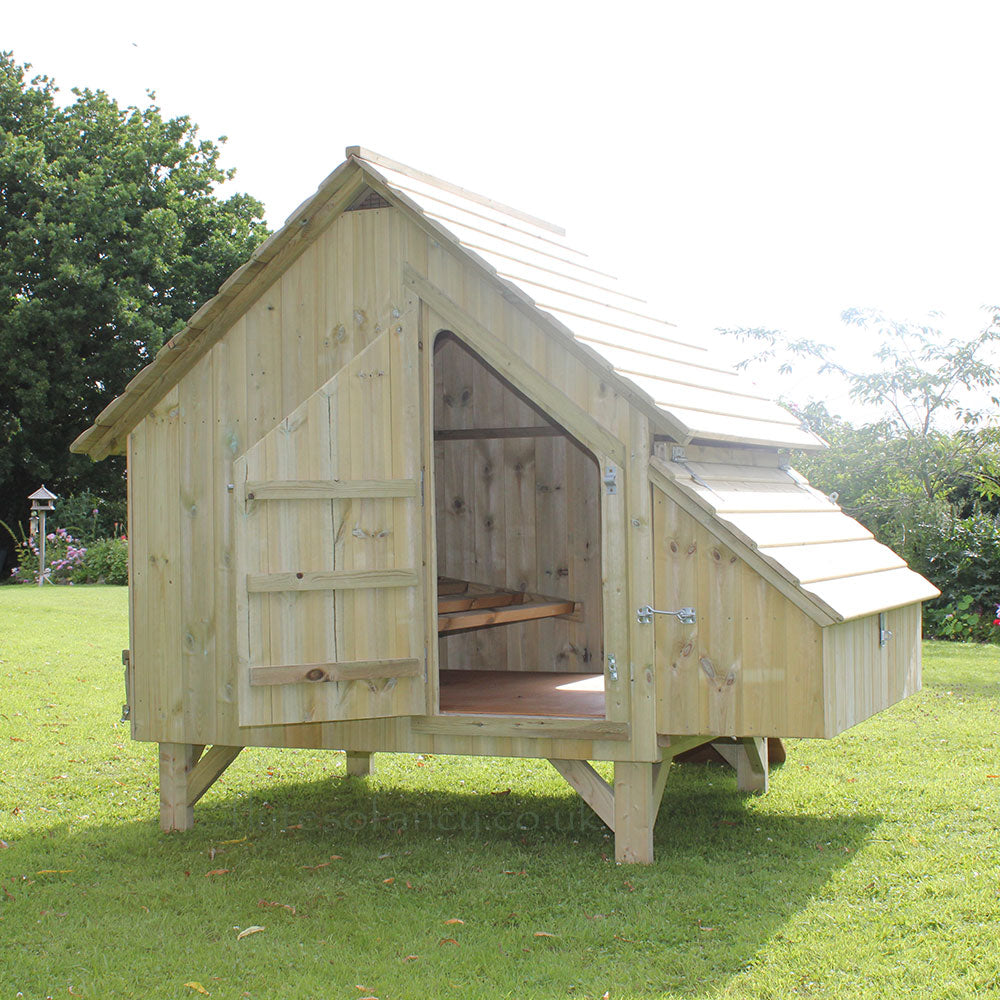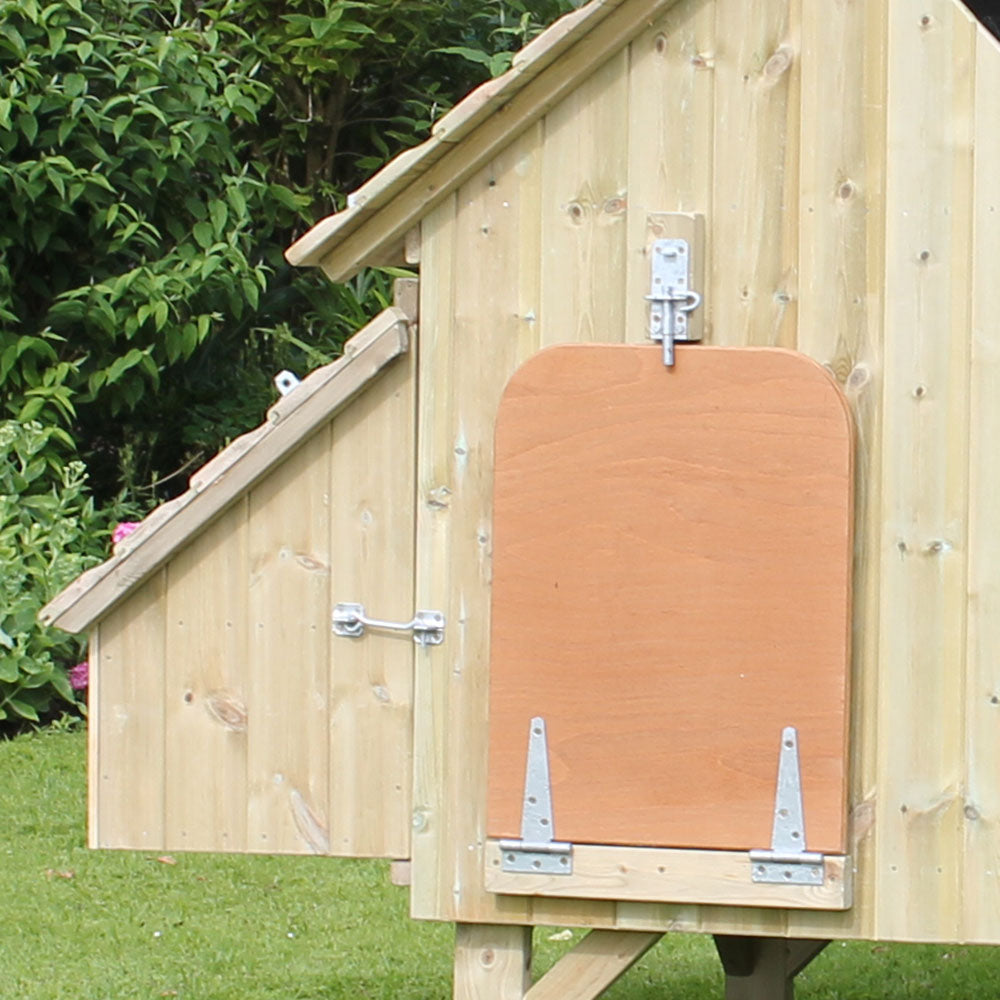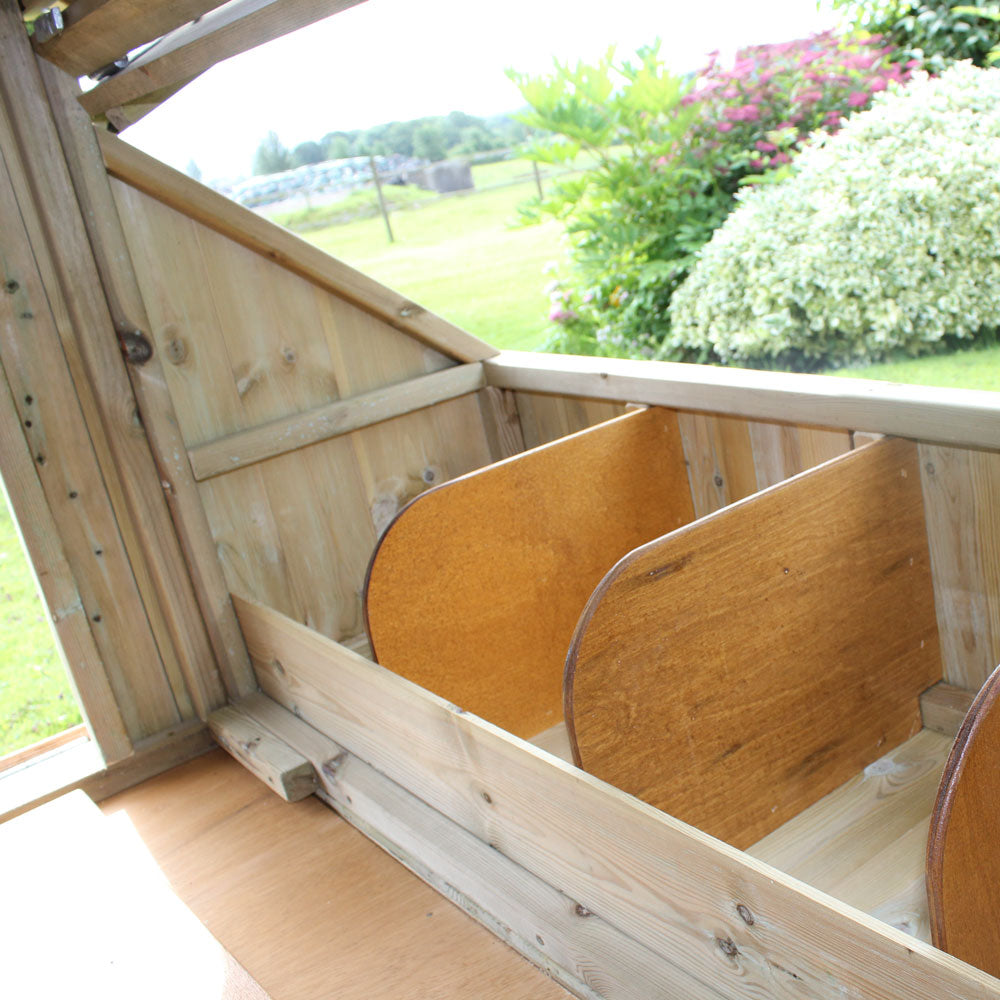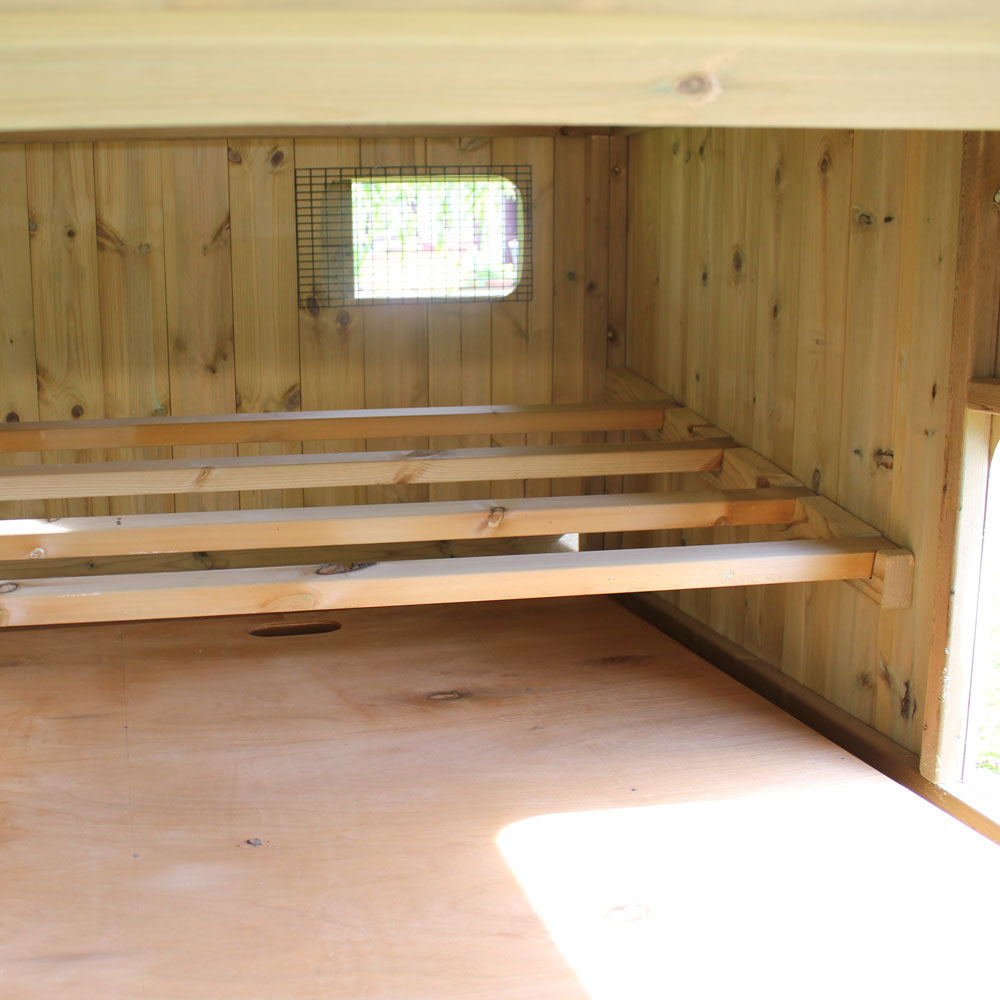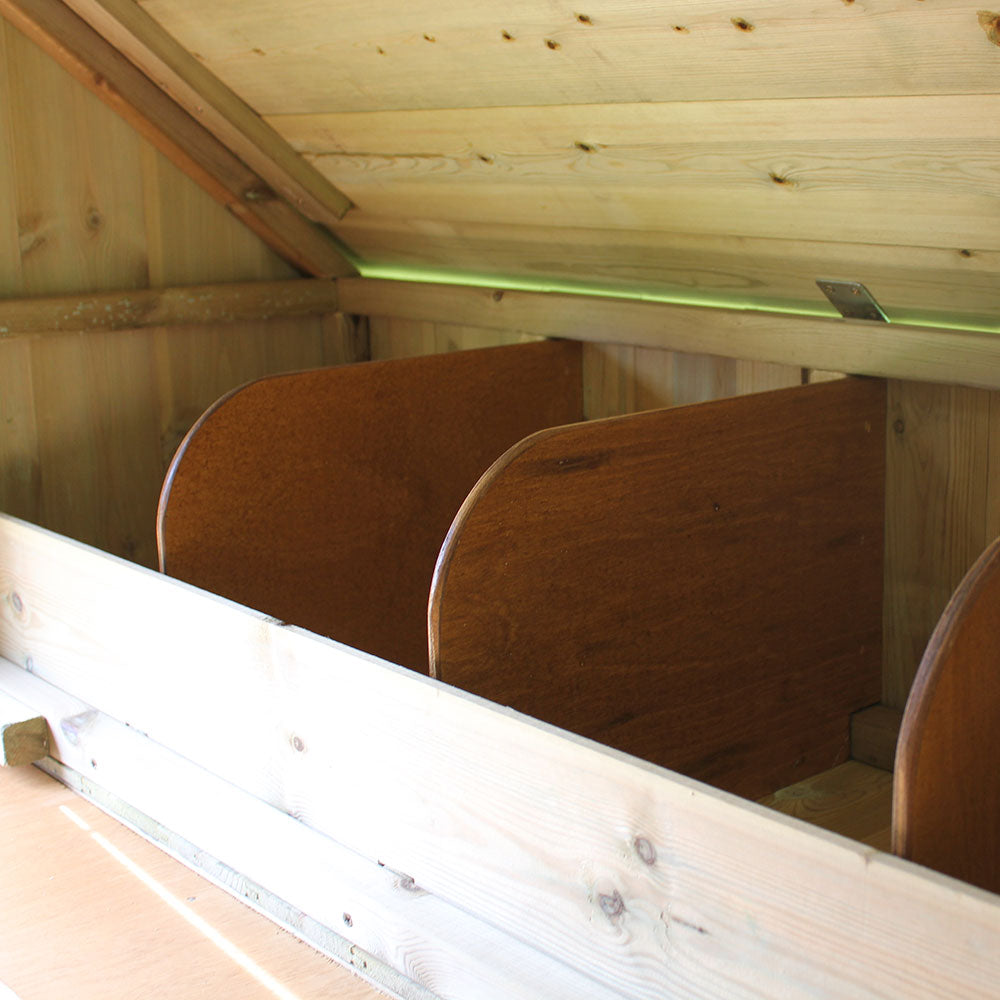 The Maggie's 24 Hen House - a large 24-bird house designed and made by Flyte so Fancy.
The Maggie's 24 Hen House is a large, traditional-style, Chicken House designed for the more determined poultry keeper with room inside for around 24 laying hens. Approx dimensions externally incl. Nest box 7ft x 5ft x 6ft.
For smaller hens like Bantams then capacity would be up to 30 or for larger breeds, like the Brahmas shown in our images, we would suggest that 16-18 would be comfortable.
The Maggie's Hen House is a substantial, robust, fox-proof hen house for 24 hard-working hens. For full details of how we make our chicken houses please see About our Houses.
There is an extra-large pop-hole that has a drop-down ramp. This folds up to secure the house and closes with a tough galvanised bolt.
A large access door at the back makes the inside easily accessible for cleaning. A pull-out droppings board under the four removable perches aids the cleaning process and the nest box section lifts off for even better access.
The nest boxes are divided into four separate compartments so that the hens have a cosy nest for laying. We design our hen houses to allow one nest box space per 5-6 birds but you will find that generally speaking, the birds will do the very British thing of queuing for their favourite seat.
There is a meshed ventilation window with a night shutter on the opposite side to the nest boxes which, along with the apex ventilation, gives a good flow of fresh air to maintain a healthy atmosphere for the birds at night.
Under this window is an access panel for the droppings board to be removed so you can easily dispose of the bedding.
We offer options to add an Automatic Pop-hole Door Opener which, if ordered with the hen house, we will fit it for you.
To give your new hen house that extra zing why not take a look at the colour options with our Painting Service for the Maggie's 24 - from bright and bold to subtle and earthy.
For added safety of your flock of 24, we can suggest either a large Poultry Protection Pen or, for flexibility, an Electric Fencing Kit.
Dimensions
Overall external: 206cm wide x 147cm deep x 185cm high (incl roof & nestbox)
Internally: 153cm wide x 125cm deep x 150cm high
Pop-hole size: 40cm wide x 40cm high
Construction
All timber is sustainably resourced, FSC Certified, Pressure-treated Scandinavian Redwood
Roof: 21mm planed tongue & groove Shiplap
Body timber: 16mm planed Tongue &Groove
Floor: 9mm Exterior Grade Sealed Hardwood Plywood
Frame: 38 x 38mm Eased-Edge Framing
Fixtures: Stainless Steel Nails; Plated & Painted Decking Screws
Fittings: Heavy Duty Galvanised or Zinc Plated
Timber Warranty: 15 years against rot and fungal attack (see Warranty conditions)
Currently 1-2 week delivery time.
This house is delivered, flat-packed in panels, on a pallet via Palletline carrier. Delivery starts at £59.00 (to mainland England), see our Delivery Page for more information.
Maggie's 24 Hen House
The whole experience was excellent. I wanted to buy a Maggie 24 hen house and I needed a few small bespoke modifications. We talked through it on the phone and
they were so helpful and accommodating.
The house arrived on a pallet and nothing was to much trouble for the lorry driver.
He unloaded it perfectly even though our driveway presented problems for his lorry with overhanging trees.
The quality and solidness of the panels enabled me to erect the hen house single handedly in no time at all.
I'm sure I would have struggled with a cheaper, flimsier hen house.
As they say "you get what you pay for" Good design, solid construction
Maggie's 24 Hen House
We visited Flytes so Fancey and spent time deciding what exactly we wanted, they were so helpful and assisted us in our final decisions. They were delivered when they said they would and the delivery man laid out all the different protection pens, chicken coops, Goose house, Rabit house and runs with all the relevant instructions and fittings.
They all went together well, really well made products which is why we decided to use Flytes so Fancey. Recommended to a friend already. Excellent really well made chickens love it
Maggie's 24 Hen House
Communication was great, as always Really happy with the Maggie 24. The instructions were clear and it went together very easily. It's easy to use, and to clean out; our girls seem very comfortable in it. Also, very glad that we went for the automatic pop hole
Maggie's 24 Hen House
Good communication, delivered on time Awesome henhouse, very well constructed and finished, good design, my hens love it, it's warm and cosy and they are having to fight my 8 yr old daughter, Hannah off, who also seems to want to live in it ! It's also very easy to clean. Extremely pleased with it.
Maggie's 24 Hen House
Quick professional response to the order with an email follow up regarding the delivery date, this was also followed up by a telephone call confirming the delivery date. The order arrived as per telephone call on the correct date. Hassle free experience, I would highly recommend and would definitely purchase from Flyte So Fancy again. The product arrived well packed and was undamaged. The build instructions are clear and concise accompanied with photo's of each stage of construction (The photo's are of the actual product purchased and not generic). All that was required was a screwdriver, spirit level, tape measure and a pencil. I purchased the 'Maggie's 24 Hen House', the build time was just under an hour and what you end up with is a quality product that you can be proud of (See photo).