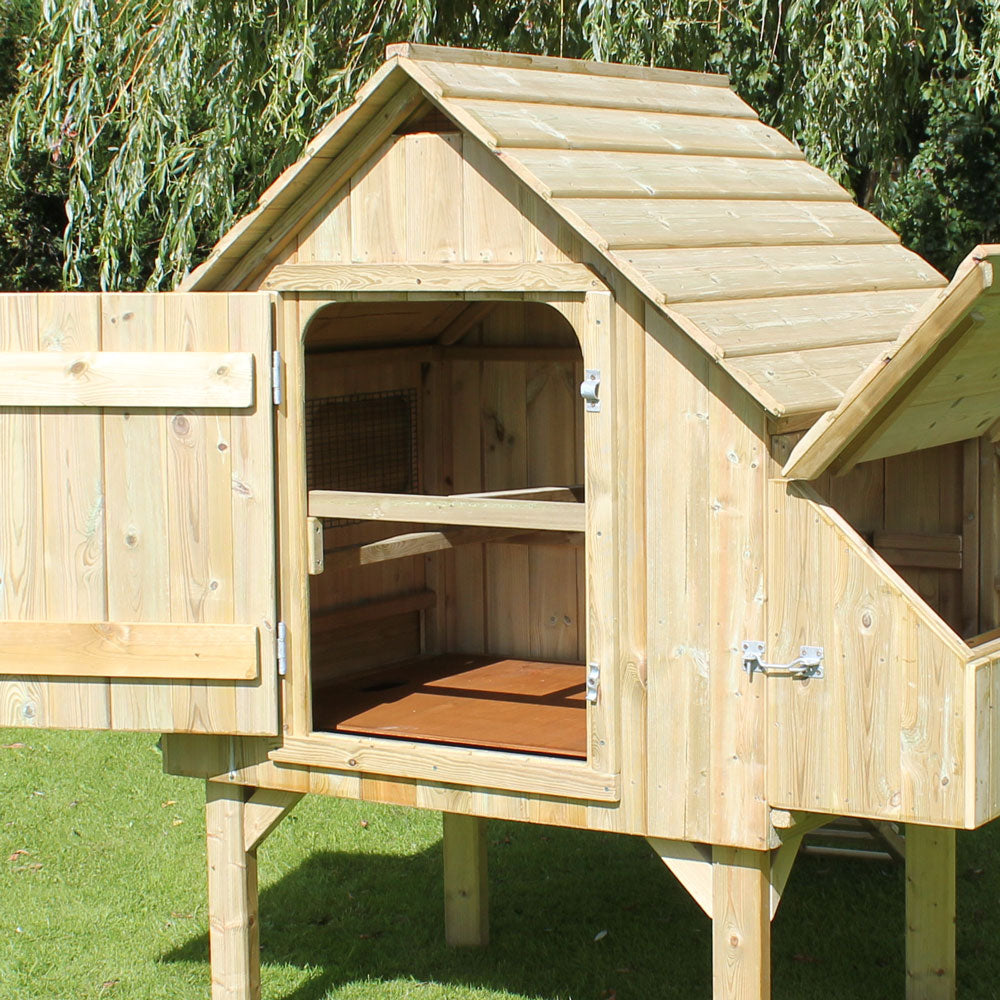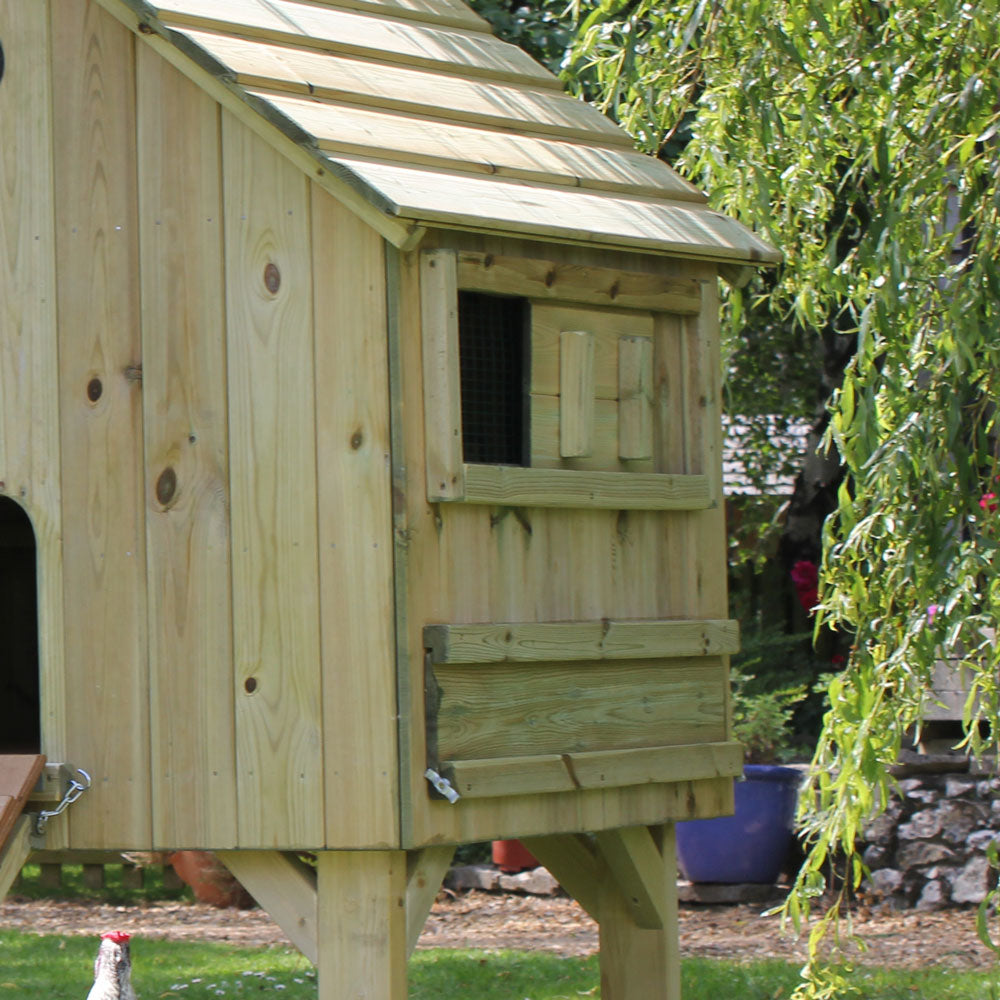 Long-Legged Maggie's Dozen Hen House
The Long-Legged Maggie's Dozen Hen House for up to 12 birds. Made in Dorset by Flyte so Fancy. Delivered either ready assembled or flat-packed in panels as required.
Elevated to rise above the hustle and bustle of the garden, the extra 24 inches in height given to this Maggie's Henhouse means less bending down is required for egg collection and cleaning whilst the loftiness will also offer your ladies a superb vantage point from which to survey their 'estate' in the morning.
This Tall Maggie's Dozen can accommodate up to 12 laying hens or 8 large fowl and offers a more natural environment for the birds where they can 'go up' to roost at night. This raised platform also allows the underneath of the house to become a space for shelter and shade for the birds during the day.
Large Back Door
Adjustable Ventilation Window
Secondary Apex Ventilation
Optional heart window
Removable Dirt Tray
External Lift-off Nest Boxes (on the left)
3 Removable Perches
Secured Pop-Hole Ramp
Auto-Door Opener Compatible
Painting Service Option
Ready-assembled or flat-packed for self-assembly
To keep your hens safe (and so you can enjoy your weekend lie-ins) why not consider the option to add the VSB Auto Door Opener Kit? Add this to your order and we will fit this for you.
We also offer Run options to fit the Maggie's Hen Houses of 6ft, 9ft and 12ft long Wired Runs to make a completely secure unit.
To add a designer quality to your hen house why not take a look at our Painting Service Options for the Maggie's Hen Houses - from bold statement colours to rich earthy tones.
Dimensions
Overall external: 173cm W (incl nest box) x 112cm D (excl. ladder) x 185cm H
Internally: 130cm x 95cm x 120cm high
Footprint: centre foot to centre foot: 106cm x 78cm
Perches: 2 x 30cm high and one central one at 40cm high
Legs: 60cm high (24 ins)
Pop-hole size: 28cm wide x 33cm high
Construction
All timber is sustainably resourced, FSC Certified, Pressure-treated Scandinavian Redwood
Roof: 21mm planed tongue & groove Shiplap
Body timber: 16mm planed Tongue &Groove
Floor: 9mm Exterior Grade Sealed Hardwood Plywood
Frame: 38 x 38mm Eased-Edge Framing
Legs: 50 x 75mm Eased-Edge Framing
Fixtures: Stainless Steel Nails; Plated & Painted Decking Screws
Fittings: Heavy Duty Galvanised or Zinc Plated
Timber Warranty: 15 years against rot and fungal attack (see Warranty conditions)
Currently approx. 1-2 week delivery time. This house is normally delivered on a pallet via Palletline carrier.
Please select above for the ready assembled or flat-packed in panels option. Delivery starts at £59 for a pallet (to mainland England), see our Delivery Page for more information.
Quality coop and service
This is my third maggies long legged coop and I love them. Very well made, sturdy, quality coop and easy to assemble.
I love the fact its so easy to clean out without having to bend down
Good communication about delivery date.
Would highly recommend
Gill Essom
This is my 2nd Long Legged Maggies House. they are really well made & stand up to the severe weather on Portland. The ordering & delivering was prompt & efficient. Very pleased. The x-battery girls are very happy in their new house. Thankyou from Gill & the girls.
Gill Essom.
The New Home!
I would have given this a five star rating, but we did find the instructions a bit confusing and ended up putting sections in the wrong place until we realised! Also, we had to pay quite a bit extra to have a Luton van instead of a lorry, as we live down a fairly small lane.
It would be helpful if the photos were clearly marked A, B etc, and written for people who are VERY USELESS at instructions! However, that said, we constructed it two days ago, with a friend's help, and the girls really love the fact they can get out at the crack of dawn instead of waiting for us to let them out - we ordered the automatic door thing which a) actually works, and b) is a godsend! - Hurrah! It's a bit steep for our old hen, especially the last few steps, but again, they love having a proper shelter when it rains. They also love the two-tiered perches, and the space and security the solid build gives them. We ordered the 12 hen house for our five hens, and they love it - we think! Thank you.
Lovely product and fantastic service
The hen house is beautifully made and very solid. The instructions were very simple to follow with both clear photos and a written description. This contrasted with instructions for a hen run from another supplier that only seemed to have hieroglyphics! I sent an email to say that one perch was missing. This was replied to within 5 minutes and I received the perch the next day. This level of service is so rare and made me think of TV programmes about the 1950s..
Fabulous chicken coop
I wish i'd bought one years ago. Have been using plastic coops for years because I thought they were easier to clean. This Maggie's coop has been a revelation - super easy to clean - loads more egg laying room for the hens -
And as it can house 12 hens - ended up rescuing another 8. So we now have 12 happy hens, highly recommend this coop and also Flytesofancy - super helpful throughout the process and recommended exactly the right coop for me 👍