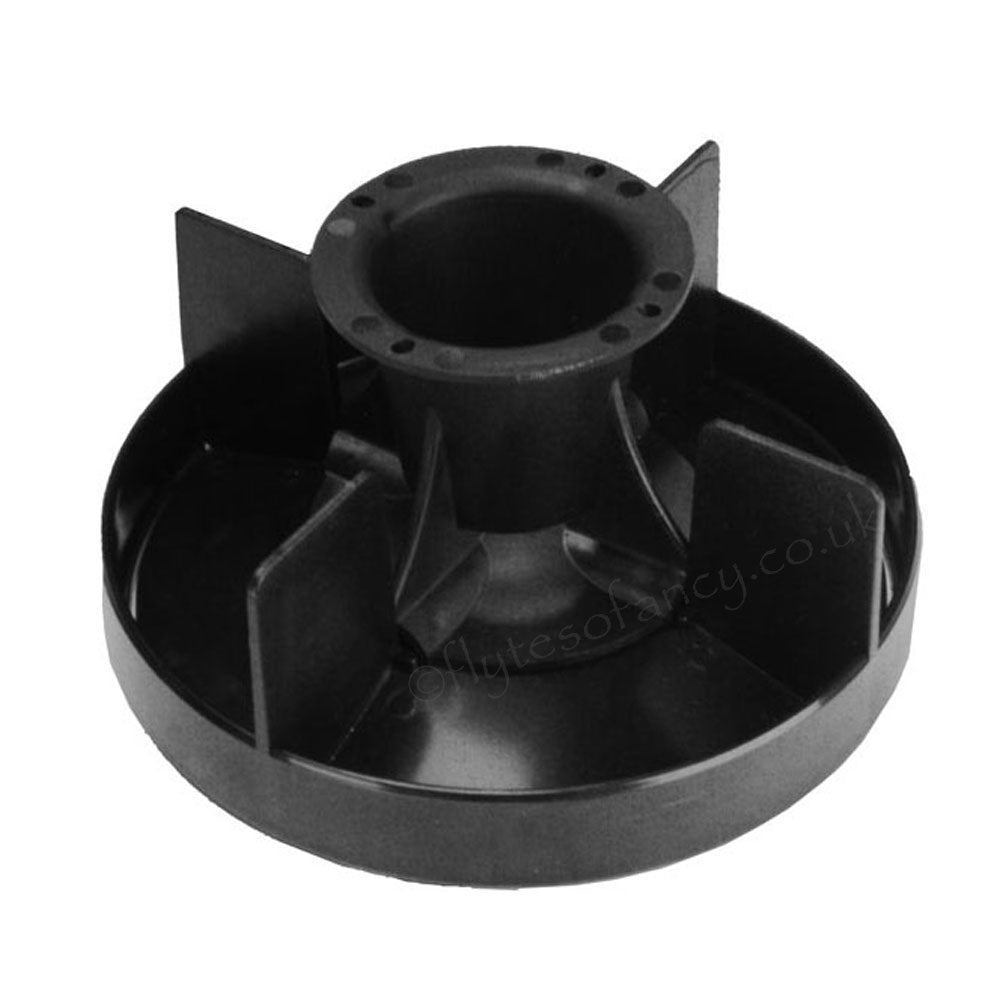 Large Poultry Feeder Pan Dispenser
Large Poultry Feeder Pan Dispenser, to fit the BEC Emperor Feeder, or can be attached underneath any metal, plastic or wooden bulk feed container.
The Large Feed Pan Dispenser is suitable for most bird species including: chickens, pheasants, partridge, ducks, turkeys, geese, quail, bantams, etc. and can be used with a variety of feed types including: Wheat, Barley, Mixed Seed, and Pellets.
The feed pans are of rugged construction using recycled materials. The Emperor Feeder comes with a large feed pan as standard.
This large pan is 275mm diameter with a pan lip of 40mm and a total height of 125mm.
Feed flows down the central funnel into the four feeding troughs and is automatically replenished as it is used.
Optional Anti-flick Ring available to prevent wastage. We recommend adding this anti-flick ring to an Emperor Feeder, if you are using for poultry and your hens are 'messy eaters', it really helps to stop feed wastage.
Simply drill four 5.5mm holes for the retaining screws and one large 80mm hole at the centre of the base of your container for the feed to flow through. Then using the screws provided, fix the unit to your container.
Both the large and small pan dispensers have specially designed 'screens' within the pan separating the feeding troughs to prevent aggression amongst feeding birds. Each feeding trough has a unique drainage slot allowing water and dust to escape.
Standard delivery via courier is next working day to most mainland UK destinations for orders placed before 2pm (excl. weekends and bank holidays).
Large Poultry Feeder Pan Dispenser
Trickle poultry feeder allowed me to convert an old barrel into a superb feeder. Really good quality and reasonable price. Feeder pan allowed me to convert an old barrel into a superb feeder. Also very robust and at a reasonable price.
Large Poultry Feeder Pan Dispenser
Brilliant as always. Easy to fit to my existing feeder, only problem the pellets don't come out very wel (I alreadyuse small ones due to the bantams), I'm going to do what another reviewer done. Apart from that the girls have mastered it in no time.
Large Poultry Feeder Pan Dispenser
Products extremely good I would recommend them too people with poultry also prompt delivery. Excellent my chicks greatly appreciated the size.
Large Poultry Feeder Pan Dispenser
Always a first class service from Flyte So Fancy No mess using the large pan feeder. Very pleased.
Large Poultry Feeder Pan Dispenser
Great product and fast service Need this for ducks and keeps feed off the floor