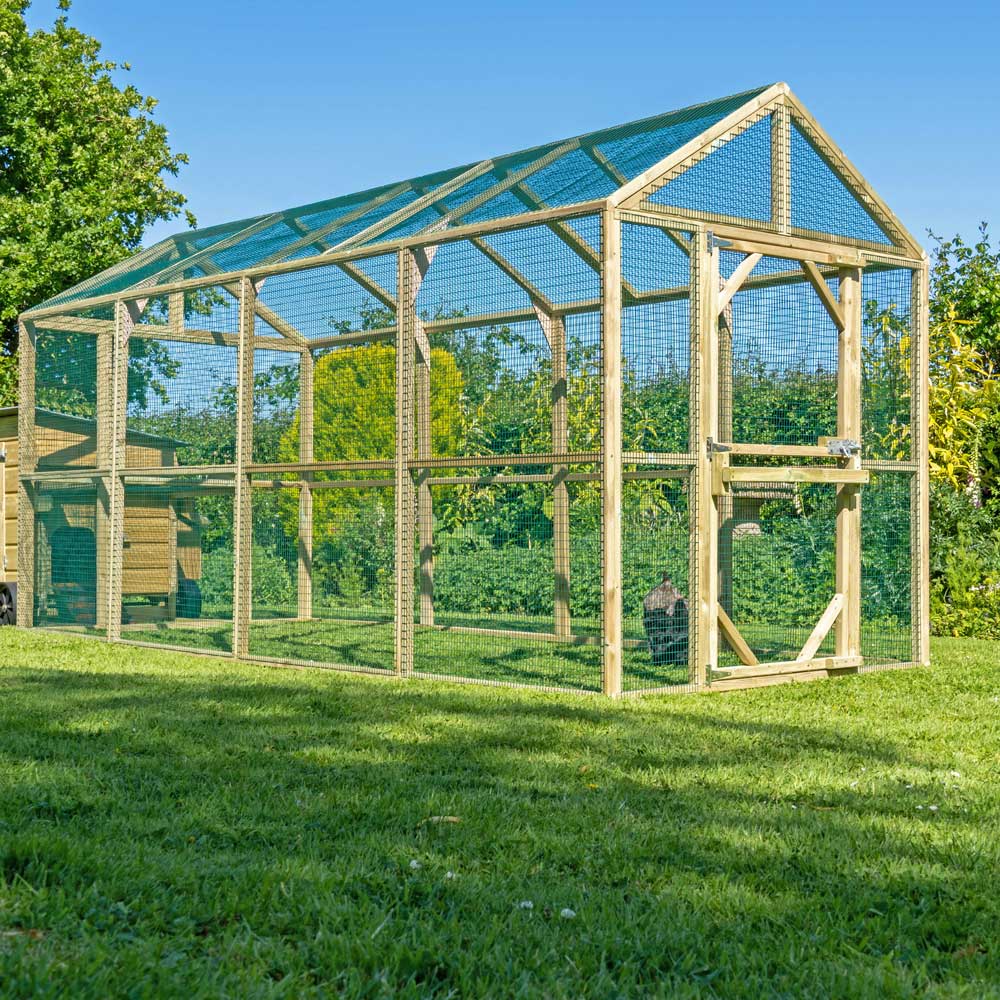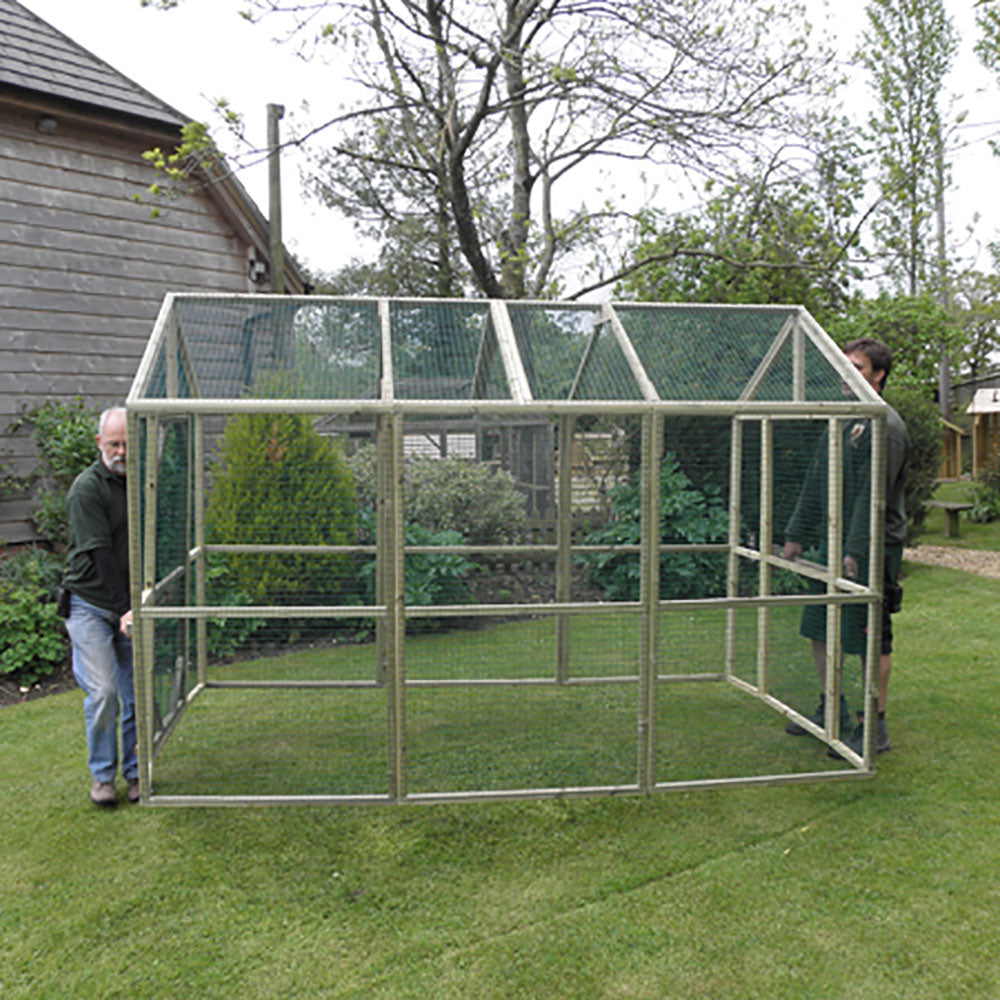 Junior Poultry Protection Pens
Flyte so Fancy Junior Poultry Protection Pens - available in 4 sizes. Images show the 6ft x 9ft and the 6ft x 12ft Pens.
The Junior Poultry Protection Pen is a completely enclosed walk-in chicken run that comes in wired timber panels for you to simply screw together. Comprehensive instructions included! And you can watch how easy it is on video too.
This is a Walk-in Chicken Run with an (opening outwards) entrance door on the short apex side. Door is hinged left.
Four size options* are available, each is 163cm (5ft 4 ins) wide and comes in lengths of 9ft 4in long to 18ft 7in long. Max height inside is 194cm (6ft 5in).
The Junior Poultry Pen has been tested in all weather and is designed to be transported to you in panels. When built - although a lightweight structure - it is a very strong, rigid unit with braces on joints to maintain rigidity.
The door opens outwards and has a sturdy galvanised Brenton bolt so that it can be padlocked if required. Handlebars at each end make this easy to lift and walk (for two people) to a new position.
We offer Mating Panels to suit all our Flyte so Fancy hen houses so that the henhouse can be placed outside the Run and join neatly at one end or, if you let us know, we can make the Mating Panel fit one of the panels in the side of the Pen at no extra cost.
Other options to consider are to add a Polycarbonate Roof to provide shelter and keep the run dry or add an Anti-Fox Weldmesh No-Dig Skirt to prevent predators from digging into the Pen.
To create a more permanent base for your Pen we also offer a made-to-measure Sleeper & Woodchip Pack.
* PLEASE NOTE the exact dimensions given in Specifications for each Pen as we build in cm (based on wire and timber spec.) but round into feet for ease of description i.e. each Pen is longer than described and not as wide but the square footage inside is the same whether calculated using imperial or decimal.
The Junior Protection Pen is completely wired in strong 1-inch x ½ inch 18g green plastic-coated galvanised weldmesh (NOT chicken wire because foxes will chew through chicken wire). This is small enough to prevent little birds from jumping in. The timber frame is 38mm x 38mm pressure treated timber for strength.
Each Pen is 194cm high (6ft 5in) with door width 71cm x 139cm high.
Actual Dimensions (external):
6ft x 9ft Size - 163cm wide (5ft 4in) x 283cm long (9ft 3in). Approx. 50 sq ft of space.
6ft x 12ft Size - 163cm wide (5ft 4in) x 378cm (12ft 5in). Approx. 69 sq ft of space.
6ft x 15ft Size - 163cm wide (5ft 4in) x 472cm (15ft 6in). Approx. 85 sq ft of space.
6ft x 18ft Size - 163cm wide (5ft 4in) x 566cm (18ft 7in). Approx. 108 sq ft of space
Currently approx 1-2 week delivery. This Pen would be delivered flat-packed in panels for self-assembly, carefully wrapped and strapped on a pallet.
Delivery charges for this pallet delivery start at £59 for mainland England. The expected delivery date will be detailed in a separate order confirmation email. For more details see our Delivery Information page.
Junior Poultry Protection Pen
Thank you so much for our slightly modified protection pen. Fitted our space perfectly, went up really easily and our girls are loving the extra space. And my back is loving not having to crawl into their run! Thanks to Phill and the team for their support!
Hi Jane,
Thanks for leaving us a great review. Set-up looks great, I hope the girls appreciate it as much as you do :)
Junior protection pen
Very easy to put together, not as big as I thought it would be so I bought the mating pen now much better. Chickens v happy 😃
Junior Poultry Protection Pen - 6x9ft
Easy to assemble and very impressed with the quality of the product. No chickens in there yet but I'm looking forward to welcoming them to their new home! Would highly recommend.
Glad you're happy with it and that you had no problems putting it all together.
Social media team would love a photo once its new residents have taken the time to try it for themselves - They tell me off if I don't ask!
Almost excellent
Simple to construct.
A couple of screw-holes were over-drilled.
The screw heads disappeared!
We simply re-drilled them.
Junior Poultry Protection Pen - 6ft x 9ft
Flytes of fancy products and service are of excellent wuoty Excellent quality as usual