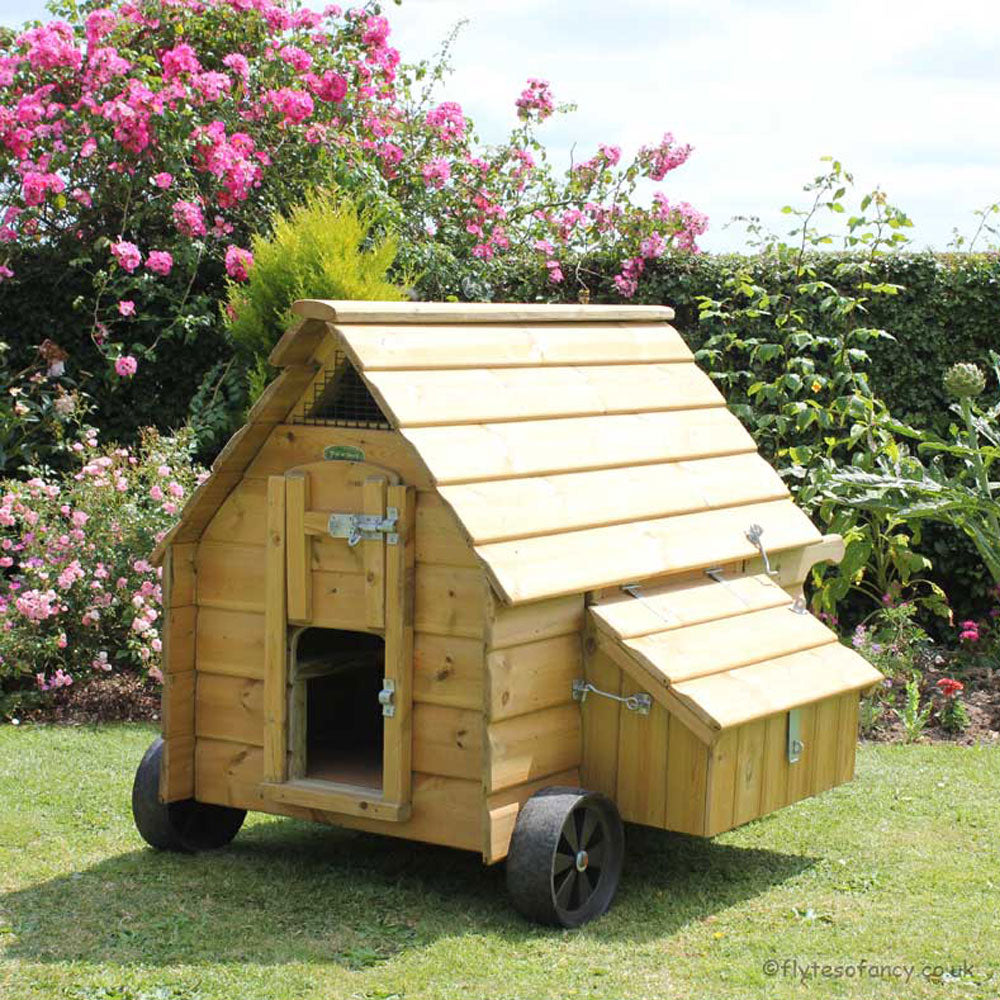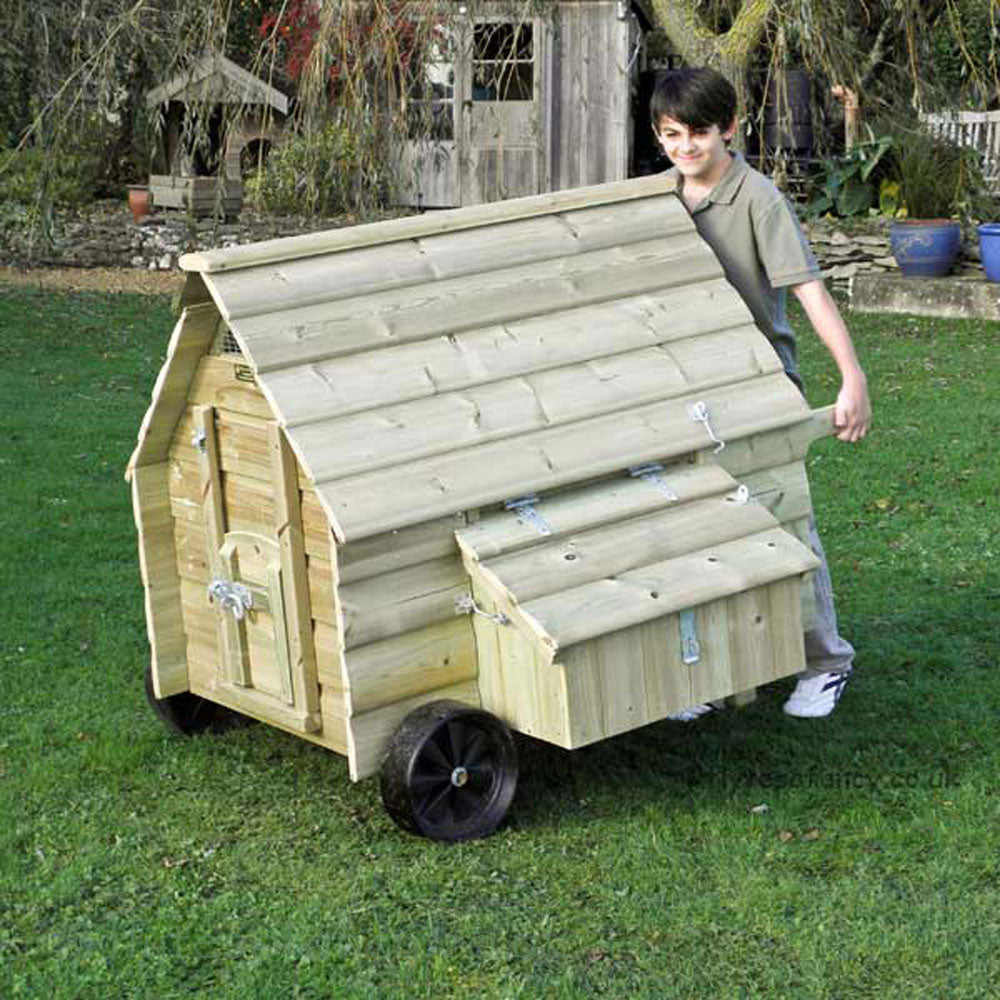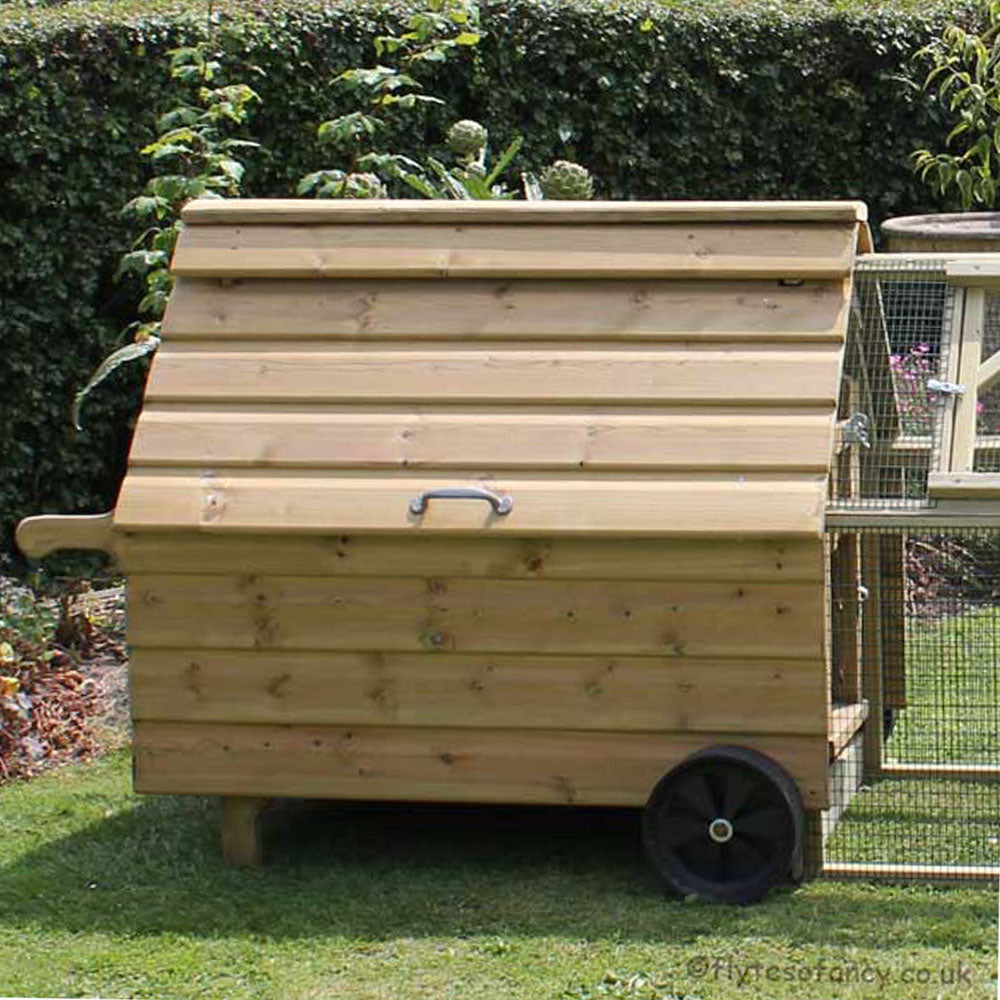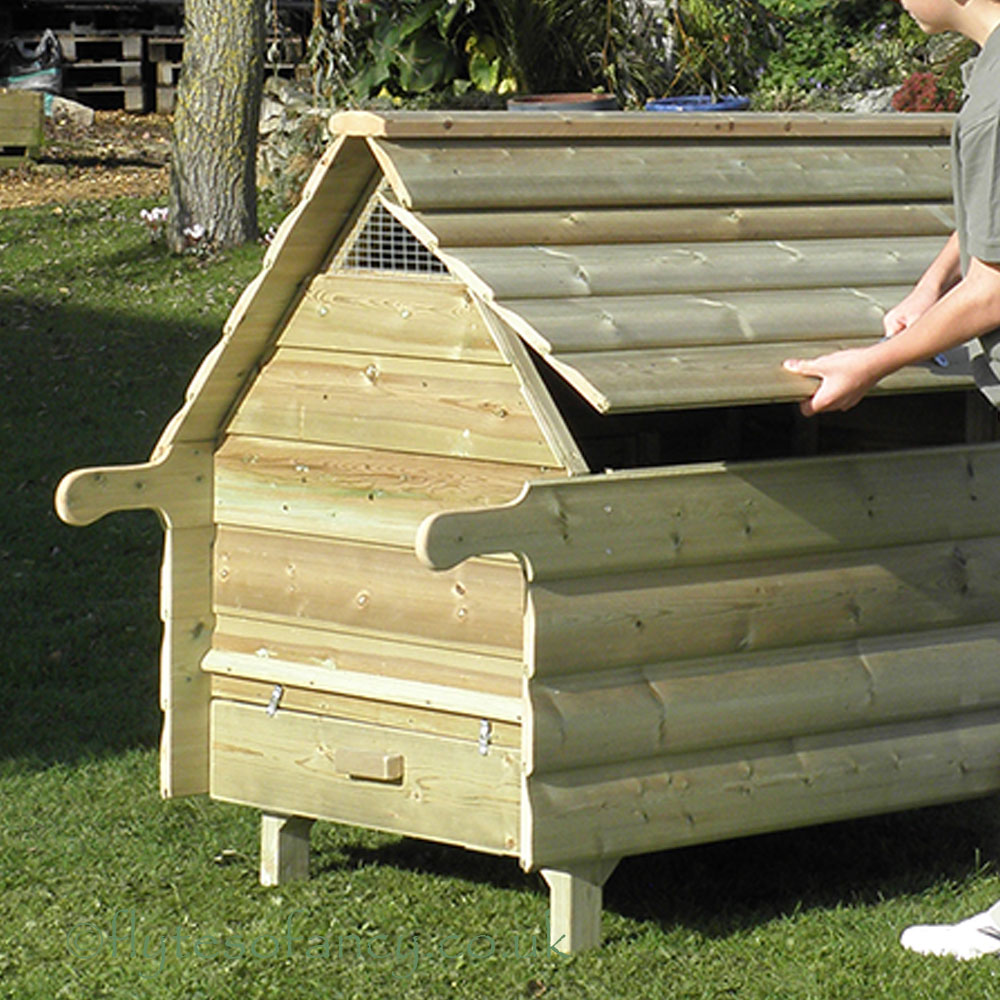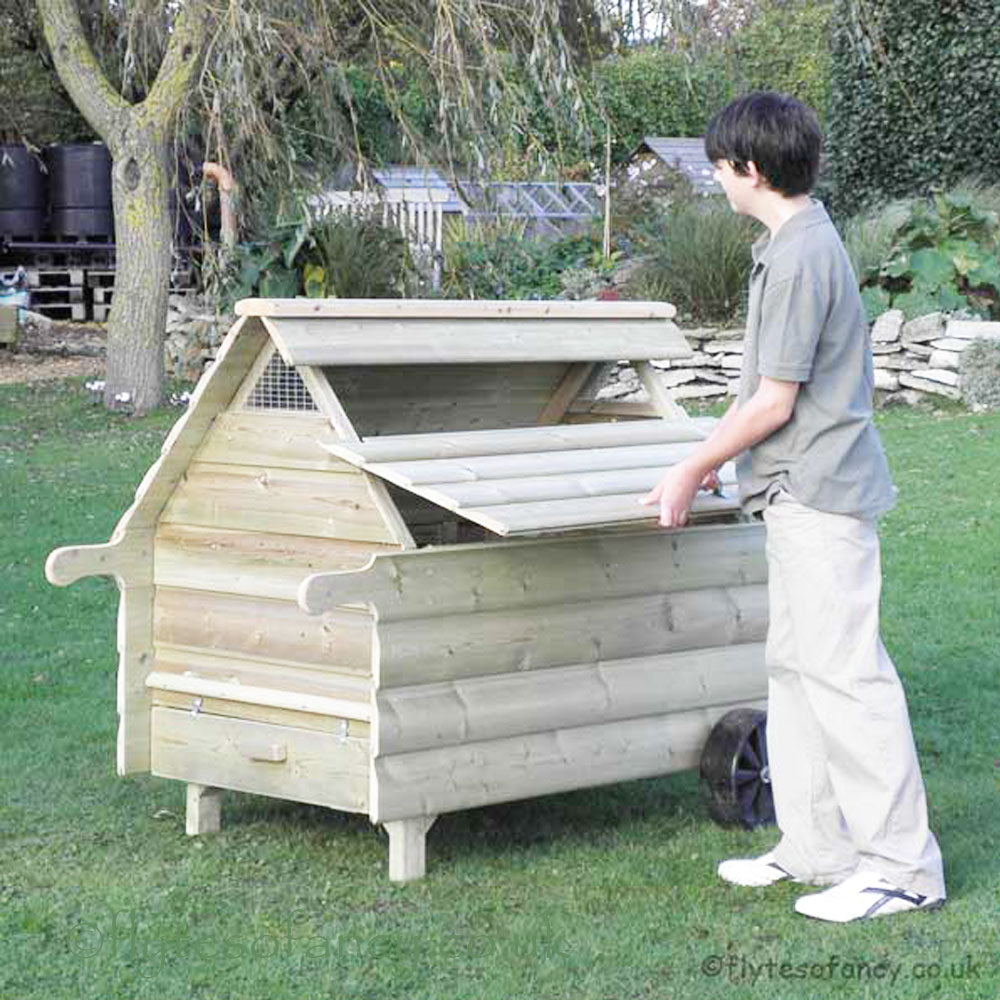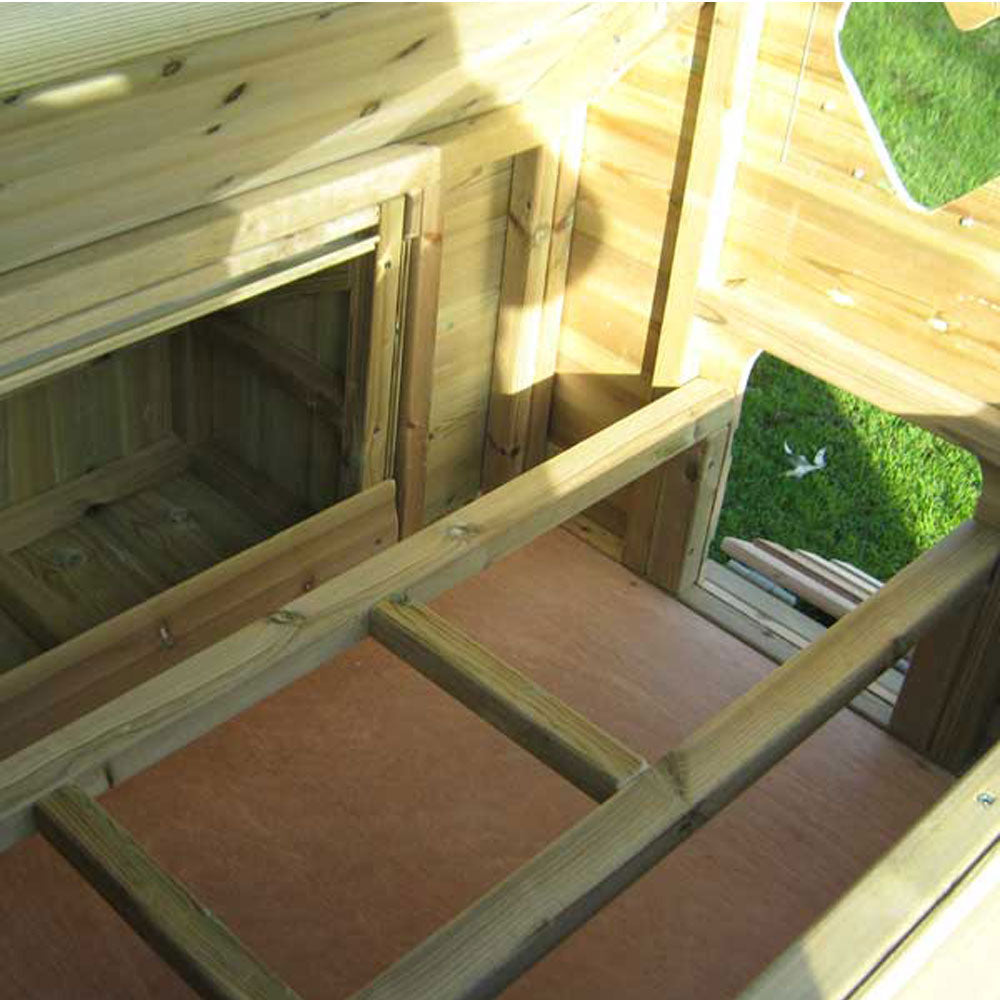 Dorset Stroller Chicken Coop - Vertical Door - No Heart Window
Dorset Stroller Chicken Coop, a mobile chicken house for up to 8 birds.
The Stroller Chicken Coop is the one for you if ...
* You want to move the chicken coop regularly, just on your own
* Need a chicken coop for about 6 to 8 hens
* Want easy access for cleaning through a removable roof panel
* Prefer removable external egg laying boxes
* You want a Dirt Tray included
This is a mobile Chicken Coop and has room for 8 laying birds, it can be moved whenever you wish, just pick up the handles and push!
External nest boxes make it very spacious inside and with the long perches you may be able to accommodate up to ten smaller birds like bantams. The nest boxes are held in place with cabin hooks which make it simple to remove for cleaning.
The roof panel is an easy lift-out action to make cleaning and access very easy, plus, there is a pull-out droppings tray which can be removed from the back of the house.
This version of the Dorset Stroller comes without the heart window and with a vertical pop-hole door which locks into place with a strong galvanised bolt - a completely secure and fox-proof house.
To keep your hens safe when needed you can add a 6ft Wired Run or a 9ft Wired Run for the Dorset Stroller, links below. See also the Dorset Stroller with a folding ramp door.
To add an automatic pop-hole door opener to the Dorset Stroller Coop just add the VSD Auto Door Kit to your order and we will fit it for you free of charge. The VSD Unit and Lightweight Door is fitted inside the Coop.
Alternatively, we offer a
Chicken Guard Door Opener Kit
that can be fitted to the outside of the Coop. This does mean that the wooden vertical door would be replaced with a lightweight aluminium door.
Why not have a matching house for your Ducks too with the Stroller Duck House?
For more details about the timber we use, how to keep it waterproof and take care of it over the years please visit the About our Houses page.
Dimensions
Overall external (incl handles and nestbox): 124cm wide x 145cm long x 115cm high
Internal floor: 76cm W x 106cm L
Pop-hole: 25cm W x 31cm H
Perch height from floor: 24cm
Construction
All timber is sustainably resourced, FSC Certified, Pressure treated Scandinavian Redwood
Timber: 21mm T&G Shiplap & 16mm T&G
Floor: 9mm Exterior Grade Sealed Hardwood Plywood
Frame: 38mm x 38mm Eased-Edge Framing
Fixtures: Stainless Steel Nails; Plated & Painted Decking Screws
Fittings: Heavy Duty Galvanised or Zinc Plated
Timber Warranty: 15 years against rot and fungal attack (see Warranty)
Currently approx. 1-2 week delivery.
This house can be delivered ready assembled, or flat-packed in panels for self-assembly, carefully wrapped on a pallet.
Delivery charges are from £59.00 for mainland England, other areas are higher. See our Delivery Page for more information.
Dorset Stroller Chicken Coop - Vertical Door No Heart Window - Flat-Packed
Not everything always goes right, and we had some problems with our coop. The phone was answered immediately, we were able to send footage through WhatsApp, emails were answered within the hour and, within 4 days, we had a brand new one! Unbelievably impressive customer service, an absolutely beautiful coop, and a very satisfied customer who isn't going to waste time shopping anywhere else from now on. The sturdiest, most attractive coops in the business. We wanted a coop that would look pretty in our garden, and I'm so happy with this one :)
Thank you so much for your fabulous review! I am glad we got this all sorted for you quickly and that everything works now. Thank you for your patience. Kind Regards, Anne