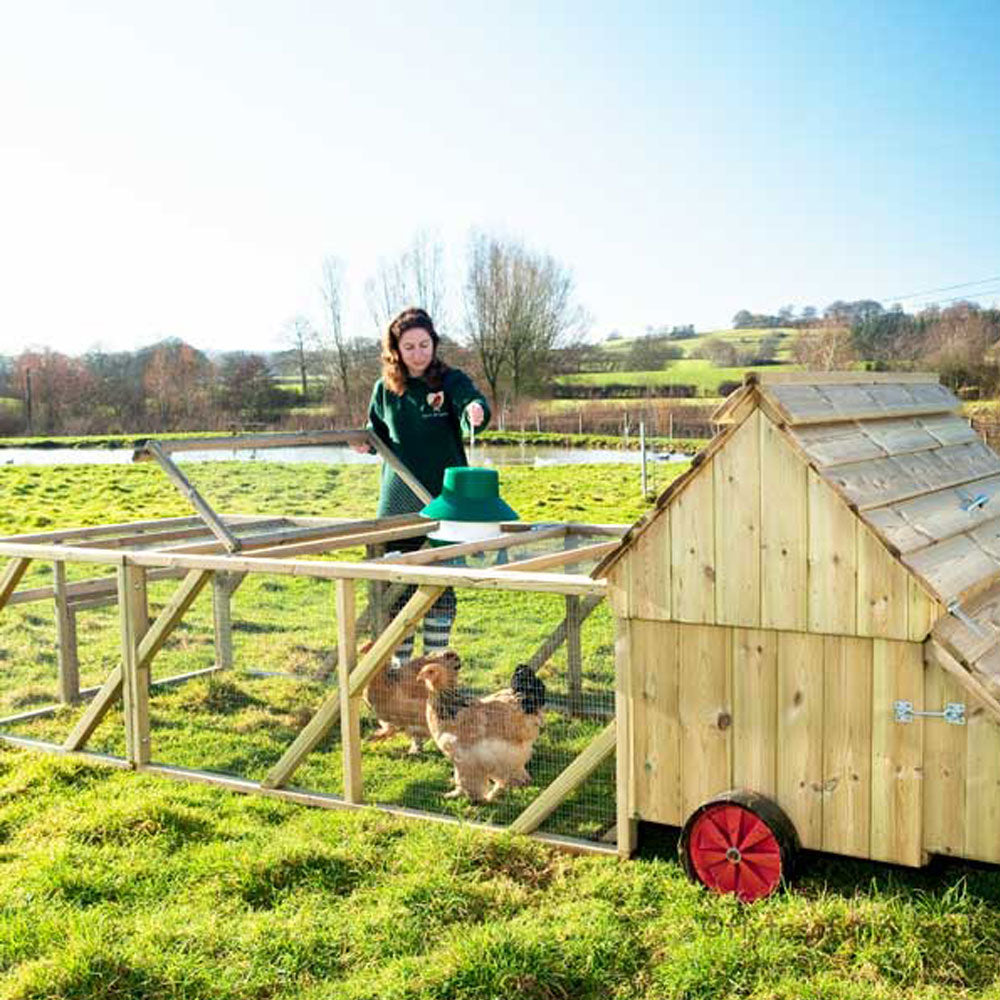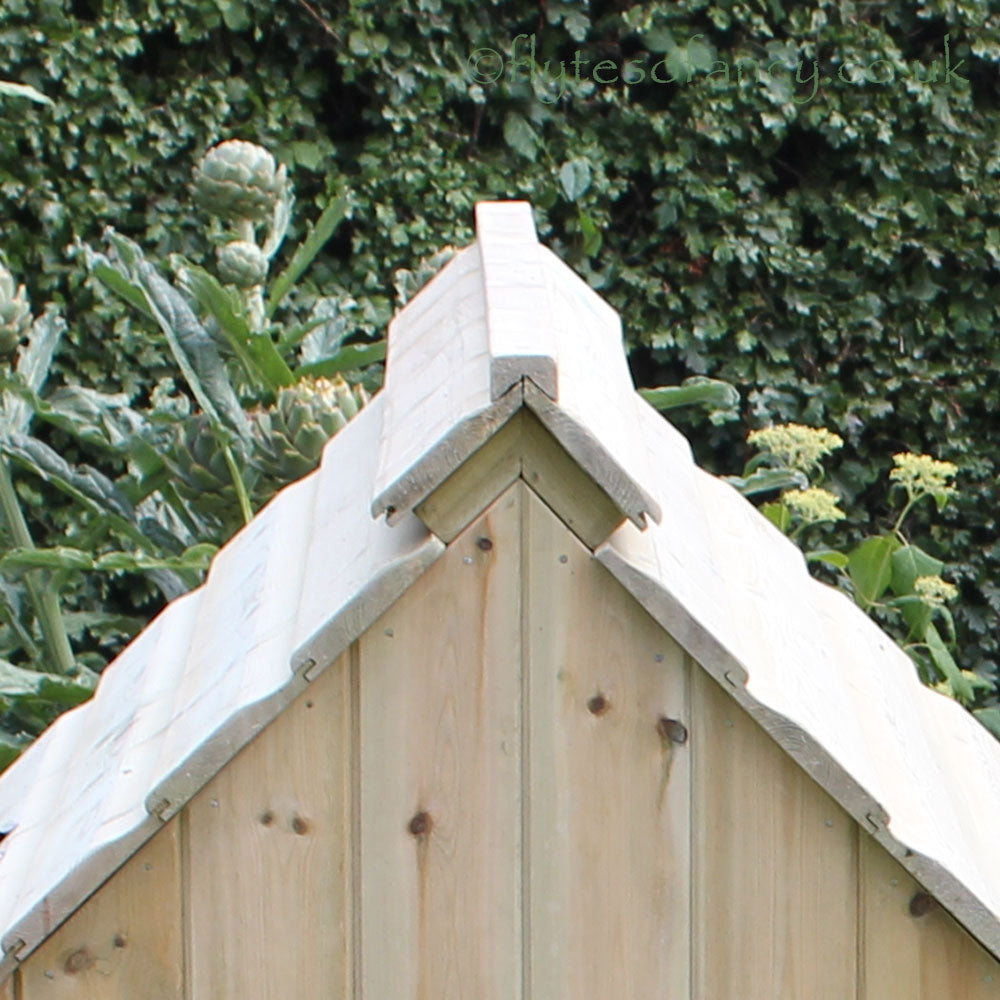 Dorset Ranger Ten Chicken Coop
Dorset Ranger Ten Chicken Coop with a 6ft, 9ft or 12ft long Run. A very mobile Chicken Coop for 10 hens.
The Dorset Ranger Ten incorporates all the family-friendly features of the Dorset Ranger Six but is built on a slightly grander scale to realise your dreams of Ten-Hen-Heaven.
The Dorset Ranger is a top-quality chicken coop with all the superb build finish and attention to detail that you expect in a Flyte so Fancy Henhouse.
This coop is just so easy to move around the garden, you will be amazed at how light it is to lift and move. Inside the house are two long perches and lots of space to accommodate up to ten large birds, with the option to use one perch only if accommodating very large birds or only a few birds.
And, when the grass looks greener on the other side of the Run, just up-chooks and move it to pastures new. It's all to do with fulcrums, masses and moments - but the end result is that you can easily tip up the whole thing and wheel it, with one hand, anywhere you want – easy peasy!
The Run has easy access hatches in the top and pop-hole access at the end of the run. With its slide-back roof on the house, pull out dirt tray, 2 removable perches and detachable nest box, cleaning the Dorset Ranger is as easy as eating an egg.
It is so strong, light to handle, and cleverly designed that you can hang feeders and drinkers inside the run, then when it's time to move on, just lift the whole darned thing in one go - what could be easier!
The Dorset Ranger is also Auto Door Opener compatible, see VSD Door Opener Kit.
For more details about the timber we use, how to keep it waterproof, and take care of it over the years please visit the About our Housing page.
Dimensions of each option:
Internal house - 126cm wide x 70cm deep (103cm incl. nest box) x 96cm high.
Perches: 2 x 126cm. Height to perches 25cm.
Pop-hole door is 22cm square.
Each Run option is 125cm wide x 73cm high, only the length changes.
The Ranger 10 with 6ft Run: Overall external incl. house and nest box: 308cm x width 152cm (inc wheels) x 123cm high. The Run length is 190cm.
The Ranger 10 with 9ft Run: Overall external incl. house and nest box: 402cm x width 152cm (inc wheels) x 123cm high. The Run length is 284cm.
The Ranger with 12ft Run: Overall external incl. house and nest box: 498cm x width 152cm (inc wheels) x 123cm high. The Run length is 380cm.
Construction
All timber is sustainably resourced, FSC Certified, Scandinavian Redwood
Roof timber: 21mm pressure treated T&G Shiplap boards
Body timber: 16mm pressure treated T&G boards
Floor: 9mm Exterior Grade Sealed Hardwood Plywood
The Run: 18g European Green-coated Galvanised Weldmesh on 38 x 50mm framing
Frame: 38mm x 38mm Pressure Treated Eased-Edge Framing
Fixtures: Stainless Steel Nails; Plated & Painted Decking Screws
Fittings: Heavy Duty Galvanised or Zinc Plated
Timber Warranty: 15 years against rot and fungal attack (see Warranty conditions)
Handmade in Dorset
Delivery time is currently approx 1-2 weeks. Delivery is made via Palletline Transport on a day to suit you.
The Ranger can be delivered flat-packed on a pallet for self-assembly with full instructions and all fixings included.
The delivery charge starts at £59.00. We will email offering a delivery date shortly after receiving your order. For more details see the Delivery Information page.
Really well made, great design. 👍
Great build quality
I'm not easily impressed with the build quality of most things these days so it's nice to see something made properly for a change. It's clearly going to last a very long time so won't need replacing any time soon but I won't hesitate to come back when it does or I've expanded my collection and need housing or runs.
amazing coop
Amazing dorset ranger coop 9 ft run very impressed with whole experience from videos on youtube to phone call before delivery to delivery day all packed very well.
Took two people three hours to put together, all very well made and looks fantastic. Had our first 6 chickens for two weeks now moved around our paddock it is moveable but have to move very slowly as i am concerned how it will last when moved regularly but hopefully be ok. We purchased some hemp bedding and cleaning supplies all great too. Will be ordering again very soon. Thankyou.
Dorset Ranger Ten Chicken Coop - with Heart, 9ft
Our coop arrived when it was supposed to, was well packaged and undamaged. We were missing a couple of extra items, but after a quick phone call these were delivered two days later. Pretty easy to assemble and completed in around three hours. The coop is very sturdy, looks nice and is of a decent size.
Dorset Ranger Ten Chicken Coop - with Heart, 12ft
Excellent service. Chicken coop arrived on the specified date and we assembled it in 30 minutes. Everything went together beautifully and my girls are loving their new home! Thanks! Quick and easy to assemble. Well made