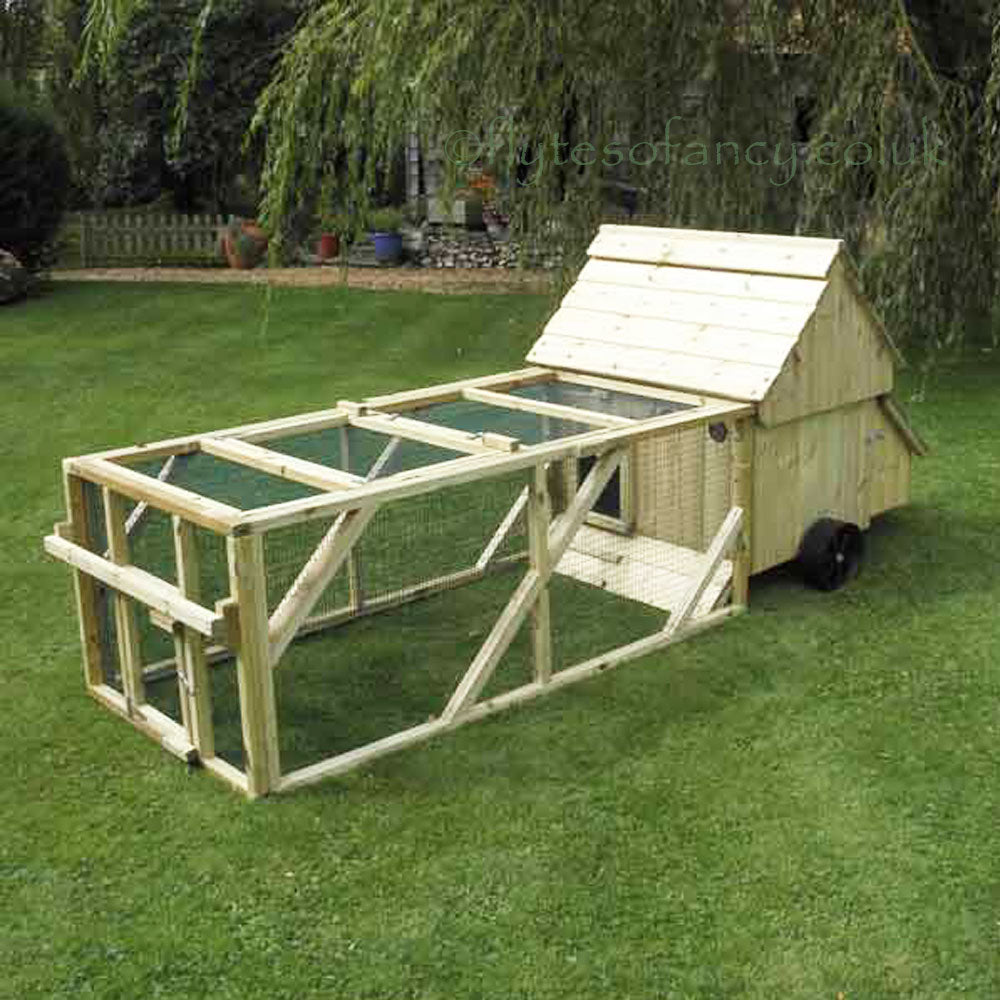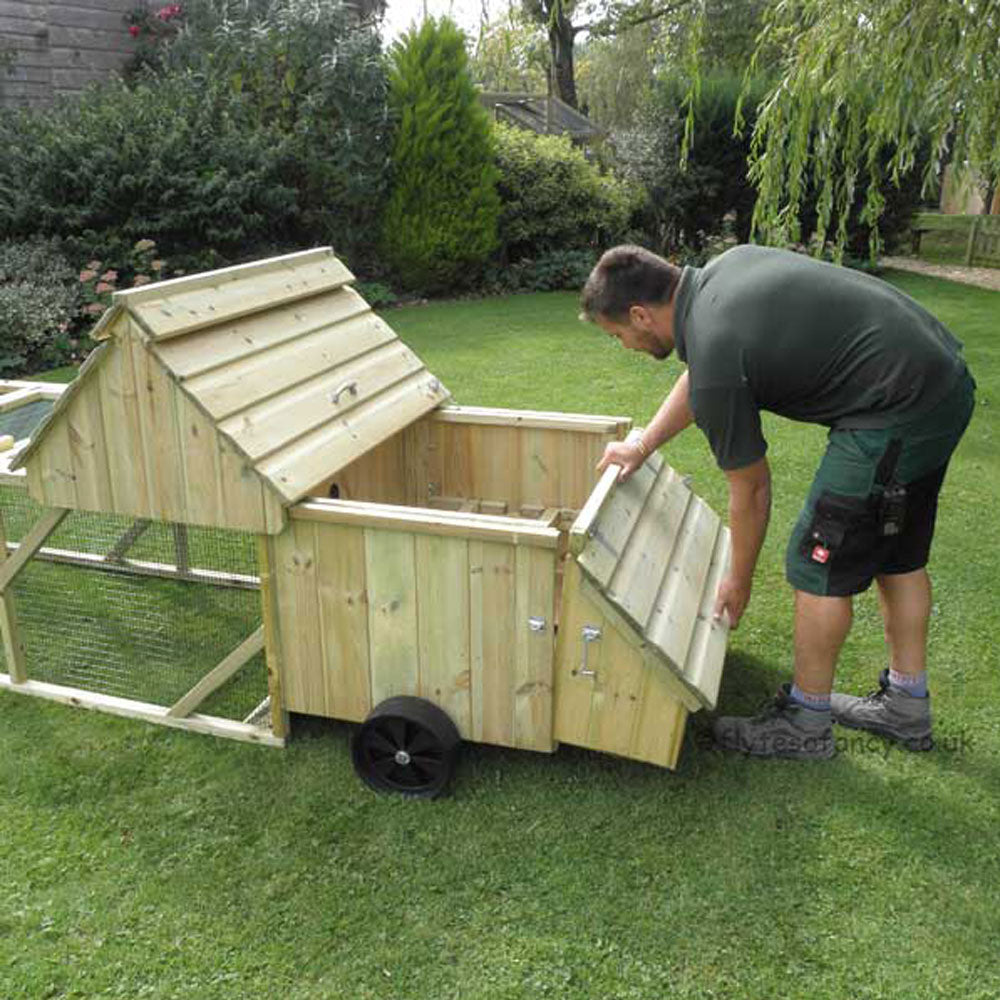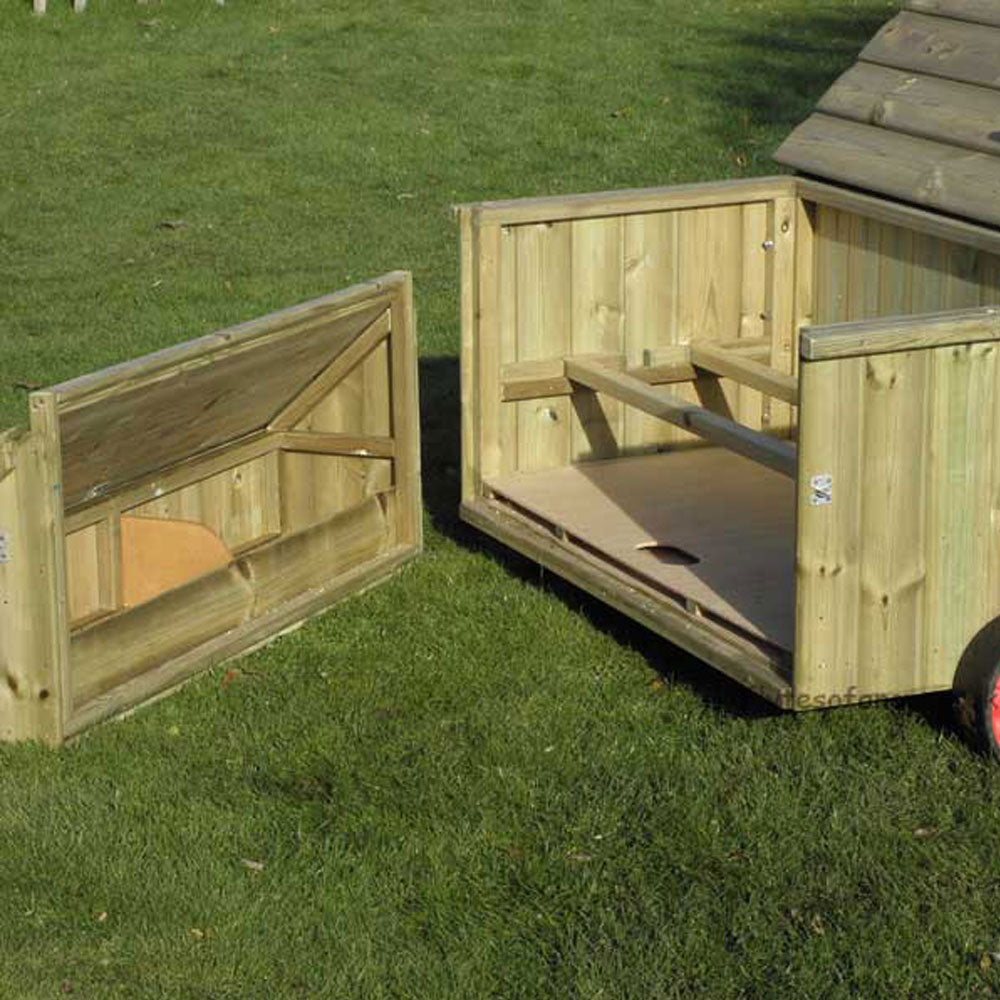 Dorset Ranger Six Chicken Coop
The Dorset Ranger Six Chicken Coop with wheels. A thoroughly mobile Chicken Coop - Designed and Made by Flyte so Fancy.
A top quality mobile chicken coop with all the superb build finish and attention to detail that you expect in a Flyte so Fancy Chicken Coop.
The most mobile Chicken Coop on the market today. Pick it up with one hand and wheel it wherever you wish, every day if necessary. This coop is so easy to move around the garden, you will be amazed at how light and mobile it is.
The Dorset Ranger Six Chicken Coop comes with an integral Run – select a 6ft, a 9ft or a 12ft long Run. You can also select whether to have a heart window or not.
Spacious accommodation for up to six large birds and 'as practical as a pencil'. With wheels for mobility; a slide forward roof for access; good ridge ventilation; a large lift-off nest box for easy cleaning and a removable dirt tray.
A very strong unit, it is designed so that when you lift the run it is counter-balanced on the wheels. Just as easy with each run size, so it can be wheeled around using only one hand.
The run is very secure and built using strong timber frames with half-inch by one-inch 18g galvanised weldmesh - green plastic-coated for longevity. For top access to the run, there is a fold-out mesh panel near the house. A further pop-hole door at the end of the run means you can allow your birds out if you wish.
We supply two screw-in hooks to enable you to hang your drinker and feeder inside the run. This also means, when you decide to move your chooks to pastures new, the feeder and drinker will be lifted with it.
Inside the house are two perches and lots of space to accommodate 6 large birds. If accommodating very large birds, or only a few birds, just use one perch instead of two.
The external nest box has a lift-up lid for egg collecting and these unhook to remove them for access to the dirt tray. Most innovative of all is the sliding roof which gives so much more access to the house.
The Dorset Ranger is also Auto Door Opener compatible, see VSD Door Opener Kit.
For more details about the timber we use, how to keep it waterproof, and take care of it over the years please visit the About our Housing page.
Dimensions of each option:
Internal house: 94cm wide x 70cm deep (103cm incl. nest box) x 96cm high.
Perches: 2 x 94cm. Height, floor to perches 25cm.
Pop-hole door: 22cm square.
Each Run option is 97cm wide x 73cm high, only the length changes.
The Ranger with 6ft Run: Overall external incl. house and nest box: 308cm x width 120cm (inc wheels) x 123cm high. The Run length is 190cm.
The Ranger with 9ft Run: Overall external incl. house and nest box: 402cm x width 120cm (inc wheels) x 123cm high. The Run length is 284cm.
The Ranger with 12ft Run: Overall external incl. house and nest box: 498cm x width 120cm (inc wheels) x 123cm high. The Run length is 380cm.
Construction
All timber is sustainably resourced, FSC Certified, Scandinavian Redwood
Roof timber: 21mm pressure treated T&G Shiplap boards
Body timber: 16mm pressure treated T&G boards
Floor: 9mm Exterior Grade Sealed Hardwood Plywood
The Run: 18g European Green-coated Galvanised Weldmesh on 38 x 50mm framing
Frame: 38 x 38mm Pressure Treated Eased-Edge Framing
Fixtures: Stainless Steel Nails; Plated & Painted Decking Screws
Fittings: Heavy Duty Galvanised or Zinc Plated
Timber Warranty: 15 years against rot and fungal attack (see Warranty conditions)
Handmade in Dorset
Current Delivery is 1-2 weeks.
Delivery is made via Palletline Transport on a day to suit you. The Ranger Six can be delivered flat-packed on a pallet or, the house section can be assembled leaving just the run panels to screw together.
The delivery charge starts at £59.00 for mainland England postcodes. We will email offering a delivery date shortly after receiving your order. For more details see the Delivery Information page.
Excellent product
Read the instructions first, took a leisurely hour and a half to put together. Worked perfectly first time. Good quality, very well made. I am very pleased with the Dorset Ranger Six Ranger Chicken Coop and I'm sure my chickees will be too.
Superb design
Excellent design and worth every penny! Highly recommended.
Dorset Ranger Six Chicken Coop with Heart - 6ft Run - Partly Assembled
The staff was very helpful and the make of the chicken house and run are excellent. They can accommodate the design to what you want. And the delivery was very quick too. The staff was very patience with me as I took awhile to make my mind up with which chicken house!! Brilliant I like the fact you lift it myself and move the run with no problems and very sturdy too.
Dorset Ranger Six Chicken Coop with Heart - 6ft Run - Partly Assembled
Good quality products and excellent customer service nothing too much trouble. Very secure for the chickens and the design will make easy to clean out.
Dorset Ranger Six Chicken Coop with Heart - 9ft Run - Partly Assembled
Everything was first class. From the order acknowledgement to delivery of the coop. The product is of the highest quality in both workmanship and materials. A very minor problem was dealt with very swiftly.