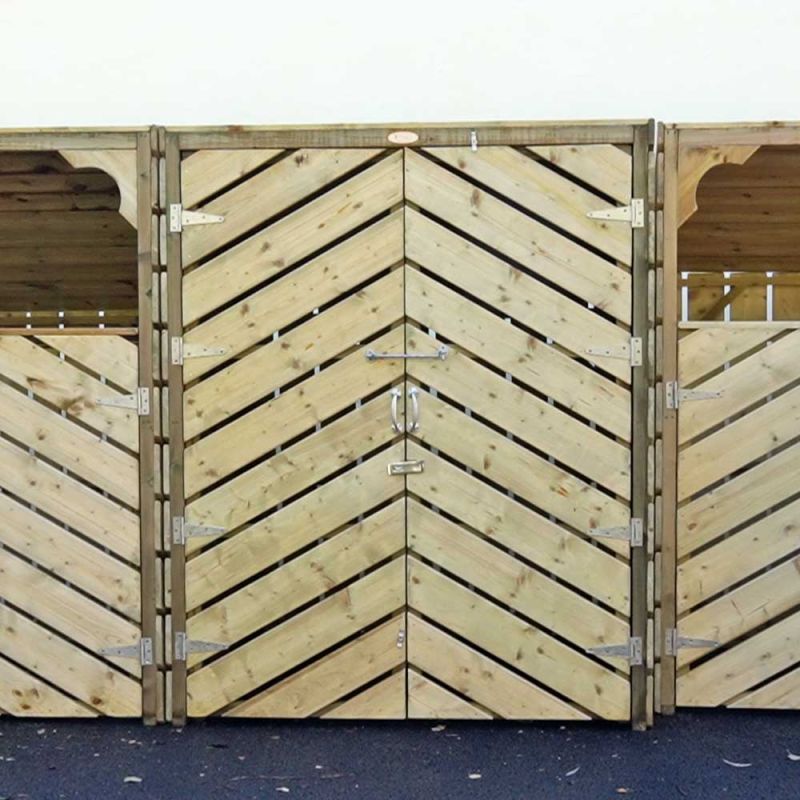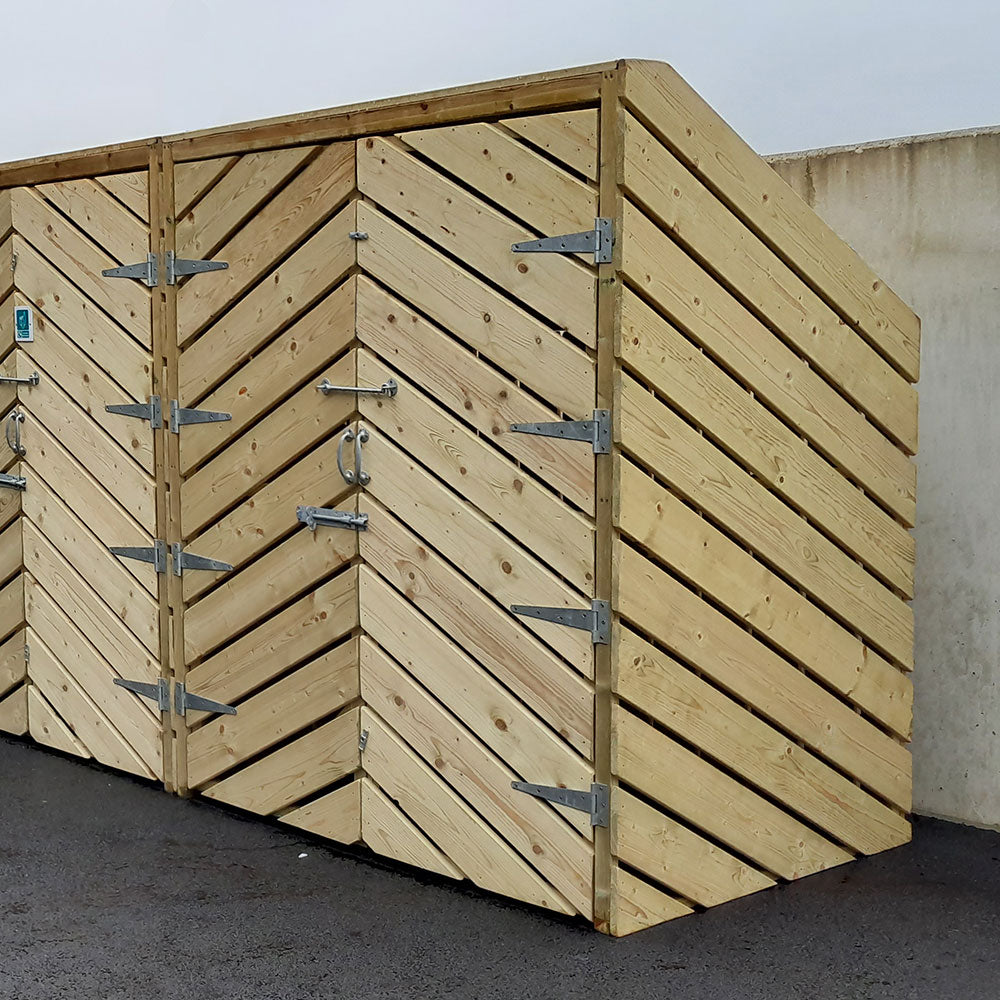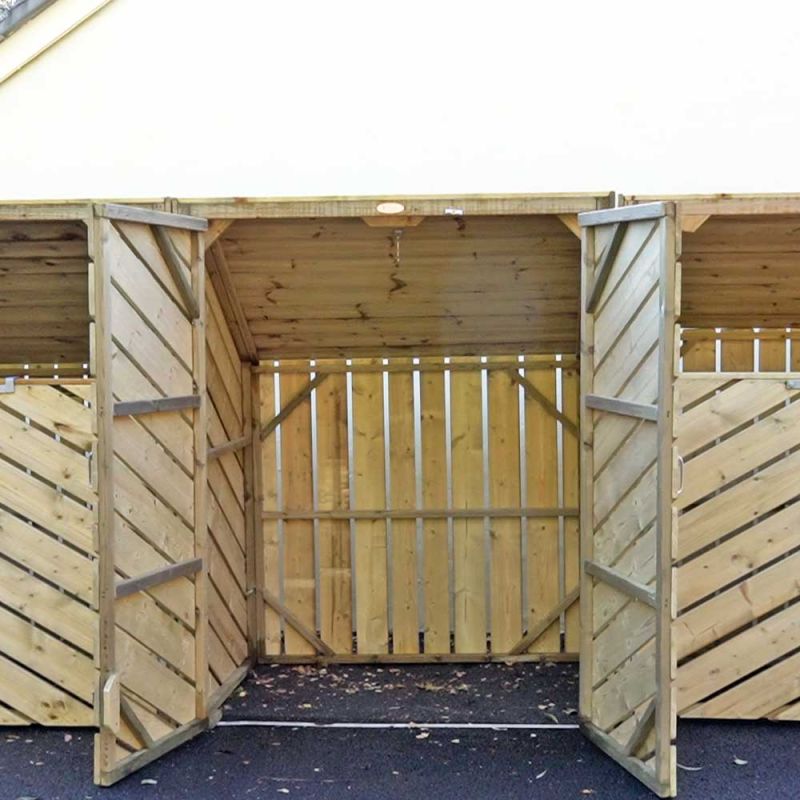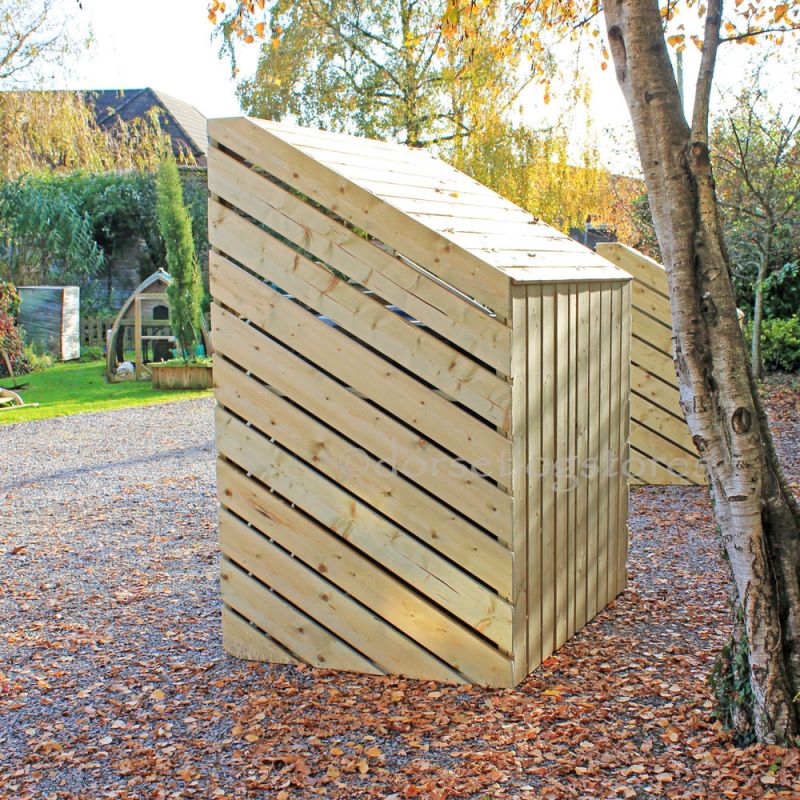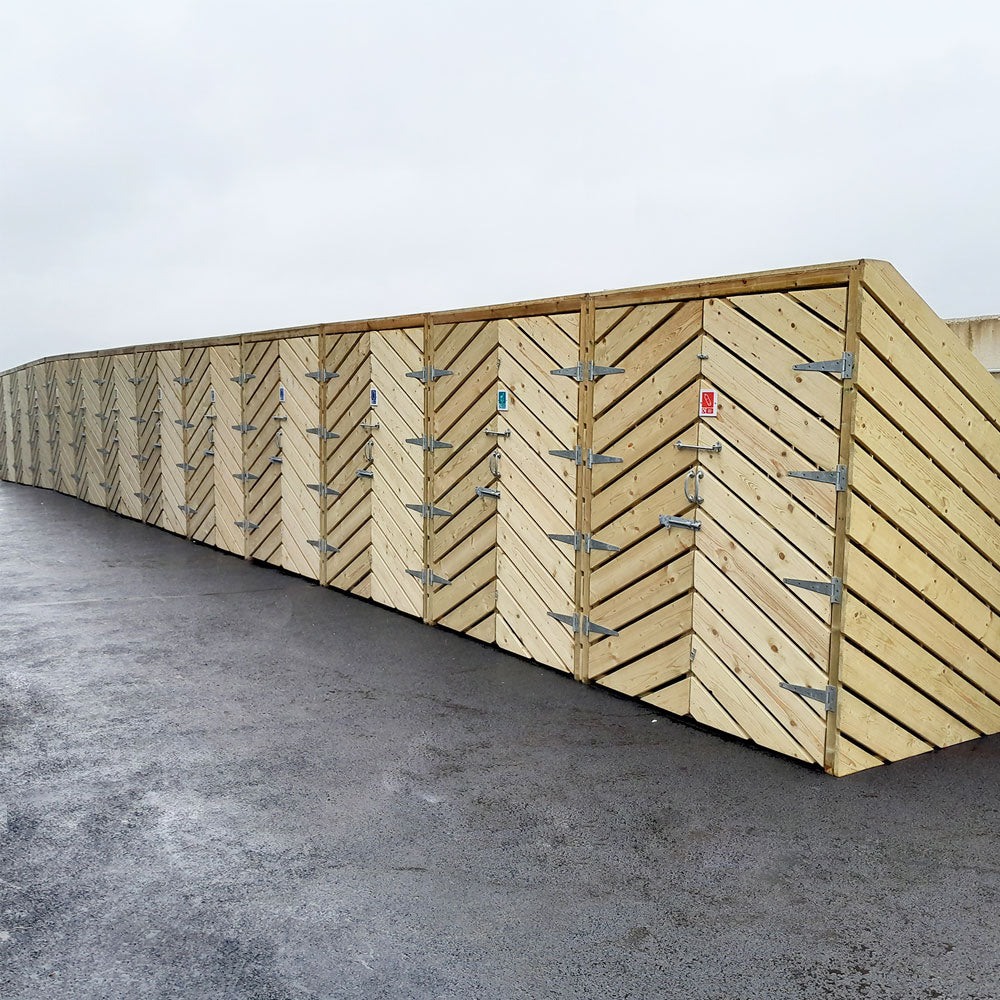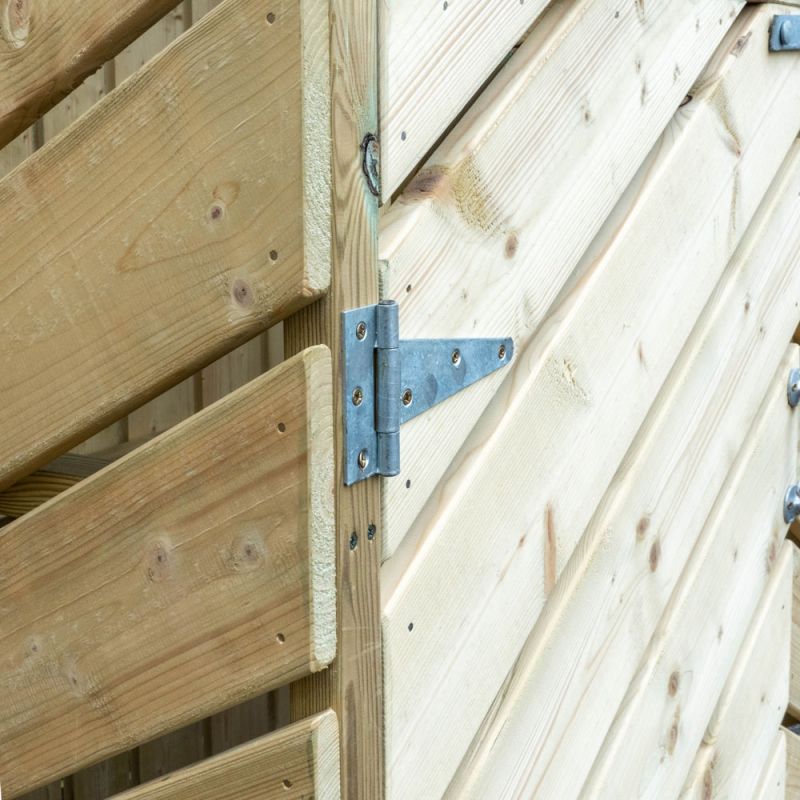 Commercial 1100L Bin Store with Full Height Doors
A Large Timber Wheelie Bin Store with Full Height Padlockable Doors for Commercial 1100 Litre Wheelie Bins.
Add a bit of style to the usual commercial answers for storage with our high-quality timber store. We are sure it would look much smarter outside your retail premises, hotel, restaurant or pub than the normal boring industrial-looking units!
A robust Wheelie Bin Tidy with chevron cladding for the double doors at the front, and each side, with vertical cladding at the back. Full-height double doors for complete security.
Made here in Dorset by Flyte so Fancy using 21mm thick Scandinavian Redwood boards - all pressure treated. The roof is 21mm thick T&G Shiplap. Built for a tough life outdoors.
The Full-height Door version of this Store has the doors mounted on 8 heavy-duty galvanised hinges with an 8-inch galvanised padlockable Brenton Bolt (not shown on the image) and two galvanised handles.
See the Delivery Tab for current delivery timescales and information about Pallet deliveries. Note: Delivered in panels for easy self-assembly.
Visit our blog page to see a video on how to Smarten Up Your Retail Space.
Dimensions
External overall: 123cm front to back; 163cm wide; 203cm high at the front, 145cm at the back.
Internally: 110cm front to back; 150cm wide; 201cm high at the front; 143cm high at the back. Please check your actual bin dimensions.
As a guide, an 1100 litre Wheelie Bin measures: 106cm F to B; 137cm wide; 132cm high.
Timber Body: 21mm planed Pressure Treated FSC Redwood boards
Timber Roof: 21mm planed tongue & groove Pressure Treated FSC Redwood Shiplap
Frame: 38mm x 50mm pressure-treated FSC framing
Fixtures: Plated & Painted Decking Screws used throughout; Stainless Steel Nails
Fittings: Heavy Duty Galvanised Hinges, Hooks and Catches.
Warranty: 15 years against rot & fungal attack
Made in England
Note: Our Timber is pressure treated and warrantied against rot, fungal or insect attack for 15 years. This does NOT mean pressure-treated timber is 'waterproof' nor will it prevent the natural swelling and shrinkage throughout the seasons but, it is suitable for life outdoors in all weathers.
Swelling and shrinkage is perfectly natural with all timber. Although we build-in tolerances to take account of this, you may have to slightly adjust the doors over time e.g. if the timber swells preventing the doors from closing properly. This is easily done by adjusting the hinges slightly to move the door position.
We advise that maintenance is required for any timber products over the years and the application of a wood protector like Protek Timber Eco-Shield (not varnish) annually will keep it in good condition to help the timber last 15+ years.
Currently approx. 1-2 week delivery time, we will email a delivery date shortly after receiving your order.
See our Delivery Information page for more details.
Delivery is via Palletline Transport lorry, delivered flatpacked in panels for self assembly. It is very easy to assemble with full instructions and all fixings included - cordless screwdriver advised.