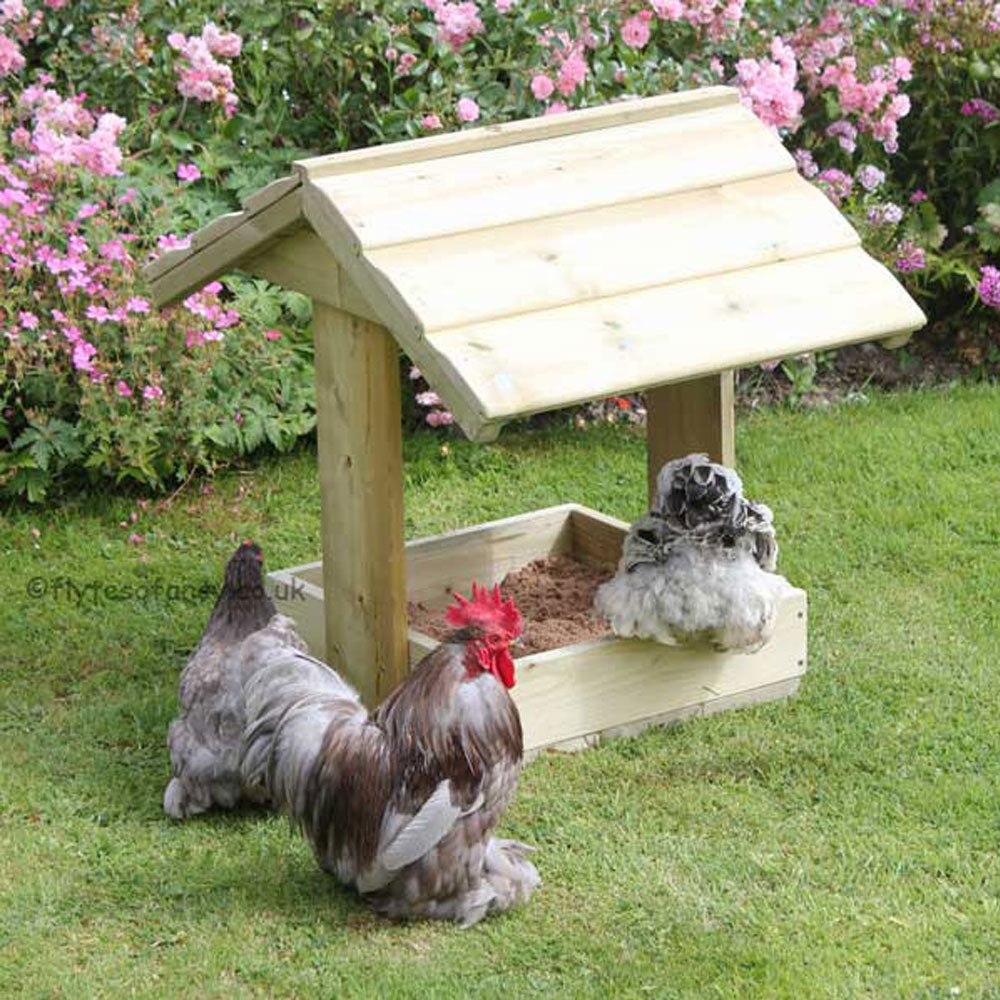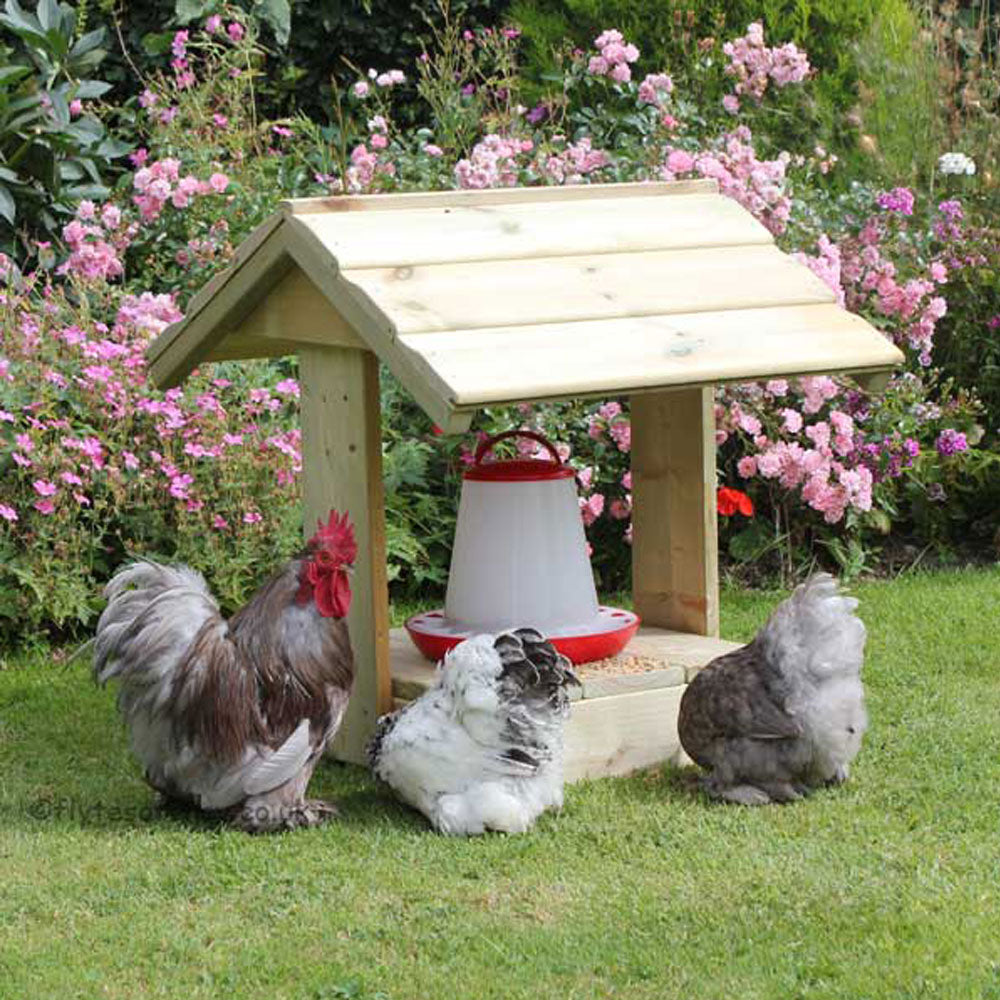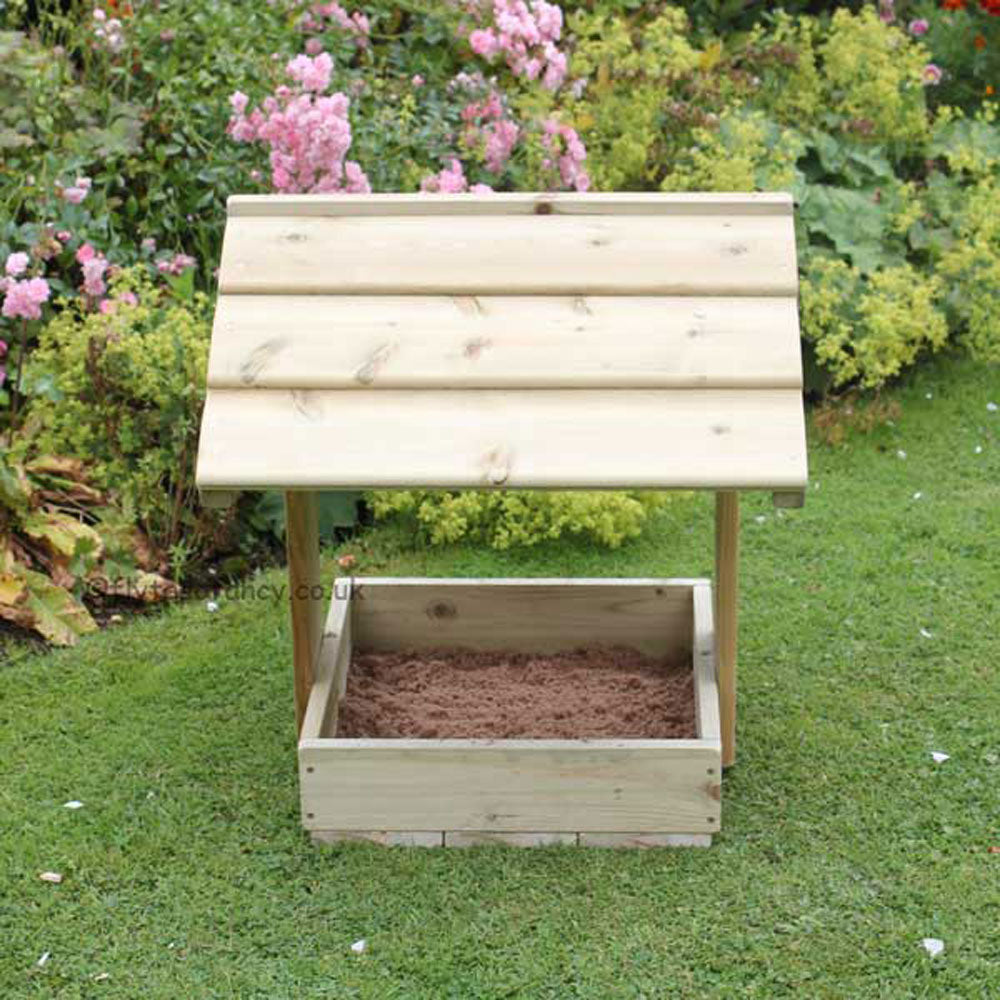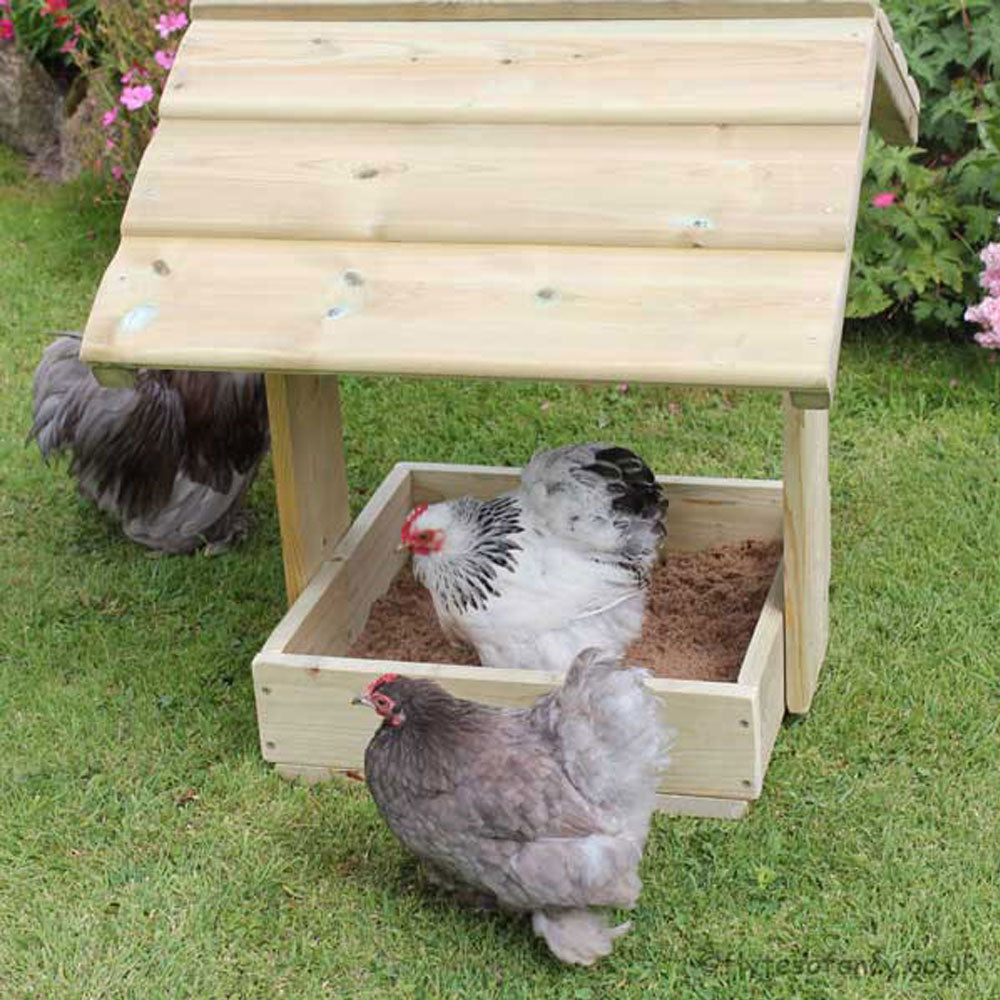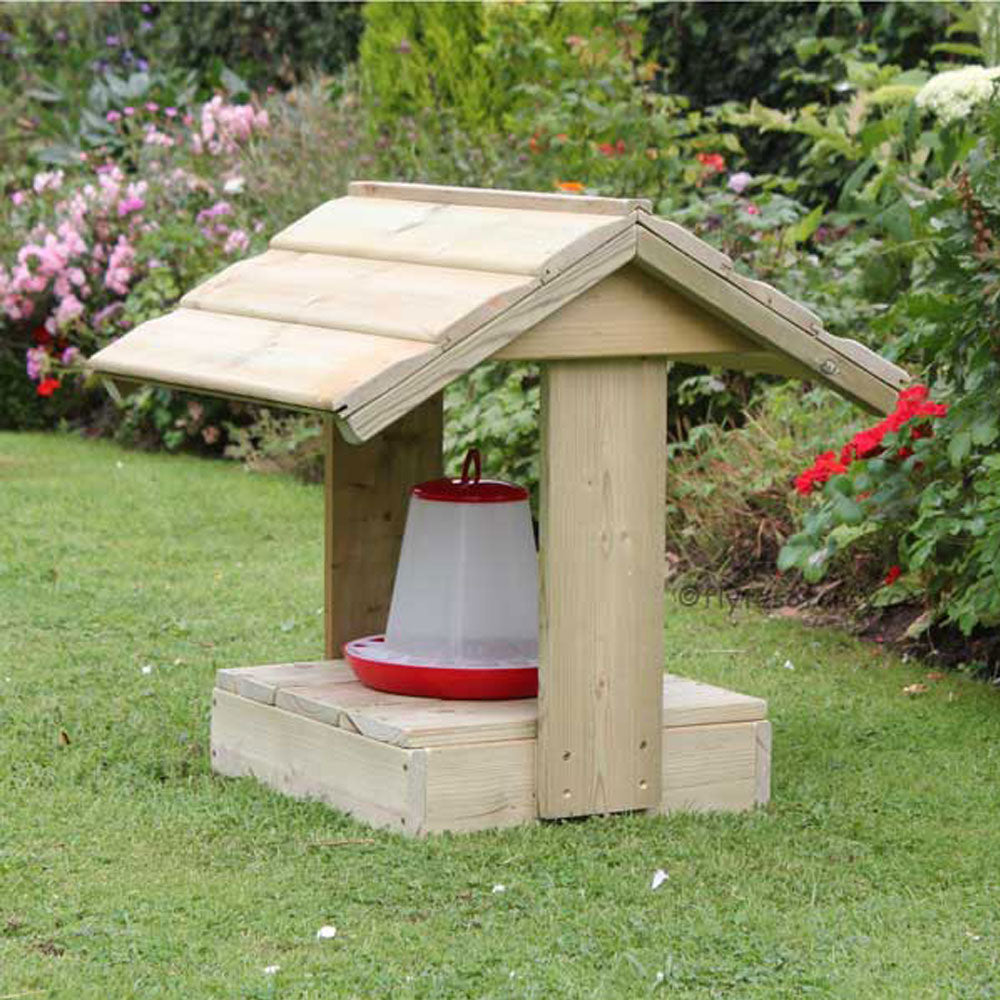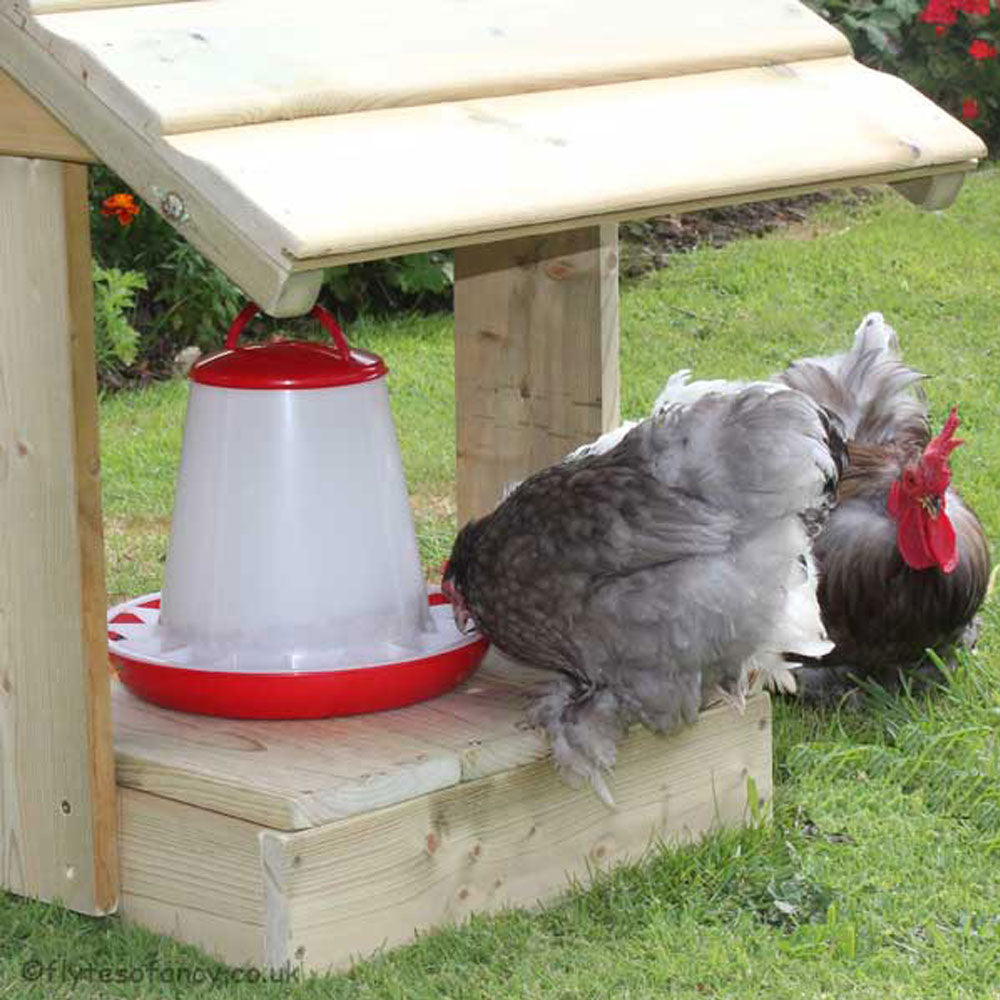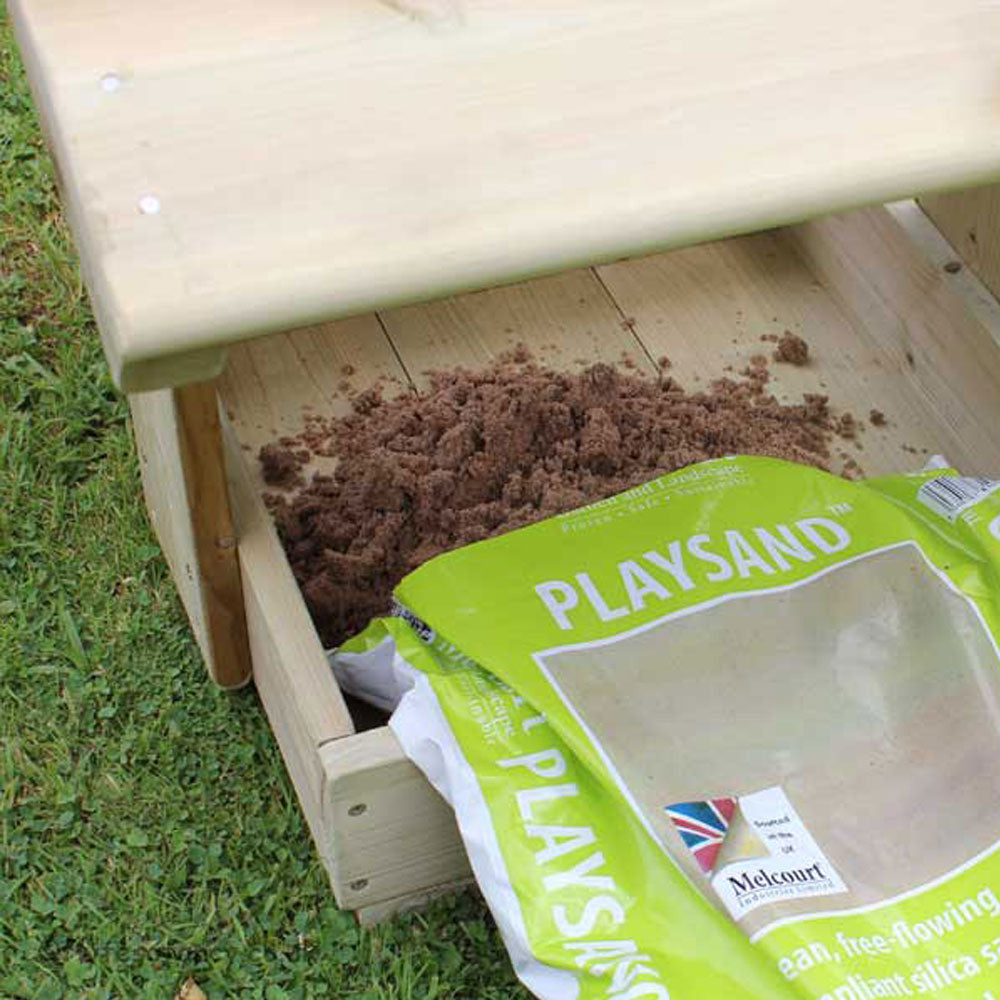 Chicken Dustbath and Feeder Shelter
Timber Chicken Dust Bath & Feeder Shelter, made by Flyte so Fancy.

A unique design from Flyte so Fancy, a Dustbath that doubles as a Feeder Shelter - or - a Poultry Feeder Shelter that doubles as a Dustbath.
Made from sturdy pressure treated timber (it weighs approx 14kg so is no lightweight blow-away box). Arrives in 4 parts but only takes a few minutes to put together.
Just fill the base with sand or dry earth and your chooks will love it (and it will save the flowerbeds). It will also help to prevent the large holes in the ground they make around the hen house when looking for dry earth to bathe in.
When not using it as a dust bath you can turn the base upside down and it becomes a feeder shelter. OR, see Chicken Dust Bath Pair at a reduced price for two.
Measures max overall: 60cm wide x 70cm deep x 65cm high (24ins x 28ins x 26ins) and the base is approx 45cm (18ins) square and the tray is 10cm (4ins) deep.
Normally delivered within a few days but please allow up to 10 days for delivery during busy times. Delivered via courier in sections for self-assembly.
Chicken Dustbath and Feeder Shelter
I love ordering from this company, the website is easy to use, the orders usually come within two days, always packed well, and the products are first class. I totally recommend Flyte So Fancy Ltd. This is a great piece of kit for the chickens, they seem to love using it, it was easy to put together and it's made from good quality wood. Highly recommended.
Chicken Dustbath and Feeder Shelter
Very quick delivery. Product as described and easy to put together Very well made and easy to assemble tool less than 15min. Chickens don't seem interested in it as a dust bath at the moment but hoping they will or will convert to a yeast feeding station
Chicken Dustbath and Feeder Shelter
I have a bit of "non-standard" driveway - and they have helped me on a couple of occasions with a suitable vehicle for delivery. The products have also held up really well on the hill that I live on over this winter. Very well built - hens are having to learn how to use.
Chicken Dustbath and Feeder Shelter
great customer service, called for advice a couple of times and very happy to help. Have now ordered a few times and will continue to do so. Easy to assemble, our chickens love this, they often just sit in it or on top of it!
Chicken Dustbath and Feeder Shelter
Delivered promptly within the time slot they gave I am delighted with the quality of the product. It was easy to assemble and exactly what I needed to provide some shelter for my chickens in their paddock. They are a little slow to see the advantages of a dust bath, but I expect they will catch on in the end.