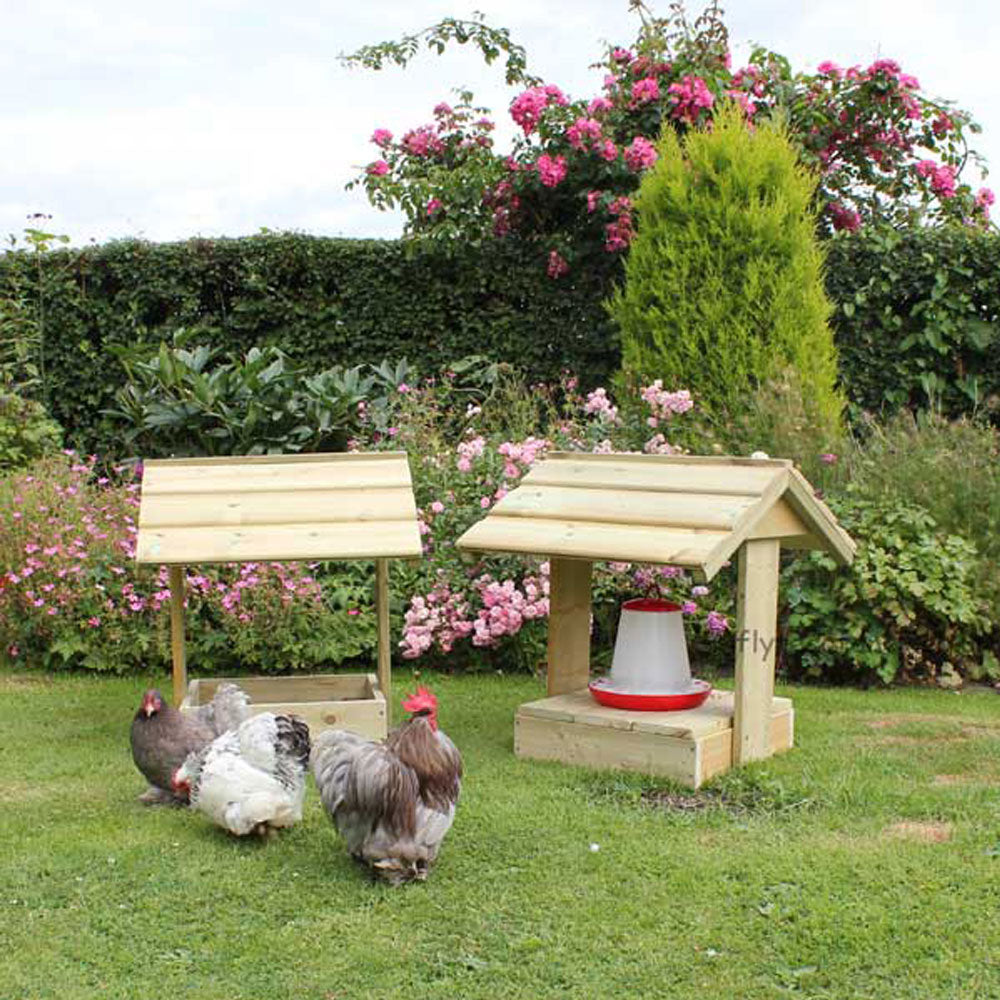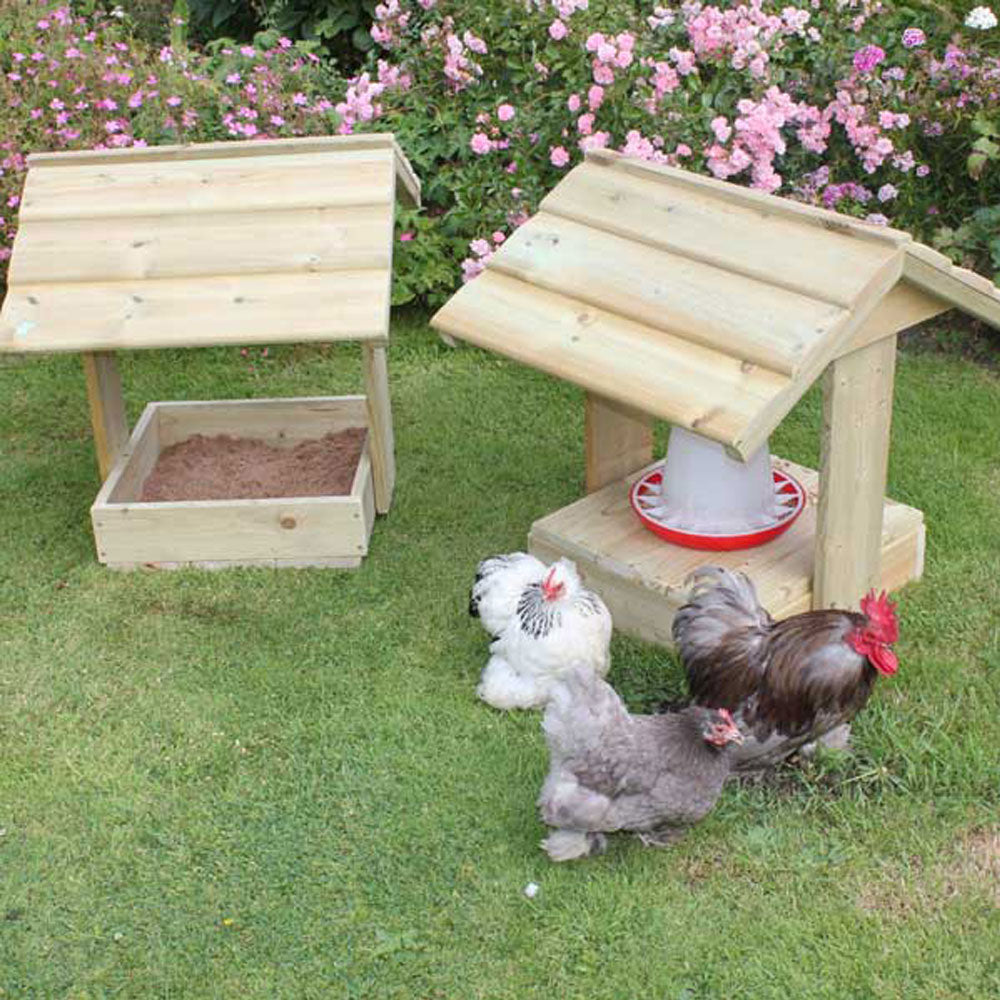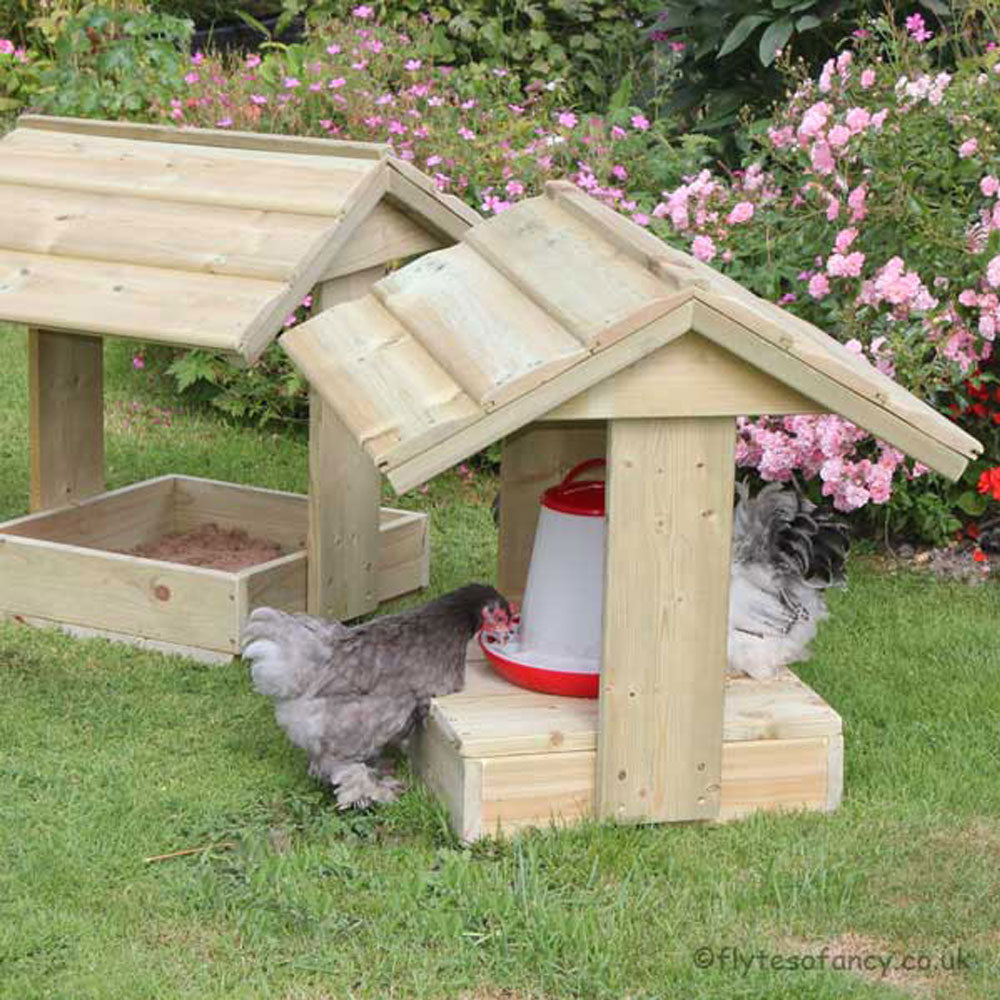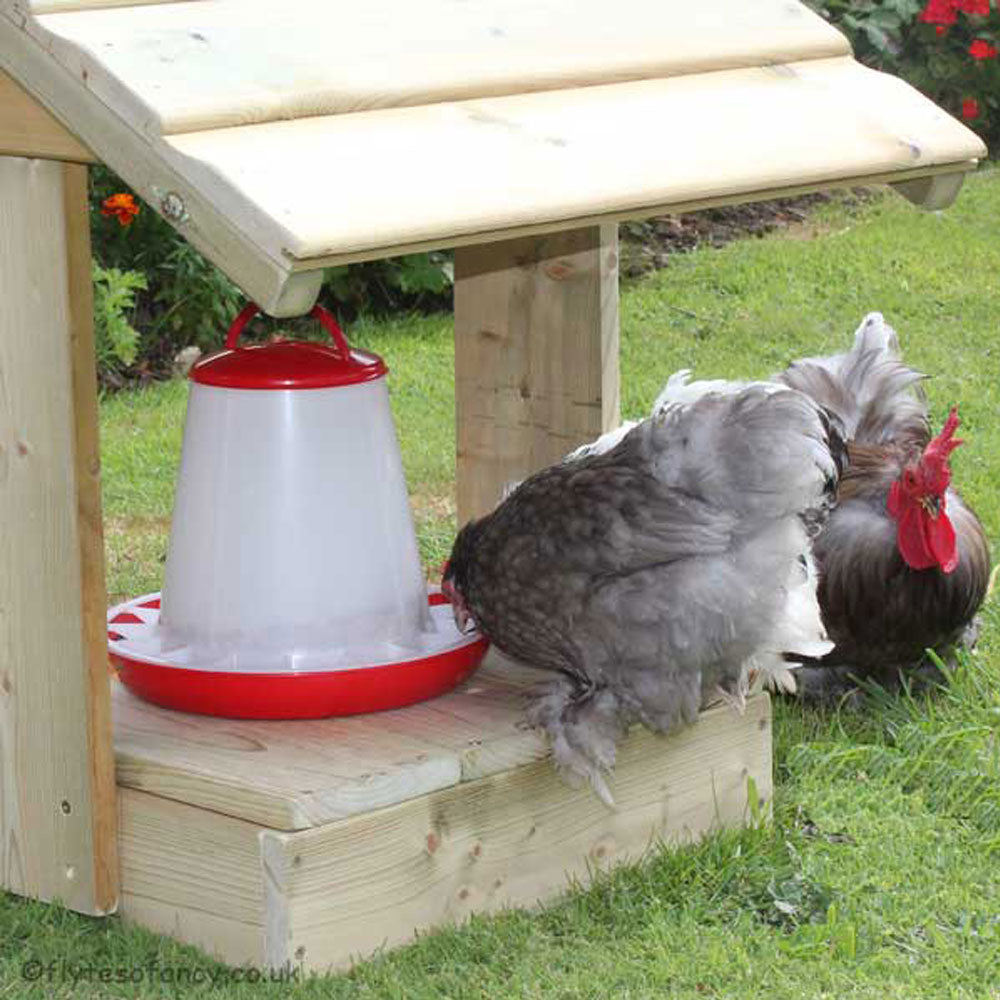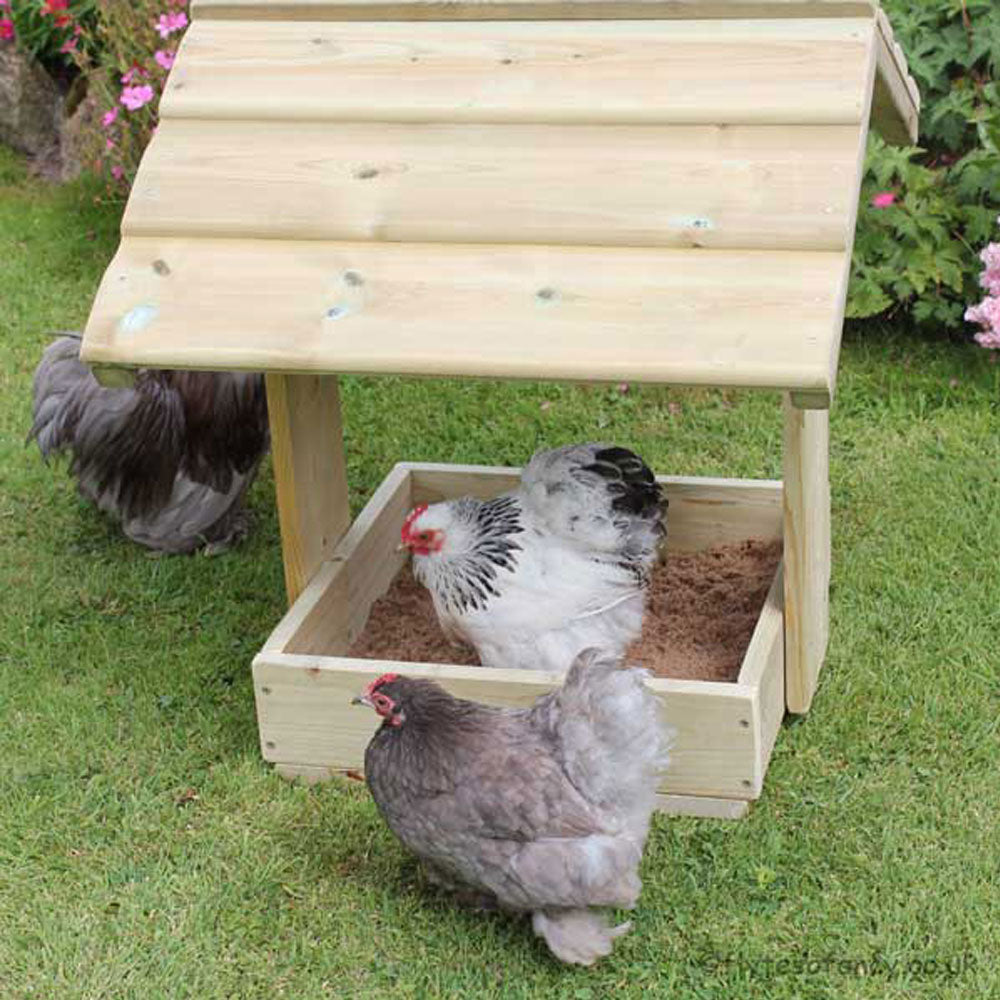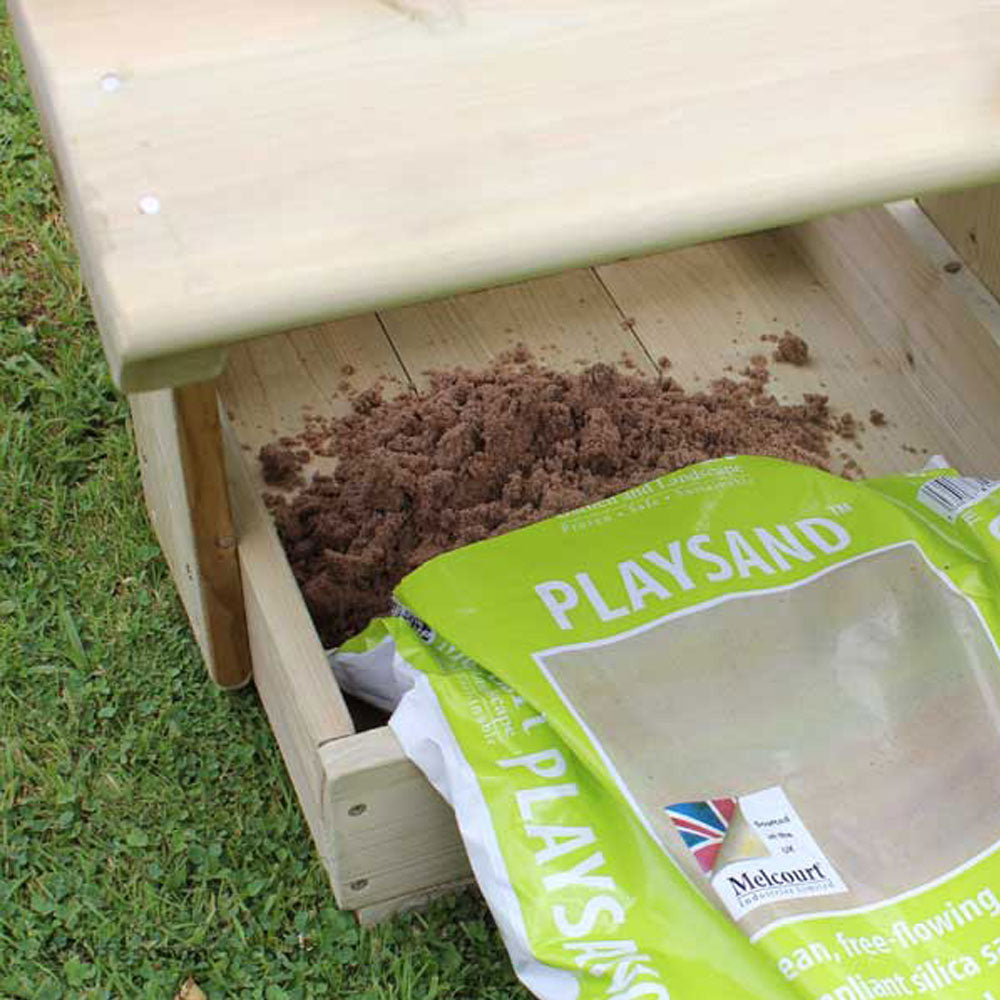 Feeder Shelter and Dustbath - pair
A Pair of Feeder Shelter & Dustbaths. Why not buy a matching pair of our Shelter-Dustbaths. One for the feeder and one for a dust bath?

A unique design from Flyte so Fancy, a timber Poultry Feeder Shelter that doubles as a Dustbath - or a Dustbath that doubles as a Feeder Shelter.
Made by Flyte so Fancy from sturdy pressure treated timber (each weighs approx 14kg so no lightweight blow-away box). Arrives in 4 sections but only takes a few minutes to put together.
The Feeder-Dustbath is raised off the ground to keep the feed clean and protected from the elements. Each Dust Bath is: 60cm x 70cm x 65cm high (24in x 28in x 26in) and the base is approx 18in square and 4in deep.
Especially useful if your hens 'free-range' the garden or paddock and are not confined to a run. Then if you don't need it as a feed shelter in the summer months, you can use it to give them a lovely sandy dust bath. Just turn the base upside down and fill it with our chicken play sand or dry earth and they will love it (and it will save the flowerbeds).
Normally delivered within a few days but please allow up to 10 days for delivery during busy times. Delivered via courier in sections for self-assembly.
Love our feeder shelter & dustbath ❤️
Very good quality products. Will come in handy for our chickens feed in the winter. Our chickens love them! 🐓❤️
One very happy chicken!!
I was delighted with the products, good quality, sturdy and well made. I put the product together in minutes all by myself. Looks fab in chicken run with the new wood chipping also purchased from flytes so fancy.
Feeder Shelter and Dustbath - pair
Fast service and great quality Great quality and easy assembled
Feeder Shelter and Dustbath - pair
Arrived quickly. Sturdily made.
Feeder Shelter and Dustbath - pair
Excellent service, great communication, swift delivery and very high quality product. For the price I paid I didn't expect much to be honest but wow! Solid construction, proper timber, quality fixings.Would have loved to have given 10 stars! Thank you so much 😁 P.S. I WILL be back!! Excellent service, great communication, swift delivery and very high quality product. For the price I paid I didn't expect much to be honest but wow! Solid construction, proper timber, quality fixings.Would have loved to have given 10 stars! Thank you so much 😁 P.S. I WILL be back