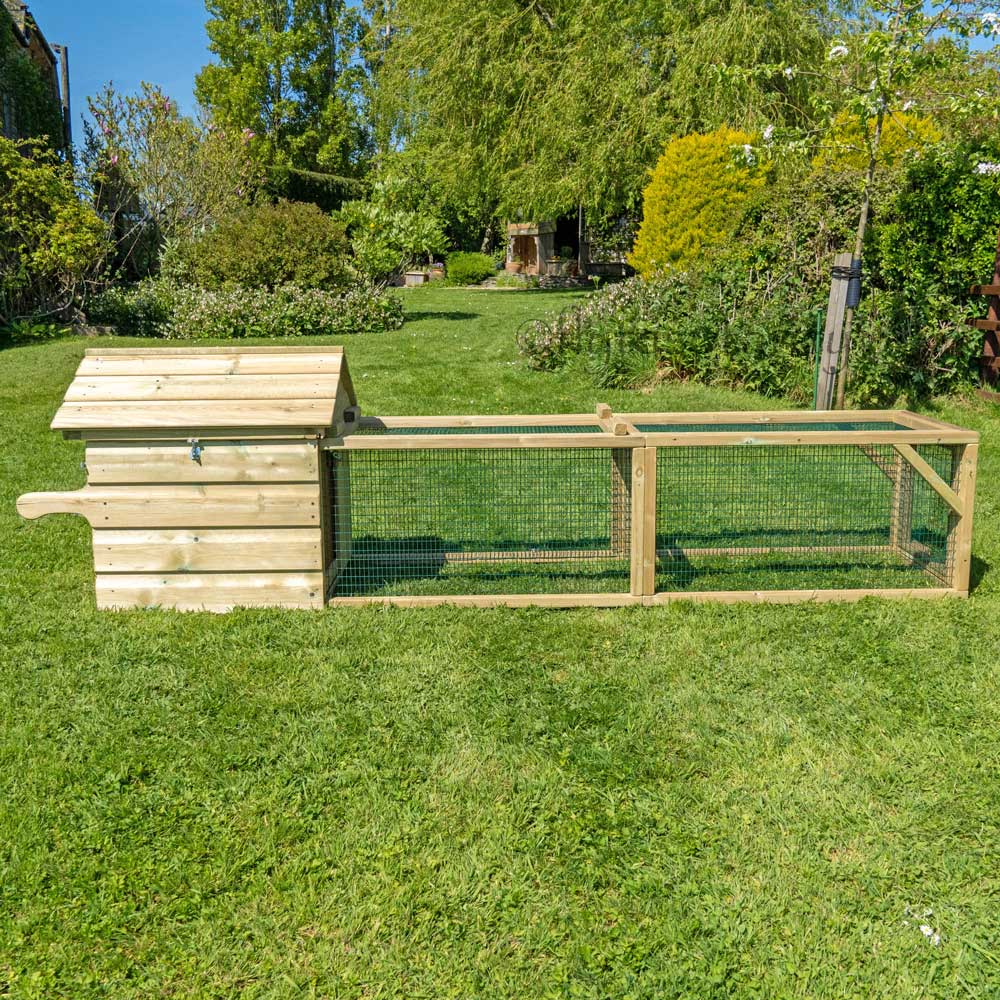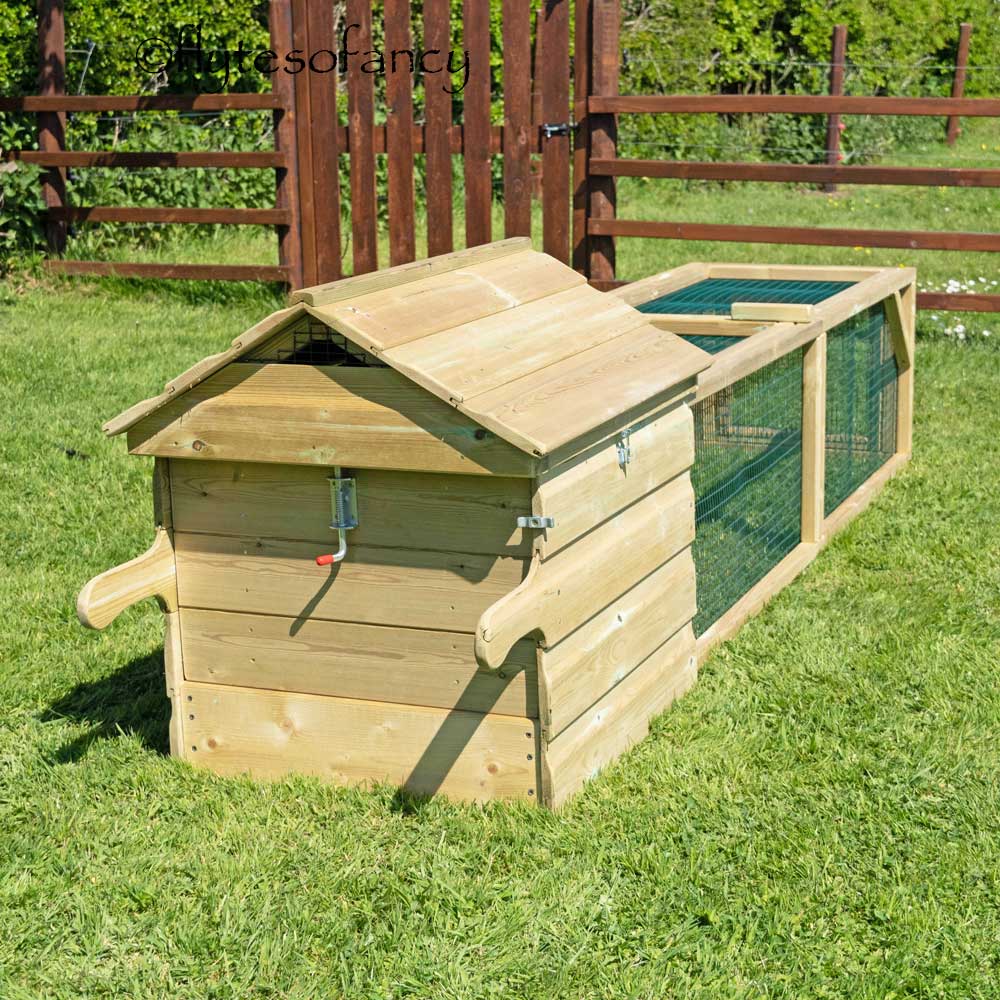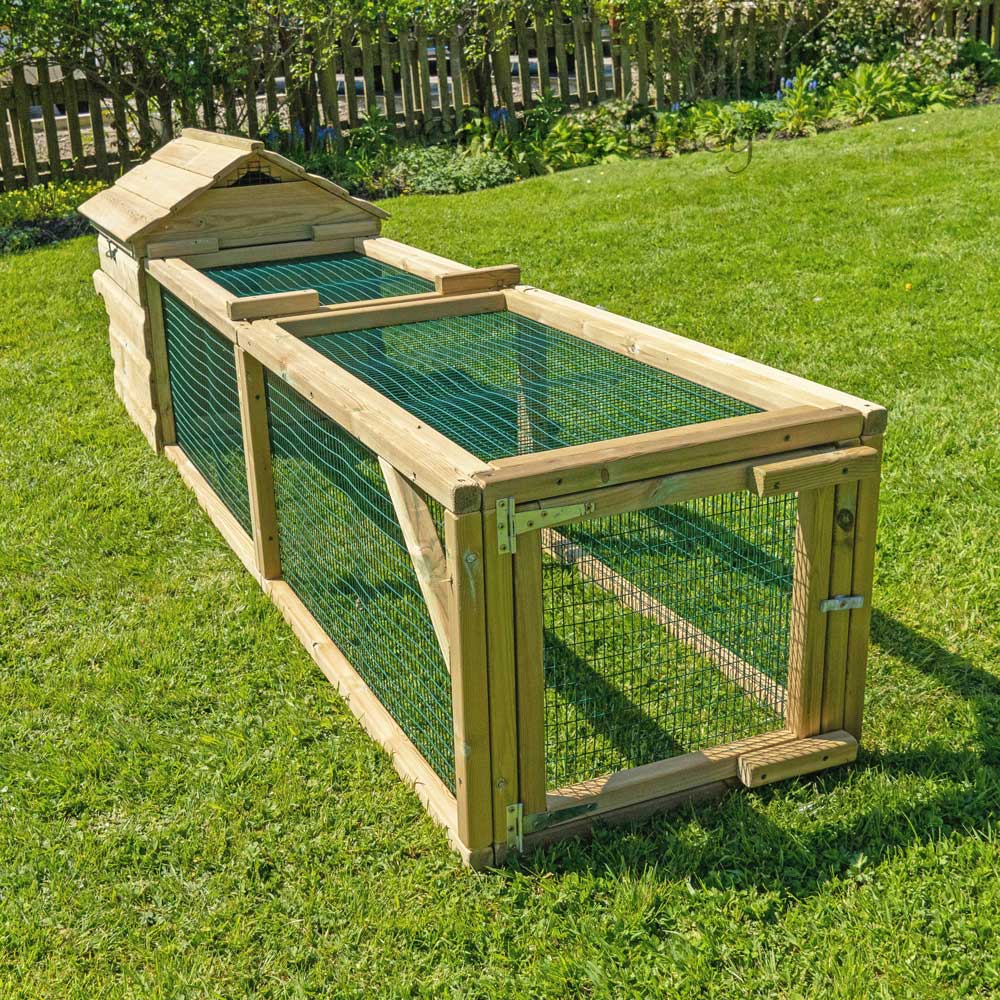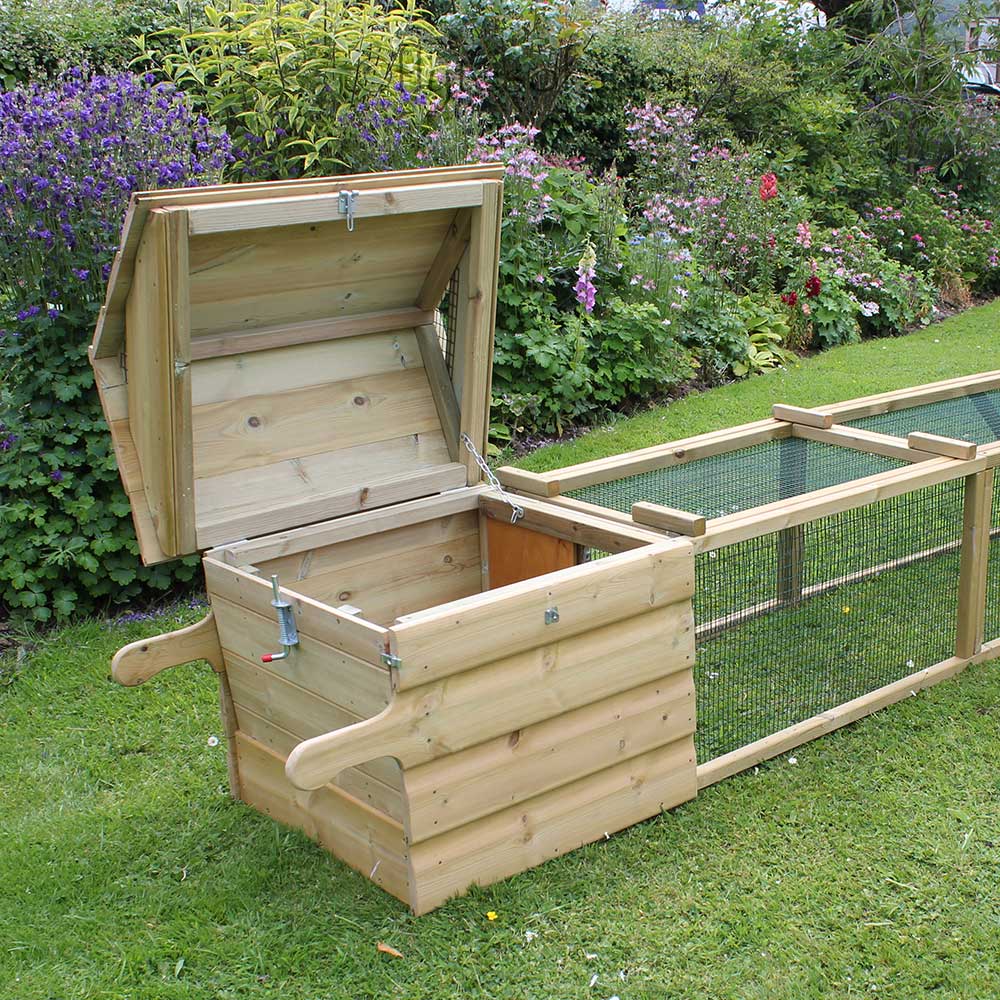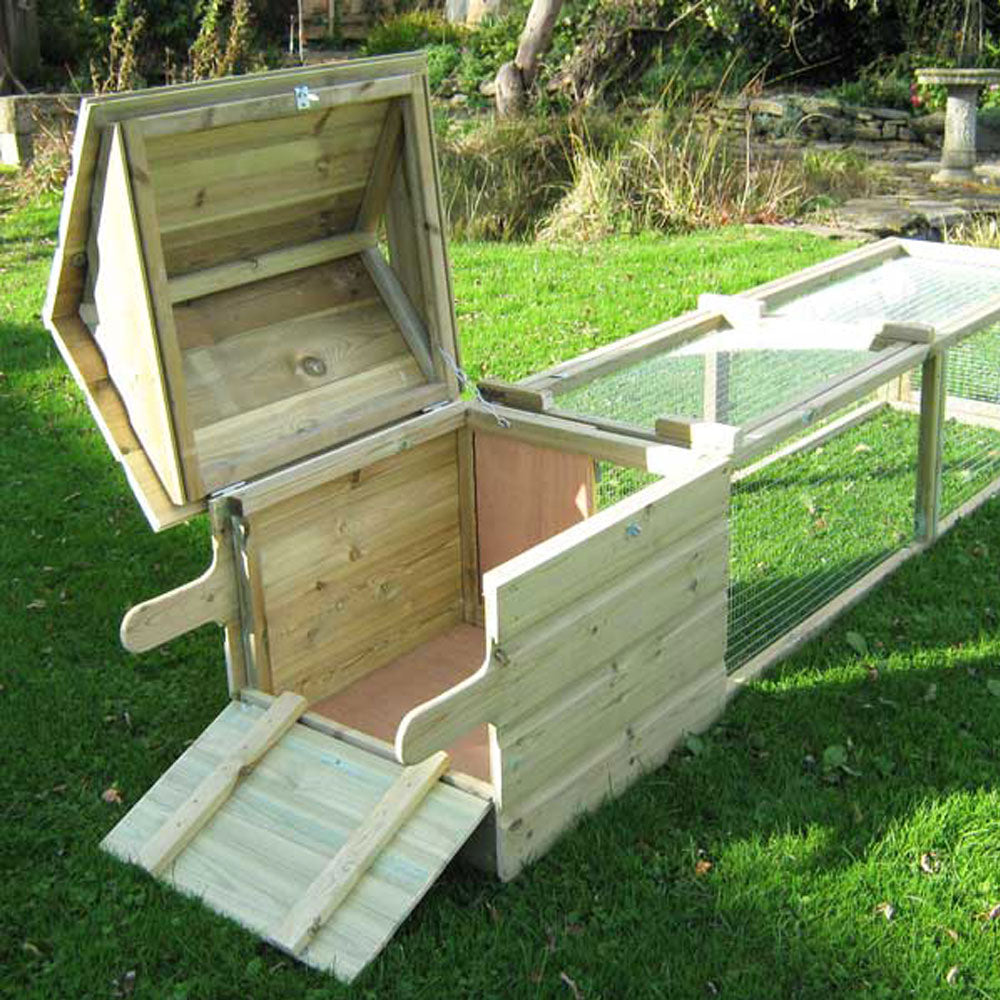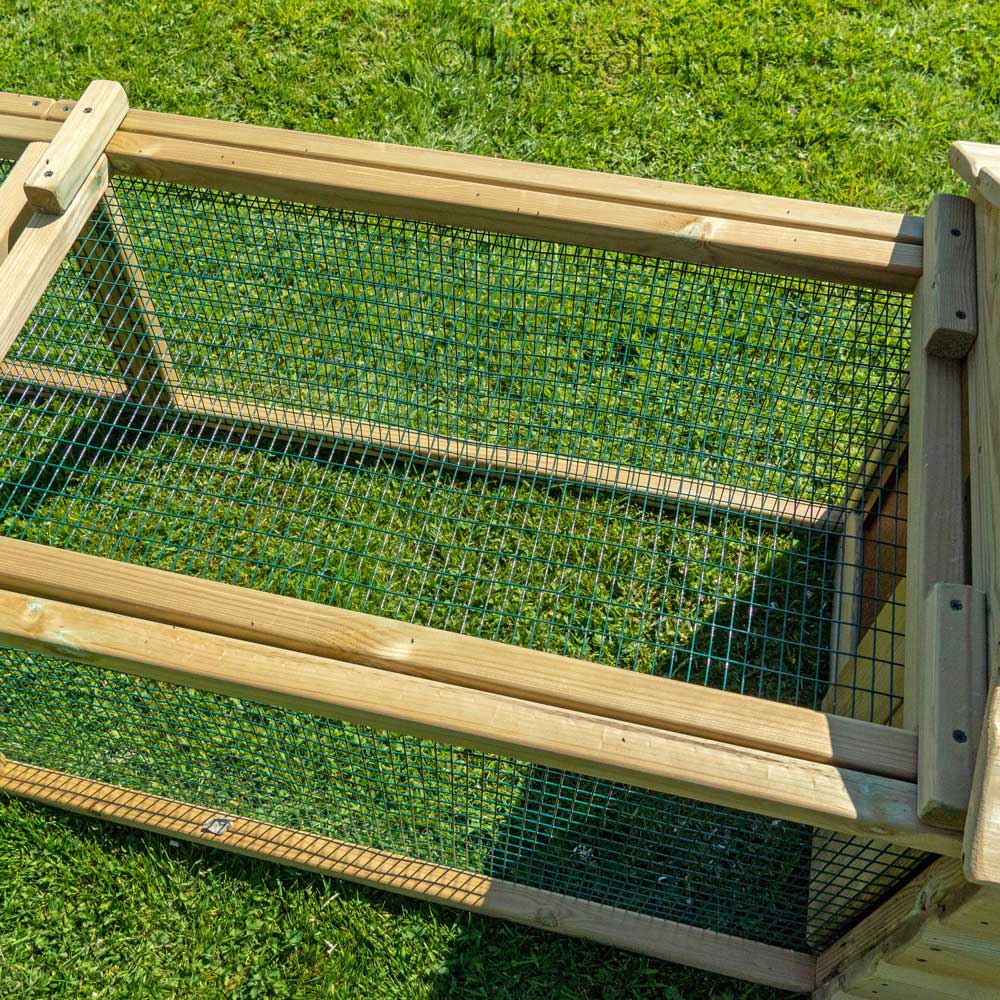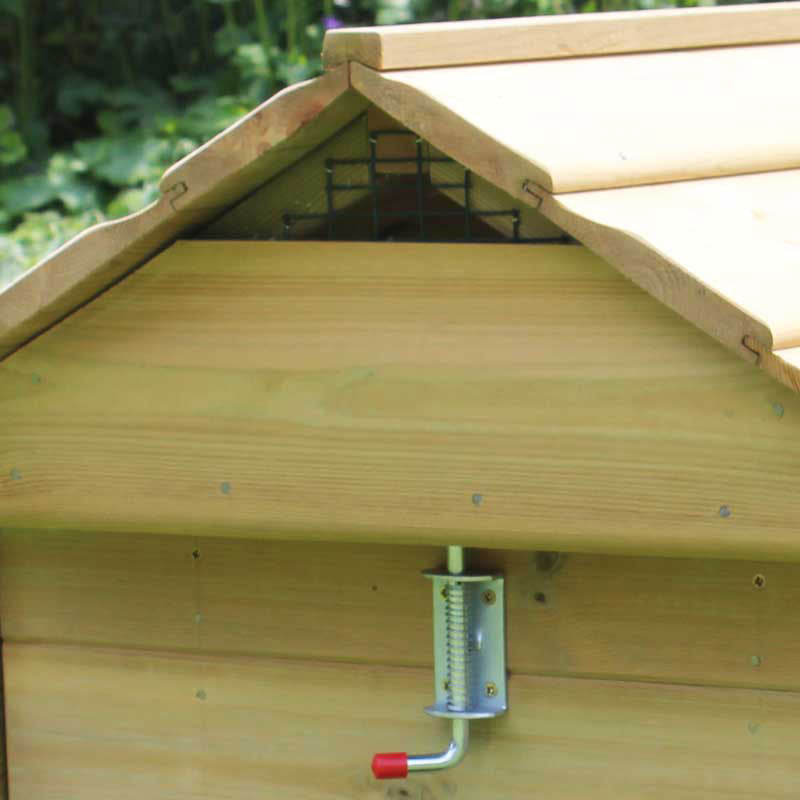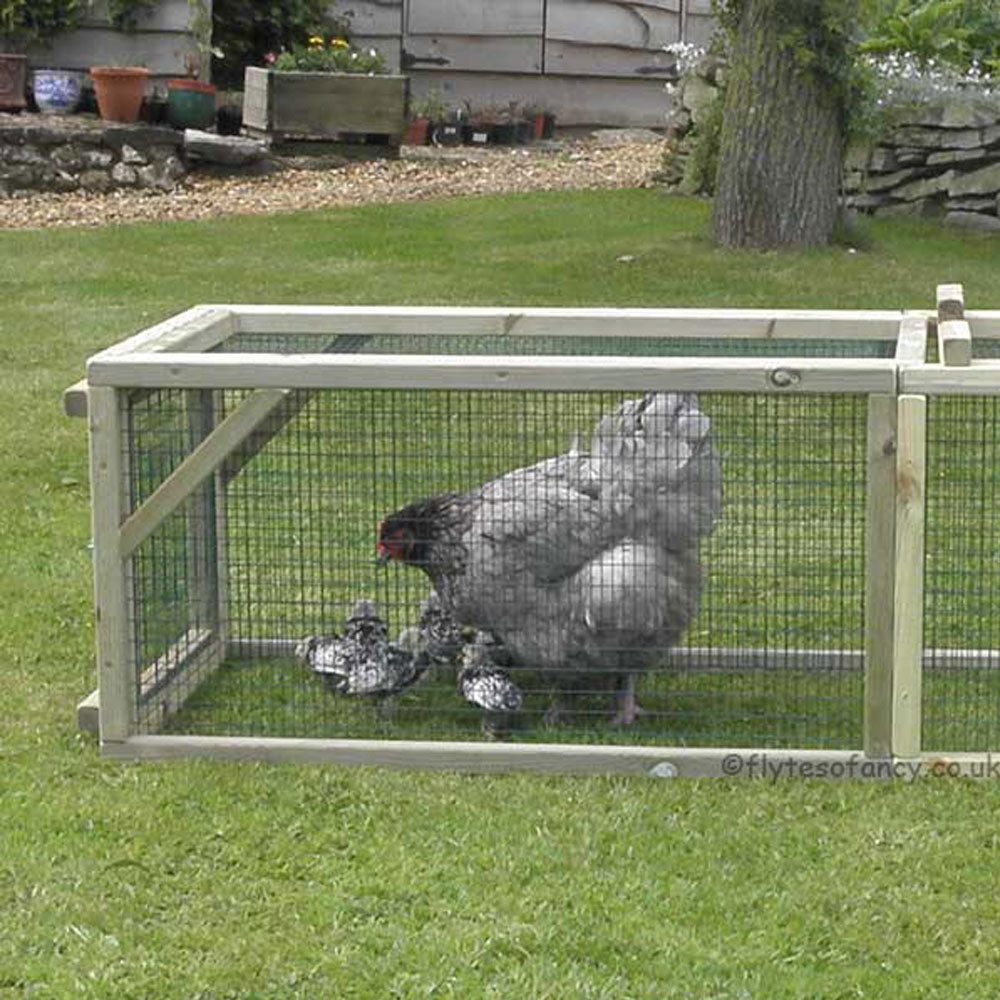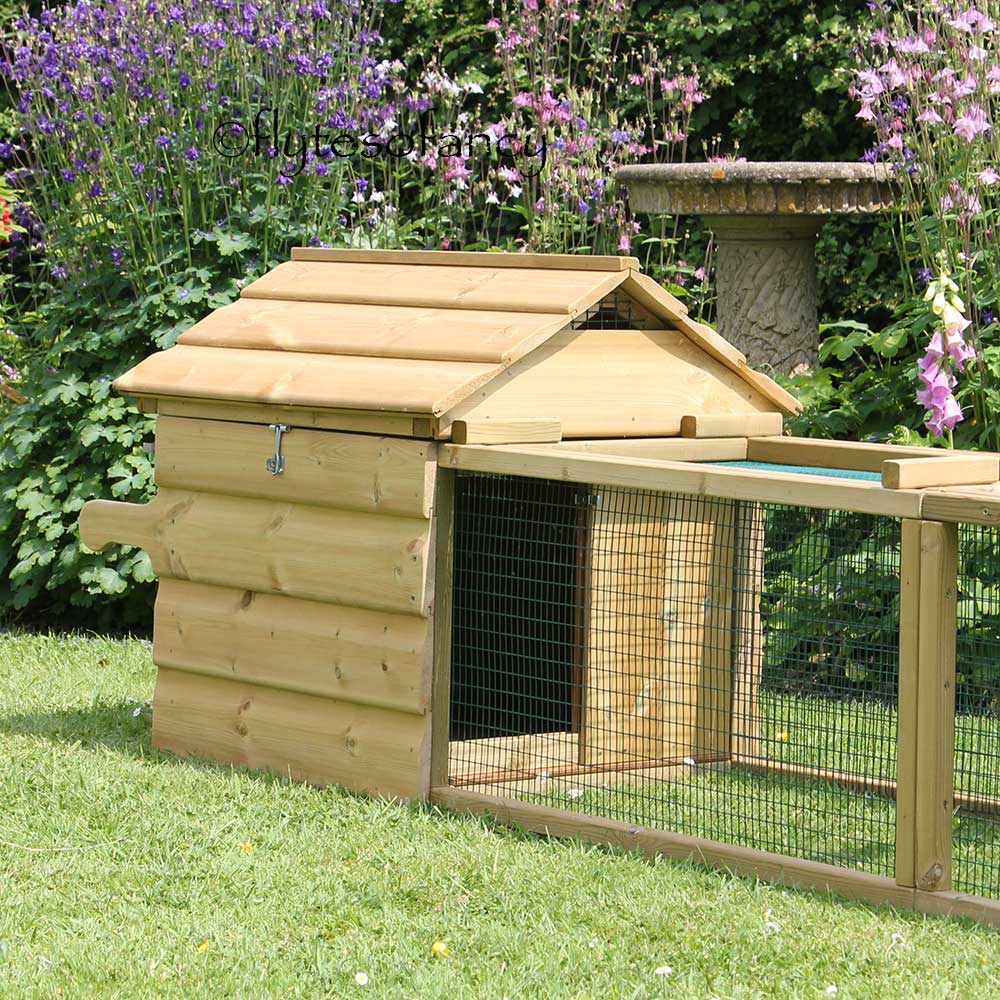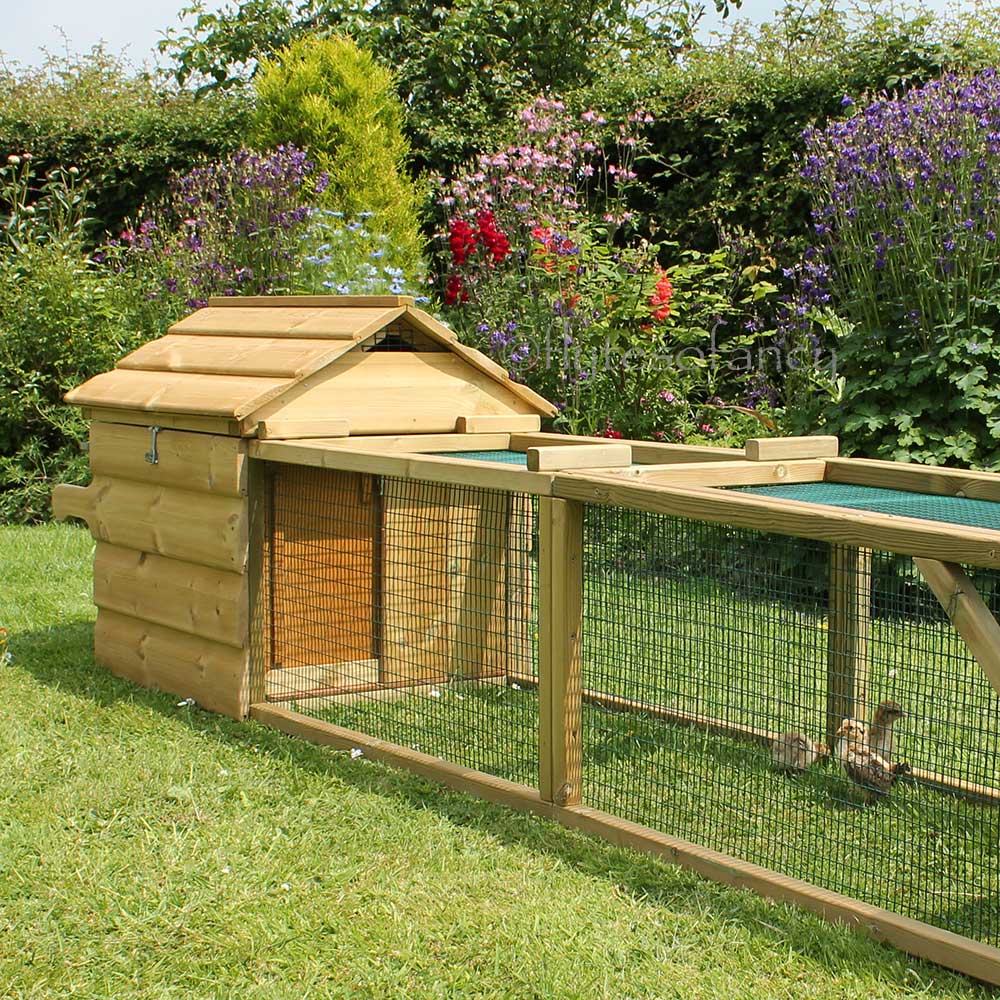 Broody Chicken Coop with 2m Run
A Broody Chicken Coop with a longer 2m run. Suitable for larger hens and broods - shown here with a Blue Orpington hen and 6 chicks.

The Broody Coop has easy all round access, the house has a lift up hinged roof and the weldmesh run roof panels can be lifted out to gain access to the top of the run.
There is also a door at the end of the run when you need to let the hen or chicks out to roam. The back door is locked with spring-loaded bolt for added security and all ventilation spaces are mesh-covered.
The pop-hole door just slides to one side and is big enough to house a large broody hen.
This is a very accessible little chicken coop designed as a Broody Coop for all sizes of hen but with many other uses. It can be an isolation unit, or a house for trio of small bantams and even a rabbit or guinea pig house.
Dimensions:
External: House is 68cm wide x 78cm deep x 74cm high. Run is 57cm wide x 50cm high x 182cm long. Total unit length inc handles 2.70m.
Internal floor: 57cm x 57cm.
Weight approx. 40kg.
Construction:
All timber is sustainably resourced, FSC Certified, Scandinavian Redwood
Roof timber: 21mm pressure treated T&G Shiplap boards
Body timber: 16mm pressure treated T&G boards
Floor: 9mm Exterior Grade Sealed Hardwood Plywood
The Run: 18g European Green-coated Galvanised Weldmesh
Frame: 38mm x 38mm Pressure Treated Eased-Edge Framing
Fixtures: Stainless Steel Nails; Plated & Painted Decking Screws
Fittings: Heavy Duty Galvanised or Zinc Plated
Timber Warranty: 15 years against rot and fungal attack (see Warranty conditions)
Handmade in Dorset
Currently 1-2 weeks for delivery. Delivered 3 packages via DPD courier.
This Broody Coop will arrive in panels for easy self-assembly, cordless screwdriver advised
The coop is just what i expected strong and well made. The only disappointing thing was it was delivered over 2 days which seemed strange and disappointing.
Good solid construction
On the whole I was very pleased with the build quality.
Brilliant!
Really pleased with the broody coop
Two Duck Rating
I hate self build, often because the instructions are unclear with bad diagrams, which can be made worse if there are no predrilled holes, and because I'm awful with woodwork.
Build:
I score the build of the broody chicken coop 2 ducks (zero bring eggcellent and 1000 being an Argos 'easy build bed'). Every time I say 'What the duck' at the instructions, 'ducking bell' because I need a third hand, or any other 'fowl' language a duck point is added.
-Were the instructions clear? I don't think I've ever had clearer instructions. Simple with helpful photos not bad diagrams.
-Easy to find the right screws? None of this use part/screw a/b/c from a single bag of multiple bits. Clear instructions to use a screw size, with each screw size arriving in a bag that has been clearly labelled for idiots like me. I also like the screws being referred to by size not just another part number.
-Enough screws? Extra provided, perfect if you lose one.
-Easy to know where to put screws? Predrilled holes made this so easy. No guessing, and every screw is straight because of the predrilled holes.
-Why the two ducks? Someone was really smart and lovingly included an electric screwdriver bit just in case we didn't have one. After slightly struggling with half the build because I'm using a massively worn bit I found it (thank you!) but maybe add in the instructions that you think ahead of me :) Two- A washer is needed for attaching the chain which wasn't included (Where the duck is the washer?). Luckily I had one to hand.
In conclusion, I've built a single run extension that has taken longer, and was way more difficult to build, than the entire broody coop plus extension. This is an easy and well thought out design.
Quality:
Eggcellent. I wish we had brought our main coop from here. Better wood used than most places.
Design:
Some eggcellent ideas with the coop, the removable top part of the run, the easy removed back panel for cleaning, and good quality latches on the run/coop.
One massive difference on the run is the mesh is small enough to stop birds entering. On a different run bought during 'flockdown' we've had to add our own mesh to stop birds getting in.
Well thought out design.
Customer Service: Stupid me put in the wrong address for delivery, but a quick email had that promptly corrected with no issues.
Summary: Well designed and easy to build isolation coop and great customer service.
I think you and I are going to have to have a chat Mike. Firstly about shadow writing the newsletters for me, and secondly for when I blatantly steal your Duck rating system to replace our boring star based review system!
Given the length of your review, I should like to respond in kind, but I'm not sure I can truly do it justice!
I'm glad to hear how happy you are with both the end product, as well as the process of getting it all delivered and assembled. Especially as both somebody who has spent a literal weekend trying to assemble flat-packed (single handed), and as somebody who writes the instructions. Eggceptionally happy to know you found the assembly process clear and helpful, missing washers notwithstanding!
Thank you for taking the time to leave such a lovely review. I give it Four Ducks, for the four office staff you had Quackling with laughter
Broody Chicken Coop with 2m Run