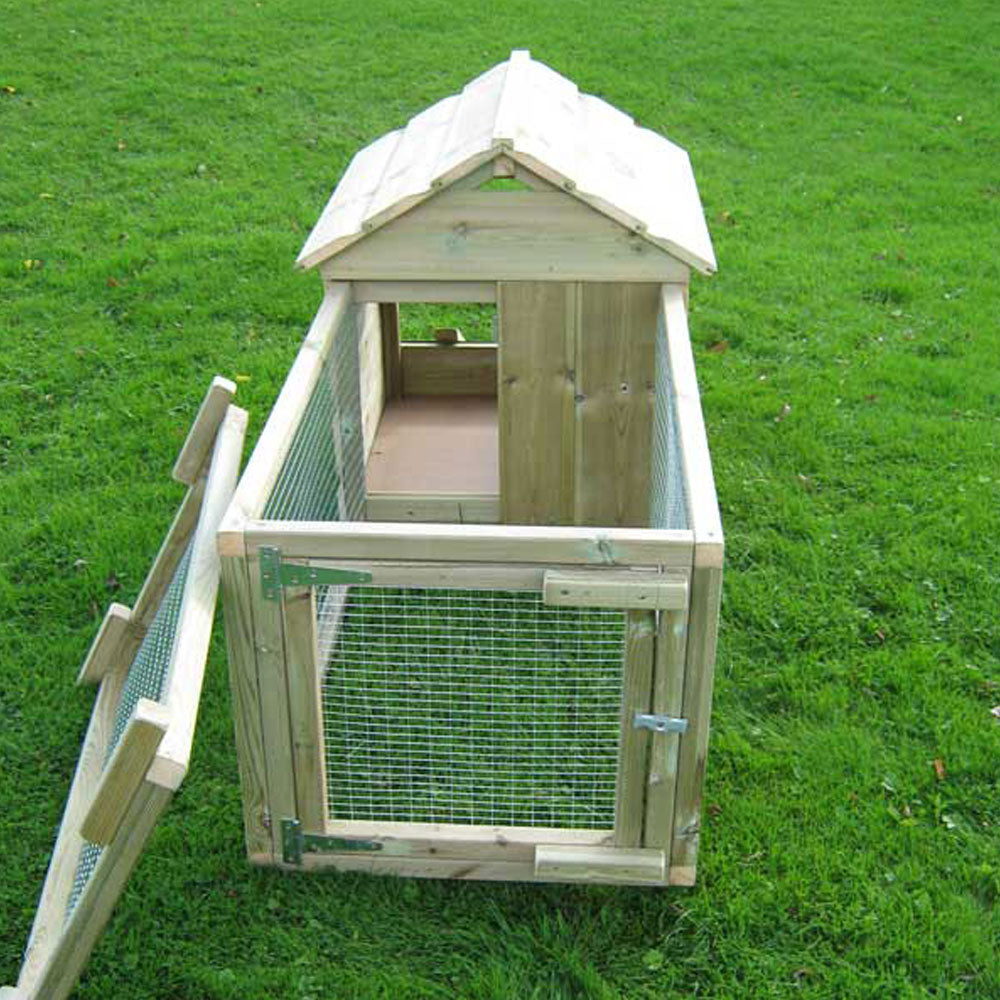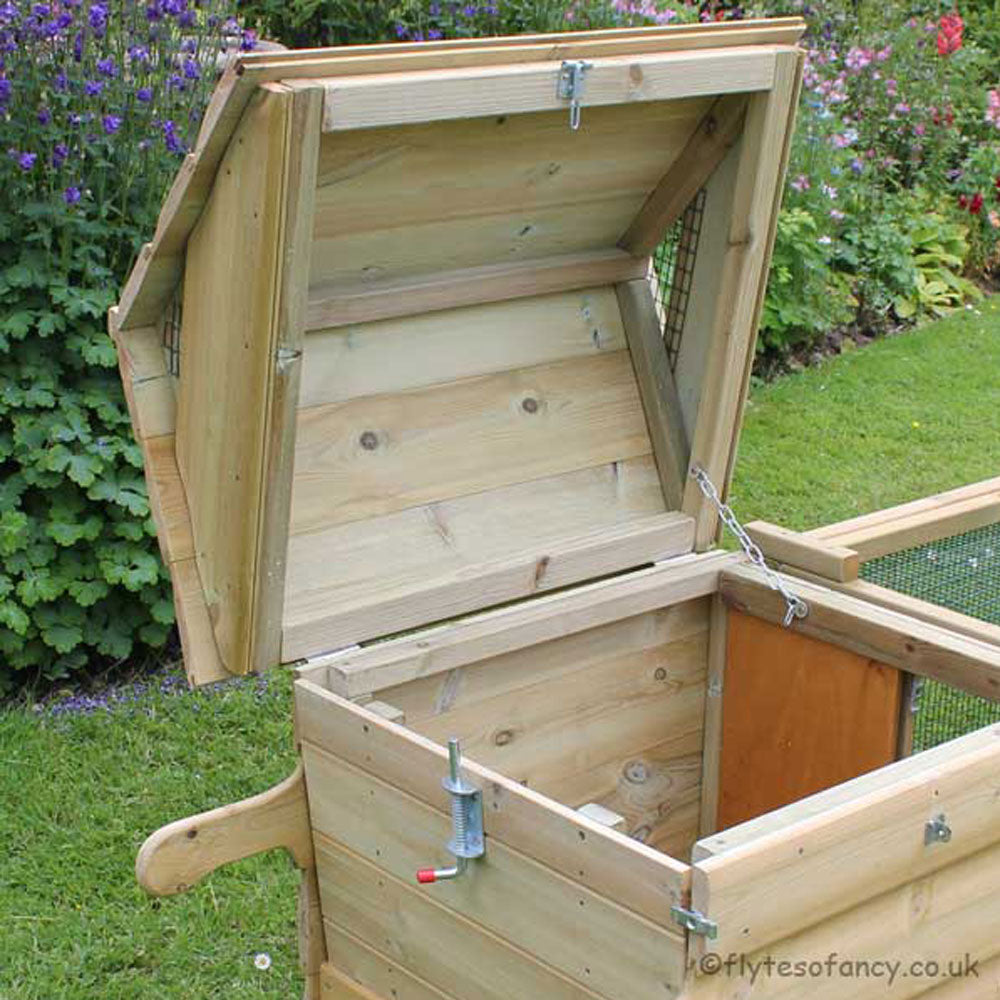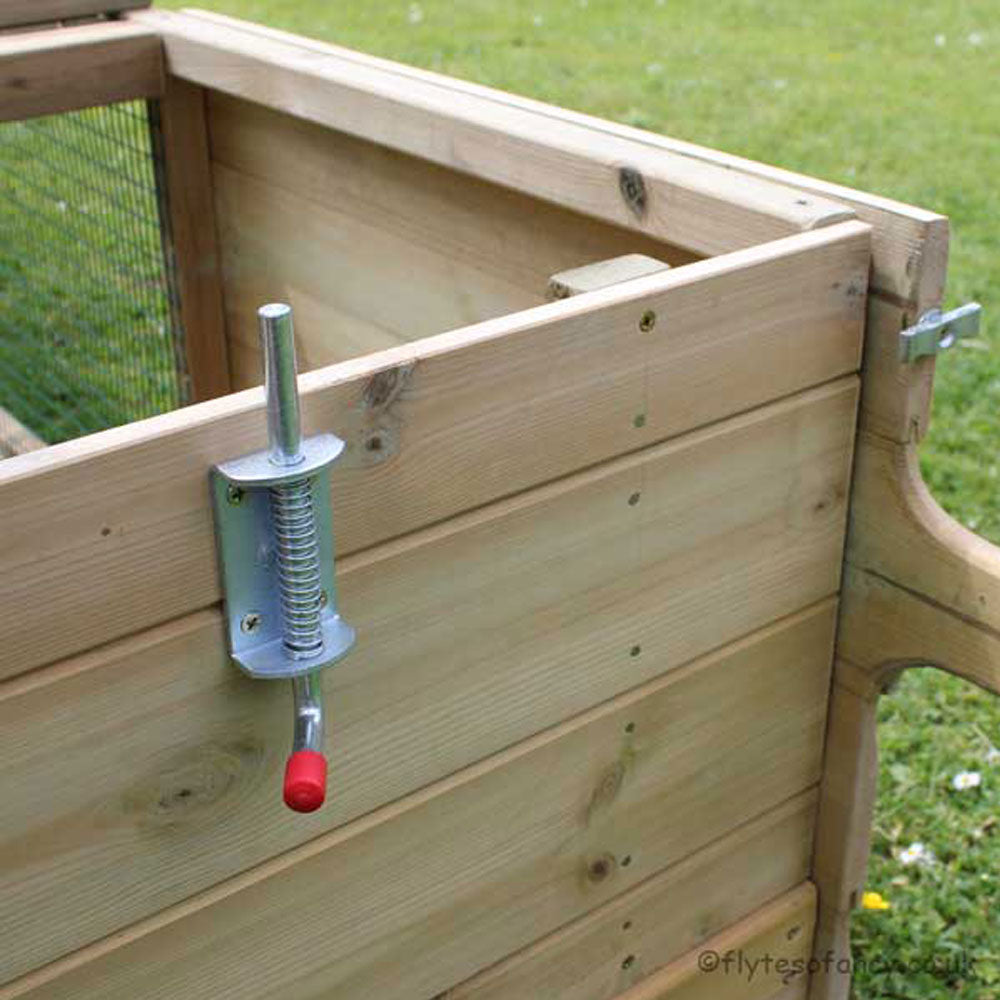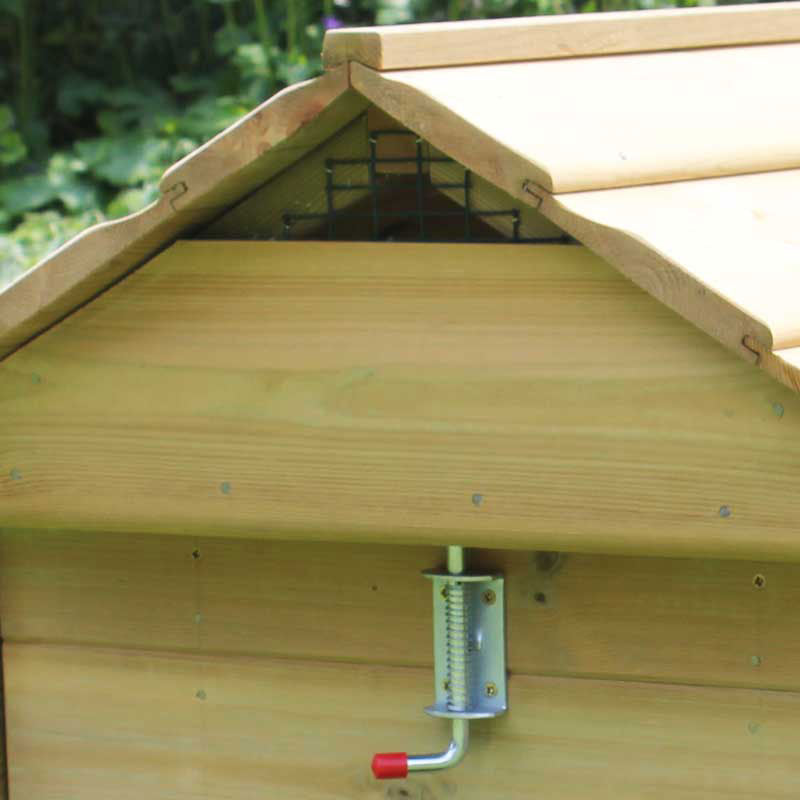 Broody Chicken Coop with 1m Run
Broody Chicken Coop with short 1m run. Made in Dorset by Flyte so Fancy.
A small coop for a mother hen and chicks, or for growing chicks to keep them safe and secure until they are ready for the outside world.
This is a very accessible little chicken coop designed as a Broody Coop for all sizes of hen but with many other uses. It can be an isolation unit, or a house for trio of very small bantams and even a guinea pig house although we would suggest the 2 metre Run option if using for longer periods than a few weeks.
This Broody Coop is easy to move, it has access to the run from the top panel and an end door. The back door lifts out for cleaning and the roof hinges open for access without the danger of the birds getting out.
The back door is locked with spring-loaded bolt for added security and all ventilation spaces are mesh-covered. The pop-hole door just slides to one side and we have made this big enough for even a large broody hen.
Dimensions:
External: House is 68cm wide x 78cm deep x 74cm high. Run is 57cm wide x 87cm long x 50cm high. Total unit length incl. handles 1.77m.
Internal floor: 57cm x 57cm.
Weight approx. 33kg.
Construction:
All timber is sustainably resourced, FSC Certified, Scandinavian Redwood
Roof timber: 21mm pressure treated T&G Shiplap boards
Body timber: 16mm pressure treated T&G boards
Floor: 9mm Exterior Grade Sealed Hardwood Plywood
The Run: 18g European Green-coated Galvanised Weldmesh
Frame: 38mm x 38mm Pressure Treated Eased-Edge Framing
Fixtures: Stainless Steel Nails; Plated & Painted Decking Screws
Fittings: Heavy Duty Galvanised or Zinc Plated
Timber Warranty: 15 years against rot and fungal attack (see Warranty conditions)
Handmade in Dorset
Currently 1-2 weeks for delivery. Delivered in 2 parcels via DPD courier.
This Broody Coop will arrive in panels for easy self-assembly, cordless screwdriver advised.
Isolation Coop
I bought this coop to isolate a silkie with a bad leg, perfect door height ,solid build and very easy to construct. Wish I had bought one ages ago for isolation of injured birds.
Extremely pleased!
The little coop and run are really sturdy and everything fitted together solidly and easily, great quality and finish, well worth the money compared to lots of others we'd looked at. We were grateful for the efforts of the team to track down the second parcel which was a couple of days behind the first - communication was excellent and they kept us informed at every stage so we knew what had happened (in transit) and when it was going to arrive. Thanks to everyone. We would highly recommend Flyte So Fancy and are already looking at your large hen houses as a replacement in the future for our main coop.
Quality run
Broody Chicken Coop with 1m Run
Quality broody coop, good wood well made, easy to assemble.
Broody Chicken Coop with 1m Run
I really appreciated you making it possible to deliver the coop quickly. This is the second one of these short coops I have purchased. It is perfect for a broody and chicks for the first few weeks after they have hatched. Our first coop is still going strong. They are very sturdily built but easy enough to carry and move around.
Broody Chicken Coop with 1m Run
A company that positively cares, a product that is supreme quality. I don't look elsewhere anymore I just head for Flyte so fancy because I love their products and their customer care. Excellent quality, easy to construct, strong and looks fabulous