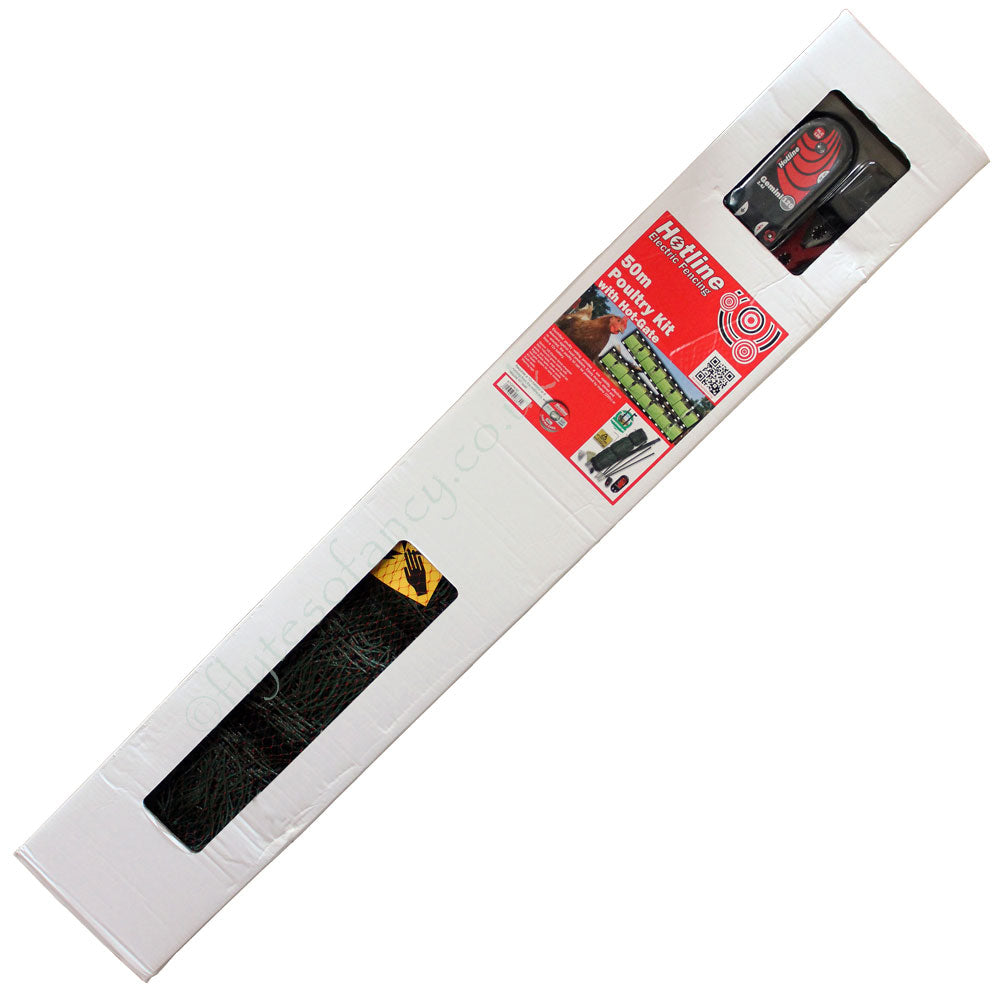 50m Hotline Gated Poultry Netting Kit
The Green Hotline Poultry Nets have been designed to make a fox-proof area to keep your chickens safe and make entry into the netting area easy for you.

The 50m Poultry Netting Kits include a high powered energiser to cope with the inevitable leakage and also provide capacity for expansion.
The 50m Standard Green Net includes 15 standard black posts within the netting, plus an additional 4 corner posts to insert where needed. The kit also comes with a Hot-Gate system which will allow easy access to the pen. More Flexi-posts and Corner posts are available.
The 50m length of netting, is approx. 164 ft, so it will give you a Pen of approx 41ft x 41ft - 1680 sq ft - or 156 sq metres.
PLEASE double-check the length of netting you require before purchase, or before unrolling once received. We cannot exchange or refund once the netting is opened out and unrolled (and you find that 25 metres is a lot longer than 25 feet!) i.e. it cannot be refunded or exchanged unless it is returned unopened and in a sale-able condition.
The 50m Kit is powered by the Gemini HLC120, a powerful energiser which, as a dual-power energiser, can be used with either a 12v Leisure battery or with mains power. For mains power, you would need Double Insulated HT Lead-out Cable Cable and Crocodile Clips to connect the energiser to the netting and earth spike. A longer lead out cable for mains operation may be needed as the energiser only includes a standard one-metre cable.
50m Hotline Poultry Netting Kit includes:
1 x 50m Poultry Netting with 15 standard posts
1 x Hotline Hot-Gate Entry system
1 x Dual Powered Gemini HLC120 energiser
1 x KV10 LED Fence Tester
4 x additional 19mm Corner Posts
1 x 1m Earth Spike
Metal Ground pegs, a repair kit and a warning sign.
See details below for areas covered by each length of netting and for guidance on how to set up electric netting see our page on Installing Poultry Netting.
* The 25 metre length of netting is 82 ft long, it creates a Pen of approx. 21ft x 21ft - 440 sq ft - or 39 sq metres.
* The 50 metre length of netting is approx. 164 ft long, giving a pen of 41ft x 41ft - 1680 sq ft - or 156 sq metres.
Standard delivery via courier is next working day to most mainland UK destinations for orders placed before 2pm (excl. weekends and bank holidays).
50m Hotline Green Electric Poultry Netting
Very friendly and professional service as always. The best and most reliable way of keeping foxes away from your feathered friends. Just remember to keep the base of the fence clear of undergrowth. I weedkill an 8" strip along the base of my fences.
50m Hotline Gated Poultry Netting Kit
Great service on time delivery and good product Great product and good quality
50m Hotline Green Electric Poultry Netting
50m Hotline Green Electric Poultry Netting
Great and unbiased advice. Friendly service. Great product, easy to use.
50m Hotline Gated Poultry Netting Kit
What a fantastic service. Very helpful advice pre order and wonderful support during the course of the transaction. This was a surprise for my Wife's birthday and the team bend over backwards to keep it a surprise - including dark wrapping and great communication with the delivery company. What was even better was the concern shown by the team on delivery. This is outstanding customer service which is rare nowadays. Thank you.
Thank you very much for your lovely feedback Lou. Delighted to hear you like the house so much and that all arrived perfectly, your points have been noted, and addressed, particularly about the legs (which shouldn't have happened, I'm sorry about that).
Anne