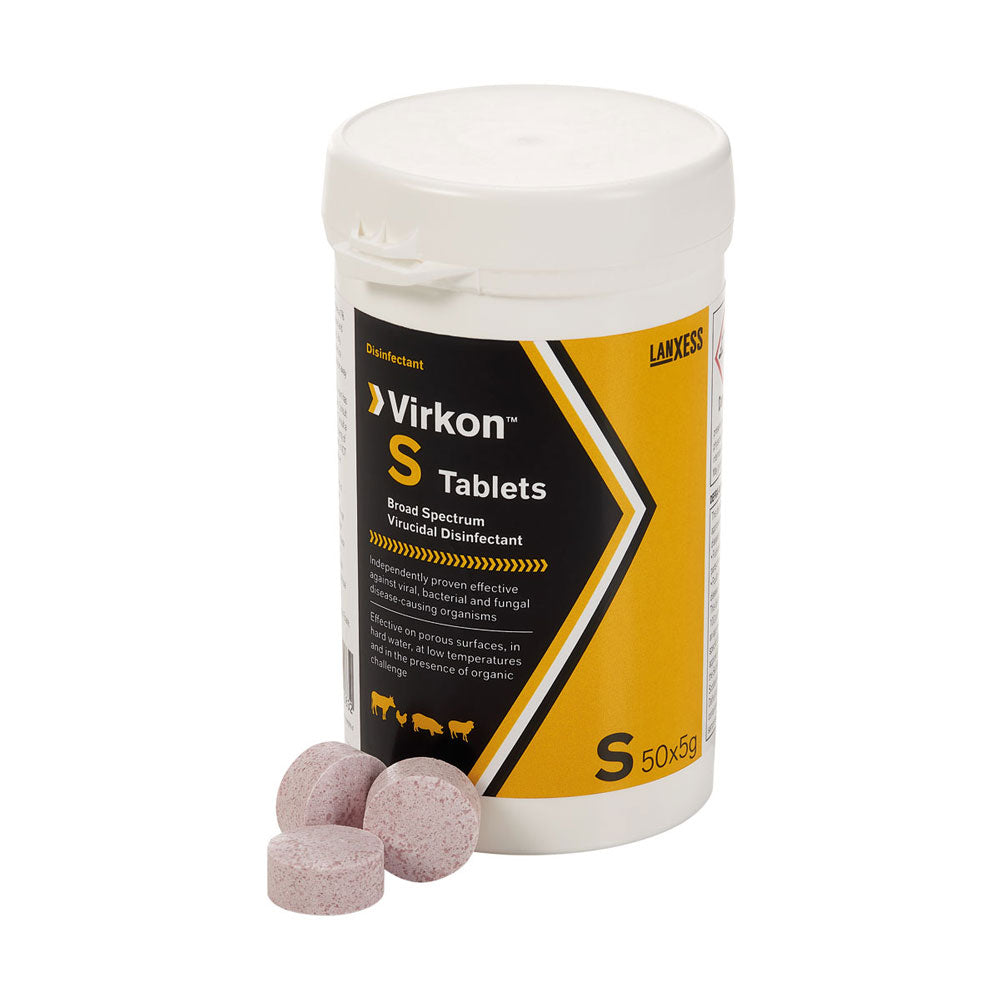 Virkon S Disinfectant, 50 x 5g Tablet
Virkon S Disinfectant, tub of 50 x 5g Tablets. Virkon S Disinfectant tablets, a convenient tub of 50 tablets.
Each tablet is just 5g and will make 500ml of disinfectant. Great for when you need small amounts for little jobs and 5 litres is just too much.
Virkon S is a DEFRA approved virucidal disinfectant and is active against viruses such as those that cause Bird Flu. So if you are concerned about epidemics and pandemics, Foot and Mouth Disease, Bird Flu etc, this is the product to go for.
Probably the most versatile disinfectant, it can be applied on to the animal, its house, or surroundings and will kill viruses, fungi and bacteria quicker and at lower doses than most other products. It is powerful yet safe to use with animals and around the home.
Simple to mix and instantly ready to use. With powerful, proven performance against over 500 strains of viruses, bacteria and fungi including Foot and Mouth Disease (FMD), Avian Influenza (Bird 'flu), Salmonella and Campylobacter, Virkon® S is selected by governments worldwide for Emergency Disease Control.
Approved by DEFRA against diseases of poultry order at a dilution of 1:280. The manufacturer's recommendation is to use it at 1:100. Effective contact time is at least 1 hour. Please read the instructions for use carefully.
We would suggest using Rubber Gloves or disposable Latex Gloves. If it comes into contact with skin wash off thoroughly immediately. Do not use on the ground near watercourses, or on grass or bare earth.
Standard delivery via courier is next working day to most mainland UK destinations for orders placed before 2pm (excl. weekends and bank holidays).
Virkon S Disinfectant, 50 x 5g Tablets
great products and really solid advice on this site. Just need to rethink the amount of single-use plastic they use to pack stuff in! perfect for small jobs over the year
Virkon S Disinfectant, 50 x 5g Tablets
Quick, efficient and good quality goods
Virkon S Disinfectant, 50 x 5g Tablets
Quality service, arrived quickly and was packaged really well Very easy to use especially as I only have a few chickens
Virkon S Disinfectant, 50 x 5g Tablets
Would recommend again plus very good product's and fast delivery Great allround service thanks
Virkon S Disinfectant, 50 x 5g Tablets
Always a quick and efficient service. I can't fault them. Would not buy from anywhere else. Very easy to use and effective.