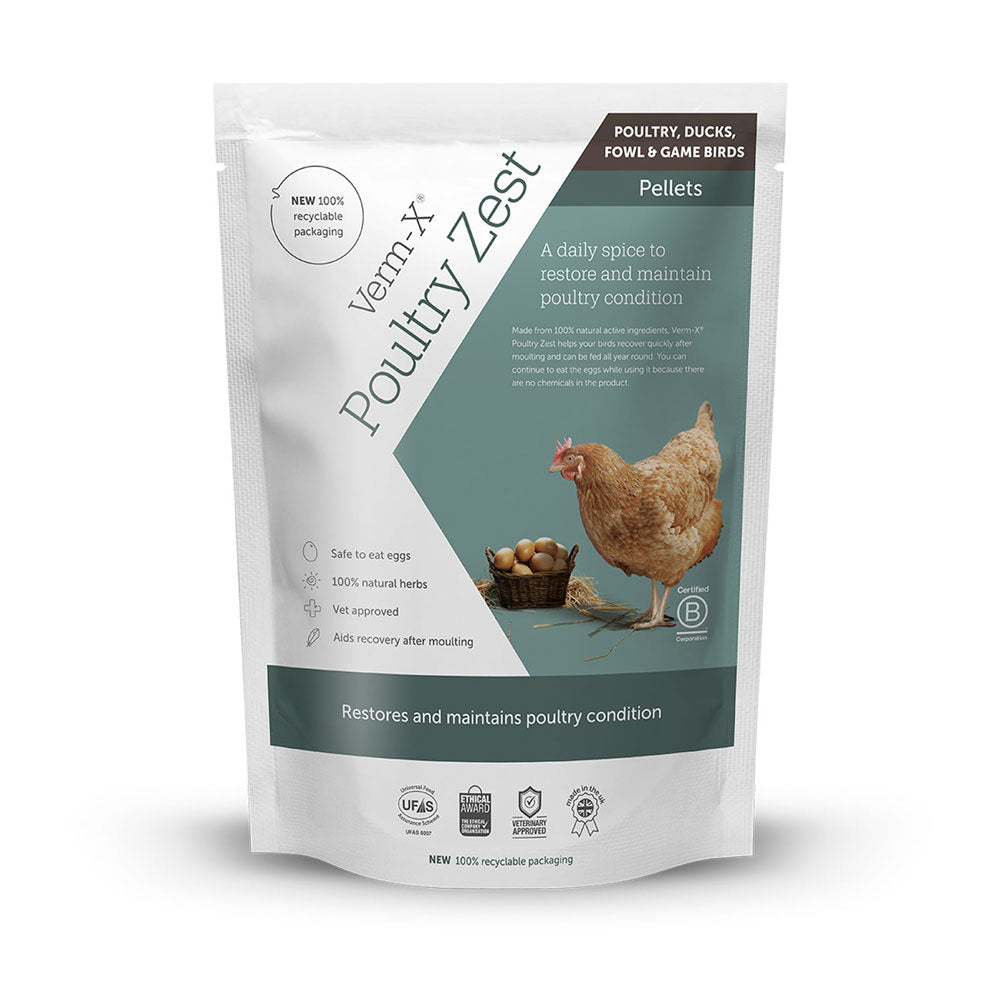 Verm-X Poultry Zest Pellets 500g
Verm-X Poultry Zest Pellets, 500g. Manufactured by the same company that make Verm-X Herbal Pellets, the award-winning range of herbal products for internal parasite control.
Poultry Zest is especially recommended for improving all round condition in your hens. No egg withdrawal needed, this is a simple pelleted herbal tonic.
Poultry Zest Pellets act as a nutritional supplement that helps your birds recover quickly after moulting. Can also be used in a targeted pick-me-up regime or fed at lower doses all year round. Invaluable for rearing poultry, ducks, geese, turkeys and game birds.
Poultry Zest is enriched with Turmeric, Ginger Root, Fenugreek, Aniseed with added Sunflower Oil and has the added convenience of being pelleted for easy use. Every pack contains a dispensing spoon.
Composition: Micronised Wheat, Wheatfeed Meal, Wheat Meal, Aniseed, Molasses, Sunflower Oil, Ginger, Fenugreek, Turmeric.
Feeding Instructions: Add one heaped 5ml spoon (enclosed) per 10 birds to their daily feed.
Standard delivery via courier is next working day to most mainland UK destinations for orders placed before 2pm (excl. weekends and bank holidays).
Verm-X Poultry Zest Pellets 500g
They supply quality goods for a fair price and deliver very quickly, very impressed. Excellent product. I've used this for years and have no complaints
Verm-X Poultry Zest Pellets 500g
Always an excellent website with appropriate products for keeping birds. With birds in full lay, it's important to ensure your birds stay healthy inside and out.
Verm-X Poultry Zest Pellets 500g
This was a repeat order so I knew that the products were good. Postage a bit high? Please see my comments above
Verm-X Poultry Zest Pellets 500g
Chicken Lickin Nutrimin Cider Vinegar 5 litres , had leaked in the package, all the other items smelled of vinegar ! Chickens eat it ! Waiting to see if it makes their feather condition improve, only been using it for a week
I am very sorry to hear that the vinegar leaked on to the other items in your order - please do let us know if any goods arrive damaged and we will of course replace them. If you would like to email me anne@flytesofancy.co.uk with details of what was damaged I will organise replacement.
Verm-X Poultry Zest Pellets 500g
Good choice, good service (but postage rather expensive)