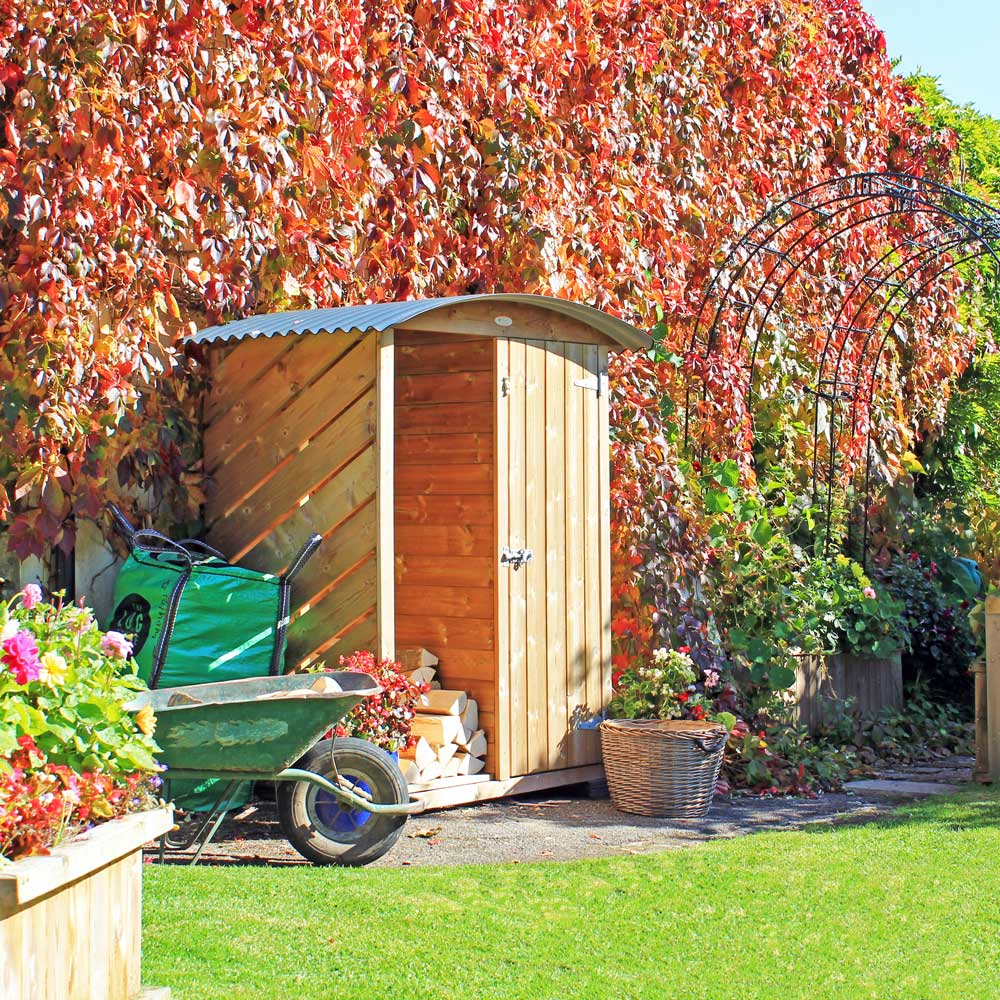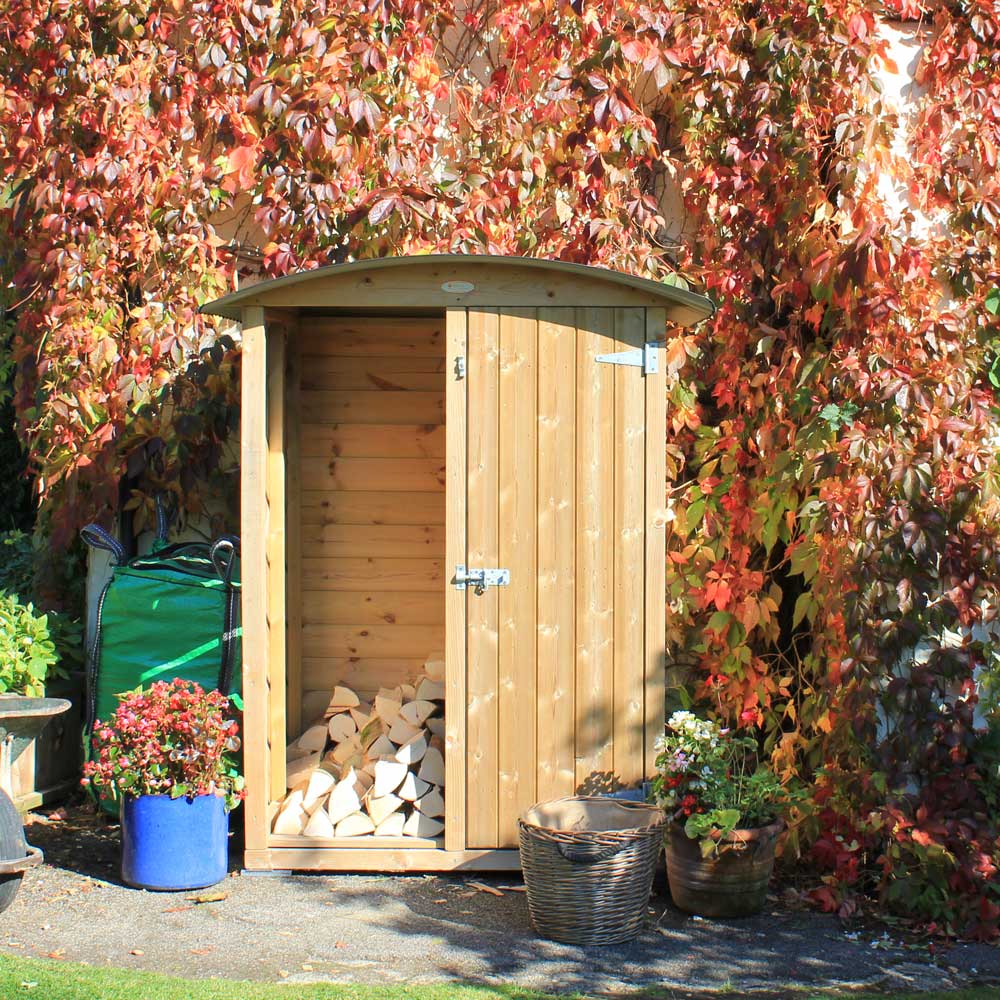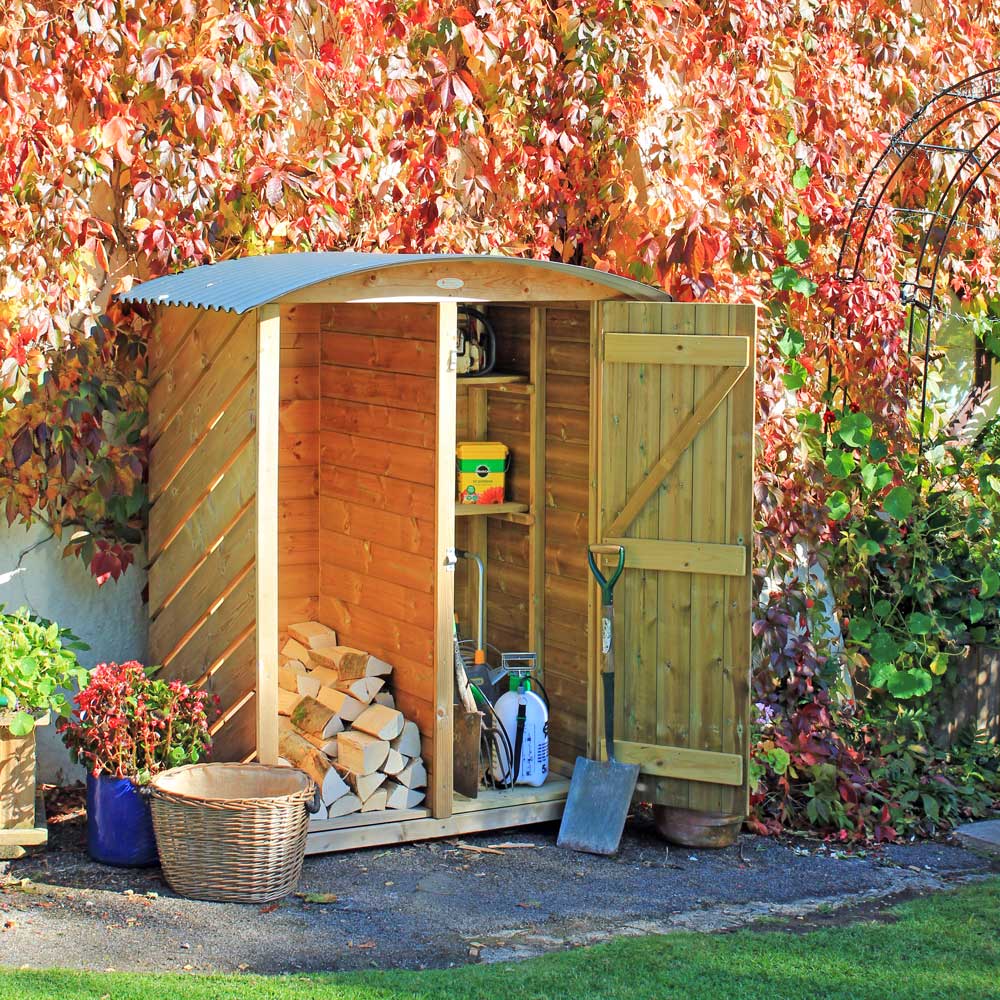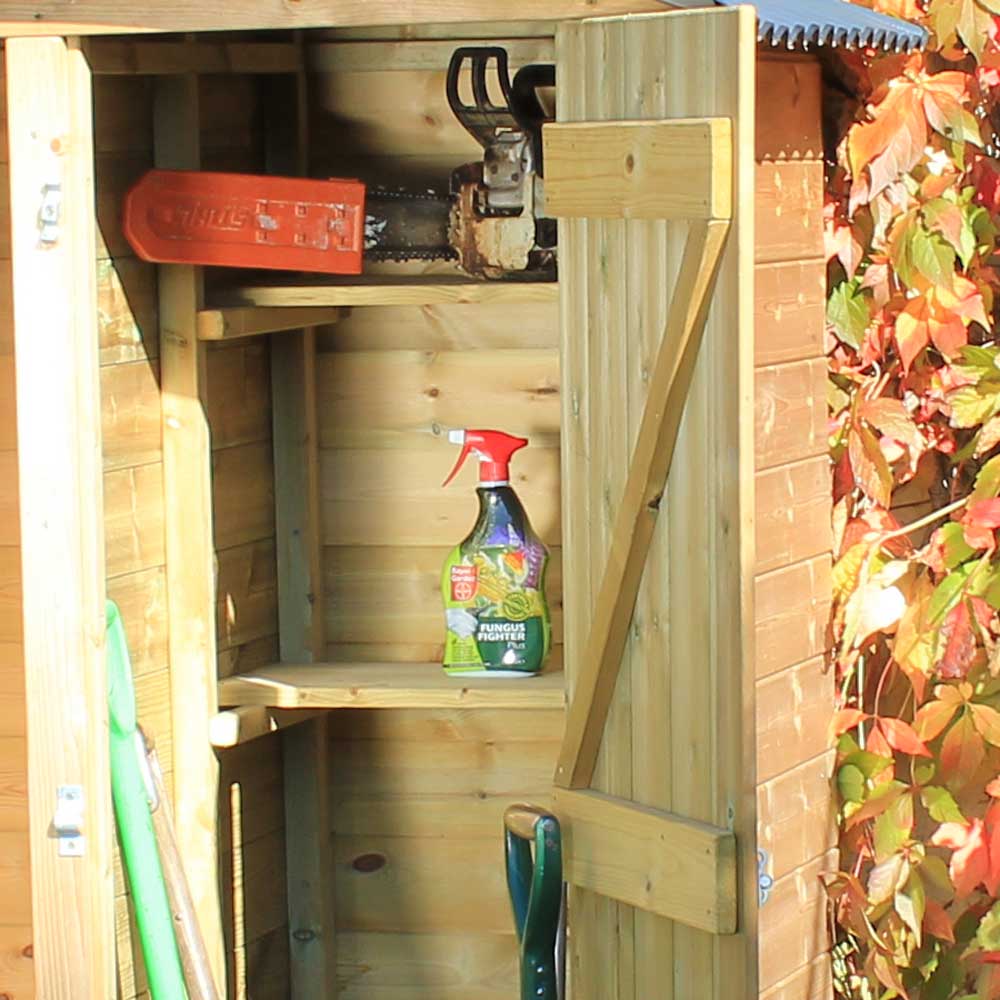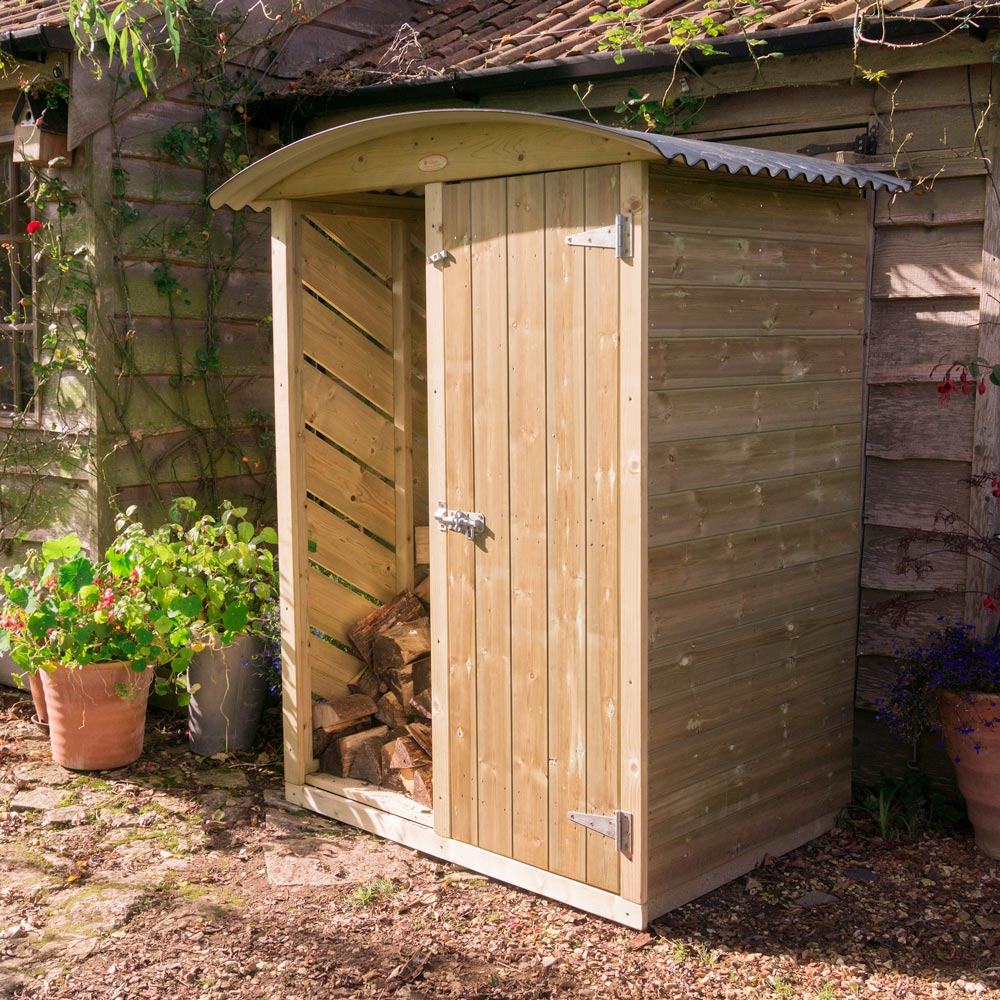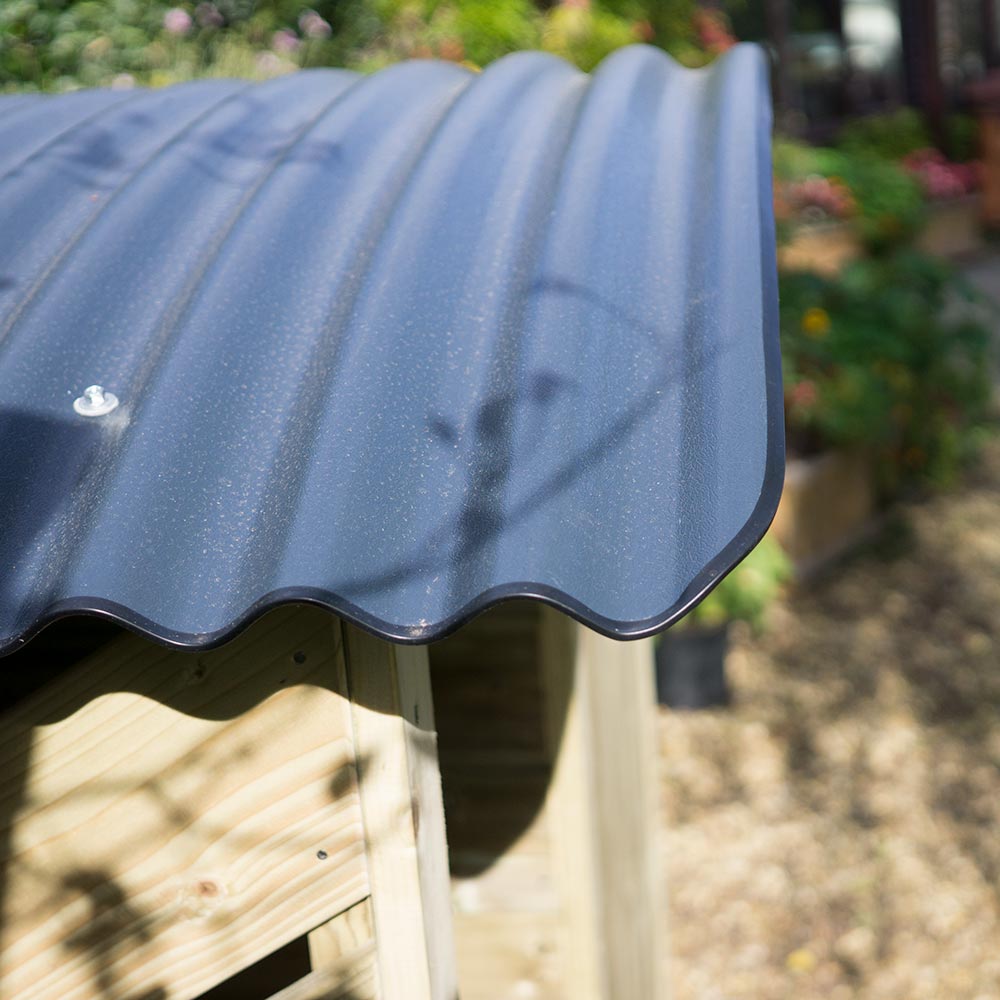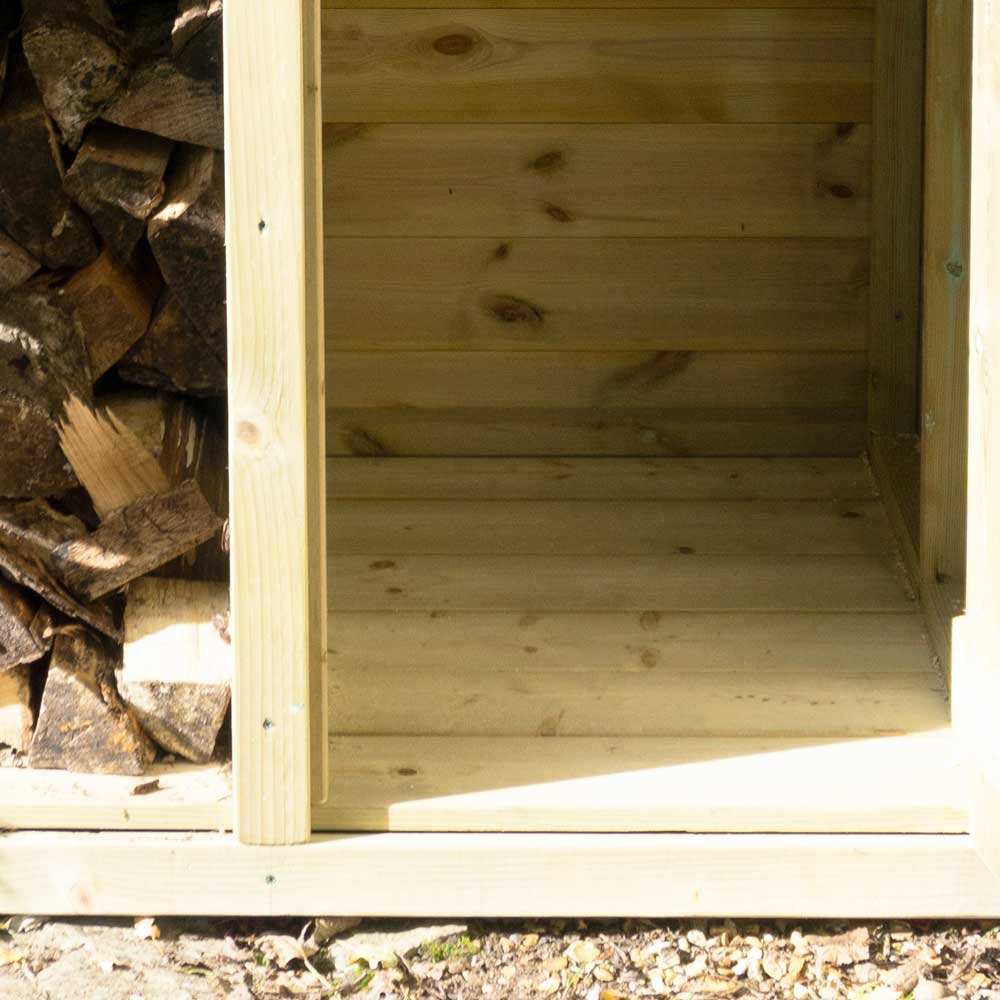 The Stronghold Twin Log & Garden Store (4ft wide)
The Stronghold Garden Store Range includes this 4ft wide split Garden Store - Log Store.
The Stronghold is a 4ft wide, 3ft deep, timber garden store with half the width given for log storage (with a log capacity of just under 1 cubic metre) and the other half is a tall, secure, tool store with two internal shelves.
The timber design of The Stronghold Store creates an airy log store with a chevron-clad 21mm timber side, to allow maximum airflow around your logs, and a solid 16mm timber back panel.
The cupboard half of the store has solid 16mm T&G timber walls and a 19mm thick door with a pad-lockable Brenton Bolt. Security Screws are provided for hinges and bolt. 
The front and base edges are finished with timber fascias to give a smooth look which will enhance any garden. The Garden Log Store is completed with a gracefully curved, slate grey, plastic-coated, steel roof to ensure your tools, equipment and logs will stay dry throughout the wettest seasons.
Just How Strong is a Stronghold Garden Store?
Note: The Stronghold Twin is constructed with the cupboard on the right hand side, hinged right, and Logs section on the left hand side (viewed facing the front). These sections are not readily interchangeable. However, if you require them to be 'flipped' then we can make the unit as a special build - please call us for this option on 01300 345229.
Dimensions
Externally: Max width incl. roof: 153cm (5ft); body width 126cm (4ft 2in); Max depth incl. roof: 110cm (3ft 7in); body depth 94cm (3ft); Max height: 185cm (6ft 1in). Door Aperture: 51cm wide x 159cm high.
Internally: Log Store - Width: 59cm x Depth: 91cm x Height: 172cm. Garden Tool Store - Width: 62cm x Depth: 89cm x Height: 172cm. Includes 2 internal set-back shelves
Log Capacity: 0.93 cu m
Construction*
All timber is sustainably resourced, FSC Certified, Pressure-treated Scandinavian Redwood
Walls: 21mm boards for side & 16mm tongue & groove for back (Log Store); 19mm & 16mm Tongue & Groove (Tool Store)
Floor: 21mm planed Boards on 75mm x 50mm Bearers
Roof: Hand-rolled, slate grey plastic-coated galvanised steel
Frame: 38mm x 50mm Eased-Edge Framing
Fixtures: Stainless Steel Fixings; Plated & Painted Decking Screws (plus security screws provided separately)
Fittings: Heavy Duty Galvanised
Timber Warranty: 15 years against rot and fungal attack (see Warranty)
*For the full nitty-gritty of timber types, thicknesses, dimensions and fixings see About our Garden Stores
Current delivery times are 1-2 weeks. The Stronghold Log Store can be delivered ready assembled or flatpacked for simple self assembly with full instructions and all fixings required - you just need a cordless screwdriver and perhaps and extra pair of hands.
Delivery will be on a wooden pallet via Palletline Transport delivery company on a weekday to suit you. For pallet delivery details please see our Delivery Information page