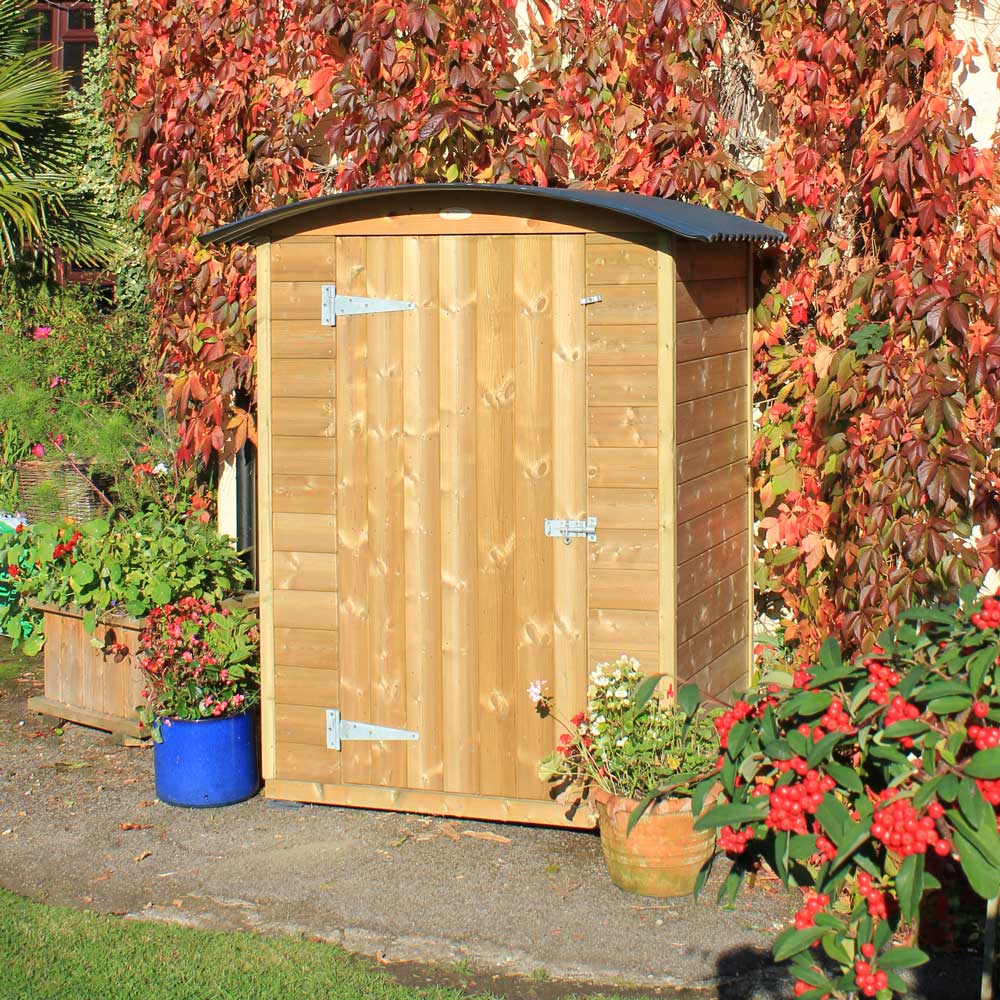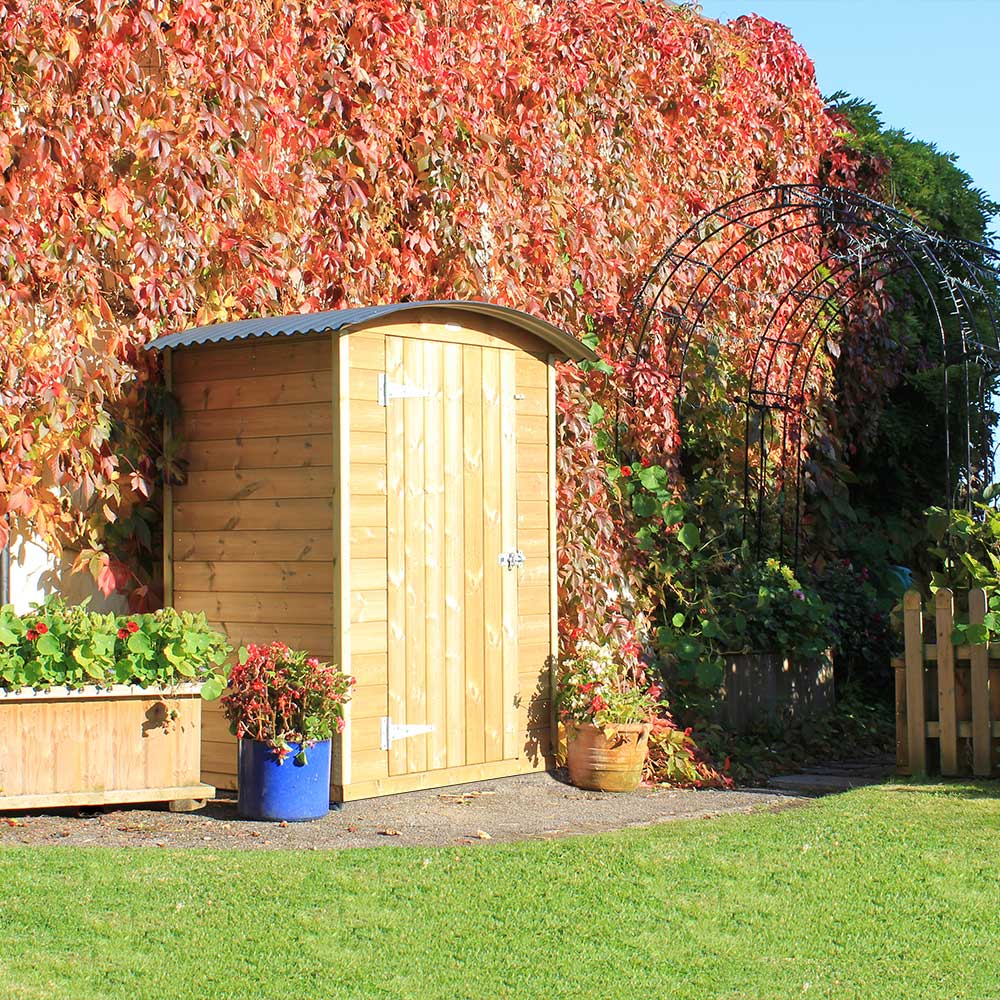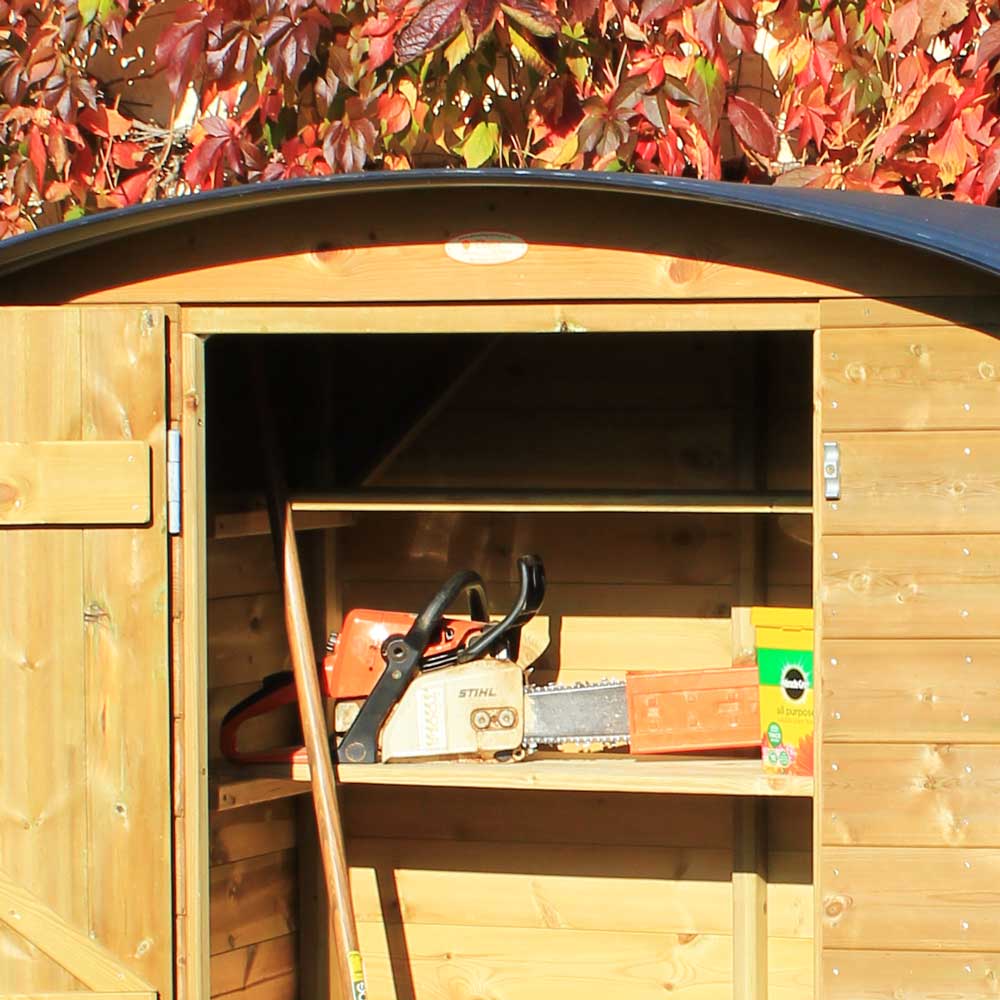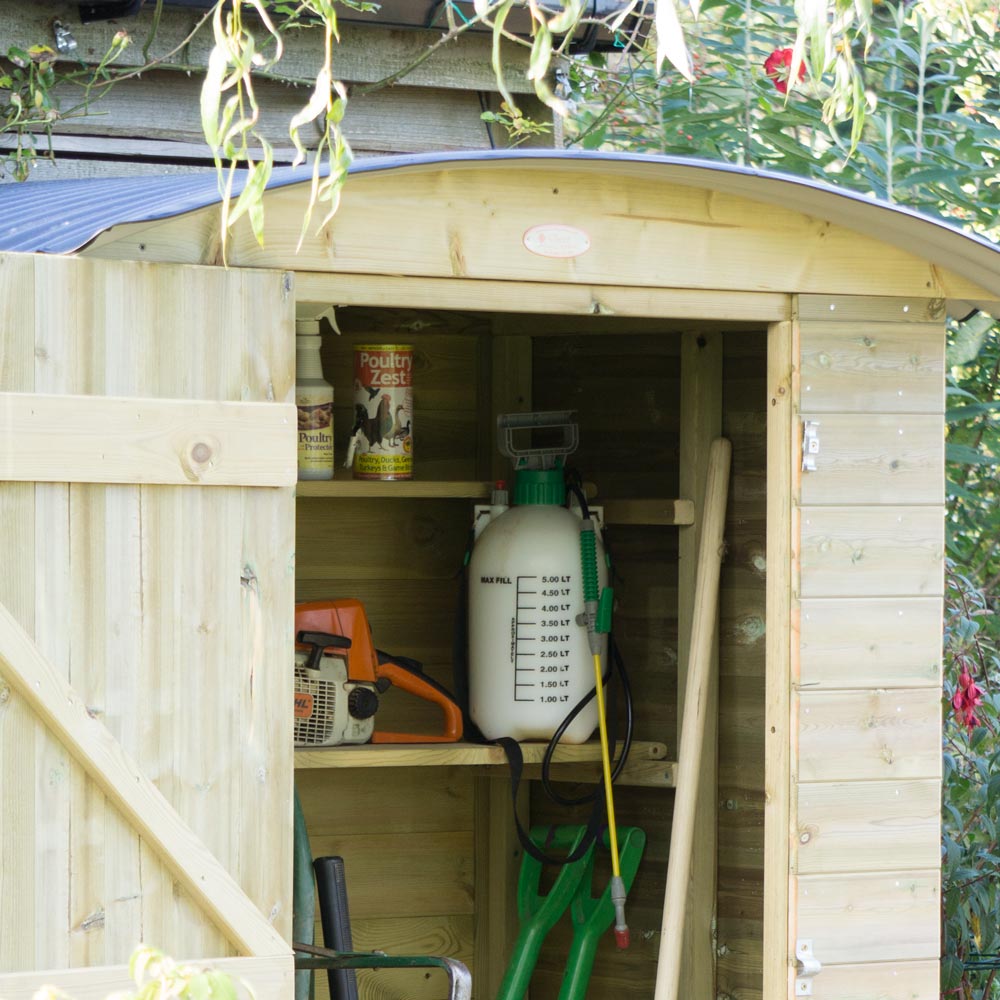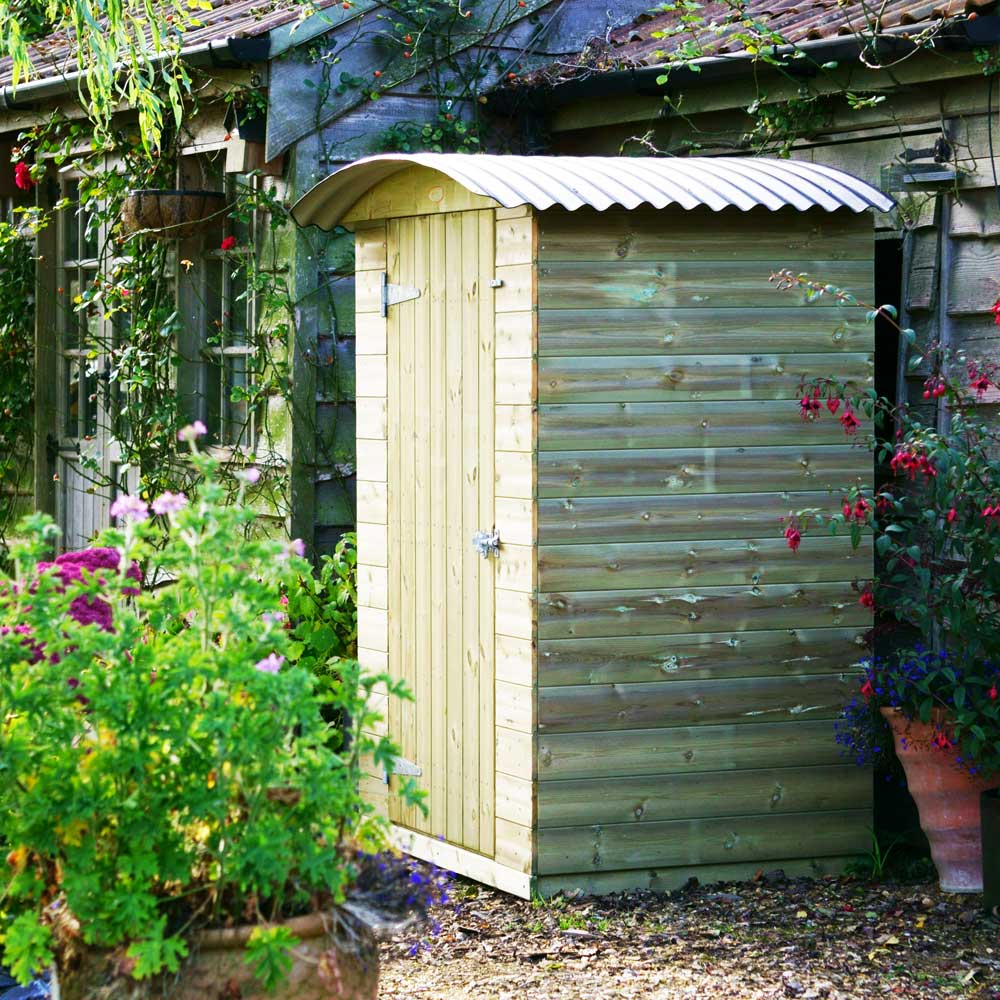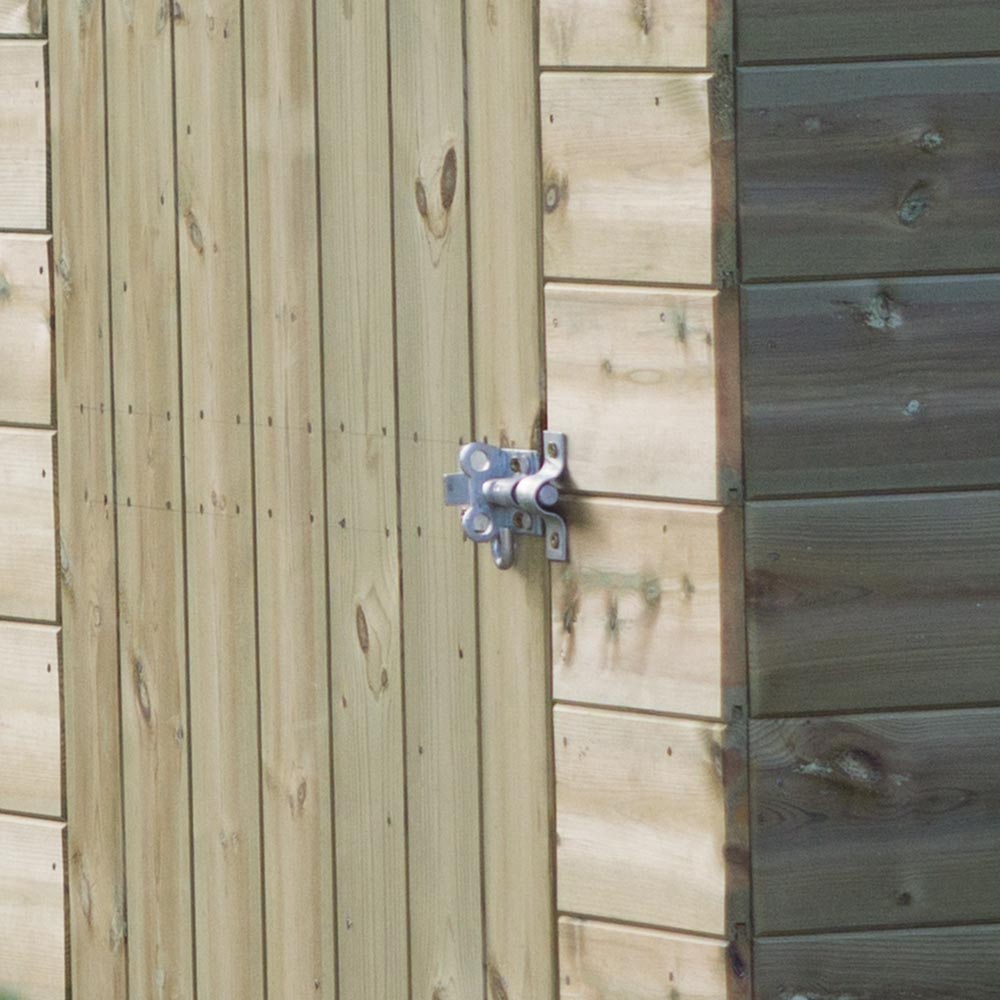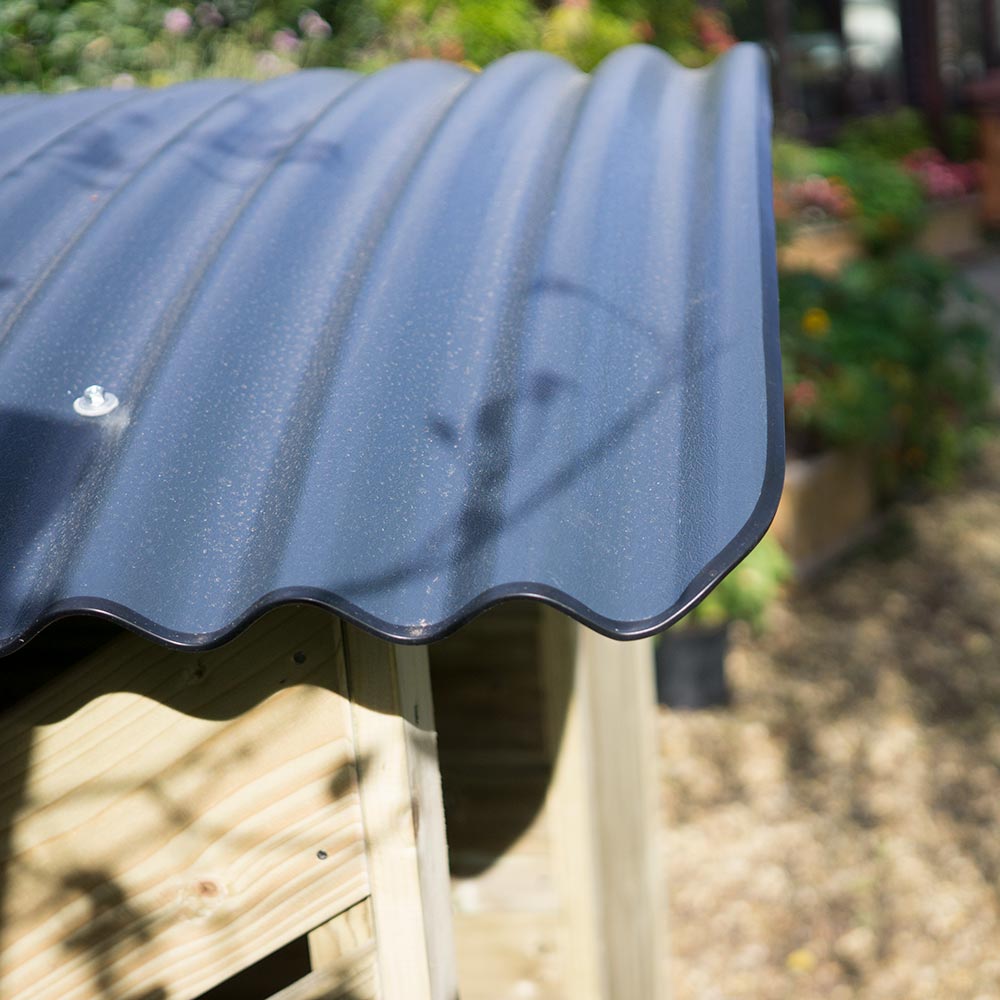 The Stronghold Garden Store (4ft wide)
The Stronghold Garden Store is approx. 4ft wide x 3ft deep x 6ft high.
The solid timber design of The Stronghold creates a spacious, very robust, garden tool storage shed able to take a wheelbarrow and still leave lots of space for all your other garden tools.
The Stronghold Garden Store includes 2 full-width shelves for the upper half of the store leaving plenty of room below for long garden tools.
Once you have padlocked the doors, you can have peace of mind that your machinery and equipment are safe, or, for even more security add a Combination Security Bolt. Security Screws are provided.
The Stronghold Garden Store is completed with a gracefully curved, slate grey plastic-coated, steel roof to ensure your precious garden tools will stay safe and dry.
Dimensions
Externally: Max width incl. roof overhang: 153cm (5ft); body width 126cm (4ft 2in); Max depth incl. roof overhang: 110cm (3ft 7in); body depth 94cm (3ft); Max height: 185cm (6ft 1in).
Internally: Width: 122cm (4ft); Depth: 87cm (2ft 10in): Height: 172cm (5ft 8in)
Door Aperture: 74cm wide x 157cm high
Construction*
All timber is sustainably resourced, FSC Certified, Pressure-treated Scandinavian Redwood
Walls: 19mm planed Tongue & Groove
Floor: 21mm planed boards
Roof: Hand-rolled, slate grey plastic-coated galvanised steel
Frame: 38mm x 50mm Eased-Edge Framing
Fixtures: Stainless Steel Fixings; Plated & Painted Decking Screws
Fittings: Heavy Duty Galvanised Hinges, bolt and catches
Timber Warranty: 15 years against rot and fungal attack (see Warranty)
*For the full nitty-gritty of timber types, thicknesses, dimensions and fixings see About our Garden Stores
Currently approx 1-2 week delivery time.
The Stronghold Garden Store can be delivered ready-assembled or flat-packed for simple self-assembly.
Delivery will be on a wooden pallet via Palletline Transport delivery company on a weekday to suit you. Please see our Delivery Information page for details of pallet size and method of delivery.
Very well made
Bought this garden store on behalf of my Father. The Flutes team could not have been more helpful with all my queries.
It arrived securely packaged on a pallet, undamaged.
Simplicity itself to put together, although there were a few screws missing.
Once erected it is robust and weather proof.
Father is very pleased.