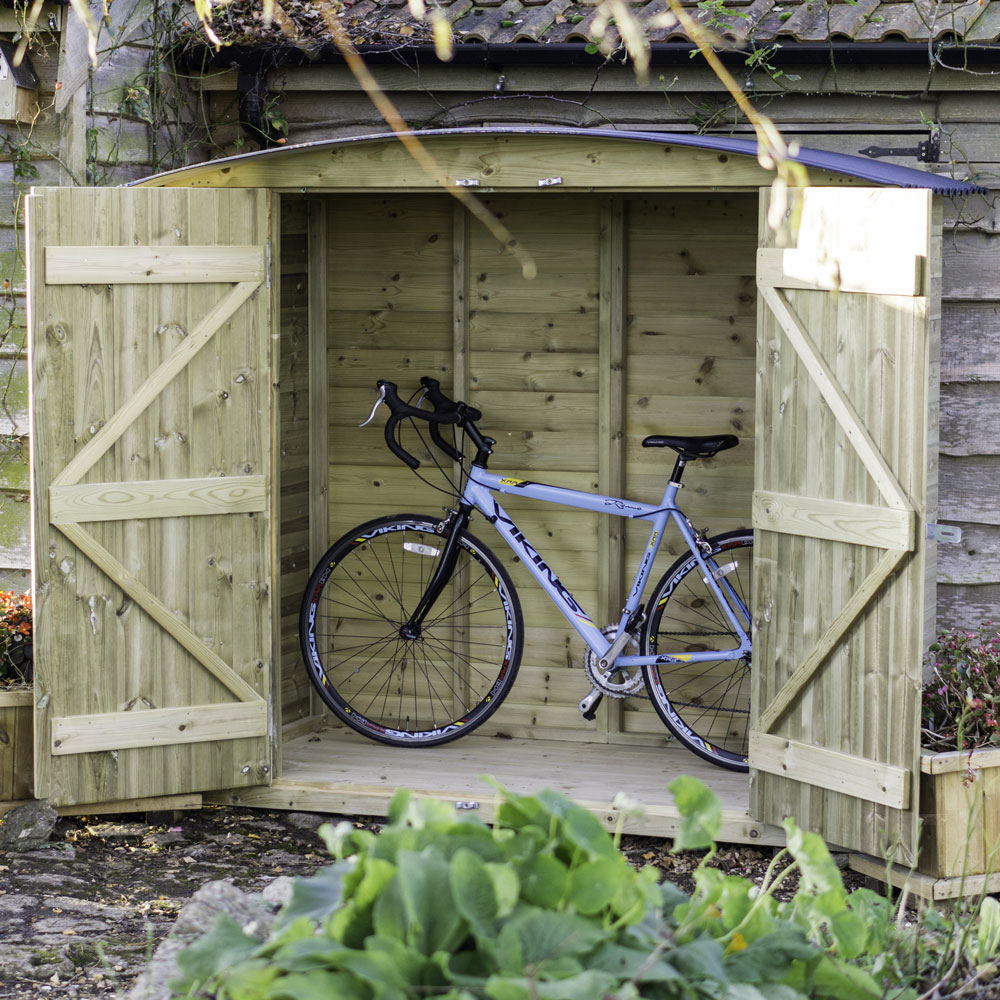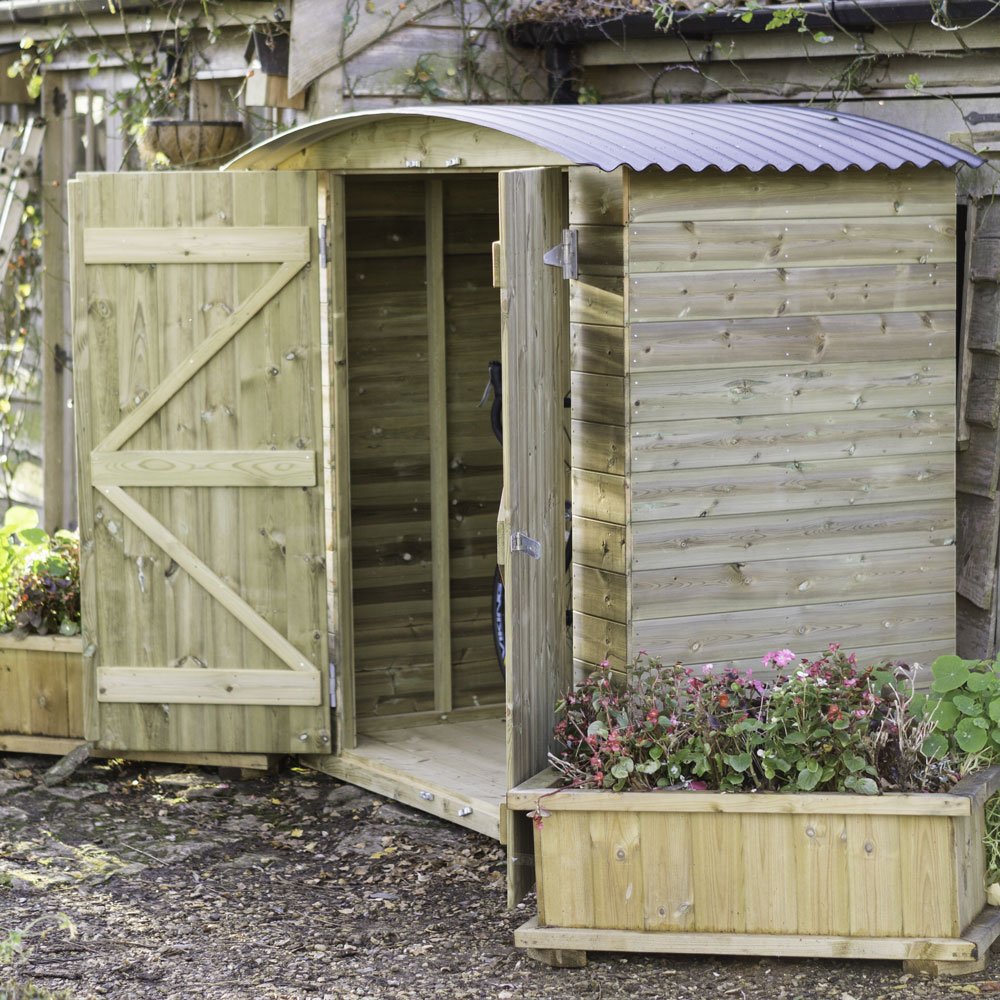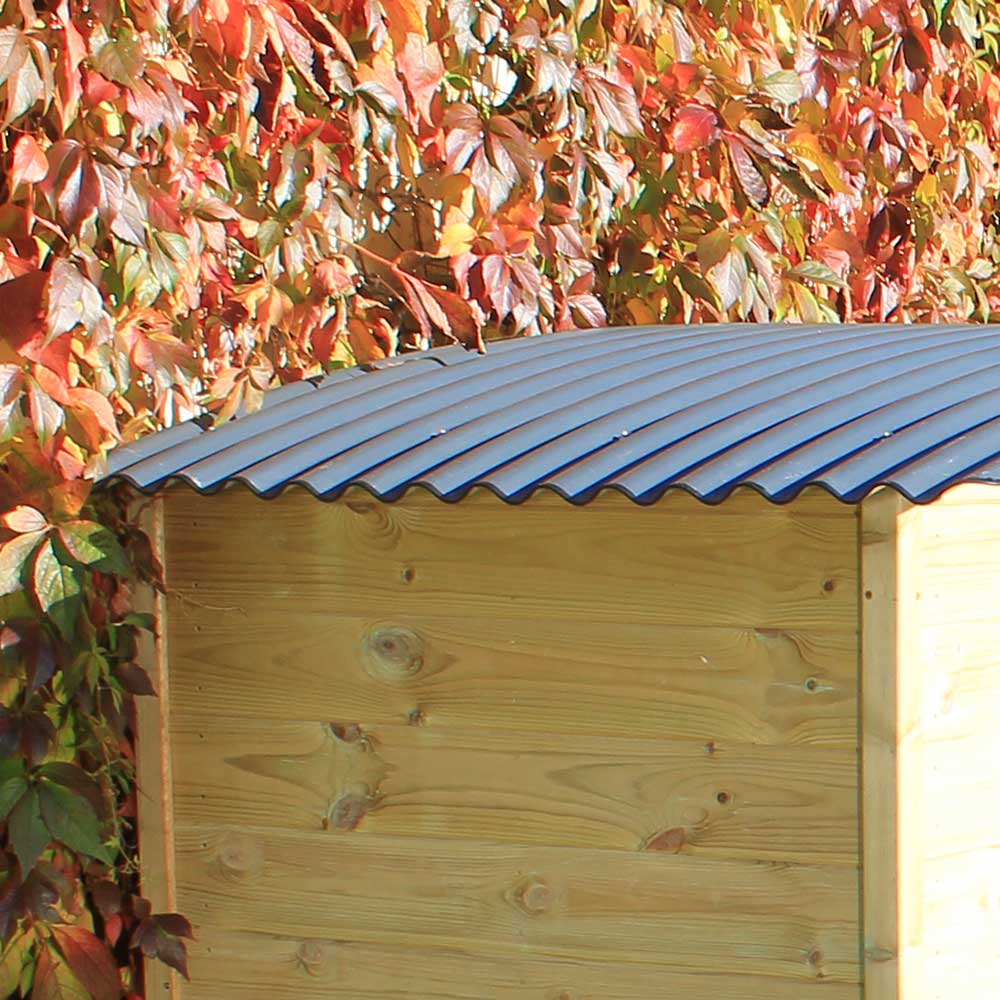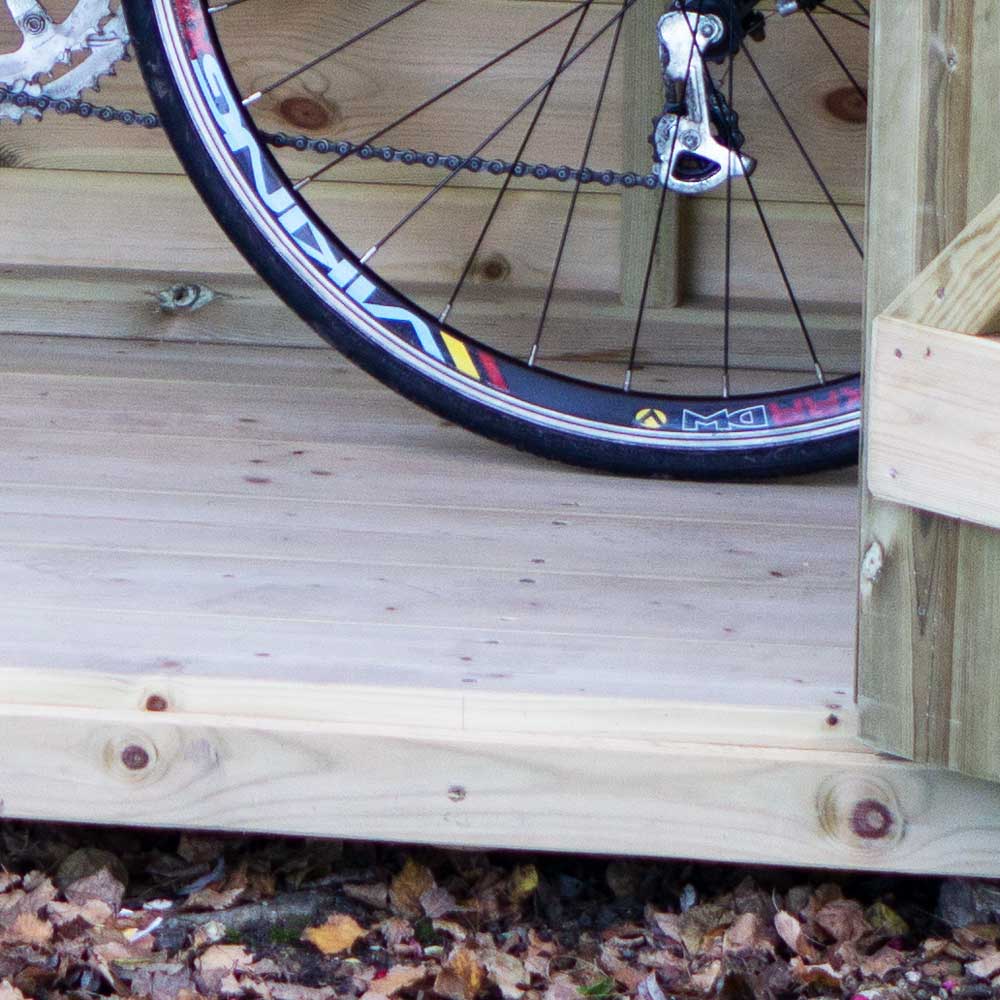 The Stronghold Bike & Machinery Store
This Stronghold Bike & Machinery Garden Storage Shed is approx. 6ft wide x 3ft deep x 6ft high. UK Made Bike or Cycle Storage by Flyte so Fancy.
Secure wooden garden storage shed for valuable machinery and equipment with two doors to give easy access to large items. Lots of space for your bike, or even a motorised bike/scooter, as well as garden machinery, lawnmowers, and tools. The timber floor is 21mm thick.
This version of the Stronghold does not include shelves so it maximises the large open space inside for large equipment. However, full-width shelves can be added if required, select above.
The solid timber design of The Stronghold creates a very robust garden storage shed and, when padlocked, is very secure. For even more security add a Combination Security Bolt .
Security Screws are provided for hinges and bolts to use if required. We build our Garden Stores here in Dorset using 19mm thick T&G pressure-treated timbers, with stainless steel fixings and decking screws so, once you have padlocked the doors, you can have peace of mind that your equipment is safe. For the nitty-gritty of timber dimensions and fixings see About our Garden Stores.
This Garden Storage Shed is completed with a gracefully curved, slate grey, plastic-coated, steel roof to ensure your precious garden tools will stay safe and dry for a considerable number of years.
Dimensions
Externally: Max width incl. roof: 213cm (7ft); body width 190cm (6ft 3in); Max depth incl. roof: 110cm (3ft 7in); body depth 94cm (3ft 1in); Max height: 185cm (6ft 1in)
Double Doors aperture: 133cm wide x 157cm high
Internally: Width: 185cm (6ft 1in); Depth: 89cm (2ft 11in); Height: 173cm (5ft 8in)
Construction*
All timber is sustainably resourced, FSC Certified, Pressure-treated Scandinavian Redwood
Walls: 19mm planed Tongue & Groove
Floor: 21mm planed boards
Roof: Hand-rolled, slate grey plastic-coated galvanised steel
Frame: 38mm x 50mm Eased-Edge Framing
Fixtures: Stainless Steel Fixings; Plated & Painted Decking Screws
Fittings: Heavy Duty Galvanised Hinges, bolt and catches
Timber Warranty: 15 years against rot and fungal attack (see Warranty)
*For the full nitty-gritty of timber types, thicknesses, dimensions and fixings see About our Garden Stores
Currently approx. 4-5 weeks delivery time.
The 6ft Stronghold Bike Store will be delivered flatpacked in 10 panels for simple self-assembly, all fixings and instructions included. Cordless screwdriver and extra pair of hands advised!
Delivery will be on a wooden pallet via Palletline Transport delivery company on a weekday to suit you. Please see our Delivery Information page for details of pallet size and method of delivery.
The Stronghold Bicycle & Machinery Store - 1 Full Width Shelf
Outstanding service from placing our order through to delivery. A superb product (large garden machinery store) easy to assemble with fantastic instructions that you can actually understand ! and real attention to detail. An amazing example of real customer service. Would 100% recommend. The machinery store was by far the best, both in design and construction, that we had seen.