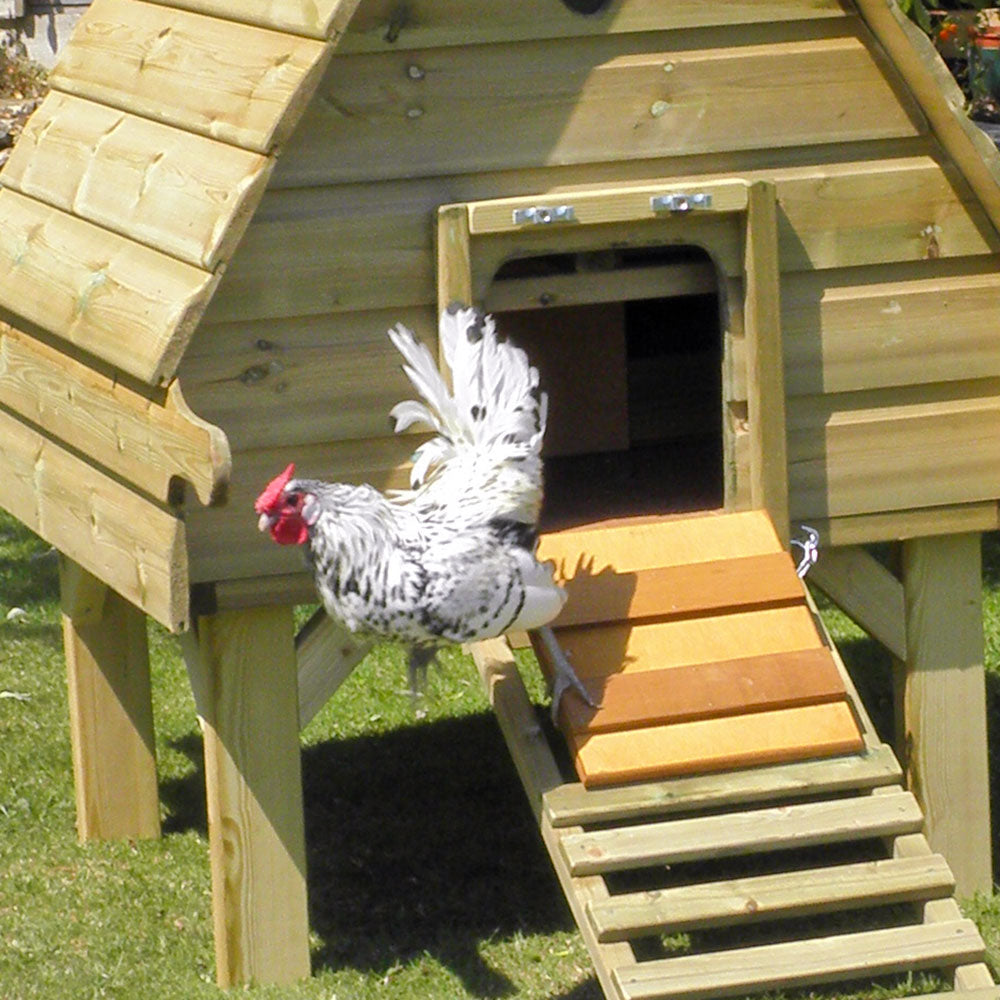 The Long-Legged Hobby Hen House
The Hobby Henhouse is a very popular starter chicken house and here we have added some height by giving it 18 inch (45cm) long legs. This will provide shelter and shade for the hens as well as somewhere to place the feeder to keep it dry.
As with the 'shorter' Hobby Hen house, it will take up to 6 medium-size laying hens on removable perches and has an internal nest tray.
The Hobby Henhouse arrives ready assembled (it cannot be flatpacked).
Perfect, too, for up to 7 or 8 bantams, including a bantam cockerel. Larger cockerels would not be quite so happy as the headroom inside is limited, therefore we would only advise smaller or bantam cockerels.
With the longer legs it means less bending down so cleaning is easier to do. The pop-hole door folds down onto the long ladder and doubles as a little ramp, the back door lifts out to allow easy access for cleaning and egg collecting. Both the nest tray and perches can be removed for cleaning.
For more details about the timber we use, how to keep it waterproof and take care of it over the years please visit the About our Houses page.
For more daytime security or control, a 6ft or 9ft long Run is also available. If you buy the house and run together - you can save up to £20!
The Hobby House is VSD Auto Door Opener compatible and we offer a complete kit. We will fit the VSD Door Kit for you if ordered with the hen house.
Dimensions:
Overall Max. Externally (incl handles): 104cm wide x 140cm deep (180cm with the ladder in place) x 151cm high (3ft 5in x 4ft 7in x 5ft high).
Internal floor: 96cm wide w x 80cm deep x 94cm high max.
Pop-hole: 25cm wide x 30cm high (10ins x 12ins)
Legs are 45cm (18ins) high
Construction:
All timber is sustainably resourced, FSC Certified, Scandinavian Redwood
Timber 21mm pressure treated T&G Shiplap
Floor: 9mm Exterior Grade Sealed Hardwood Plywood
Frame: 38mm x 38mm Pressure Treated Eased-Edge Framing
Fixtures: Stainless Steel Nails; Plated & Painted Decking Screws
Fittings: Heavy Duty Galvanised or Zinc Plated
Timber Warranty: 15 years against rot and fungal attack (see Warranty)
Handmade in Dorset
**DELIVERED ASSEMBLED**
Currently approx 1-2 week delivery. Delivered ready assembled, just screw the handles back on but please note the size of the house if access may be a problem. If a Run is included this will arrive in panels for self-assembly.
The Hobby Henhouse is delivered ready assembled on a pallet via Palletline Transport Company (see the Delivery Page for more information). Delivery charge starts at £59 (mainland England), other areas will be more.
The Long-Legged Hobby Hen House
I have ordered several items from FSF and they are always really helpful on the phone, the product is always high quality and the delivery driver was really helpful and accommodating in placing the duck house in the right area for me Looks really good just need to get my cockerels to go in It now
The Long-Legged Hobby Hen House
Love the products but only 2 criticisms. I ordered a few items so no clear explanation of which part belonged to which so we mixed up a couple of the Rooves! Also no warning that all would arrive on a pallett & the driver wouldn't unpack or site the large heavy chicken coup for me which caused a few issues. Would have also liked a time frame for delivery as had to wait in all day love it but delivered on pallett & needs to people to site
Sorry for any confusion re the delivery but your confirmation of delivery date email (sent 7th June) gave details, and a link, of how the delivery was made via Palletline lorry - there are also full details of how deliveries are made in the 'Delivery' page on our website. I am sorry if this wasnt clear. I am afraid though that pallet delivery companies dont normally give time windows until the day as, with this kind of delivery method, the drivers can get held up at other businesses/traffic so we ask the drivers to call you about an hour before delivery. My apologies again for any confusion. Regards, Anne
The Long-Legged Hobby Hen House
Excellent personal service provided. Very friendly and helpful. Well built, well designed and looks good.
The Long-Legged Hobby Hen House
Great product, delivery arranged promptly. A smooth and easy process. Great quality, sturdy hen house. Easy to access for cleaning.
The Long-Legged Hobby Hen House
Fantastic service! They went out of their way to help me and the henhouse is just beautiful.