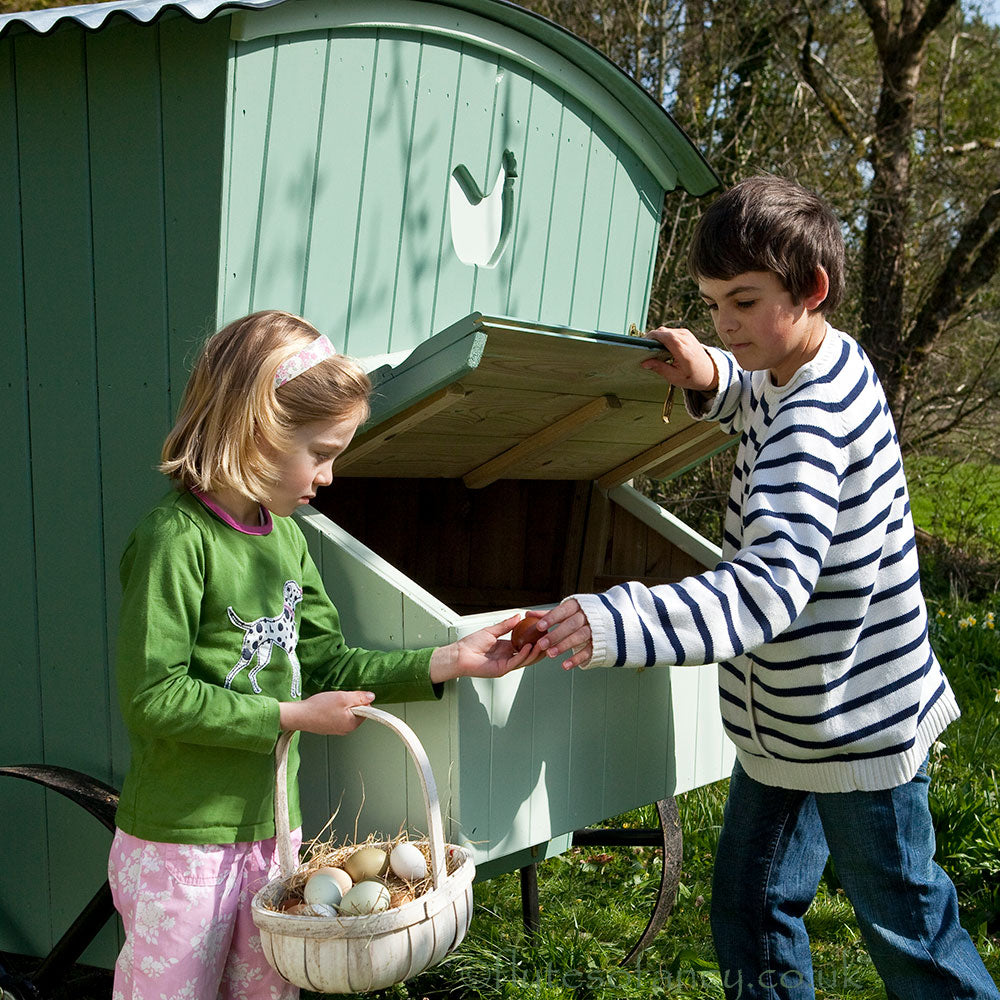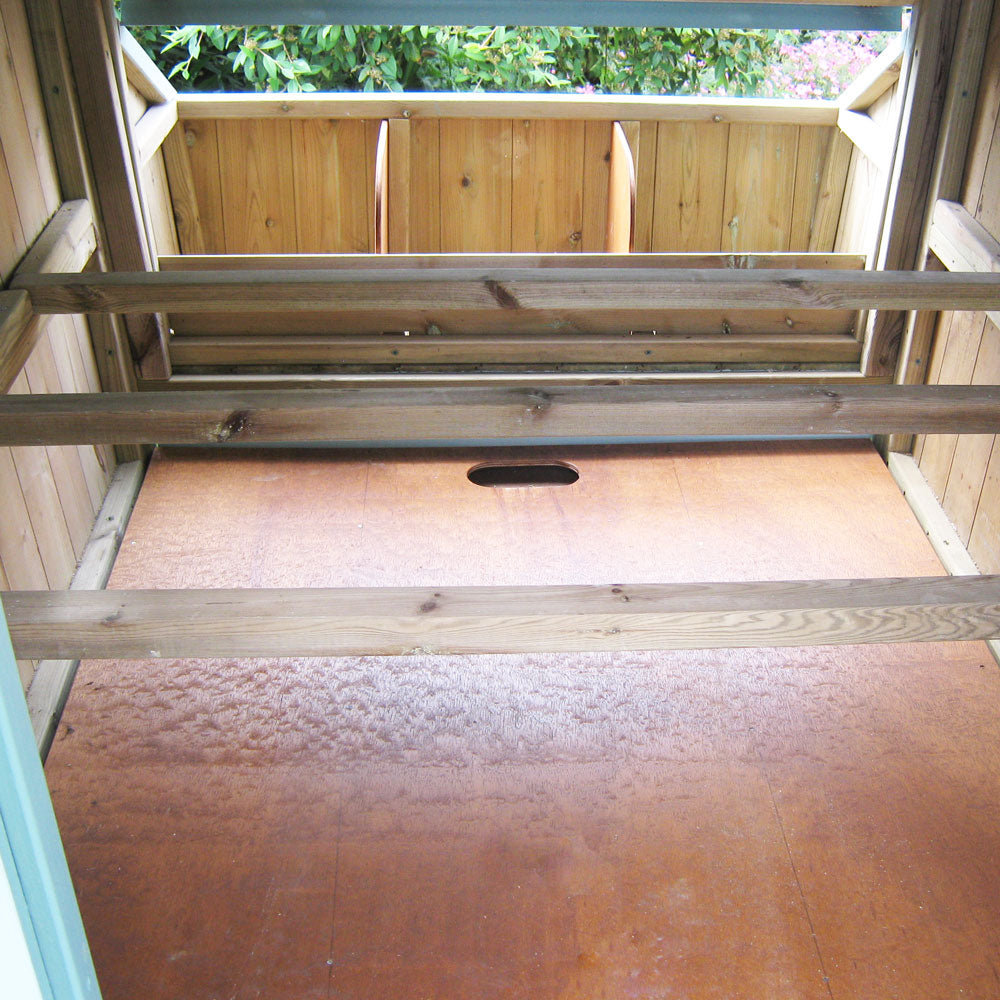 The Gypsy Willow Chicken House
The Gypsy Willow Hen House is as romantic and elegant as the willow itself; this Gypsy is for those for whom style is all about classical colour combinations and refined understatement.
Subtle shades of Sage Green complement the Green Verditer detailing shown in this version, but The Gypsy Willow can be painted in two tones to suit your surroundings. Hand-painted with three coats of heritage colours.
* For 15 laying hens and Cock bird
* External detachable nestbox
* Removable Dirt Tray
* 3 perches in a spacious inside
* Stable door access
* Portcullis pop-hole
* Auto Door Opener compatible
* Sliding ventilation windows
* Marine Chandlery fittings
* Steel wheels for mobility
* Grey coated Steel Curved Roof
* Hand painted in 3 coats of your choice
* Delivered Assembled or Flat-packed
Dimensions: The dimensions of your Gypsy (including the external nestbox and with the folding steps in the 'down' position) are:
Externally: Width Max: 1530mm; Length: 2630mm; Height: 1680mm.
Internally; Width Max: 1300mm: Length at max: 1500mm; Height: 1300mm.
Floor area: 1150mm wide x 1300mm long (front to back)
Delivery, ready assembled (depending on access and method chosen), is included in the price for most England postcode destinations. As this is a made-to-order item, delivery times are currently approx 5 - 6 weeks.
For further information or to request a brochure, please call us on 01300 345 229. You are also welcome to send your enquiry to info@flytesofancy.co.uk
Built as a hideaway for up to fifteen lucky laying ladies, The Gypsy Willow boasts an impressive list of quality features including:
Hand painted with 3 coats of Heritage colours
Solid Marine Chandlery Brass fittings;
Heavy gauge Steel galvanized and trim-finished roof;
Hand-made solid Steel, steerable wheels and axles;
Double plated screws and Stainless Steel nails throughout;
Detachable external nestbox;
Removable perches;
Easy-clean slide-out double-sealed plywood dirt tray;
Upper double Stable door and lower single door with pop hole;
Twin trademark Heart-shaped sliding windows;
Fold-up lockable steps and a custom-made Steel handlebar attachment for steering and relocating your Gypsy.
Delivery timescales are currently approx 3-4 weeks.
Our current sphere of delivery encompasses only mainland UK. The Gypsy Wayfarer price includes delivery, ready assembled, with 50 miles of Flyte so Fancy HQ in Dorset.
We can also offer delivery nationwide, fully assembled, by a specialist carrier. Due to the bespoke nature of The Gypsy Collection and the delivery preferences of our customers, please telephone 01300 345 229 to discuss the range of delivery options available.
Alternatively, please do feel free to make an enquiry by sending an email to info@flytesofancy.co.uk.
For some areas, we may need to despatch in a flat-packed form for delivery by pallet company. The Wayfarer would then need self-assembly of the panels and would arrive with full instructions and telephone backup throughout.
The Gypsy Willow Chicken House
I found the company by chance and fell in love with their Gypsy chicken hut! Everyone has been so friendly and helpful right from ordering to delivering. The hut it so well made , it is perfect! As you can see by my video the attention to detail is fantastic. I am going to have some very lucky hens soon! Amazing! I can't stop looking at it.
The Gypsy Willow Chicken House
A wonderful playhouse finished to a very high standard ,perfect for the children to explore and have their own space . Absolutely perfect in every way
The Gypsy Willow Chicken House
Excellent service , beautiful build quality, clear. Easy instructions to build Excellent
The Gypsy Willow Chicken House
Really friendly and very knowledgeable with high quality products It arrived on time and was beautifully constructed and painted