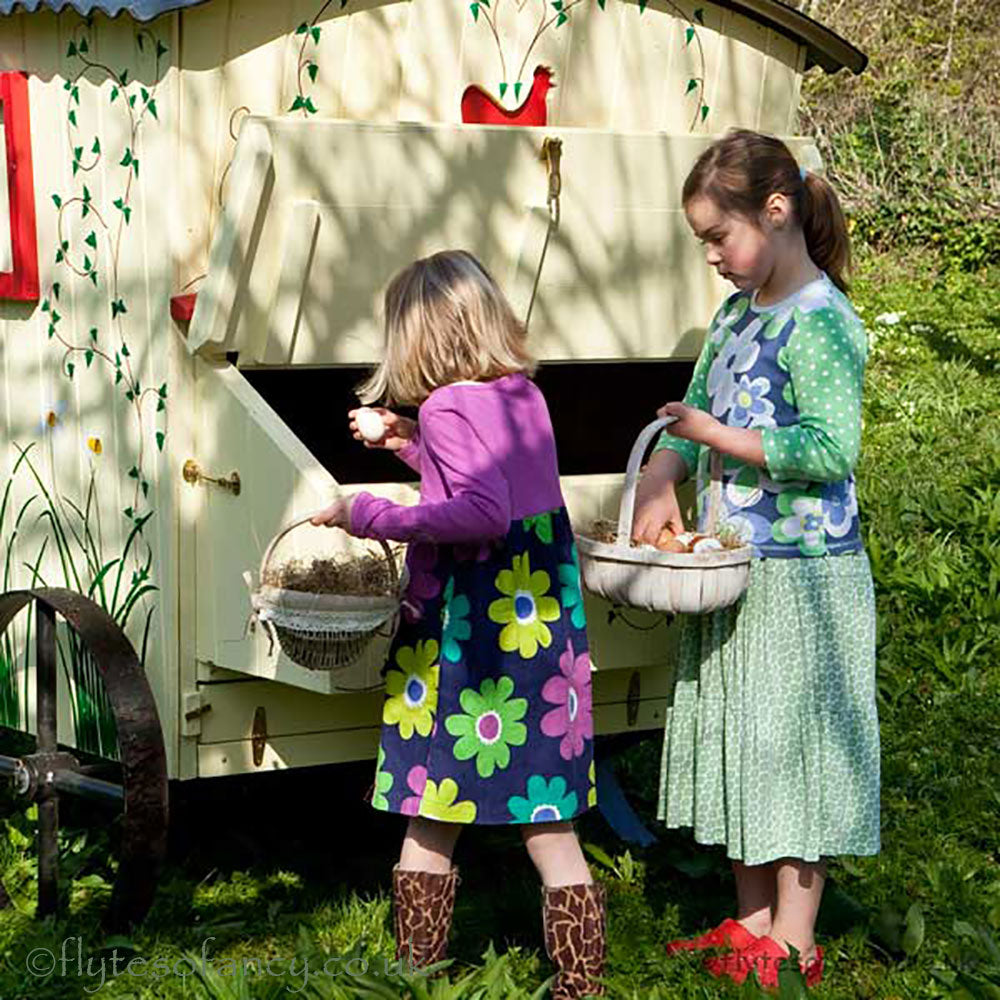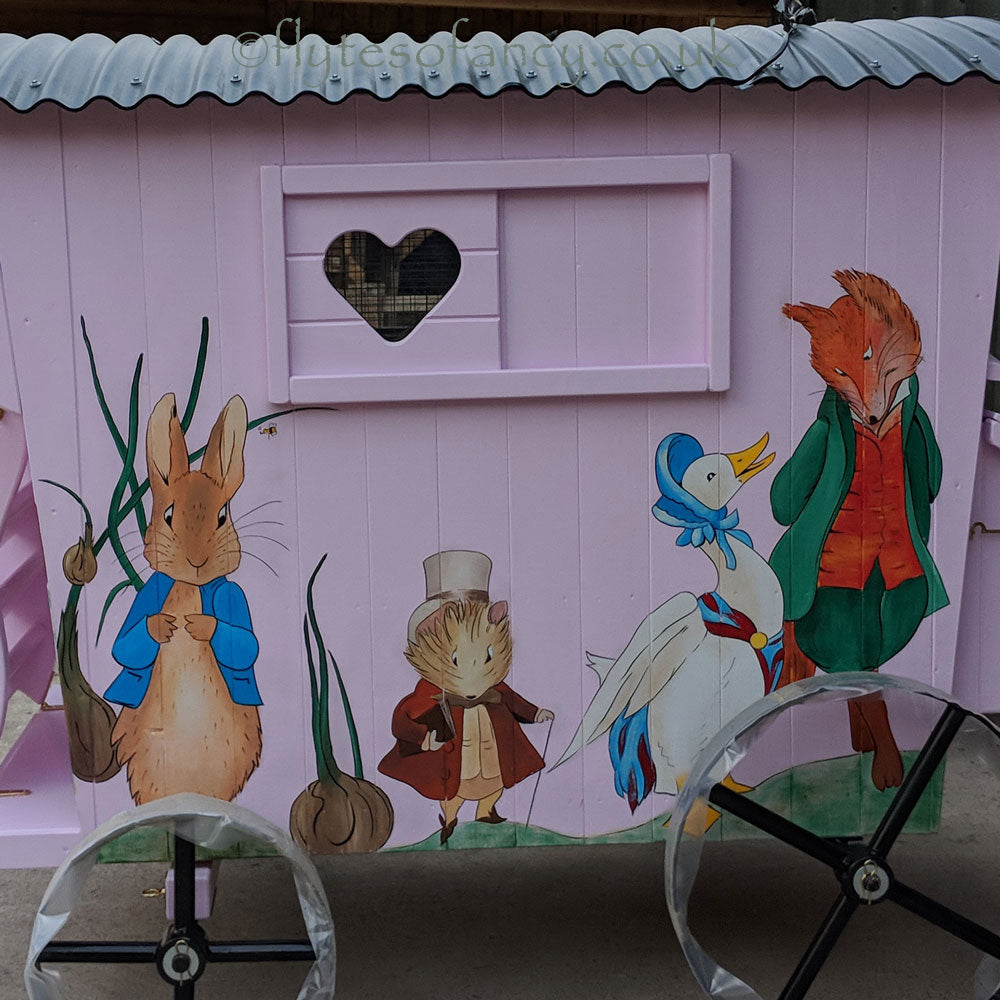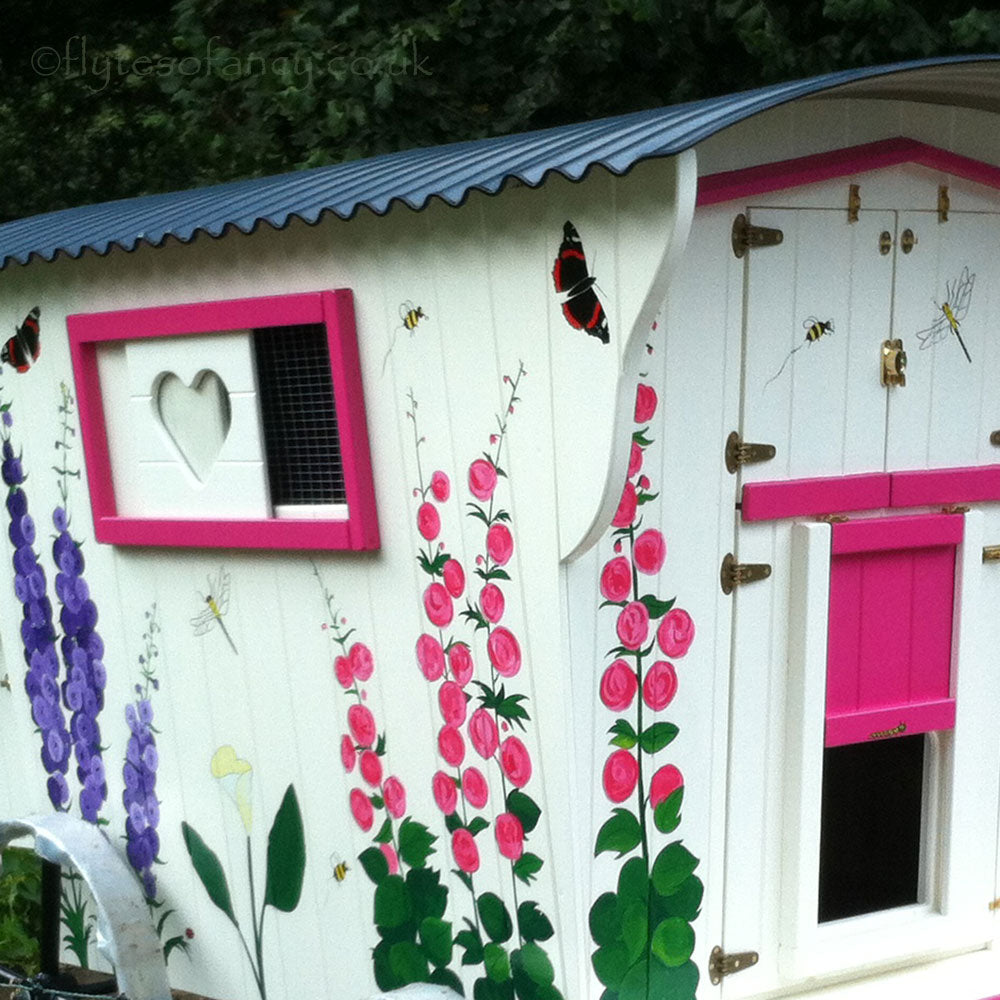 The Gypsy Daydream Chicken House
The Gypsy Daydream is as individual as your own imagination.
Whilst the Daydream shown here explores the delights of dancing daffodils and delicate ivy on a base of Cornish Butter, the decorative design of your Gypsy will be entirely inspired by you.
Three coats of the Heritage colour of your choice will be applied before our artist begins to express your own ideas and create a design that is completely unique.
When you start to think about your bespoke design, please also be aware that our Artist can decoratively inscribe a name, personal message, or scrolled commemoration (to celebrate an anniversary for example) onto your Gypsy.
* For 15 laying hens
* External detachable nestbox
* Removable Dirt Tray
* 3 perches in a spacious inside
* Stable door access
* Portcullis pop-hole
* Auto Door Opener compatible
* Sliding ventilation windows
* Marine Chandlery fittings
* Steel wheels for mobility
* Grey coated Steel Curved Roof
* Timber protection applied
* Delivered Assembled or Flat-packed
The dimensions of your Gypsy (including the external nestbox and with the folding steps in the 'down' position) are:
Externally: Width Max: 1530mm; Length: 2630mm; Height: 1680mm.
Internally; Width Max: 1300mm: Length at max: 1500mm; Height: 1300mm.
Floor area: 1150mm wide x 1300mm long (front to back)
Delivery, ready assembled (depending on access and method chosen), is included in the price for most England postcode destinations. As this is a made-to-order item, delivery timescales are currently approx 6 weeks.
For further information or to request a brochure, please call us on 01300 345 229. You are also welcome to send your enquiry to info@flytesofancy.co.uk
Built as a romantic hideaway for up to fifteen lucky ladies, The Gypsy Daydream boasts an impressive list of quality features including:
Triple-layered painting, by hand, and finished with the illumination of your choice
Solid Marine Chandlery Brass fittings;
Heavy-gauge Steel galvanized and trim-finished roof;
Hand-made solid Steel, steerable wheels and axles;
Double plated screws and Stainless Steel nails throughout;
Detachable external nestbox;
Removable perches;
Easy-clean slide-out double-sealed plywood dirt tray;
Upper double Stable door and lower single door with pop hole;
Twin trademark Heart-shaped sliding windows;
Fold-up lockable steps and a custom-made Steel handlebar attachment for steering and relocating your Gypsy.
Delivery timescales are currently approx 4 weeks.
Our current sphere of delivery encompasses only mainland UK. The Gypsy Daydream price includes delivery to most locations, however, remote areas may have a surcharge.
We can offer delivery nationwide, fully assembled, by a specialist carrier. Due to the bespoke nature of The Gypsy Collection, and the delivery preferences of our customers, please telephone 01300 345 229 to discuss the range of delivery options available.
Alternatively, please do feel free to make an enquiry by sending an email to info@flytesofancy.co.uk
For some areas, we may need to despatch in a flat-packed form for delivery by pallet company. The Daydream would then need self-assembly and would arrive with full instructions and telephone (or Facetime) backup as required.
The Gypsy Daydream Chicken House
great service friendly and helpful staff,very nice owners.
The Gypsy Daydream Chicken House
Have always received excellent customer service and advice from these guys Outstanding quality and very much appreciate the help received during the order process
The Gypsy Daydream Chicken House
Service and products are both excellent.