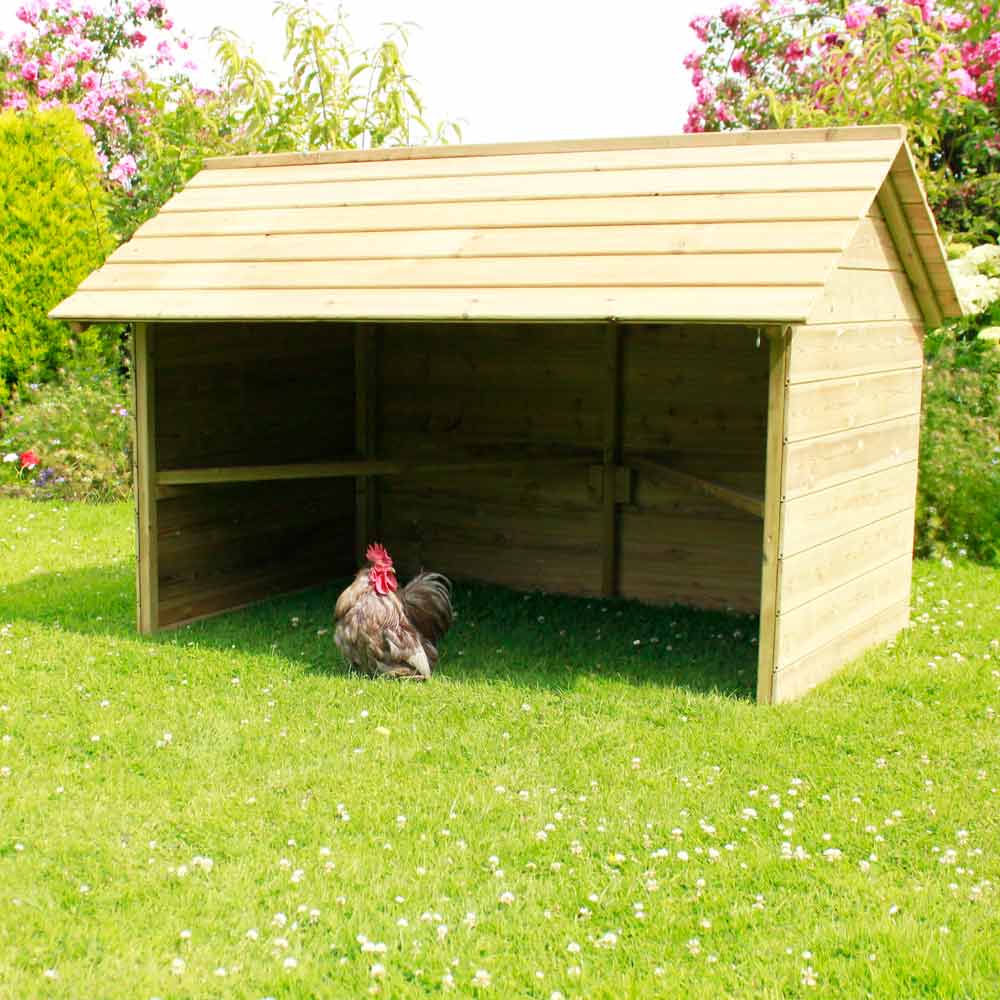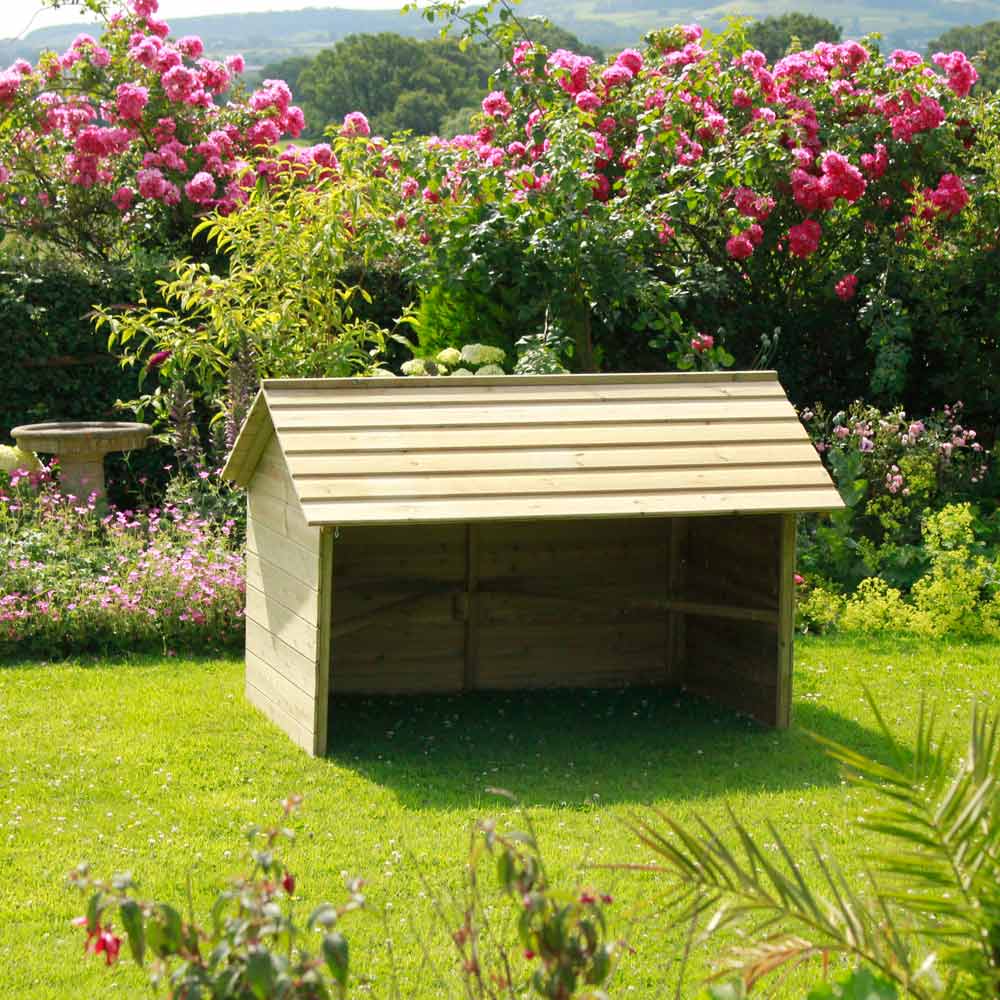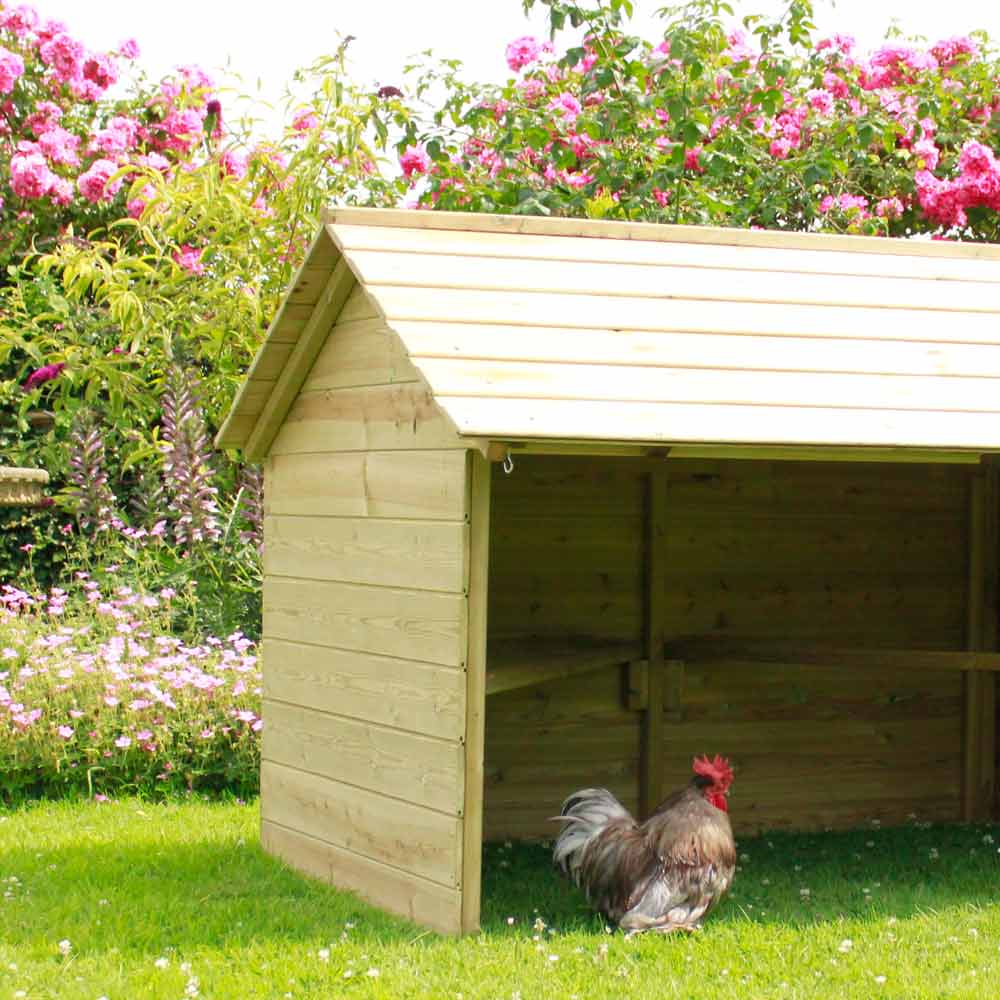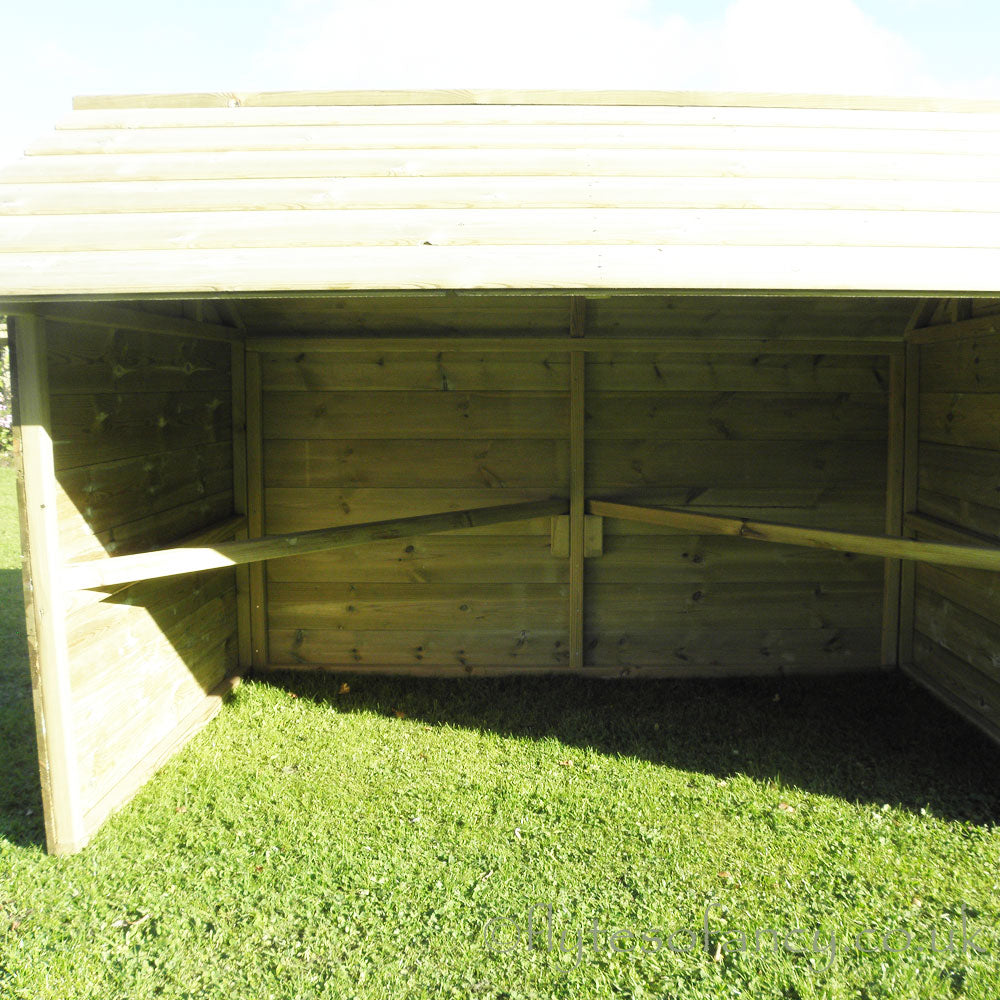 The Jumbo Chicken Shelter
The Jumbo Chicken Shelter - a very large field shelter for chickens.
Designed and built here in Dorset by Flyte so Fancy using high-quality pressure-treated timber, built to last!
The Jumbo Chicken Shelter is approx. 6ft wide x 4ft deep for large-ish flocks of poultry to give them shade in the summer and shelter from wind and rain in the other 3 seasons. Use to also hang feeders inside or to hang treats like Boredom Busters.
For the Chicken Shelters, we use 16mm T&G pressure-treated timber for the sides and 21mm T&G Shiplap for the roof.
This Shelter is approx 6ft wide by 4ft deep externally to give shelter and shade for a larger flock of birds (up to say, 20 birds). The roof overhangs the open front to provide maximum protection. It comes with two internal perches plus stainless steel hooks to hang feeders, drinkers or Pecking Blocks.
Dimensions: approx 183cm (6ft) wide x 133cm (4ft 4in) deep inc roof x 124cm (4ft 1in) high max.Excl. roof the footprint is approx. 155cm x 100cm.
Currently approx 2-3 week delivery.
Due to size, the Jumbo Shelter will be delivered in panels for simple self-assembly, with full instructions.
Delivered by pallet transport carrier (delivery starts at £59 for mainland England). For more details of how the deliveries are made see Delivery Information.
The Chicken Shelter - Jumbo
I ordered this shelter on line which was so easy to do. Flyte So Fancy were as great as ever. I got a phone call to confirm the order & to say when it would be delivered & was told the delivery people would ring me about an hour in advance. I was also told if I had any problems at all to give them a call. I didn't need to call them :O) The delivery people were amazing I did indeed get a call telling me what time it would arrive & they were as good as there word. Then the young delivery man was lovely, he went way above & beyond his duty, He unpacked it all saving me having to do it He also carried it I all nto the garage & took all the packaging away. Fantastic all round , no problems at all. A+++ This shelter is just amazing its fantastic.After having about 3 other cheaper shelters which just didn't last at all, I dreaded the winds coming as it was always a problem, so I decided to invest in a well made strong shelter This ticks all the boxes & some ! s is so much more than a bog standard shelter, I may well move in with the hens LOL! This shelter is huge and so well made , it all fitted together beautifully all the fittings are provided to make it so easy to put together. When we saw the quality of this shelter we decided to put a base on the bottom so we now have a hen friendly bedding in our shelter, its wonderful! I thank you & my hens thank you for their cosy shelter :O) I would recommend anyone thinking about a shelter to just go for it you wont regret it ! :O)
Thank you so much for your wonderful feedback! it was a pleasure to read and we are so glad to hear the delivery went well and that you and your girls like the Shelter. BW, Anne
The Chicken Shelter - Jumbo
Service is brilliant ordered am mon. Received the order am the next day. Thankyou.