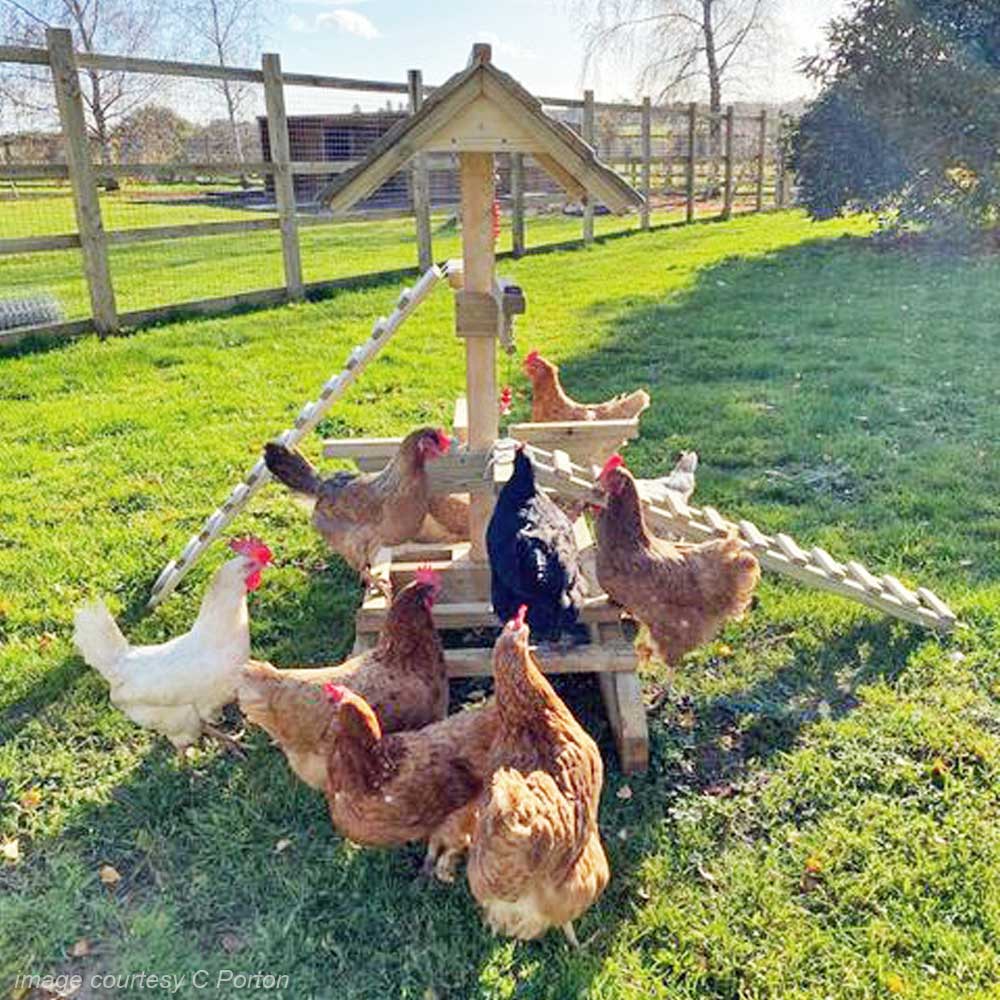 The Chicken Jungle Gym - XMAS OFFER
CHRISTMAS OFFER ON OUR JUNGLE GYM CHICKEN PLAY CENTRE - ORDER NOW - OFFER ENDS 8th DECEMBER !!
The Chicken Jungle Gym®, designed and made by Flyte so Fancy.

Are your hens looking for some entertainment? In need of some exercise? Or just after a little adventure? Look no further, this is the answer ...
Our Chicken Jungle Gym® has everything - a ramp, a ladder, perches at different levels, hanging points for treats and feeders and a little roof for shelter from sun or rain. As you can see our birds took to it straight away and just love it.
This Gym for Chickens is really robust to stand up to years of use by all kinds of birds, and strong enough to withstand the odd gale or two as well.
Please do check these dimensions as it is quite a large item.
Made to our usual high standards from pressure treated timber. Easy to assemble with full instructions and all fixings included.
Dimensions: 1.4m long (base) x 54cm wide (base). Overall height 1.27m. Ramps are 1.13m long, the perches on the pole are 31cm long. The roof is 70cm x 62cm.
The Chicken Jungle Gym will arrive in 3 packages via courier delivery, flat-packed for simple self-assembly.
Please allow up to 2 weeks for delivery.
Thrilled!
I recently purchased The Chicken Jungle Gym and found it extremely well made and super easy to put together (I am female in case this helps any women out there wondering). I did require a good electric screwdriver, but the instructions are clear and concise and gives a good step by step on how to construct it. My pekin bantams and chickens have explored it a little, but they are still looking at it as if it's a large Elephant and are a little nervous, but I am sure in time they will be climbing all over it and enjoying every minute. I must say it looks very lovely in the run we have as well, the wood is a lovely shade and blends really beautiful with the nature around it. Lovely piece! Thank you :)
Thank you for taking the time to leave such a lovely review!
Our Brahmas go back and forth between using it as a morning meeting place and trying to tunnel through the woodchip underneath it.
If you keep hanging treats on it, and steadily move them higher, they'll soon get used to the game of getting up to where the tasty titbits are :)
The Chicken Jungle Gym
Goods arrived on time, well packaged, and the product is well made and very sturdy. Goods arrived on time, well packaged, and the product is well made and very sturdy.
The Chicken Jungle Gym
Excellent product. Really good quality. Highly recommend. Excellent product. Great company
The Chicken Jungle Gym
My parcel arrived sooner than I was expecting which was great. It arrived very well packaged and was extremely well made with good quality wood. The Jungle Gym was smaller than I had imagined, which is a good thing as it is only for my little Pekins and I wanted it to fit inside my run.
The instructions were clear with lots of good photos.
The Chicken Jungle Gym
excellent communication, excellent value and kept in touch about delivery. I would highly recommend this company. I eflt I had the personal touch I have not yet assembled this product, but it is very good quality and im sure my girls will love it.