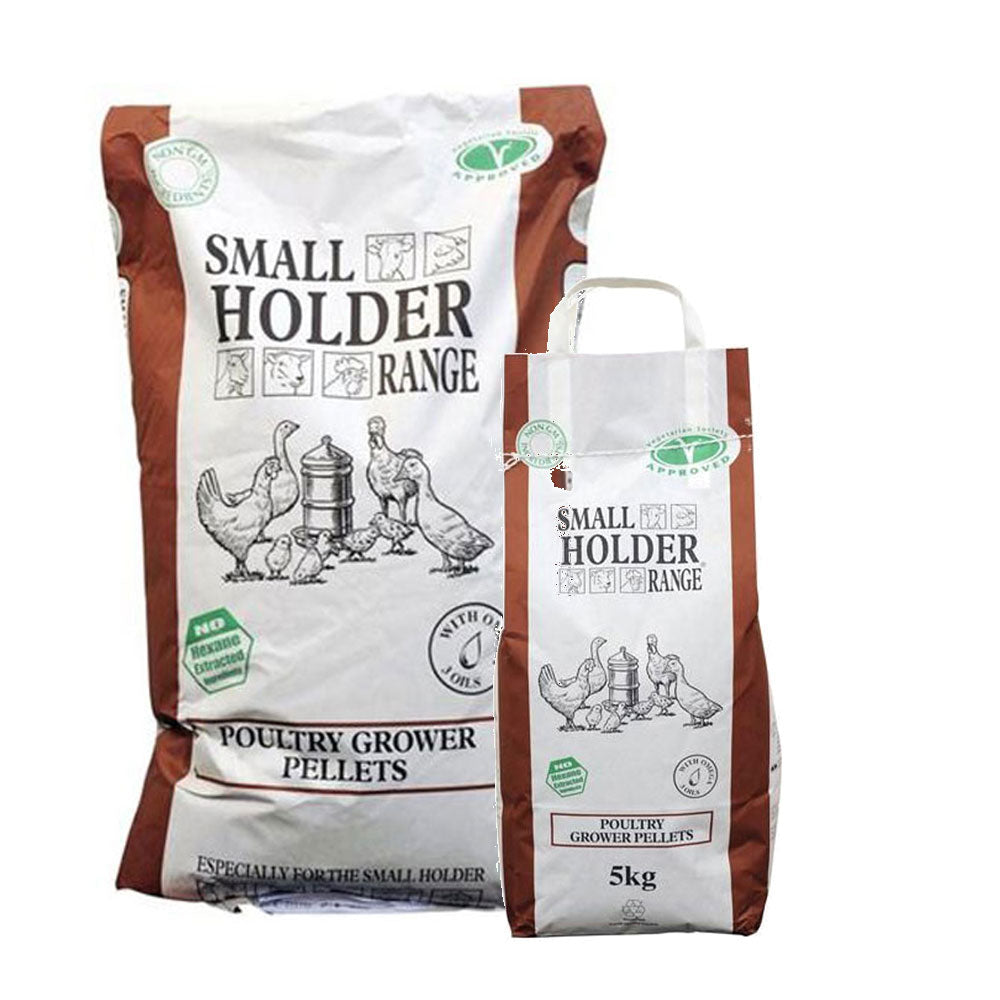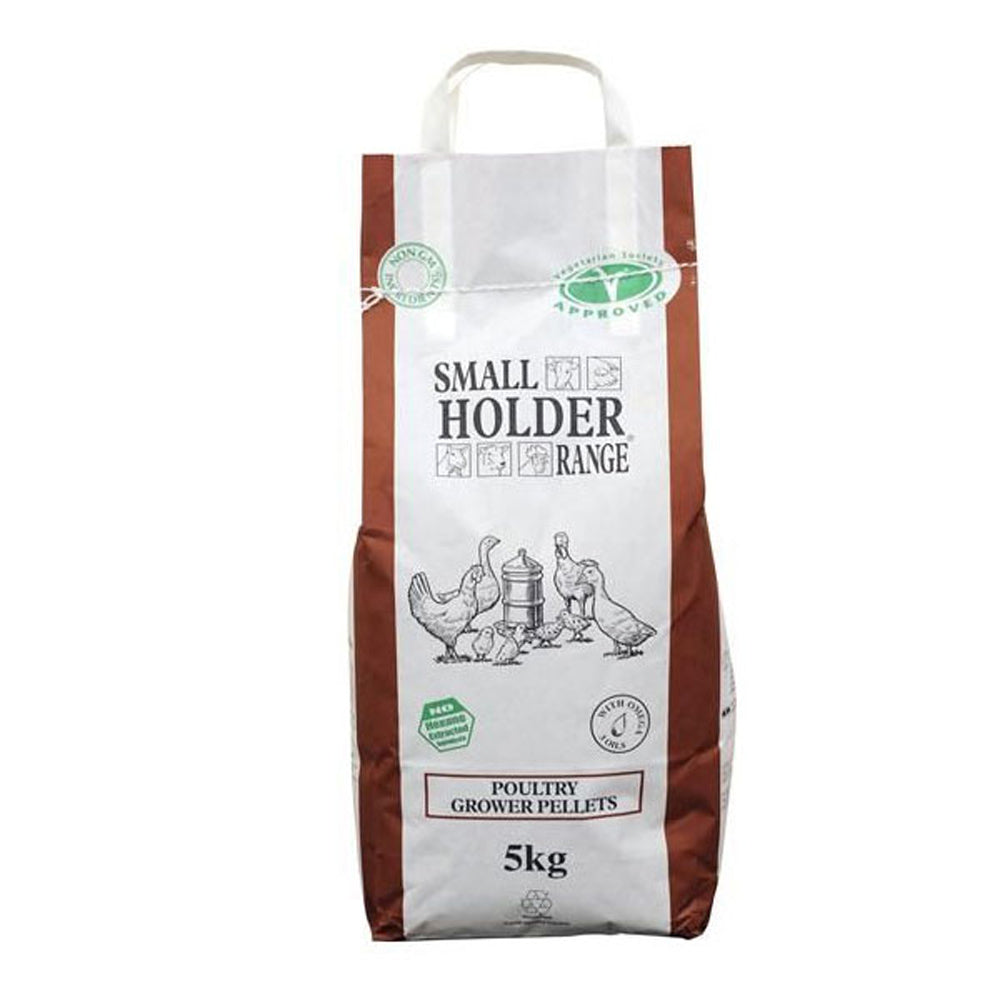 Smallholder Poultry Growers Pellets
20kg SIZE ONLY AVAILABLE FROM MARCH TO OCTOBER.
Smallholder Poultry Growers Pellets - 5kg or 20kg sacks.
Encourages a slower, more natural growth rate to finish. Drug-free – This feed does not contain Coccidiostats or growth promoters.
Contains prebiotics to help support digestive health. With vitamins and minerals for a complete, nutritionally balanced diet.
Growers Pellets should be fed from 6-8 weeks onwards and may be fed to finish for meat birds. Restrict the feed or mix with wheat to slow the growth rate.
These Growers Pellets are small enough (2.5mm dia.) for bantams. For birds that are to be kept as laying hens, gradually introduce Free Range Layers Pellets from 16 weeks.
Allen & Page say "Smallholder Animal and Poultry Feeds are GM-Free. All feeds in the Smallholder Range are approved by the Vegetarian Society and are free from animal by-products. We only select the highest quality vegetable oils and the vitamins we use are not covered in the traditional gelatine coating." Establishment No: GB226 0005 UFAS 1.
Provide on an ad-lib basis, they will require about 100-150g per bird per day. Introduce a new feed gradually over 7 to 10 days to help a smooth changeover. This feed should be fed with ad-lib fresh water, and poultry flint grit should always be made available.
Analytical Constituents: Crude Protein 16.0%; Crude Ash 6.0%; Crude Fibre 5.0%; Crude Oils & Fats 4.5%; Calcium 0.9%.
Composition: Wheat, Wheat Feed, Beans, Linseed, Peas, Maize, Di-calcium Phosphate, Calcium Carbonate, Salt, Yeast, Seaweed, Fructo-oligosaccharides. The Lysine and Methionine in this feed are from natural sources – synthetic amino acids are not used in this feed.
Standard delivery via courier is next working day to most mainland UK destinations for orders placed before 2pm (excl. weekends and bank holidays).
Smallholder Poultry Growers Pellets - 5kg
As a new duck owner I needed some advice. Flyte were incredibly helpful and clear. Ducks like it! Bought after advice from Flyte
Smallholder Poultry Growers Pellets - 5kg
Very fast service, Delivered the very next day! My chicks love them and their good health shows a great product.
Smallholder Poultry Growers Pellets - 5kg
Excellent service quick delivery and reasonable price. Bantam chicks loved it !!
Smallholder Poultry Growers Pellets - 20kg
Smallholder Poultry Growers Pellets - 20kg
Excellent service from phone enquiry about product, advice, placing order, dispatch and delivery. Would highly recommend Difficulty in locating pellets locally. Flyte delivered next day.