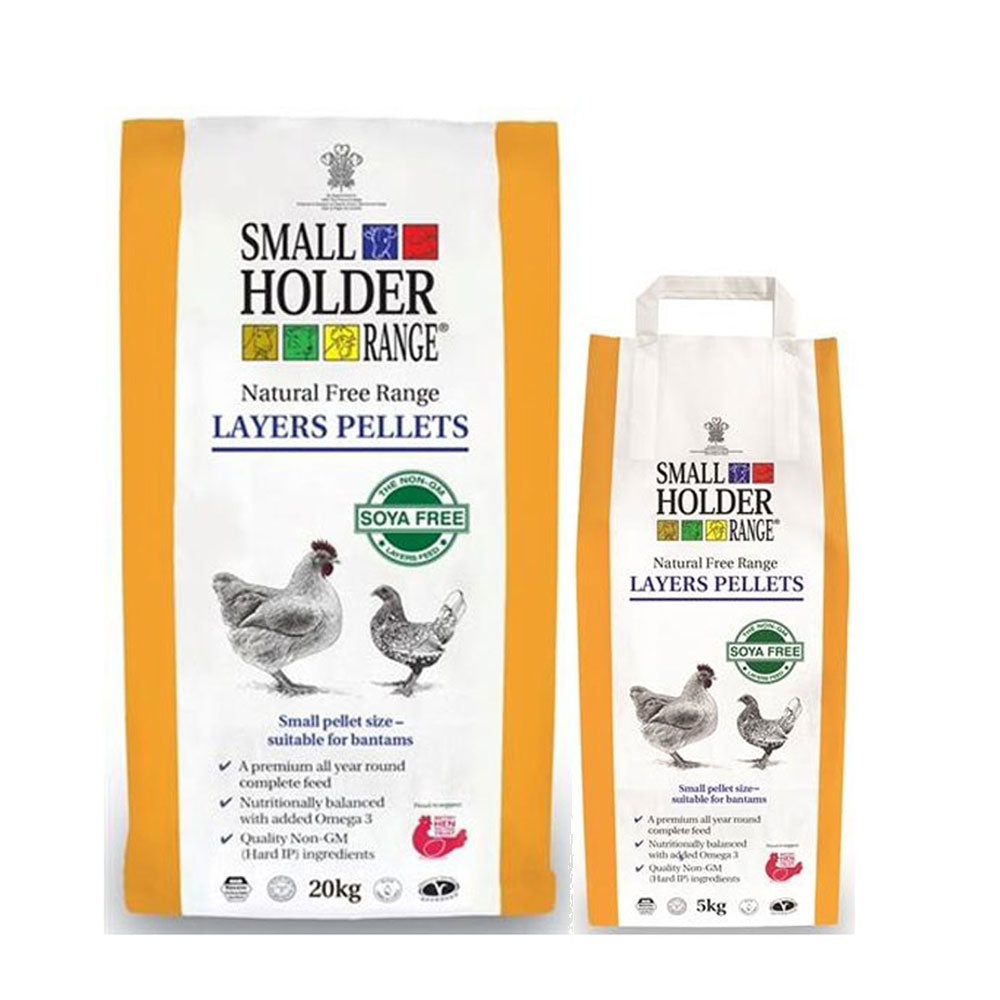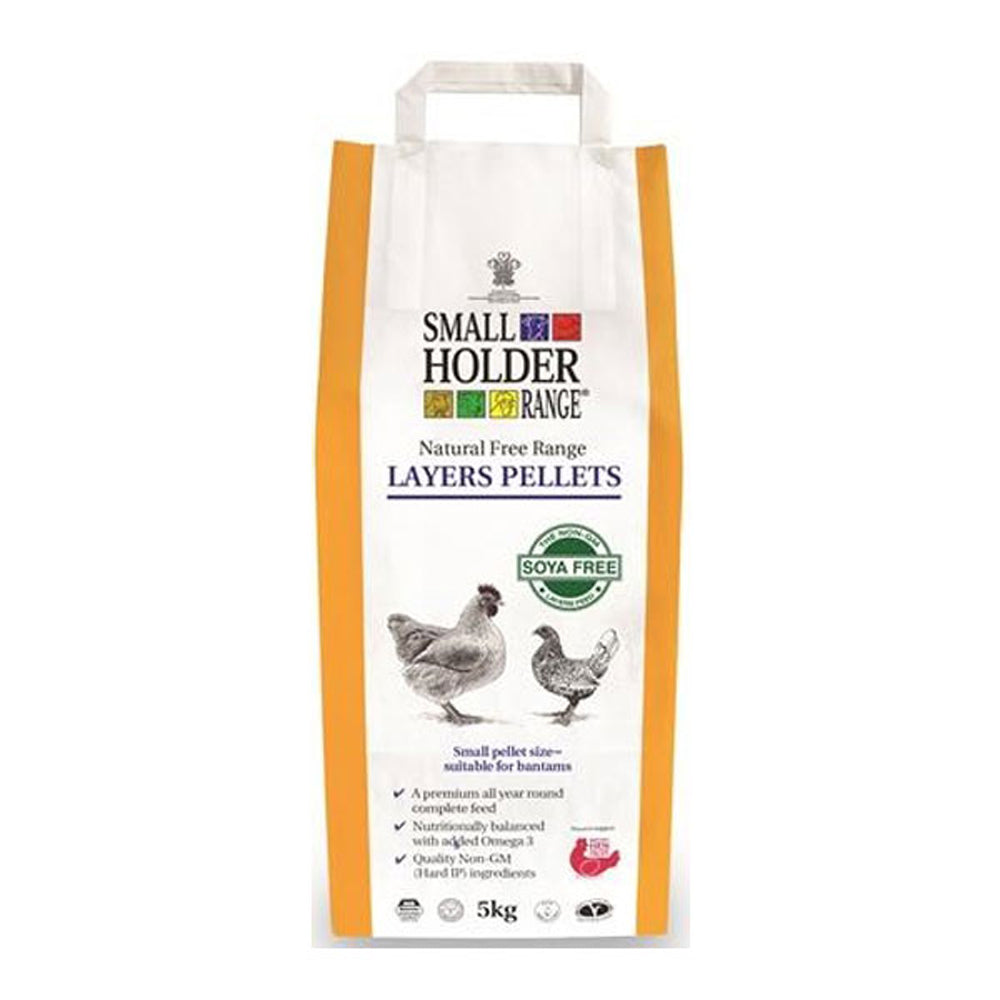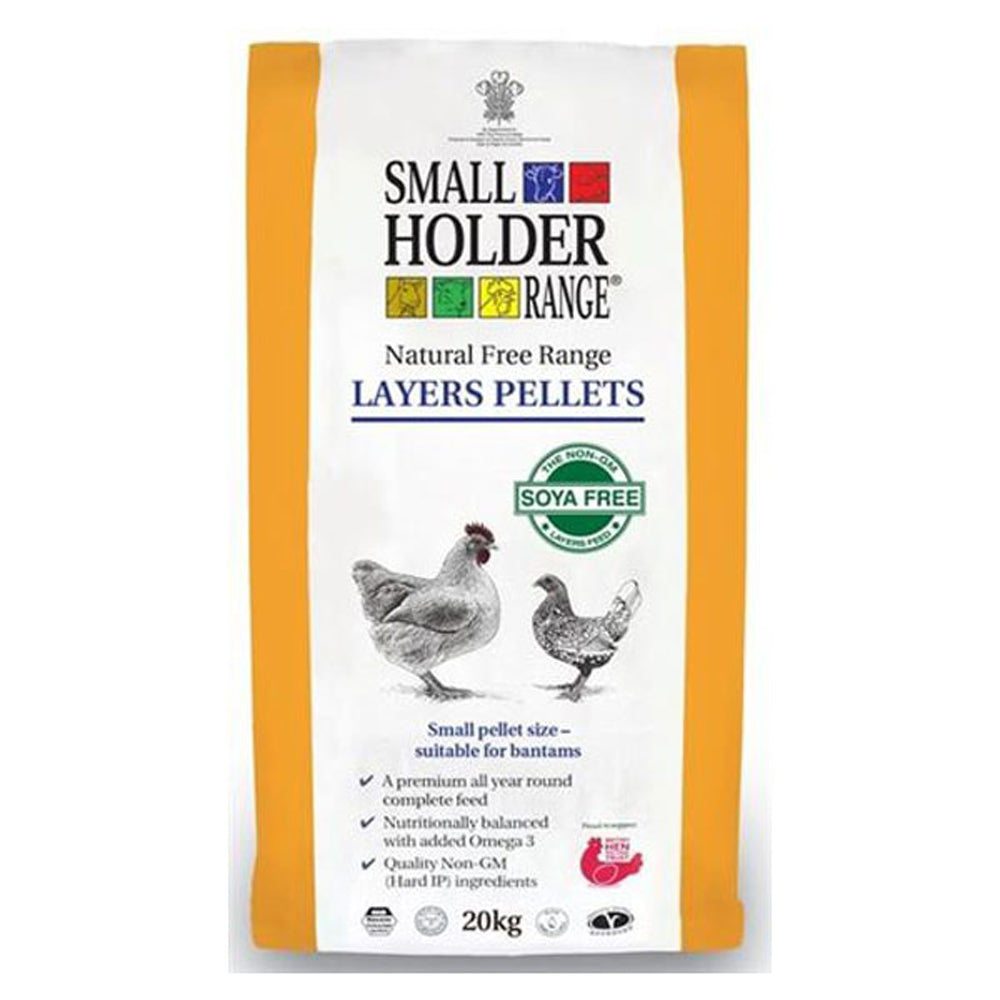 Smallholder Free Range Layers Pellets
Smallholder Free Range Layers Pellets - 5kg or 20kg sacks. Small Pellet Size – Suitable for Bantams. Soya-Free.
Smallholder Range only includes natural ingredients such as Marigold leaf for lovely golden yolks and a deep rich taste. Smallholder Range only source identity preserved (Hard IP) Non-GM ingredients.
Smallholder Range feeds are made from natural ingredients which can result in the feed changing colour slightly through the seasons.
Smallholder Free Range Layers Pellets provide a complete feed for free-range hens, though fresh vegetables or mixed corn may still be fed as a treat in the afternoons.
This feed provides all the vitamins, minerals (including calcium), and natural ingredients needed for a strong-shelled, good-sized egg with a natural golden yolk colour.
FREE from ARTIFICIAL YOLK PIGMENTERS. Includes OMEGA 3 OILS for healthier birds and better eggs. The Lysine and Methionine in this feed are from natural sources – synthetic amino acids are not used in this feed.
Allen & Page say "Smallholder Animal and Poultry Feeds are GM-Free and Soya-Free. All feeds in the Small Holder Range are approved by the Vegetarian Society and are free from animal by-products. We only select the highest quality vegetable oils and the vitamins we use are not covered in the traditional gelatin coating." Allen & Page Establishment No: GB226 0005 UFAS1.
Composition: Wheat, Wheat Feed, Beans, Calcium Carbonate, Linseed, Maize Gluten, Maize, Grass Meal, Di-calcium Phosphate, Salt, Seaweed, Marigold flowers, Yeast, Fructo-oligosaccharides
Analytical Constituents: Crude Protein 16.0%; Crude Ash 13.0%; Crude Oils & Fats 4.5%; Crude Fibre 4.5%; Calcium 3.8%.
Feeding Advice: Feed all year round, on a free-access basis. An average hen will eat 100-150g (4oz) per day. As the hen's crop can only hold about 100g it is best to give grain or mixed corn separately, later in the day, or she will be unable to eat sufficient pellets.
Standard delivery via courier is next working day to most mainland UK destinations for orders placed before 2pm (excl. weekends and bank holidays).
Smallholder layers pellets
I like these pellets because they are both GM and soya free. They also come in paper packaging all meaning they are better for the environment and better for my hens.
Flyte order
Always efficient and friendly service.
Good pellets
I've been buying these for a while now, the girls love them, they're all very healthy and lay delicious eggs.
Happy chooks !!!
Always a great service . Best products on the market .
Smallholder Free Range Layers Pellets - 5kg
Never had a problem with this firm, always had quick delivery, an excellent service all round. Only ones chickens will eat.