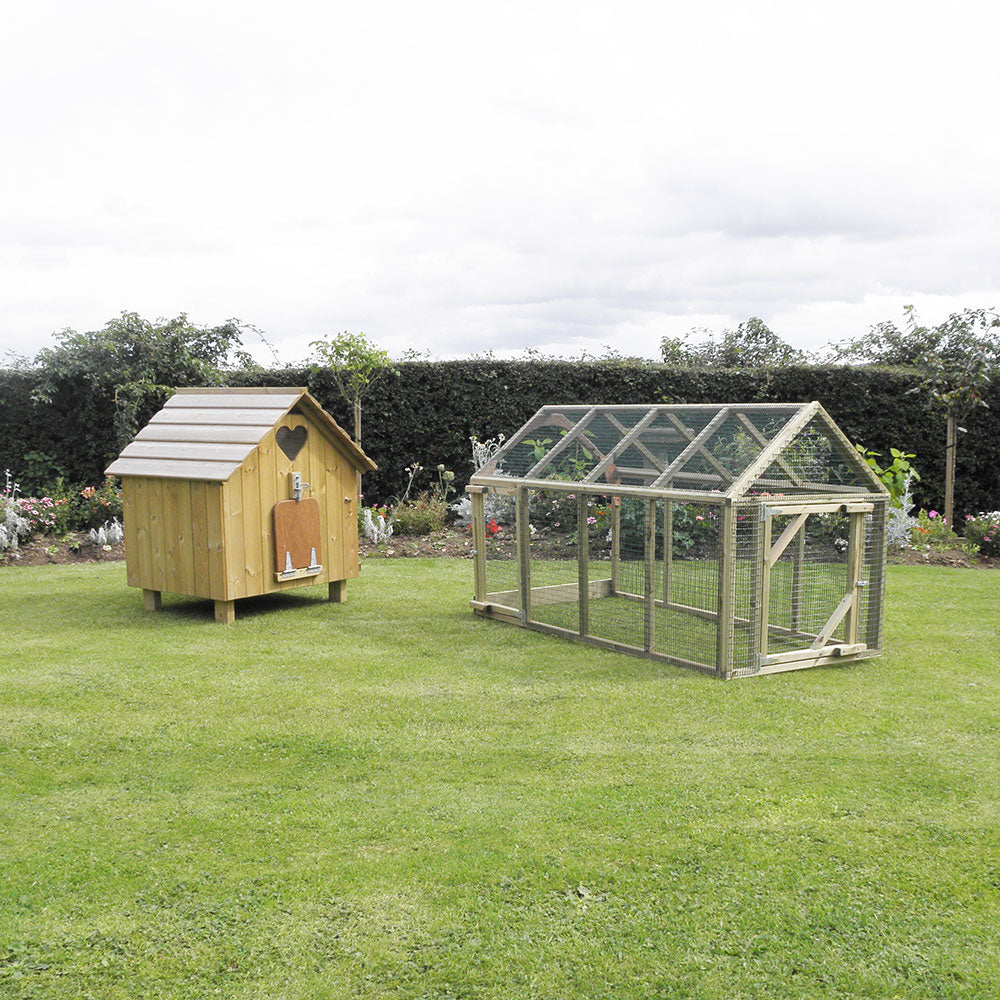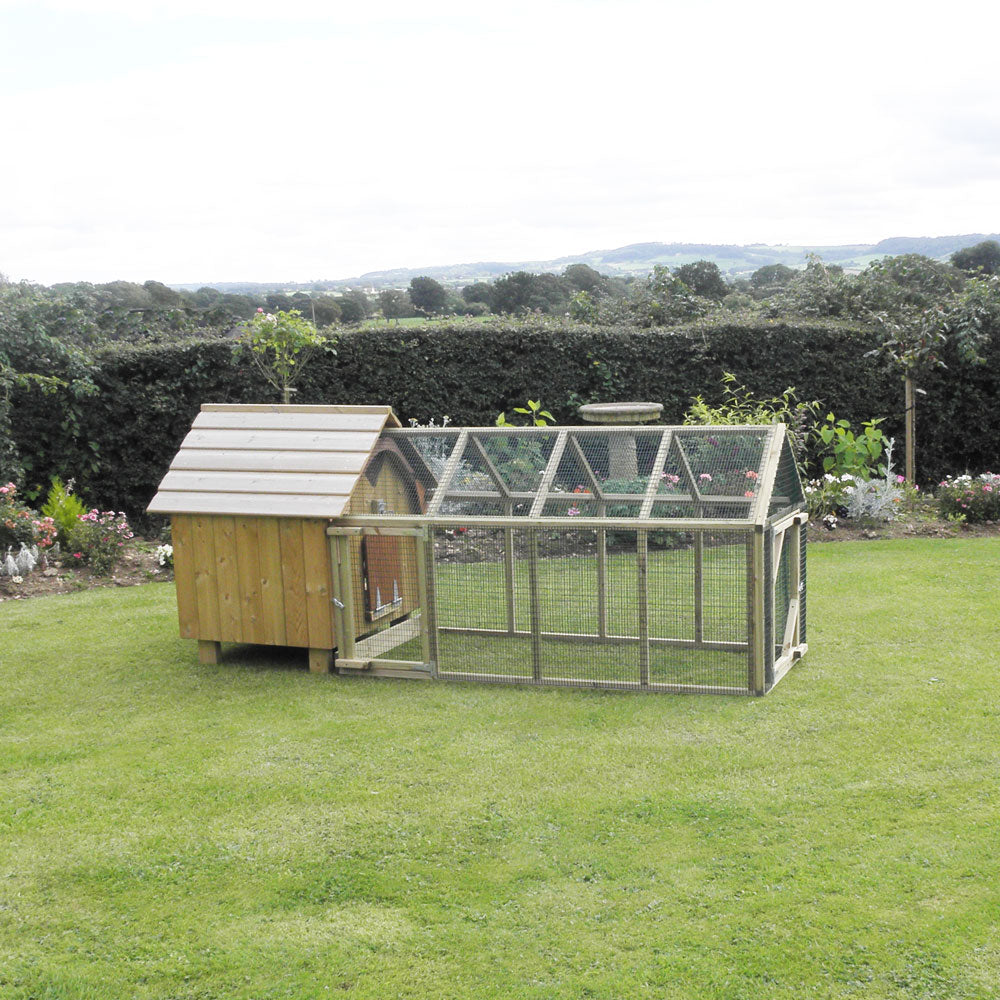 Runs for the Maggie's Six Hen House
Chicken Runs to go with the Flyte so Fancy Maggie's Six Hen House. A 6ft or 9ft long wired chicken run to keep your chickens safe from predators or contained within one area of your garden.
The 6ft Run is good for up to 6 birds as temporary and occasional security for your hens e.g. while out at work perhaps or as a longer-term space for 3-4 birds.
For a more semi-permanent enclosure of 6 birds, we recommend at least the 9ft Run but this does also depend on the size of bird you have.
There is an access door near the hen house so you can close the pop-hole, and a second door at the end of the Run which allows access to place your feeder and drinker.
The Run slides up to the hen house and fits snugly up against the front to meet against the legs and cover the whole front of the house.
Other secure Run options are the Poultry Protection Pens which can provide a much larger area for a permanent enclosure
Made of pressure-treated 38 x 38mm timber frames covered in strong, ½-inch by 1-inch, 18g green plastic-coated (European) galvanised weldmesh to further enhance longevity (NOT chicken wire because foxes will chew through chicken wire). Plywood roof braces are included for rigidity.
External Dimensions:
The 6ft Run 90cm wide x 188cm long x 107cm high (3ft x 6ft 2in x 3ft 6in).
The 9ft Run 90cm wide x 284cm long x 107cm high (3ft x 9ft 4in x 3ft 6in).
If ordered with the Hen House the Run will arrive flat-packed in panels for you to simply screw together, screws and instructions are included.
If ordered separately, it will be delivered (flat-packed) via courier usually within 2-3 weeks.
Maggie 6 hen run
Excellent service and quality product easy to assemble and even delivered 3 days earlier as I was going away . Highly recommended this company
9ft run for Maggies 6 hen
Lovely run although not as robust as the one I bought off you 10 years ago. Found it difficult to put together but I am a 75 year old woman who did it on her own!
Run for the Maggie's Six Hen House - 6ft
Beautifully made and excellent quality. I bought the run for the Maggie's six hen house. Easy to put together. Love it, thank you. I bought the Maggie's 6ft run and it arrived really quickly. Really well made and easy to
Put together. The instructions are easy to follow. Looks good too.
Run for the Maggie's Six Hen House - 6ft
Extremely helpful company who really want you to have a good experience purchasing from them.
I realised on the day of delivery that the wrong phone number was on the drivers schedule and they immediately contacted the delivery company to change it in case the driver couldn't find my home. Sturdy well made chicken run
Run for the Maggie's Six Hen House - 9ft
Superlative proffesionals, faultless in every respect. Highest quality product in design, fittment and the materials used. Clear, descriptive instructions make assembly of the run very easy.