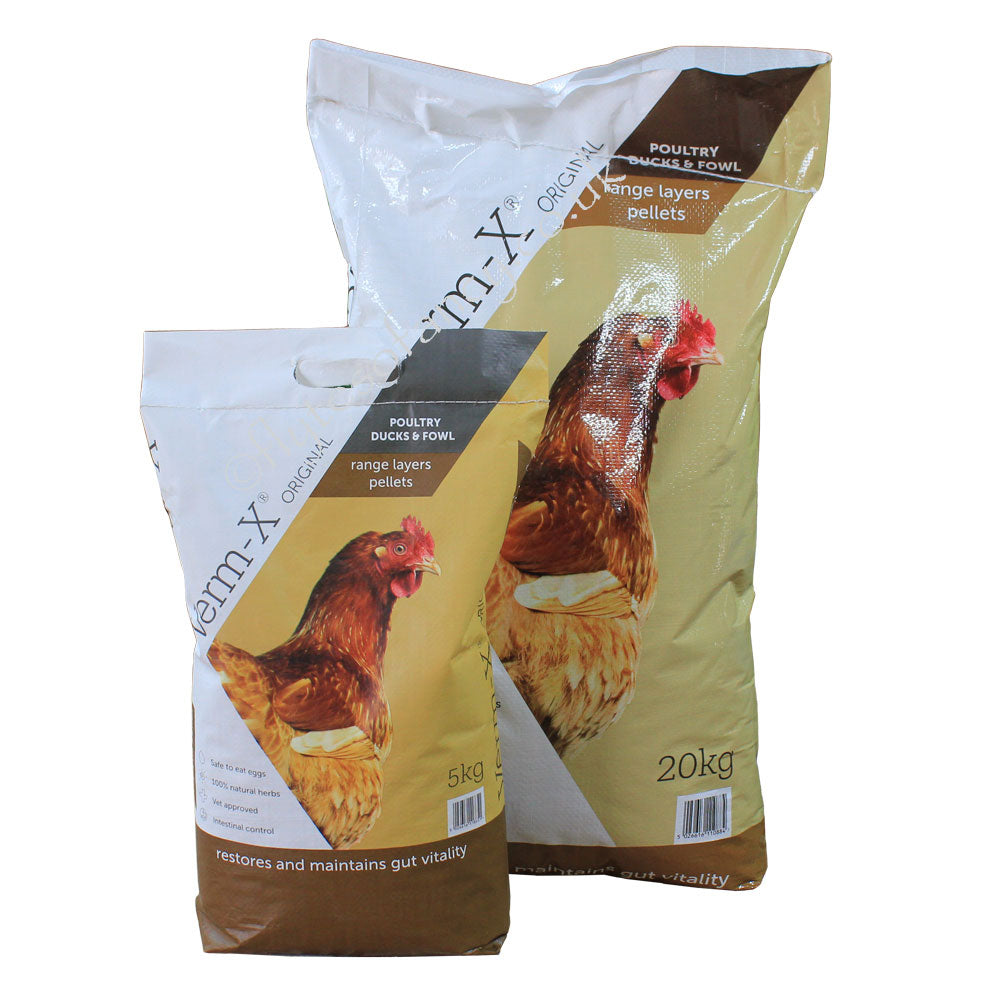 Range Layers Pellets with Verm-X
Range Layers Pellets with Verm-X, 5kg or 20kg bag, from Copdock Mill.
Premium quality Poultry Layers Pellets with added Verm-X for protection against intestinal challenges in your chickens. Feed these Range Pellets with Verm-X every day for continued protection.
Copdock Mill's Range Layers Pellets is a complete feed for poultry with the added benefit of the award-winning Verm-X Herbal Pellets which offers natural control and protection against intestinal parasites.
Verm-X is a blend of 11 herbs that are gentle on the gut and aid digestion in your chickens. It is an effective solution to worms in chickens and being 100% herbal you can continue to eat the eggs whilst it is being fed. The support given by Verm-X will also help prevent any unnatural drop in egg production, weak shells and pale yolks.
Ingredients: Wheat, Hipro Soya Bean Extract, Limestone Granules, Sunflower Extract, Wheatfeed, Dicalcium Phosphate, Salt, DL-Methionine, Layers Supp (DSM), Oil.
Analytical Composition: Crude Oil 4.5%; Crude Protein 17%; Crude Fibre 4%; Crude Ash 13.5%; Vitamin A; Vitamin D3; Vitamin E; Copper; Methionine; Selenium.
Standard delivery via courier is next working day to most mainland UK destinations for orders placed before 2pm (excl. weekends and bank holidays).
Layers Pellets with Verm-x
Brilliant product, no additional worming needed and the bantams love it!
Well they're eating them
My chooks seem to eat anything so can't really comment specifically on the food… yes they are eating them. It's the delivery I'm impressed with, always forget to order but these guys always get orders out quickly. Thank you
Range Layers Pellets with Verm-X - 20kg
Very quick delivery Bantams love it, I like it that the worming necessary with hens is all in with their food.
Range Layers Pellets with Verm-X - 20kg
Brilliant! Easy ordering. Order arrived next day at no extra cost. Next day del and very simple to order online
Range Layers Pellets with Verm-X - 5kg
Excellent fast service Excellent quality goods and marvellous choice of hen food. I give them pellets for a change as they prefer the Garvo Alfamix but like a variety