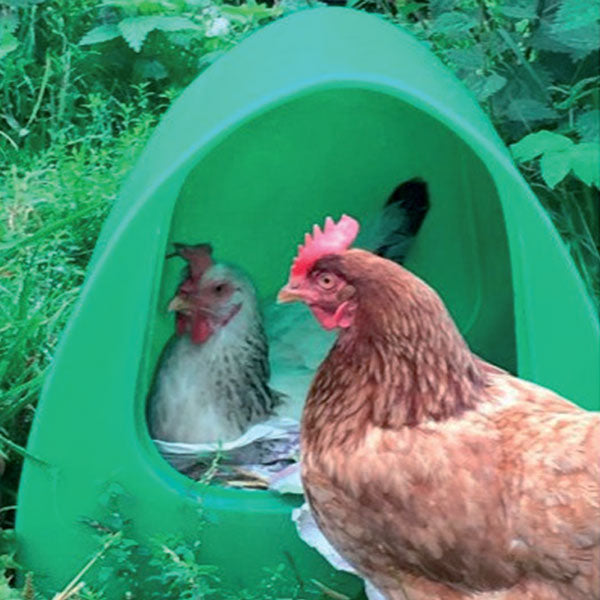 Poultry Palace Sheltered Nester
Poultry Palace Sheltered Nester - available in Green, Brown, Yellow, Purple or Blue.

A simple solution when temporary extra space is needed or to provide garden shelter.
The Poultry Palace Sheltered Nester, by Stubbs of England.
Dimensions externally: 44cm wide (max) x 43cm high (max) x 39cm deep.
We think this is a super idea to provide many solutions for shelter, dust baths, extra nest boxes, brooding hens, or just for extra space. In fact, we think there are of lots of things that this simple enclosed little plastic box could provide an answer for ...
* Extra nesting box space, indoors or out
* Covered dustbath area in the run or about the garden
* Isolation box when birds have to be put into a separate run area
* New bird introduction house to prevent feather pecking/aggression
* A Broody Hen nest box to prevent nestbox 'hogging' or to keep her separate inexpensively
* Easy to clean and disinfect
* Reduces chances of mite and lice in broody hens
* Completely portable and lightweight
* Easy to store when not in use
* Moulded in one piece and durable
* Waterproof, rot proof, non-porous polypropylene
* Available in Green, Brown, Yellow, Purple or Blue.
Standard delivery via courier is next working day to most mainland UK destinations for orders placed before 2pm (excl. weekends and bank holidays).
Poultry Palace Sheltered Nester
Poultry Escape Shelter
I bought this Nester, as one of my chickens was continuously being pecked by one of the others and had a nasty wound on its back. It's taken a week for the flock to get used to the Nester, but they are now using it as a place of refuge and there has been less pecking. So, I am very pleased with it.
Poultry Palace Sheltered Nester - Brown
I ordered a nest box which arrived the next day. The website was easy to use, the product is great - worth five stars. Product as described and sturdier than expected.
Poultry Palace Sheltered Nester - Green
Easy to order. Good prices and quick delivery. Good communication Good size and great price. Just helps the girls to isolate if needed. Solid and well made. Easy to clean
Poultry Palace Sheltered Nester - Brown
I have a bit of "non-standard" driveway - and they have helped me on a couple of occasions with a suitable vehicle for delivery. The products have also held up really well on the hill that I live on over this winter. Hens not super keen on this so far