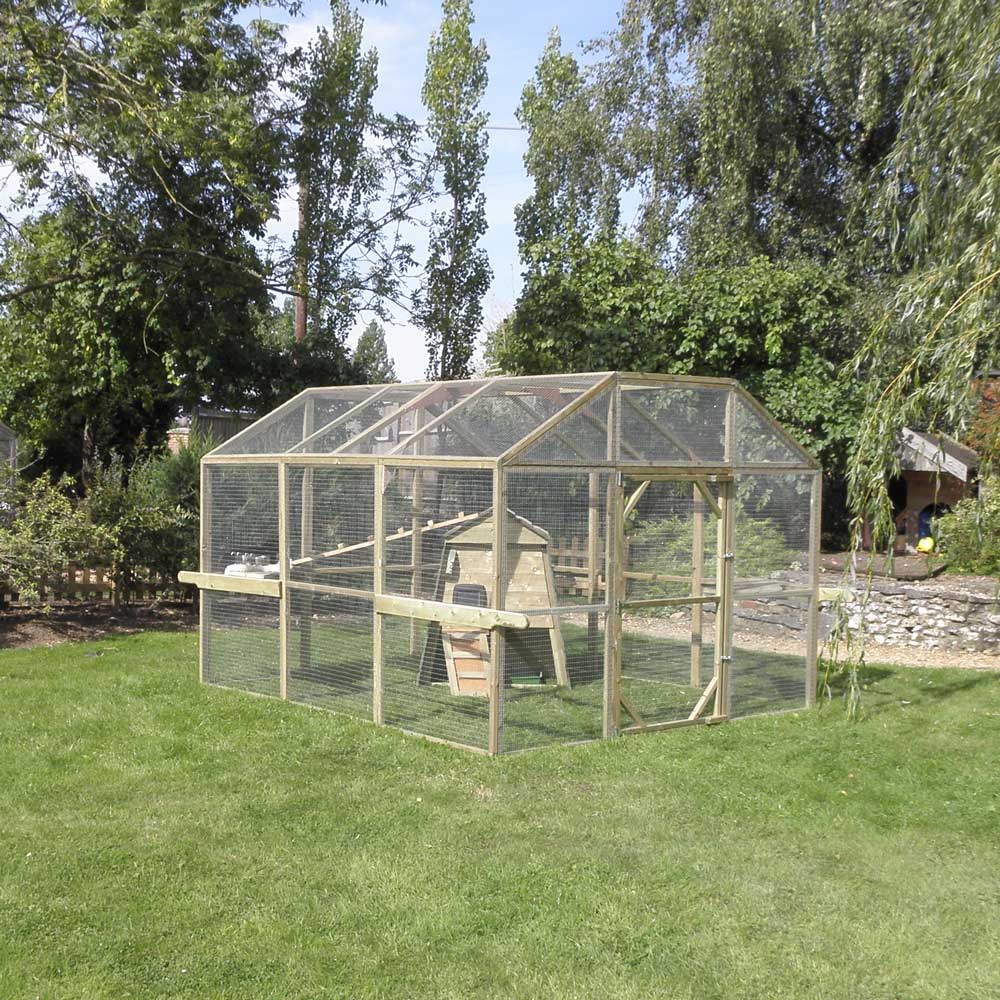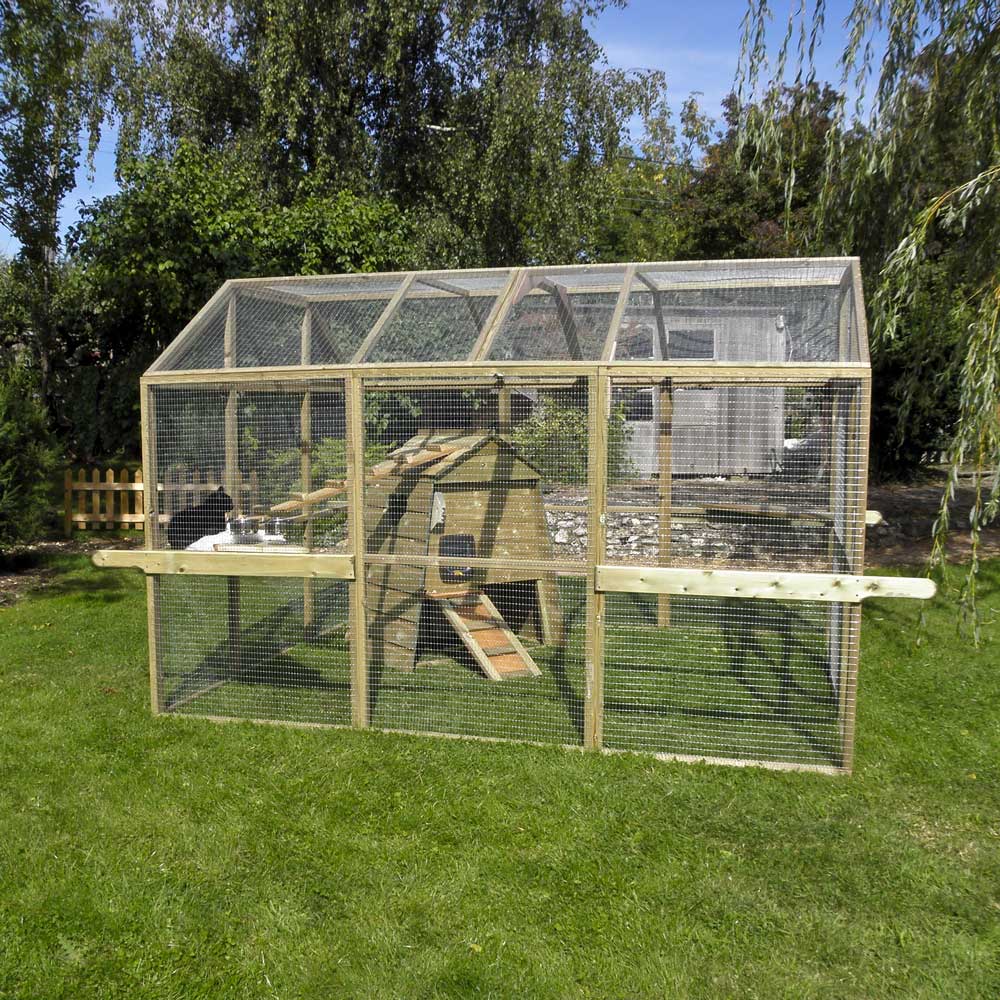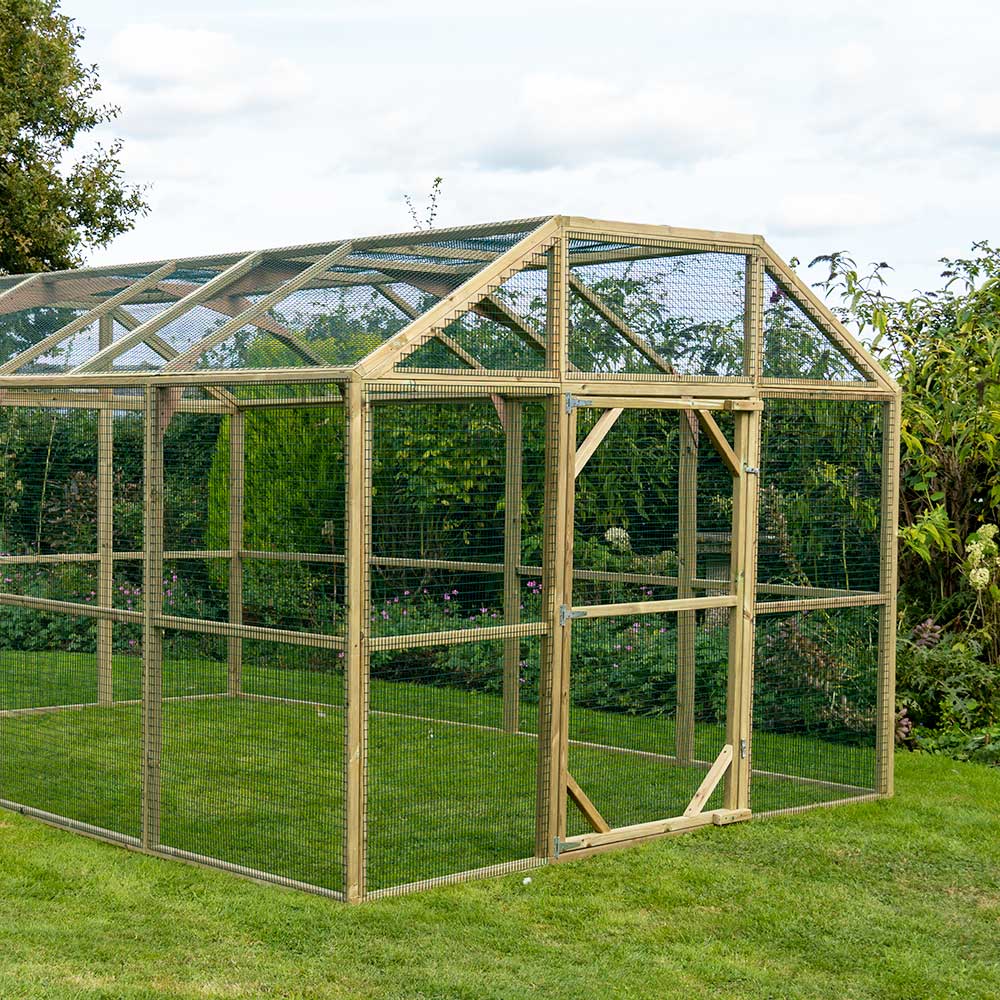 Outdoor Cat Play Pen 9ft x 9ft
Outdoor Cat Play Pen - Large Walk-in Pen approx. 9ft x 9ft. Outdoor play heaven for your favourite feline. A large outdoor, completely enclosed, walk-in playpen for cats.
Made from strong, pressure-treated timber framed panels covered with galvanised weldmesh, it is a very secure playpen for your garden. It has an (opening outwards) entrance door on the short apex side. The door is hinged left.
Just add your cat's house or shelter and your cat will be completely safe and happy outside in the fresh air. Comes with handles, one corner shelf and a ramp (cat house not included).
Just like our Poultry Protection Pen this unit will arrive in flat panels for you to simply screw together, full instructions and all the screws you need are included, and telephone back up always available. See also our Protection Pen assembly video.

Completely wired in strong 1 in x ½ in green-coated galvanised 18g weldmesh. This very strong welded mesh is stapled to a 38mm x 38mm pressure treated timber framework. Side panels are approx 3ft wide 5ft high. Head-height maximum inside is 6ft 6in. The door is 71cm wide x 139cm high.
Dimensions:
The 9ft by 9ft The Cat Playpen has an actual size at the base of 2560mm (8ft 5in) wide x 2840mm (9ft 4in) deep.
Delivery: Currently 1-2 week delivery.
This Pen would be delivered flatpacked in panels for self assembly, carefully wrapped and strapped on a pallet. For more details of how the deliveries are made see Delivery Information.
Delivery charges for this pallet delivery start at £59 for mainland England. Expected delivery date will be detailed in separate order confirmation email.
Outdoor Cat Play Pen 9ft x 9ft
Was disappointed that parts were missing. However the replacements were sent with no fuss and we received them two days later. The delivery driver was rude and very unhelpful.
My apologies again for the problems both with the delivery driver, I have spoken to Palletline about this, and that we missed the braces off your order, this has also been addressed.
Anne
Outdoor Cat Play Pen 9ft x 9ft
A pleasure to deal with. Finished putting it up a few hours ago, the kitty seems to enjoy it and it looks quite nice on the patio. So far, so good.
Outdoor Cat Play Pen 9ft x 9ft
Lovely service, really kept me in the loop as to when to expect delivery Really good quality, the cats love it :)
Outdoor Cat Play Pen 9ft x 9ft
Excellent customer service when delivery didn't quite go as planned. Lots of screws (!) but fitted together well and is just what we wanted. Could perhaps have a catch on the inside of the door to avoid cat pushing door open when you are putting in food, etc. Overall very happy with the pen!