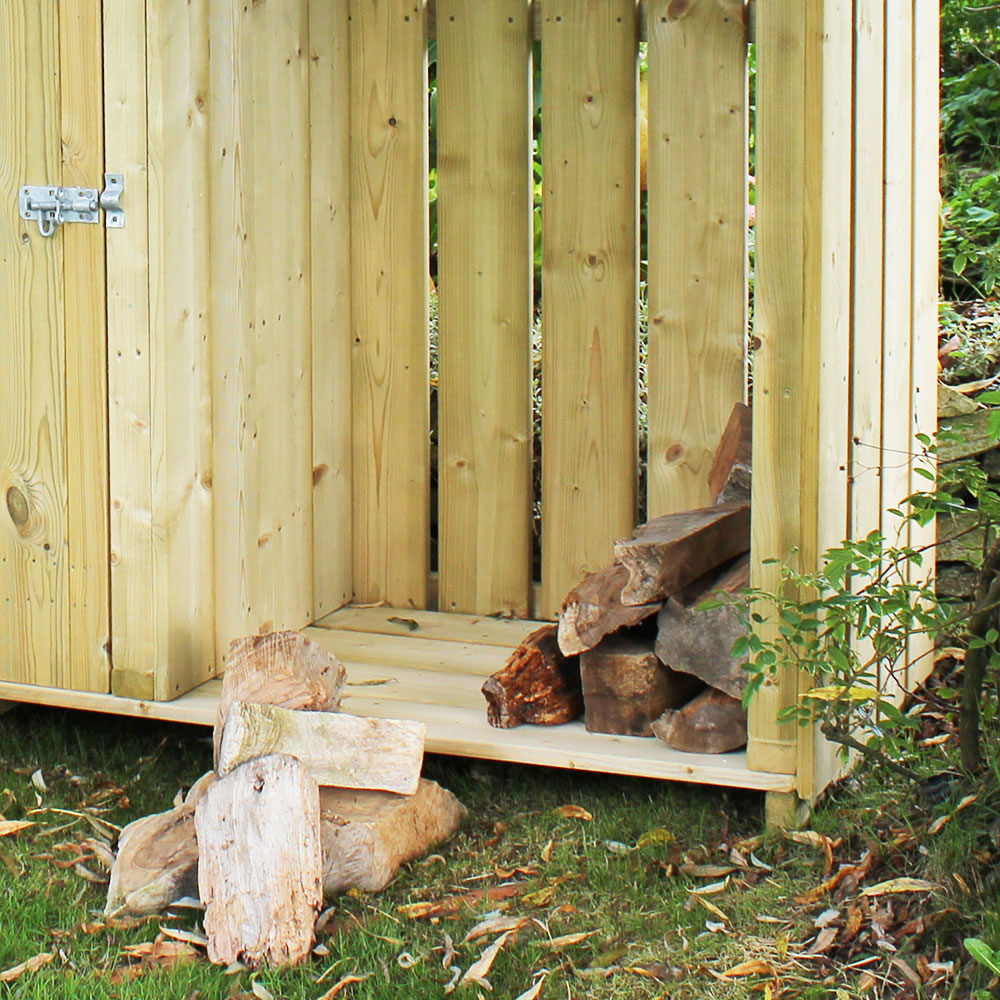 Okeford Garden & Log Store with Cedar Shingle Roof - 6ft wide
This Okeford-style Combination Log and Garden Store is a large 6ft wide Store for your garden with just over 1 cu m capacity for logs and a 2ft 8in wide tool store section.
This extremely robust store has been given added rustic elegance by being finished with Cedar Shingle Roof Tiles and a lead cap.
With an internal depth of over 2ft, the Okeford is capable of storing not only your garden tools and equipment in the securable cupboard but also for seasoning two or three stacks of prepared logs to last throughout the coldest months.
The 6ft wide Okeford Store is built to be rugged for life outdoors and last a considerable number of years. It is designed and made here at Dorset Log Stores and we make this Store to order.
Pressure-treated timber is used throughout, well braced and ventilated at the back and sides of the log store section with a very strong floor. The Store Cupboard section is equally rugged with closed timbers for security and dryness.
See also How we design and build our log stores.
Dimensions
External: Width: 1.95m (6ft 5in); Height1.9m (6ft 3in) at the back, 1.41m (4ft 8in) high at the front. Depth: 80cm (2ft 8in)
Internal: Width: 1.8m; Height (at the front) 1.4m; Depth: 65cm
Tool Store Internal: Width: 81cm; Height (at door) 1.4m; Depth 65cm
Log Store Capacity: 1.01 cu metres
All timber is from sustainable resources, FSC Certified, Pressure Treated Scandinavian Redwood
Floor, sides and back panels: 21mm planed boards
Tool Store Door: 19mm tongue & groove
Shingle Roof: Tiles of Western Red Cedar Shingles on a 12mm marine grade plywood base with lead capping strip
Frame: 38mm x 66mm pressure treated framing
Fixtures: Stainless Steel Nails; Plated & Painted Decking Screws
Fittings: Heavy Duty Galvanised
Timber Warranty: 15 years against rot & fungal attack
Currently approx 1-2 week delivery time.
Delivery of the Okeford 6ft Garden Store will be in panels for simple self-assembly, no carpentry required, full colour instructions and all fixings included.
Delivery will be on a wooden pallet via Palletline Transport delivery company on a weekday to suit you. See our delivery page for more details.