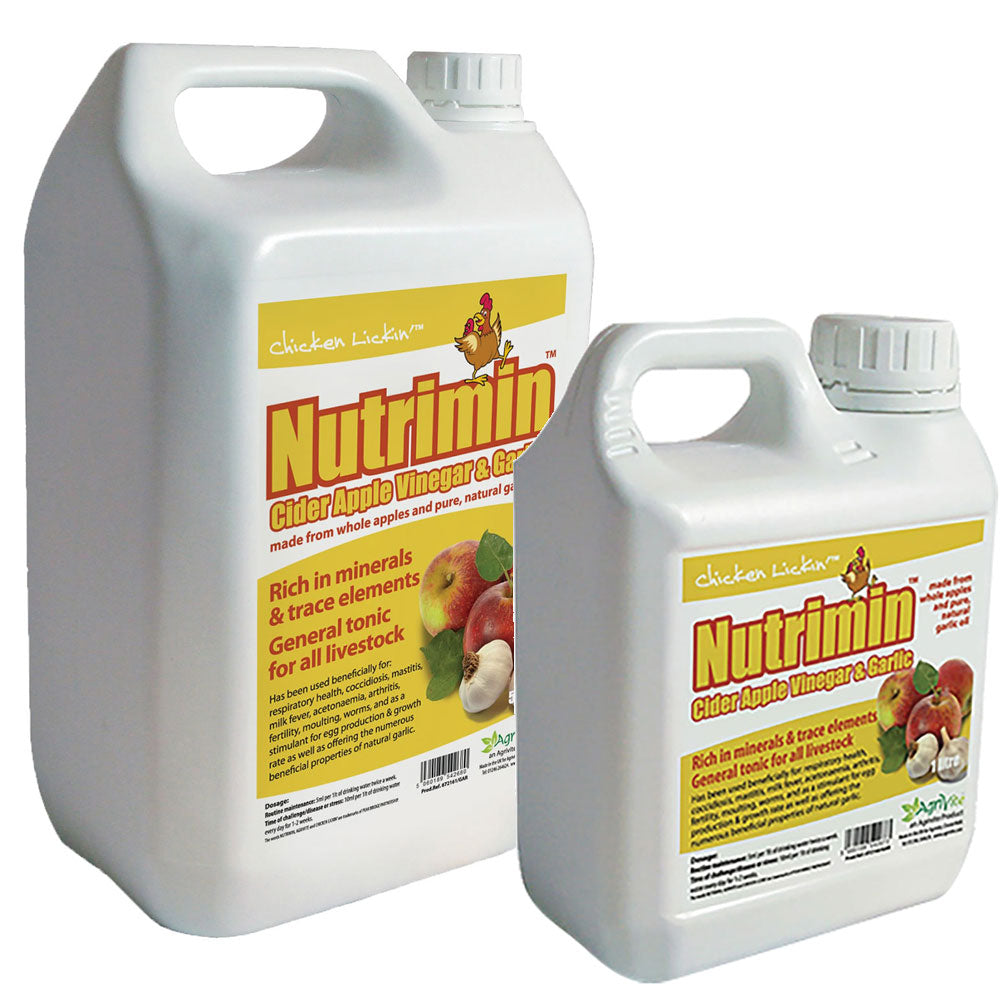 Nutrimin Cider Apple Vinegar & Garlic
Chicken Lickin Nutrimin Cider Apple Vinegar with garlic - 1 litre and 5 litre. Made from whole apples and pure, natural garlic oil.
SORRY, DUE TO SUPPLIER ISSUES, THE 1-LITRE SIZE IS OUT OF STOCK UNTIL EARLY AUGUST. 5 LITRE IS STILL AVAILABLE.
Used by poultry breeders as a stimulant for egg production and growth rate as well as offering the many benefits of natural garlic.
Nutrimin Cider Apple Vinegar with garlic is rich in minerals and trace elements, a great tonic for all livestock.
A good source of Vitamins A & C, trace minerals, calcium and phosphorous, to support the immune system and maintain vitality and good feather condition.
Nutrimin Cider Apple Vinegar with garlic has been used beneficially for:
* Respiratory health * Coccidiosis * Acetonaemia * Arthritis * Fertility * Moulting * Worms *
Dosage: 5ml per litre of drinking water for general routine maintenance. At times of disease or stress: 10ml per litre every day for 1-2 weeks.
PLEASE NOTE: Cider Vinegar should not be used in Galvanised Poultry Drinkers.
Standard delivery via courier is next working day to most mainland UK destinations for orders placed before 2pm (excl. weekends and bank holidays).
Nutrimin Cider Apple Vinegar & Garlic - 5 Litres
I love my Flyte so Fancy chicken house and run and sleepers and I also think the hard wood chip for the run is excellent and the bedding brilliant at staying clean and lasting well and keeping my chickens happy. My chickens have a small field to run in and happily go to bed each night in their house which I am confident will keep them safe from the fox! Keeps the chickens healthy - I just wish there was a human version to put in all my water!